MLB Odds, Preview, Prediction Cardinals vs. Braves: How to Bet Sunday Night Baseball (June 20)
Credit:
Mitchell Leff/Getty Images. Pictured: Ronald Acuna Jr.
Atlanta hosts St. Louis on Sunday Night Baseball for a battle of two under-performing teams.
Tonight's game is the second of a doubleheader, after Saturday's game was postponed for inclement weather.
See how Sean Zerillo thinks the seven-inning game may factor into the decision, below.
Cardinals vs. Braves Odds
Cardinals Odds
+108
Braves Odds
-125
Over/Under
7.5 (-104/-118)
Time
7:08 p.m. ET
TV
ESPN

Odds as of Sunday and via DraftKings.
Sunday Night Baseball will feature Game 2 of a seven-inning doubleheader between the Cardinals and Braves.
The Braves already hold a 2-0 lead in this series, with a 4-1 win on Thursday and a 9-1 win on Friday. The two teams were rained out on Saturday and will play a day-night doubleheader on Sunday, with Game 1 starting at 2:10 p.m. ET and the night game starting at 7:08 p.m. ET.
The Cardinals have fallen into a lull in June, with a 5-11 record and a -39 run differential. They currently sit in fourth place in the NL Central, 3.5 games off of the pace, but their expected Pythagorean record is just 31-39.
The Braves are only 7-9 in June, but they are +6 in run differential over that span and own an expected record of 34-33 on the season. Despite some poor luck, Atlanta is only 5.5 games behind the division-leading Mets in the NL East race.
The Braves (+130) and Cardinals (+110) were each favored to win their respective divisions coming into the season, but at this point, either one or both teams are likely to miss the playoffs.
Therefore, these head-to-head matchups are crucial for wild card purposes, even though we have more than half of a season left to play.
Who has the edge on Sunday night?
Cardinals Have A Fresh But Poor Bullpen
I have recently mentioned it, but it bears repeating; the most interesting thing about the Cardinals' 2021 season is their combination of an extremely unlucky offense (.294 wOBA, .320 xwOBA) with an equally lucky pitching staff (.309 wOBA, .336 xWOBA).
Those large gaps in expected metrics have persisted for the majority of the season, and I'm beginning to suspect that Busch Stadium — which may have installed one of those five secret humidors this season — is largely to blame for those differences relative to expected stats.
Last week, I also discussed how the Harrison Bader injury skews the Cardinals' defensive alignment. St. Louis led all of MLB in Defensive Runs Saved (DRS) last season (+36) but has fallen to ninth this year (+20) and would rank closer to 11th without Bader's contributions.
The Cardinals' bullpen (5.03 xFIP, 9.0% K-BB%) ranks amongst the worst in baseball, alongside a starting staff (4.66 xFIP, 9.9% K-BB%) which has struggled to a similar degree. They walk too many hitters (league-high, 11.4%) but haven't necessarily paid for those free baserunners.
Offensively, the Cardinals' plate discipline has ranked closer to league average, and their .271 BABIP suggests some positive regression in the future, regardless of the humidor situation.
The Cardinals' bullpen is relatively fresh for Sunday's doubleheader, as their workhorse relievers (Genesis Cabrera, Giovanny Gallegos, Ryan Helsley, and Alex Reyes) all appeared in 30+ games this season, and Andrew Miller has each only pitched one time in the past five days.
Kwang Hyun Kim (4.50 xERA, 4.27 xFIP, 4.44 SIERA) has improved his swinging strike rate and strikeout rate relative to last year while maintaining a groundball rate of around 50%.
He's a league-average starting pitcher, and the Braves' offense has been average against lefties (101 wRC+).
---
Braves Have Elite Offense
Conversely, the struggling Cardinals offense has performed much better against lefties (107 wRC+) than righties (84 wRC+), with the ability to start nine right-handed or switch hitters in their regular lineup.
That could pose a problem for Braves' starter Drew Smyly, who has struggled this season (5.66 xERA, 4.99 xFIP, 4.68 SIERA) after a career year in 2020 with the Giants. Smyly's K-BB% has dropped from 29.7% to 11.8%, year over year, his fastball velocity is down more than a full tick, and his hard-hit rate (44.9%) stands at a career-high.
Smyly's 2020 season is the clear outlier in his statistical profile: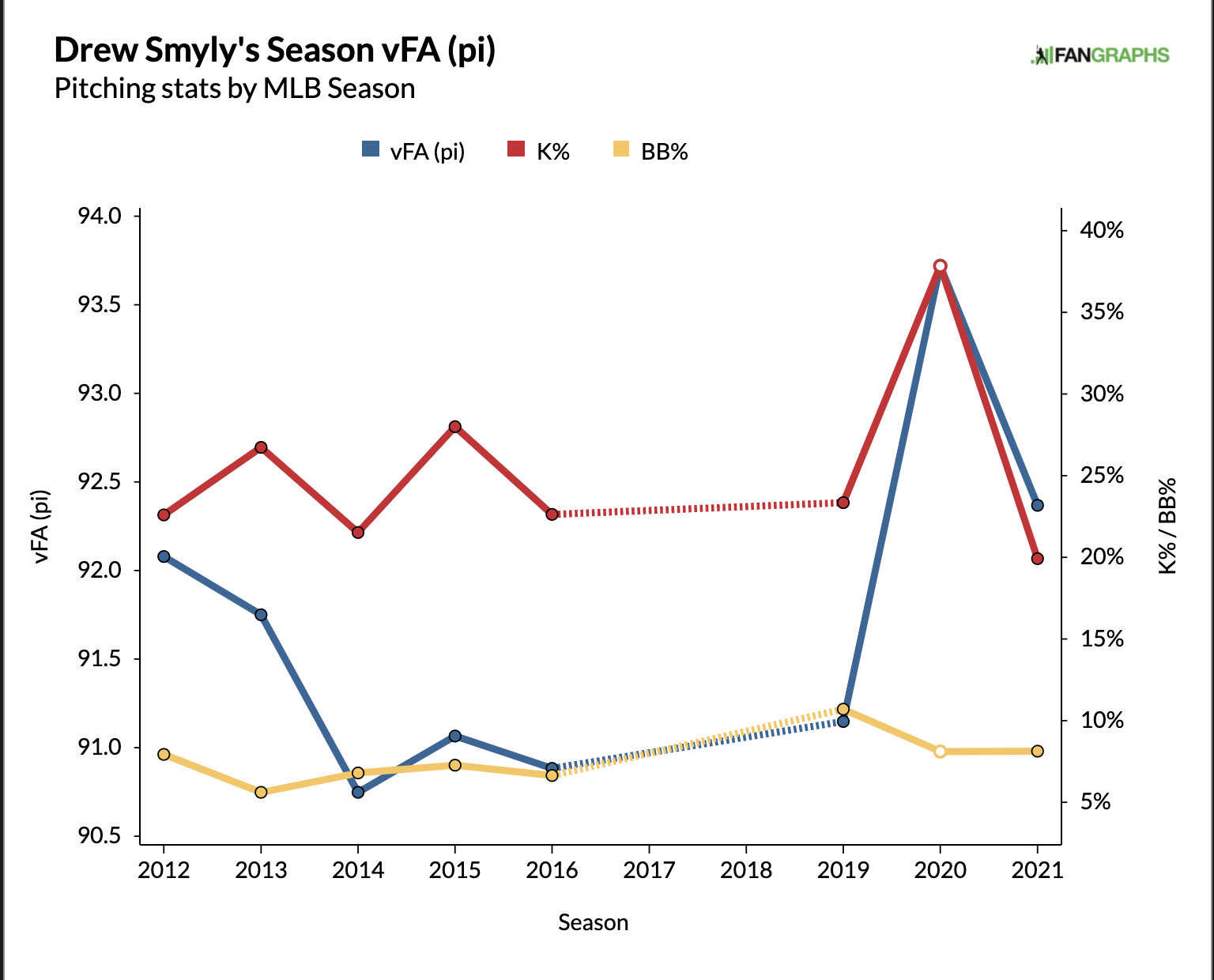 Atlanta's offense (.340 xwOBA) ranks as a top-three expected unit, though they need to replace Marcell Ozuna in the short term after his arrest for domestic violence.
Abraham Almonte (.422 wOBA, .374 xwOBA) has done an admirable job in left field, which is vital since three-time Gold Glover Ender Inciarte (.253 xwOBA in 2020, .234 xwOBA this season; +1 DRS over that span) has really struggled to do anything and may eventually need to be replaced on their roster.
Atlanta's bullpen (4.47 xFIP, 13.9% K-BB%) has performed like a bottom-10 unit, but still not as poorly as the Cardinals group of relief arms.
They also rank as a bottom-10 defensive team (-2 DRS), taking notable hits from Almonte (-4), Guillermo (-4), and William Contreras (-5).
Surprisingly, the swing from Ozuna (+4) to Almonte has been enormous, and the Braves have had a more difficult time replacing Ozuna's glove than his bat.
Despite his reputation for making atrocious plays in the outfield, Ozuna has actually rated well above average (+14) since moving to corner full time in 2017; he was a downright disaster (-17 DRS) playing center field for the Marlins in 2016.
The Braves are a flawed team who have seen their starting pitching depth fall apart, but their offense (outside of a fully healthy Mets or Dodgers team) might be the best in the NL at present. One elite unit is enough to build around, particularly if they're willing to add bullpen pieces before the trading deadline.
Cardinals-Braves Pick
I projected the Cardinals as a 48.4% underdog in this matchup, but the moneyline price looks about right; I would need +116 or better to bet the Cardinals. The seven-inning format certainly helps, but the longer this game extends, the better the Braves' chances of winning.
I set the game total at 7.07 runs, and I project slight value on the Under 7.5 at any plus-money price.
Furthermore, I set the Cardinals' F5 odds at 54.5%, and I project value on their F5 moneyline at -106 or better.
Depending upon how Game 1 of this doubleheader plays out and the specific lineup situation for Game 2, I may look to increase my risk on either one of these wagers.
Pick: Cardinals F5 (+100, 0.5u) | Under 7.5 (+100, 0.5u)
How would you rate this article?
This site contains commercial content. We may be compensated for the links provided on this page. The content on this page is for informational purposes only. Action Network makes no representation or warranty as to the accuracy of the information given or the outcome of any game or event.