Sunday Night Baseball Betting Odds, Preview: Braves Go For Sweep Over Fading Mets
Credit:
Andy Marlin-USA TODAY Sports. Pictured: Mets reliever Seth Lugo
Sunday Night Baseball Betting Odds: Atlanta Braves at New York Mets
Braves odds: +101
Mets odds: -111
Over/Under: 8.5
Probable starters: Max Fried (9-3, 3.96 ERA) vs. Noah Syndergaard (5-4, 4.55 ERA)
First pitch: 7:05 p.m. ET on ESPN
---
Two NL East rivals headed in opposite directions. After suffering their seventh straight loss on Saturday, the Mets fell to 37-47. They're now a season-low 10 games under .500 and trail the first-place Braves by 13 games. In fact, the Mets are now closer in the standings to the lowly, last-place Marlins than they are to the third-place Nats.
On the other hand, Atlanta has been rolling in recent weeks, posting an impressive 20-7 record in June to extend its lead in the division to 6.5 games over the Phillies.
The Mets hope Noah Syndergaard, who will come off the Injured List to start on Sunday night, can put an end to the misery in Flushing. Thor will be opposed by 25-year-old lefty Max Fried, who is looking for his 10th win of the season.
Let's take a closer look at tonight's pitching matchup, then look at the bullpens, umpire impact, noteworthy trends and a few of our favorite bets.
---
>> All odds as of 1 p.m. ET. Download The Action Network App to get real-time MLB odds and track your bets
---
Scouting the Starters
By Sean Zerillo
Mets
Syndergaard makes his return from the IL after tweaking his hamstring. It's his first MLB start since June 16, but he's pitching on regular rest after a rehab outing for Class A Brooklyn on June 25 (5 IP, 5 H, 3 R, 1 HR, 0 BB, 9 K).
Though his ERA (4.55) is a tad inflated (3.61 FIP, 4.01 xFIP, 4.06 SIERA), like all Mets pitchers, Syndergaard is partially a product of the porous defense playing behind him.
The Mets rank 29th in team defensive value (-30.3) per FanGraphs, but the gap between 29th and 28th place alone — and for that matter, 29th and 30th, as Seattle is last at -43 — is as wide as the gap between average (Cleveland is 17th at -0.1) and above average (Oakland is eighth at +12).
That said, Thor's other metrics are also trending in the wrong direction.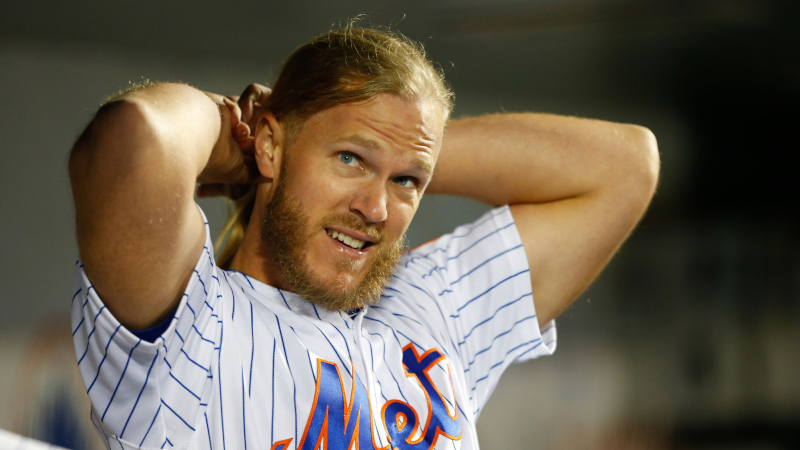 His 12% swinging strike rate is a career low, which makes sense since batters are swinging at his pitches outside of the zone 31.5% of the time. That's also a career low and 5% less often than in 2018. Batters are also making contact against those pitches 66% of the time — 10% above his previous high.
It might be part of a conscious effort, as he's throwing fewer sliders (down from 20% to 11%) in favor of more fastballs and changeups.
The approach might be paying some dividends; the changeup ranks in the top six in baseball by both total and weighted pitch value, with Hyun-Jin Ryu, Mike Minor and Luis Castillo ranking as his contemporaries.
But this is still not a fully-optimized Noah Syndergaard. He's steadily decreased his two-seam fastball usage from 42% in 2017 to 28% this season, He might want to consider decreasing that rate even further as the league doubles down on flyballs.
Braves
Max Fried has always been on the radar for prospect hounds, and he has really come into form over the past two seasons as he started to harness his command.
Drafted seventh overall by the Padres in 2012 (one spot behind Albert Almora Jr.), Fried was included as part of December 2014 trade package for Justin Upton. He had already undergone Tommy John surgery by that point and missed the entire 2015 season.
Fried's strikeout-minus-walk rate in 2019 (15.2%) is slightly below his mark in 2018 (16.9%), but the exciting change is how he's getting there.
Fried has cut his walk rate in half (14.1% to 7.2%) but is also striking out three fewer batters per nine innings (11.76 K/9 to 8.54) compared to 2018.
His arsenal is pretty straightforward: four-seam fastball (94 mph, 58%), curveball (26%), and slider (13%), with an occasional changeup (3.2%), but notable because he hadn't thrown the slider before 2019 and it's been his best pitch.
Fried also has a respectable swinging strike rate (11%) and generates a good number of groundballs (54%), but his 4.00 SIERA and 3.91 FIP align more closely with his current 3.96 ERA than his 3.51 xFIP does.
For what it's worth, the Braves rank 26th in team defensive value (-13.3).
---
Bullpen Barometer
 By Stuckey
At this point, I think even my mom knows the Mets bullpen has been a complete dumpster fire of late. The Mets pen sports a 5.58 ERA, which ranks 28th in baseball, but the story has been much worse in June.
During their current seven-game losing streak, the Mets have led in the seventh or later five times. It's become comical.
Put the rest of the Mets games this year on Comedy Central

— Stuckey (@Stuckey2) June 30, 2019
Nobody has been reliable recently, from their big offseason acquisition in closer Edwin Diaz to the normally reliable setup man Seth Lugo. They should at least get some fresh faces back soon in Jeurys Familia, Justin Wilson and Luis Avilan, who can't be any worse (you'd think).
The Braves pen ranks fourth in MLB with a 3.65 ERA. Ironically, the addition of ex-Met Anthony Swarzak has done wonders for the bullpen. I do think they are over-performing overall but, regardless, Atlanta will have a huge bullpen advantage over New York tonight — as would really any team outside of Baltimore.
---
Betting on Blue
Sunday Night Baseball is blessed with Lance Barrett behind the dish. Barrett sports a 91-105 (46.4%) lifetime under record for 21.08 units, averaging 8.9 runs per game.
When Fried faced this Mets lineup on June 19, he escaped with a quality start but did allow eight hits and a walk over six innings. He might not be as fortunate this time around against a Mets lineup that has had success against lefties this year, ranking fourth in wRC+ and sixth in wOBA.
Getting Trendy
By Evan Abrams
The Atlanta Braves are 17-8 (68%) in Fried starts, including 12-4 (75%) in 2019, making him the most profitable Braves starter this year.
Fried has especially excelled at the tail end of a series. In Game 3 or later of a series, the Braves are 10-1 when Fried starts, winning by 3.1 runs per game. In 2019, the Braves are 7-0 in this spot, winning by 4.3 runs per game.
Syndergaard will make his fourth career start on Sunday Night Baseball. In his previous three, the Mets are 3-0, winning by three runs per game. (One of those starts came in the playoffs.)
Overall, Syndergaard has been near lights out in this spot.
Staff Favorite Bets
Wilson: I'm looking at over 8.5 runs.
Zerillo: I would have shown slight value on the under, but not with Lance Barrett behind the dish. I'll pass on this game.
Stuckey: I'm looking at Mets F5.
How would you rate this article?