Marky's Thursday Forecast: All-Day Slate Offers Few Prime Hitting Spots
The Highlights
Texas and St. Louis are the only two locales that will feature good hitting weather.
Oakland and Boston will be the best spots for pitchers, while another Toronto roof mystery may be on our hands this evening.
---
Yesterday my No Rain Guarantee™ came true, so I am doubling down today. That's right, an all-day slate in which I guarantee not one drop of God's tears will fall from the sky.
Let's make like geese and take a gander at what the weather has in store for us today. Like always, I've used FantasyLabs' Weather Rating stat to rank which games will be best for hitting.
Best Weather Ratings
Astros at Rangers: 80
Marlins at Cardinals: 66
Rockies at Reds: 52
Just three of today's 10 games feature above-average hitting conditions, which is surprising. For the fourth straight day, Arlington will have the best hitting weather with its hot temperatures and what have you. With Cy Young candidate Gerrit Cole on the hill facing ex-stud Cole Hamels, a whopping 72% of bettors are on the under so far, and the total has dropped from 9.5 to 9.
St. Louis will also be hot in its matinee, as temperatures will steadily rise from 89 to 93 degrees over the three hours in which the game will be played. The total for this game just opened up this morning thanks to a Miami pitching change, and quickly rose from 8.5 to 9 at Pinnacle.
Lowest Weather Ratings
Royals at Athletics: 25
Tigers at Red Sox: 27
Orioles at Blue Jays: 30*
With the Athletics headed back home, we have some standard crappy Oakland hitting weather waiting for us. Though the wind is blowing out, temperatures in the high 50s will limit this Weather Rating to just a 25.
In Boston, Jalen Beeks will make his major-league debut with favorable conditions on his side. Beeks kind of reminds me of that bird I mowed down yesterday with my car …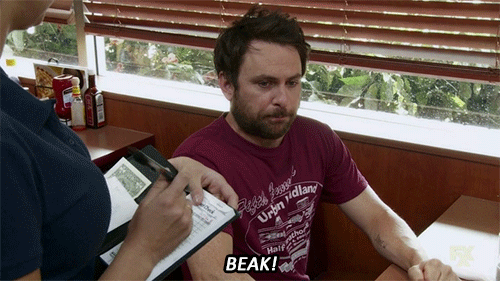 Terribly sad.
Once again, we end with the Blue Jays game. Another prediction of mine that came true yesterday, as the Blue Jays said the roof would be closed only to change their minds a couple of hours later.
Tonight will be warmer than last night, so the roof should be open, but you never know with that shifty Rogers Centre janitor.