Thursday MLB Betting Picks, Predictions: Cardinals vs. Padres, Brewers vs. Dodgers Game 2 (Oct. 1)
Credit:
Robert Beck/MLB Photos via Getty Images. Pictured: Orlando Arcia
Our staff has scoured the board in search of their favorite bets for Thursday's MLB playoff slate.
Sean Zerillo and BJ Cunningham settled on a Brewers-Dodgers pick, while Michael Arinze went the Cardinals-Padres route.
Check out our experts' full breakdown of their picks with complete analysis below.
It's not quite the record-breaking 8-game Postseason slate of yesterday, but Thursday's MLB schedule still covers a full day with playoff action.
As such, our betting experts have found value on a couple of today's games, including the nightcap, which features the biggest underdog of the day …
Here's the pair of games we're targeting. You can find the picks and analysis below.
Cardinals vs. Padres (7:08 p.m. ET, ESPN2)
Brewers vs. Cardinals (10:08 p.m. ET, ESPN)
Note: Odds as of 10:30 a.m. ET.
---
Advanced Stats Glossary
FIP or Fielding Independent Pitching measures what a pitcher's ERA would look like if the pitcher experienced league-average defense and luck. xFIP is a regressed version of FIP that adjusts or "normalizes' the home run component based on park factors.
wRC+ or Weighted Runs Created Plus takes the statistic Runs Created and adjusts that number to account for critical external factors — like ballpark or era. It's adjusted, so a wRC+ of 100 is league average, and 150 would be 50 percent above league average.
wOBA or Weighted On-Base Average is a catch-all hitting metric with more predictive value than on-base percentage. An average MLB hitter can be expected to post a .320 wOBA. xwOBA is a regressed version of wOBA that accounts for variables like park factors.
---
Michael Arinze: Cardinals Moneyline (+140) vs. Padres
As a Mets fan, I feel like I've seen this movie before — Adam Wainwright riding in on a white horse to save the day yet again. At 39, Wainwright is still going strong. He finished the season 5-3 with a 3.15 ERA and 1.05 WHIP. St. Louis is 8-4 against San Diego with him as a starter and this current Padres lineup is hitting only .250 against him with a .324 OBP.
Wainwright will be opposed by Zach Davies, who went 7-4 with a 2.73 ERA and 1.07 WHIP.
The Cardinals are very familiar with Davies as he made 10 starts against them while he was a member of the Milwaukee Brewers. The Brewers were 5-5 in those starts and actually lost Davies' last four outings against the Cardinals. In 118 at-bats, the St. Louis lineup is hitting .288 with a .356 OBP against Davies.
San Diego was forced to use seven relievers yesterday when their starter, Chris Paddack, had a brief outing after allowing six runs in 2.1 innings. The Cardinals, on the other hand, limited their bullpen use to just five relievers.
My model has the Cardinals at +124 on the moneyline. And with PointsBet offering them at +140, I'll look to lock up some of that value by backing the away dog.
[Bet the Cardinals at PointsBet and win $125 as long as they get a hit.]
Sean Zerillo: Brewers Moneyline (+220) vs. Dodgers
Allow me to sell you on Thursday's biggest underdog, as the Brewers try to push the Dodgers to a series-deciding Game 3 on Friday.
The Dodgers' chances of winning the series increased by only 16% (from 73% to 89%) following their Game 1 win, but despite having a series lead, MLB's best team since 1906 (by winning percentage) still remains two losses away from elimination.
They got a big leg up overall in this series without the presence of Devin Williams — arguably the best reliever in baseball this season — in Milwaukee's bullpen.
But the Brewers approached this matchup like an underdog team might in a College World Series Super Regional — saving their "Friday" starter for Game 2, hoping to steal the first game with their bullpen, before their ace either took the series in Game 2 or gave the bullpen a proper rest for Game 3.
At worst, now the Brewers need their best pitcher, Brandon Woodruff, to pitch his best with their season on the line — and he has been one of the most quietly dominant pitchers in baseball over the past two seasons (3.36 xFIP in 2019, 3.29 in 2020) as his expected ERA (xERA) improved from 3.42 to 2.97.
Relative to his breakout 2019 campaign, Woodruff increased both his strikeout rate (+2.1%) and whiff rate (+1.6%) in 13 starts this year, as his fastball velocity continues to climb — cracking the 91st percentile amongst pitchers this season: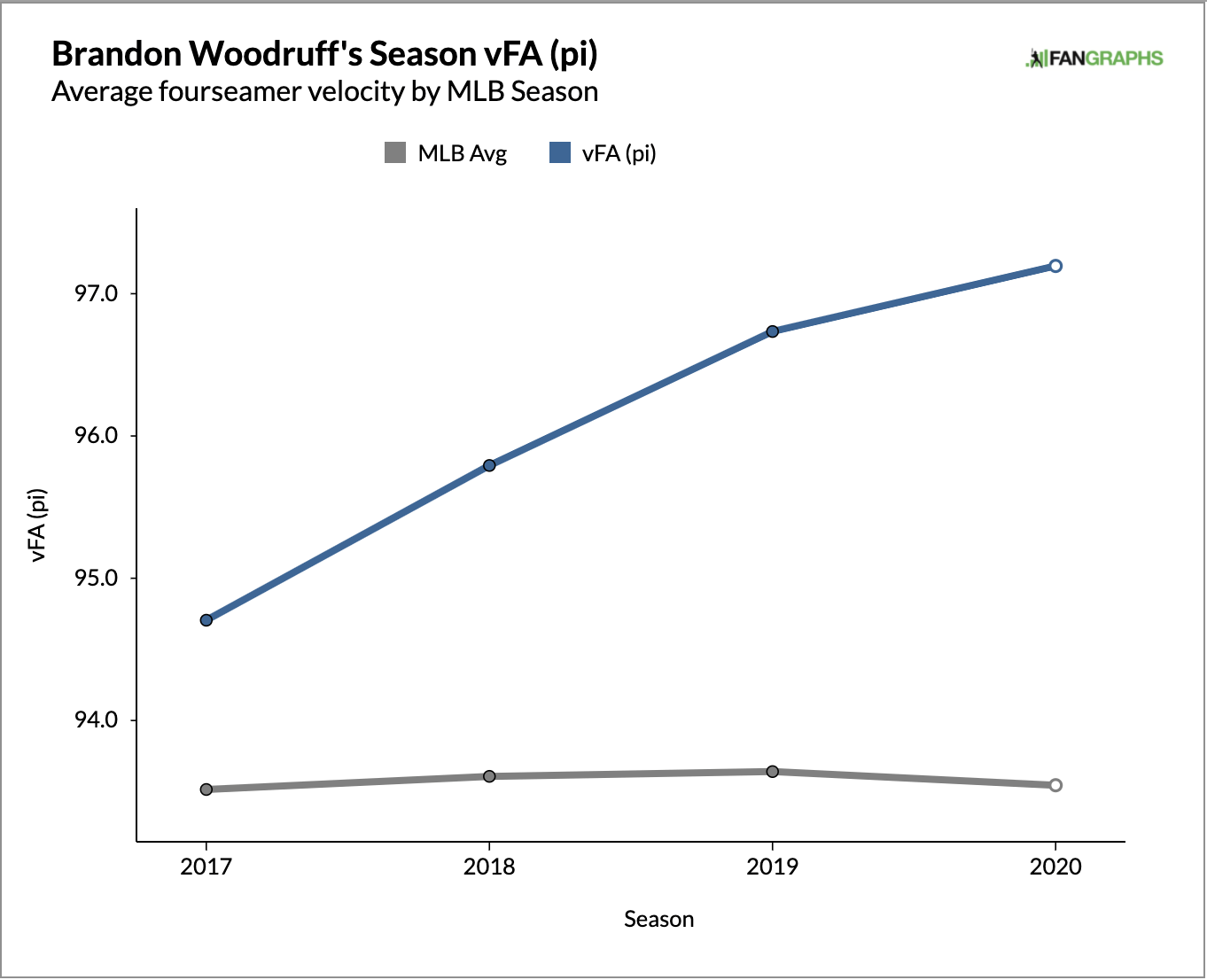 Woodruff throws a five-pitch arsenal, which includes both a curveball and a changeup, but his fastball, sinker and slider combination are his bread, butter, and knife. Those latter three pitches have all netted a positive pitch value during the course of his career:
His opponent, Clayton Kershaw, bounced back from a relatively subpar 2019 season (3.50 xFIP, 3.68 xERA) in 2020 (3.05 xFIP, 3.11 xERA), though his pitch mix and plate discipline metrics remained relatively consistent.
Kershaw allowed a career-low .232 BABIP, and both his strikeout rate and walk rates saw slight improvements over 2019. Largely, however, I can chalk his season up to a relatively small sample of starts, largely against very familiar divisional opponents — recording a 2.47 ERA with a 43:5 strikeout to walk ratio in 40.1 innings pitched.
Although the Dodgers are significantly better both offensively and defensively, the pitching matchup should be relatively equivalent in Thursday's contest, and I've projected the Brewers' fair odds at +166 (implied 37.6%).
As a result, I see actionable value on the Brewers' moneyline today at +193 (implied 34.1%) or better, which represents a 3.5% expected edge.
[Bet the Brewers at PointsBet and win $125 as long as they get a hit.]
BJ Cunningham: Brewers First Five Innings (+200) vs. Dodgers
Woodruff has been fantastic this season, posting a 3.05 ERA and a 3.29 xFIP. He's been a strikeout machine with a 11.10 K/9 rate and has mainly done it with his fastball.
Woodruff has an elite-level fastball that sits just above 96 mph on average and can top out at 100 mph. He's been keeping hitters at bay, allowing a .175 average and producing a 33.6% whiff rate. Woodruff's entire arsenal of pitches has been fantastic this year, but his slider has been his best pitch. It's quite literally been unhittable, as he has allowed only two hits on 132 sliders and produced a 47.1% whiff rate.
Sliders have been the one pitch the Dodgers have struggled with this year, so I expect Woodruff to go to that pitch more often in Game 2.
Kershaw has been really good again in 2020, posting a 2.16 ERA and a 3.05 xFIP. He's been on point with his pitch arsenal, allowing a wOBA under .290 on each pitch. Over the past few years his fastball has lost a lot of velocity, going from an average of 94.2 mph in 2015 down to 91.8 mph this season. However, that big dip in velocity hasn't seemed to make a difference on its effectiveness, as he's allowing only a .203 average to opposing hitters in 2020.
If I could nitpick one thing about Kershaw this year it'd be that his HR/9 rate is too high at 1.23. That rate is the second-highest of his career, with 2019 being the highest. So it seems Kershaw is prone to giving up the long ball later in his career.
Most of the Brewers' success this season have come against lefties, as they have the tenth best wOBA MLB .330 wOBA. So, there is a chance the Brewers can get to Kershaw.
I think the Woodruff/Kershaw matchup is a little closer than the current odds suggest, so I am going to back the Brewers for the first five innings at +200.
[Bet the Brewers at PointsBet and win $125 as long as they get a hit.]
How would you rate this article?