World Series Game 6 Odds, Best Bets and Picks: Tampa Bay Rays vs. Los Angeles Dodgers (Tuesday, Oct. 27)
Credit:
Kelly Gavin/MLB Photos via Getty Images. Pictured: Willy Adames and Corey Seager
With a Game 6 win over the Tampa Bay Rays, the Los Angeles Dodgers can clinch their first World Series title in 32 years on Tuesday night.
The pitching matchup features a Game 2 rematch between Tony Gonsolin and Blake Snell, but this will be a bullpen game for the Dodgers.
Sean Zerillo breaks down where the betting value lies in this game and shares his pick for Dodgers-Rays below.
World Series Game 6 Odds
Odds as of Tuesday morning and via FanDuel. Get up to a $1,000 risk-free bet at FanDuel today or see more offers and reviews for the best online sportsbooks.
---
Model Projection (full projections here)
Rays probability: 45.9% (Fair odds of +118)
Dodgers probability: 54.1% (-118)
Projected total: 8.03
---
The Los Angeles Dodgers will attempt to clinch their first World Series title in 32 years on Tuesday, by utilizing a modern tactic developed by their opponents: The bullpen game. Good artists borrow, great artists steal.
The Dodgers deployed seven pitchers in Game 2, with Alex Wood their only pitcher to record more than four outs, and Game 2 starters Blake Snell and Tony Gonsolin will rematch again in Game 6. The Dodgers will hope for a different result after a 6-4 Rays win the first time around, and Dave Roberts will have to manage his pitchers carefully.
This series hasn't necessarily been filled with drama, but following a wild Game 4 loss, the Dodgers rebounded with a tight 4-2 win in Game 5 to re-take the series lead on Sunday.
Can they ride that wave of momentum to a clinch, or will the Rays create the 41st Game 7 in World Series history?
Since the turn of the century, we have seen seven World Series Game 7s in 19 years, including five since 2011. The Dodgers dropped Game 7 in the 2017 World Series to the Astros.
If they do go to Game 7 yet again, the Dodgers will have their No. 1 starter, Walker Buehler, back on full rest. Surely, it's a start that they would love to skip.
---
Advanced Stats Glossary
FIP or Fielding Independent Pitching measures what a pitcher's ERA would look like if the pitcher experienced league-average defense and luck. xFIP is a regressed version of FIP that adjusts or "normalizes' the home run component based on park factors.

wRC+ or Weighted Runs Created Plus takes the statistic Runs Created and adjusts that number to account for critical external factors — like ballpark or era. It's adjusted, so a wRC+ of 100 is league average, and 150 would be 50 percent above league average.
wOBA or Weighted On-Base Average is a catch-all hitting metric with more predictive value than on-base percentage. An average MLB hitter can be expected to post a .320 wOBA. xwOBA is a regressed version of wOBA that accounts for variables like park factors.
---
Projected Starters
Blake Snell (2-2, 3.33 ERA, 28 K) vs. Tony Gonsolin (0-2, 9.39 ERA, 9 K)
As I mentioned above, Game 2 starters Blake Snell and Tony Gonsolin will rematch here in Game 6.
Snell (4.2 IP, 2 H, 4 BB, 9 K) was extremely effective in his first World Series start, but he was ultimately pulled after allowing a homer and two walks in the fifth inning (88 total pitches).
Gonsolin was one of seven Dodgers pitchers on the evening, and he allowed the Rays to jump out to a 1-0 lead (which they never relinquished) on a homer from Brandon Lowe.
Both pitchers — especially Gonsolin — will have a very short leash in a potential elimination game.
I previously highlighted some points on both, so allow me to reiterate:
Blake Snell (Rays)
2020 Postseason Pitching Line: 5 Starts, 2-2, 3.33 ERA 24.1 IP, 18 H, 9 R, 14 BB, 28 K, 5.29 FIP, 4.36 xFIP.
Regular season FIP (4.35) jumped in 2020, but not supported by his xFIP (3.06, three-year low) or SIERA (3.56 in 2019, 3.57 in 2020).
Expected ERA or xERA (3.95) tells a different story, however, increasing by nearly a full run.
Allowed significantly more hard contact (+4.9%) year over year.
Strikeout-minus-walk rate declined by 10%, year over year.
Allowed more than 1.8 HR/9 over each of the past two seasons, and that issue has continued into the 2020 playoffs.
Fastball velocity down 1 mph since 2018, and got crushed in 2020 (.409 xwOBA, .326 xBA).
Each of his secondary pitches (changeup, curveball, slider) has returned a positive pitch value both in 2020 and for his career.
Snell was particularly slider-heavy against the Dodgers, throwing 27 of them (31%) in his 4.2 innings while dialing back his fastball and changeup usage ever so slightly.
In 2020, the Dodgers' offense netted a positive return against every pitch type except for sliders, and that is likely the best way to attack their hitters.
Tony Gonsolin (Dodgers)
2020 Postseason Pitching Line: 3 Games, 0-2, 9.39 ERA, 7.2 IP, 6 H, 8 R, 7 BB, 9 K, 8.67 FIP, 7.10 xFIP.
Ranked amongst the top five starters in walk rate (4%) in 2020 (Kenta Maeda/Zack Greinke territory).
High-spin (92nd percentile), plus-velocity (81st percentile) fastball (47%, 95.1 mph) paired with a splitter (30%, 85.1 mph), slider (17%, 87.5 mph) and curveball (6%, 81.7 mph).
Rays lineup could be dominated by the fastball, the pitch they have had the least amount of success against.
Gonsolin relies upon his control, but he has had very little command in the playoffs and is walking nearly one batter per inning while allowing more than one run per inning.
He did attempt to increase his fastball usage (62%) in Game 2 against the Rays, and I would have been curious to see if he maintained that fastball reliance the second time through the lineup.
It's unlikely that Gonsolin receives that opportunity, however.
The Bullpens
In 2020, the Rays' bullpen ranked seventh in FIP (3.94), third in xFIP (3.94), and fifth in K-BB% (17.4%). By the same metrics, the Dodgers ranked second (3.45), second (3.88) and fourth (17.2%).
As I mentioned, the Dodgers will attempt to navigate bullpen day on Tuesday.
Based upon recent workloads, they could attempt to get to the finish line today, without either Dustin May or Blake Treinen.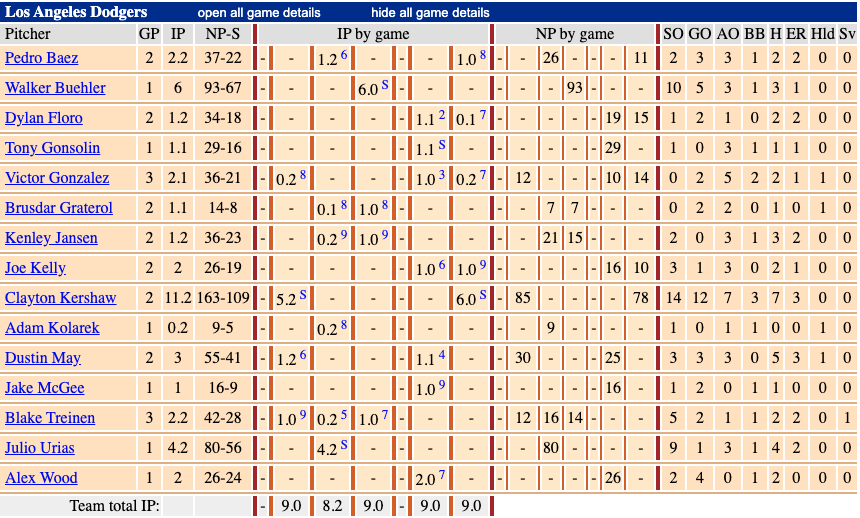 Treinen and the Rays' Ryan Thompson were the only two pitchers to appear in each of Game 3, 4 and 5. Treinen totaled 42 pitches over those three days, and although those were his first three appearances of the series, four appearances in five days would almost certainly knock him out for a Game 7, regardless of his likely diminished effectiveness today.
May has only pitched twice this series, but after a shaky Game 2 appearance (1.1 IP, 4 H, 3 R) that likely cost the Dodgers the game, Gingergaard rebounded in Game 5 with a shutdown performance (1.2 IP, 1 H, 0 BB, 2 K) on 30 pitches.
The Dodgers could absolutely turn to him again in Game 6, but that would likely keep him out of a potential Game 7 on Wednesday.
Pedro Baez, Brusdar Graterol, Kenley Jansen, Joe Kelly and Alex Wood are the most likely candidates to piece together innings in this contest, leaving May and Julio Urias, who has been utterly dominant this postseason, as relief options for Buehler in Game 7.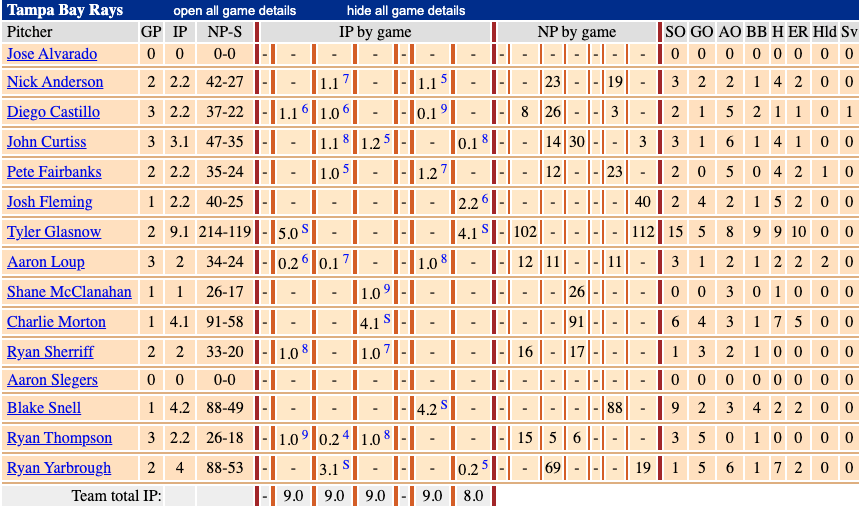 This grinding postseason run has seemingly taken a toll on the Rays' bullpen arms, and their best reliever on paper, Nick Anderson, has struggled mightily, allowing at least one run in seven of his nine playoff appearances (14.1 IP, 15 H, 8 R, 4 BB, 9 K).
Diego Castillo worked in Game 4 and 5, as did Aaron Loup, but I would expect Tampa Bay to have all hands on deck with their season on the line.
Even the sidewinding Ryan Thompson, who worked each of the past three games, should be available after accumulating just 26 total pitches in this series.
Kevin Cash will continue to play the arm angle game against the Dodgers and refuse to give them a similar look in consecutive plate appearances.
---
Check out our new MLB PRO Report, where we highlight key factors that provide betting edges — like large wagers, historically profitable betting systems, model projections and expert picks — that when combined with sharp money can powerfully detail the smartest bets on a given slate.
---
Fielding
Over the past five years, both the Dodgers and Rays have finished in the top five for Defensive Runs Saved in each season, with each team leading the league once (2017 Rays, 2019 Dodgers). In 2020, the Dodgers recorded 29 DRS (second) and the Rays 22 (sixth).
Not only is Mookie Betts one of the best hitters in the sport, but he's also one of its best defenders (+44 DRS since 2018, 3rd in MLB) and baserunners (+29 baserunning runs for his career), making him arguably the most complete player in the game, even if Mike Trout's bat (career 1.000 OPS) separates him from the pack.
Projected Lineups
Data via FantasyLabs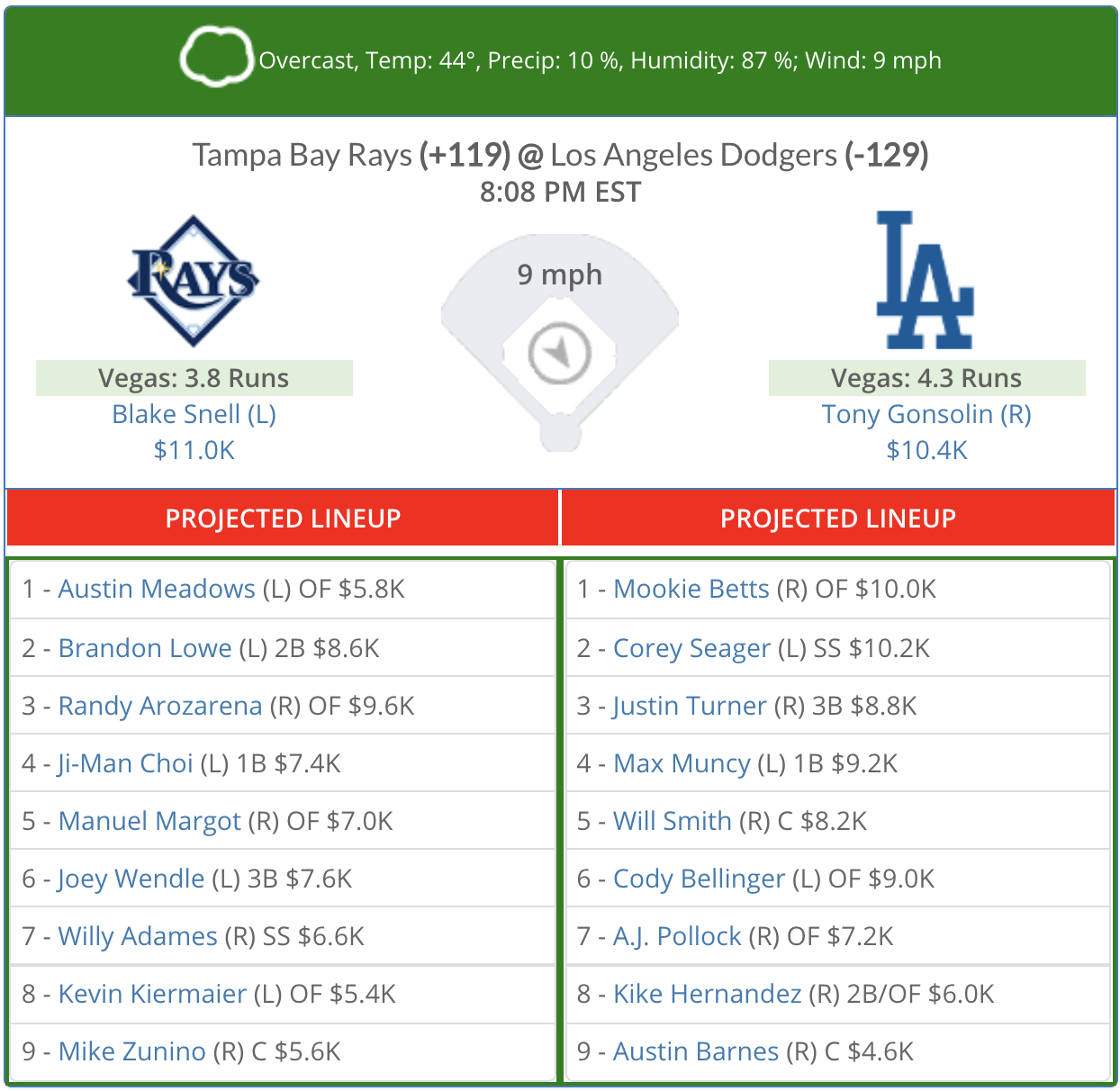 Stadium, Umpire, and Weather Report
Data via Sports Insights

With regards to the total, it's important to keep noting whether the roof is open or closed at Globe Life field:
Over, Roof Open: 14-6-1 (70%, Margin 2.67)
Over, Roof Closed: 10-12-2 (45.5%, Margin -0.81)
The roof has been closed for two playoff games — both in the World Series — and the scores finished 6-2 (with a two-out ninth-inning homer clinching the Over 7.5) and 4-2.
It's a small sample of data, but the ball visibly travels differently with the roof open in Arlington, so continue to take note of these conditions both now and moving forward with this stadium.
The Game 6 umpire is Jerry Meals, who is pretty neutral with regards to totals for his career (241-231-33 or 51.1% to the Over), despite a 4-1-1 record in the postseason.
Meals is known to be fairly inconsistent, however:
Umpiring has largely favored the Dodgers in this series. Overall, Ump Scorecards credits the plate umpire with swinging 2.49 runs towards the Dodgers, just with ball/strike calls
Game 1: +0.53
Game 2: +0.12
Game 3: +0.51
Game 4: +0.74
Game 5: +0.59
Series Moneyline Corner
Before Game 6, I give the Dodgers an 80% chance of winning one of the next two games and clinching their first World Series title since 1988.
I would consider betting the Dodgers at -334 (implied 77%) or better, or the Rays at +488 (implied 17%) or better to win the series, but the current line is set around -525/+425, leaving a minuscule edge (1%) on the Rays at the current number.
Projected Game 6 Odds & Favorite Bets
Click here to access our brand-new live-updating projections page, which easily reveals and grades the biggest edges on today's slate.
To download my traditional spreadsheet where you can plug in odds from your sportsbooks, click here. 
As of writing, I don't see an actionable edge on either the F5 or full game totals, or for the F5 or full game moneylines.
At current odds around +125, there is just a 1.5% edge on the Rays' Game 6 moneyline. I would need +133 (implied 42.9%) or better to play the Rays at a 3% edge.
The Game 6 moneyline opened at -137/+126, so it has largely remained unchanged. The Game 2 moneyline closed at -127/+118, with the total at 8 (-112/+102)
The Game 6 total has ticked up to 8.5 in some spots, but the juice has swung to the under, and I highly doubt that I'll find actionable value on the total.
The Picks
Rays Moneyline (1 unit at +133 or better)
How would you rate this article?