Red Sox-Yankees Betting Guide: Will Luis Severino Stay Hot?
Credit:
Gregory Fisher-USA TODAY Sports. Pictured: Luis Severino
The Highlights
The Yankees are a big betting favorite (-186) over the Red Sox (+176) on Sunday Night Baseball (8 p.m. ET, ESPN).
Boston pitcher David Price has really struggled in New York (8.72 ERA over the past three seasons).
The Yankees have gone 19-3 against left-handed pitchers in 2018.
---
After the Yankees and Sox traded blowout wins in the first two games of the series, they'll meet tonight in the Bronx to determine not only the series winner, but also first place in the AL East.
Thanks to Chris Sale's gem Saturday night, the Red Sox regained their one-game lead in the division. They can create another game of separation with a win tonight, or the Bombers can even things up.
Download The Action Network App to track MLB odds and all of your bets.
It might seem like a meaningless baseball game to those who aren't fans of either squad, but one of these elite teams will likely play in a one-game wild-card tilt once October rolls around.
Plus, no MLB game is ever meaningless to bettors or fantasy players, so let's dig a little deeper into tonight's matchup. — Stuckey
---
Boston Red Sox (+176) at New York Yankees (-186) | O/U: 8
8:05 p.m. ET, ESPN
David Price (9-5, 3.66 ERA) vs. Luis Severino (12-2, 2.10 ERA)
Pitching Matchup
New York has a silly 30-9 (+5.7 units) record in Severino's starts as a favorite since 2017. Even more impressive, the Yankees have won 25 of his past 27 starts in this spot over the past calendar year.
Since the start of last season, Severino is the AL's second-most profitable starter as a favorite, trailing only Red Sox hurler Eduardo Rodriguez (23-6). And when Severino was favored against opponents over .500, the Yankees went 14-2, winning by an average of 2.6 runs per game. New York has also won nine consecutive in that scenario since September 2017.
Price, meanwhile, owns a putrid 8.72 ERA in four road starts at Yankee Stadium over the past three seasons. During that stretch, New York has hit an astounding .396 against him with 38 hits in 21.2 IP.
Of the 20 pitchers who have made at least four road starts in the Bronx since 2016, none has a higher ERA than Price. The carnage has generally occurred early, as the Red Sox went 0-4 (-4 units) on the first five innings line. That makes Price the least profitable pitcher over the first five innings at Yankee Stadium during this span. — Evan Abrams
Fantasy Focus
Many view Price's time in Boston as mediocre and underwhelming. While he hasn't performed at a Cy Young level, he's pitched much better against teams not named the Yankees. Just look at the difference in his DraftKings results between his eight starts against the Yanks versus all other starts, using proprietary stats from FantasyLabs.
Translation: Price has wildly underperformed against the Yankees, while exceeding expectations against everyone else.
Unfortunately for Price, he picked the one team that a pitcher making $30 million a year in Boston can't struggle against. He's had just one good start in eight shots vs. the Bronx Bombers, and got serious flak for missing a start earlier in the year against them during the whole hand numbness/carpal tunnel fiasco. If there was ever a time for redemption and to show he can handle the stress of a big-game environment, it would be on Sunday Night Baseball against Severino. As a Sox fan, I won't hold my breath. — Mark Gallant
Price's struggles against the Yankees aren't too surprising, considering they absolutely demolish left-handed pitching. New York ranks first overall this season in a few fancy metrics (Weighted Runs Created Plus and Isolated Power) against southpaws, thanks in part to having some of MLB's best right-handed batters.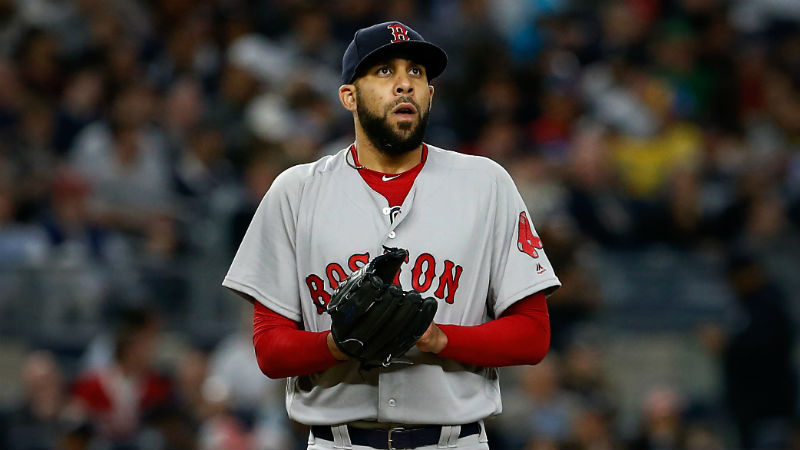 Noah K. Murray-USA TODAY Sports. Pictured: Red Sox lefty David Price
Giancarlo Stanton has posted unreal marks in Weighted On-Base Average (.527) and ISO (.479) against left-handers over the past 12 months, while new additions Gleyber Torres and Miguel Andujar have also had more success at the plate against lefties.
Ultimately, the Yankees have gone 19-3 against lefties in 2018, rewarding bettors with a 37.8% return on investment. And opposing pitchers have underperformed their daily fantasy salary-based expectations by an average of 1.40 fantasy points on DraftKings. I'd avoid Price like the plague. — Matt LaMarca
Random Sunday Night Trend
Home teams playing on Sunday night are 10-4 this season and 82-55 (59.8%) since 2013 for an ROI of 9.4% on the moneyline, per BetLabs. — Stuckey
Paul Lo Duca's Bet to Watch
Severino clearly has the edge in this premier pitching matchup. Price only lasted one inning in his last outing against the Yanks, due to elbow tingling. After the game, he also mentioned that the cold weather negatively affects him, which caused many to speculate if he was truly hurt.
Even after bouncing back with a very solid June (4-1 record, 2.90 ERA), he may struggle on Sunday, as the Pinstripes should get a boost from seeing Sale last night. Sale's stuff is so good that when you see Price (a fellow southpaw) the next day, his stuff just looks very hittable.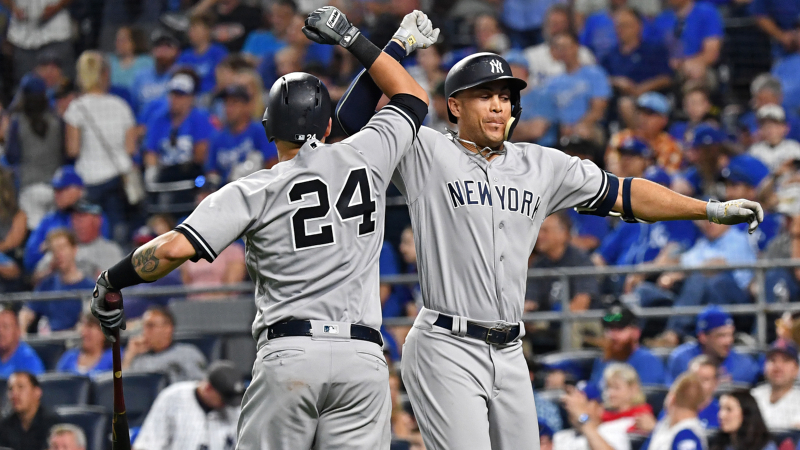 Peter G. Aiken – USA TODAY Sports. Pictured: Giancarlo Stanton (right) and Gary Sanchez (left).
Severino, on the other hand, has been on another planet. As good as Sevvy has pitched this year, he has struggled against the Sox, who own right-handers. Boston will also see Severino for the third time this year after tagging him for seven runs in 11 innings in the first two meetings. Interestingly, Severino didn't allow a homer and struck out 17, so he may have been a victim of some bad luck.
I like the Yankees -1.5 at plus-money. Boston has some familiarity with Severino's stuff, but you just can't trust Price against a Yankees lineup that has hit the second-most homers against lefties.
Severino seems to love the big stage, and it doesn't get much bigger than this for July baseball. With most bettors likely to flock to the Red Sox as a large underdog after a blowout win, get plus-money on the runline and hope for another blowout.
Bet to Watch: Yankees -1.5 (+115) — Paul Lo Duca
---
Editor's note: The opinion on this game is from the individual writer and is based on his research, analysis and perspective. It is independent of, and may not always match with, the algorithm-driven Best Bets from Sports Insights.