Yankees vs Dodgers Odds, Pick | MLB Prediction for Sunday Night Baseball
Credit:
Via Ronald Martinez/Getty Images. Pictured: Bobby Miller #70 of the Los Angeles Dodgers at Dodger Stadium on May 29, 2023 in Los Angeles, California.
The Los Angeles Dodgers are short home favorites on Sunday Night Baseball against the New York Yankees.
Domingo German will start for the Yankees while the Dodgers will counter with Bobby Miller in his third MLB start.
Tanner McGrath breaks down the Yankees vs. Dodgers series finale and shares his expert MLB pick and prediction below.
Yankees vs. Dodgers Odds
I truly love how the new MLB schedule is playing out. I've always found Interleague matchups entertaining, and we're getting more than ever this year.
The baseball gods blessed us with a Yankees-Dodgers series this weekend. I can't remember the last time we had a pan-continental matchup as high-profile as this one.
These two split their matchups on Friday and Saturday, meaning we get a Sunday Night Baseball rubber match underneath the bright, ESPN lights.
Read on for my MLB betting prediction and pick for Yankees vs. Dodgers.
---
It took some time, but the Yankees are rounding into form. The Bombers went 19-10 in May with a +48 Run Differential, averaging about 5.5 runs per game during the stretch.
Plus, the Yankees are getting healthier. Josh Donaldson and Giancarlo Stanton returned from the IL this week as they recreated the hard-hitting heart of the lineup we've come to expect from the Bronx Bombers.
The Yankees boast a 117 wRC+ over the past month, trailing only the Rays (118) and Rangers (121).
We can't talk about New York's resurgence without mentioning Aaron Judge. Since coming off the IL on May 9, Judge is slashing .325/.457/.855 for a 1.313 OPS, smashing 13 dingers and drawing 21 walks across 105 PAs.
Judge missed a few weeks to start the year, but he's still having a better start to this season than last year. Through 49 games, both 2022 Judge and 2023 Judge have 19 homers, but 2023 Judge is slashing better, has more RBIs, a higher avg. EV and a higher Hard-hit Rate.
Judge is also striking out more, which is an interesting conundrum. His Chase Rate is surprisingly down (about 5%), but his O-Contact Rate is way down (about 16%), so he's making less contact overall.
He's been struggling a bit against off-speed pitches. Judge's per-pitch changeup weighted numbers have crashed, and it seems he may be over-performing against the pitch (.429 SLG, .124 xSLG).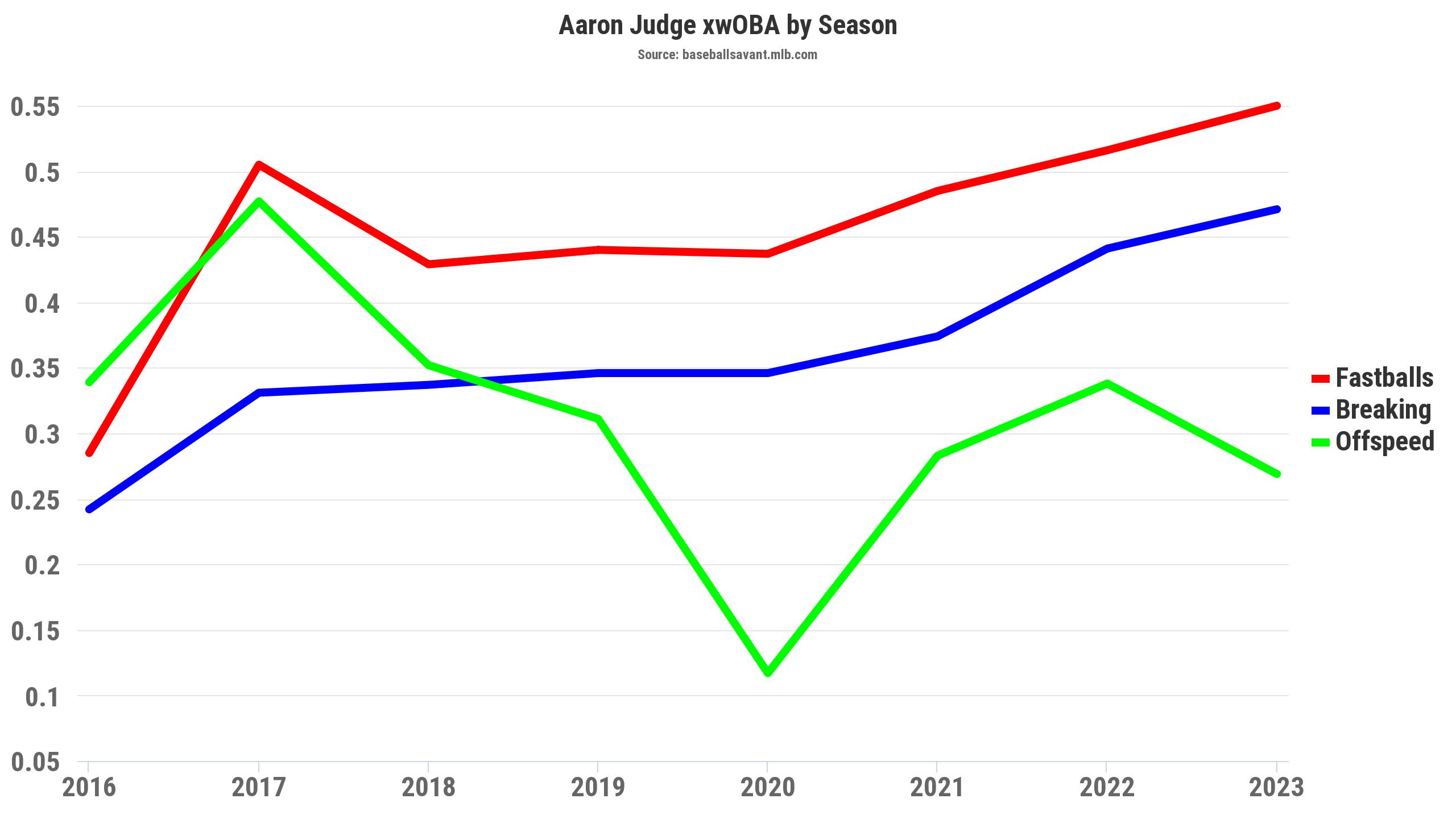 Image credit: Baseball Savant
I won't sound any alarm bells over this because Judge is a top-two hitter in baseball, but perhaps it's something to monitor going forward.
Anthony Rizzo, who's on pace to post a career-high batting average (.297), is worth keeping an eye on tonight. Mike Petriello wrote an interesting brief piece on the Italian southpaw slugger and his career-high across-the-field BABIP numbers.
Rizzo is slapping the ball all over the field, and he's knocking the ball into left field more often than ever: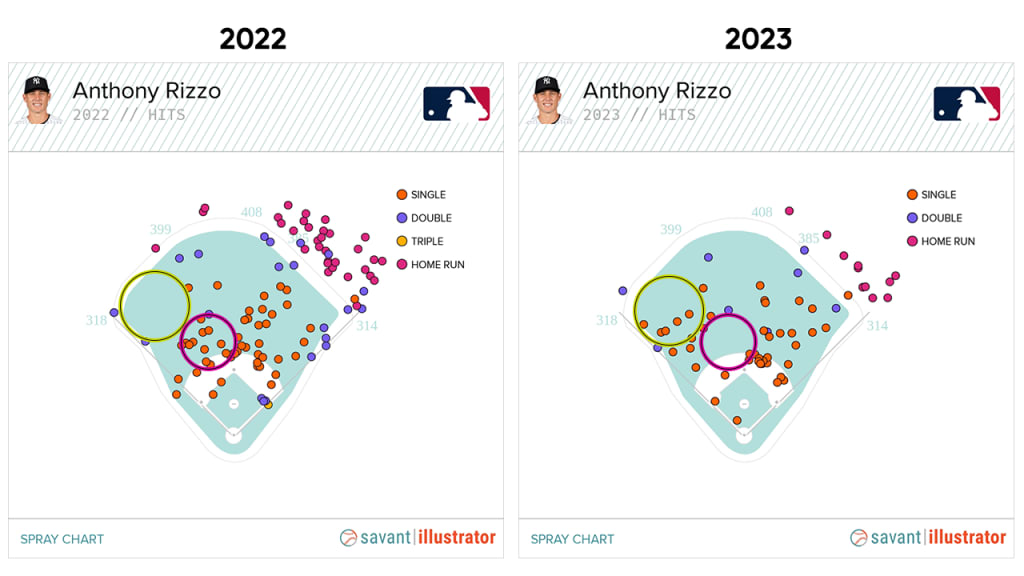 Image credit: MLB.com
It's resulted in a 140 wRC+, a number Rizzo hasn't touched since 2019.
However, I'm partial to believing Rizzo is still getting a tad lucky. His .356 BABIP is a monstrous number, especially for him (career .281), and I expect that to regress.
Nonetheless, the Yankees are raking.
I like this bullpen a lot. The Yankees are seventh in reliever xFIP this year (3.95) and third in reliever WPA (3.17). Clay Holmes and Wandy Peralta are still the top two guys, but Michael King and Ian Hamilton have established themselves as crucial pieces.
These are dangerous times for Yankee haters, and New York could be a good buy to overtake the Rays in the division (sitting around +400 in the markets).
PECOTA gives the Yankees a 50% chance to win the division. They're due for positive BABIP regression (29th in MLB, .269), so they have an xwOBA (.330) 13 points higher than their wOBA (.317).
Also, the Rays are still in regression mode, and I expect a few extra losses going forward. Their bullpen is not a strength, and their pitching depth is questionable after several injuries to top arms (Andrew Kittredge, Shane Baz, Jeffrey Springs, Pete Fairbanks & Drew Rasmussen).
Meanwhile, I'm rather high on the future of the Yankees staff. Carlos Rodon will eventually return, Clarke Schmidt is better than his numbers indicate (109 Stuff+ & 108 Pitching+), and today's starter has made valuable strides this year.
Starting Pitcher: Domingo German (RHP)
Historically, German's best pitch has been his curveball. He's got a lifetime 108 Stuff+ on the curve, which is about 10 points higher than any other pitch.
But he's finally starting to lean into the pitch: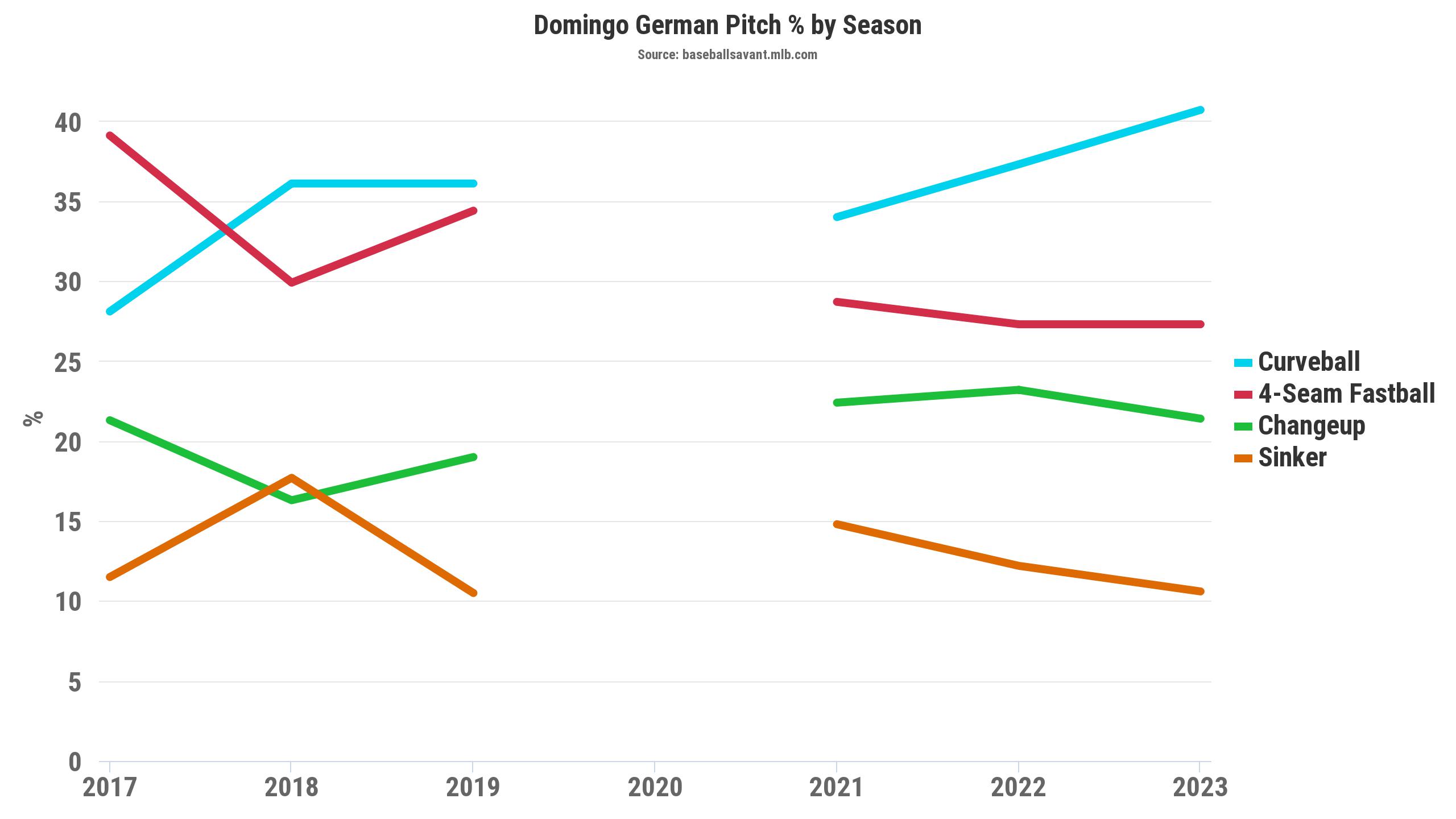 Image credit: Baseball Savant
It's come at the expense of his fastball, but that's a good thing because German's fastballs have always been a weak point.
Thanks to his rearranged pitch mix, his Whiff rates and Chase rates are way up, resulting in a Strikeout Rate nearing 25% (something he hasn't accomplished since 2019).
It's really hard to post a sub-1.00 WHIP, yet German is on pace to do so (sitting at 0.98).
Unfortunately, I still project some regression for German in the future. His xERA and xFIP both sit around 4.25, and his batted-ball profile remains mediocre.
---
Davy Andrews wrote a piece for FanGraphs earlier this week titled, "Freddie Freeman Is a Metronome."
As expected, the piece mostly outlines Freeman's unbelievable consistency. He's posted a wRC+ of over 130 every season since 2012 and a Walk Rate of over 10% annually since 2011.
Yes, Freeman's consistency is remarkable. However, this is how I feel about the Dodgers in general.
The Dodgers had a 118 wRC+ and .179 ISO through May of 2022, turned over half of their roster, and have a 116 wRC+ and .181 ISO through May of this season.
Maybe it's a Brady-Belichick thing because everything else seems to fall into place with Freeman and Mookie Betts atop the lineup.
However, the Dodgers are again finding contributors throughout their lineup.
Alongside Betts, James Outman and Jason Heyward anchor an outfield that ranks seventh in wRC+ (114), and Max Muncy has also slugged 18 home runs. While the Miguels (Vargas and Rojas) have been below-average hitters, they're a key reason the Dodgers remain a top-10 defensive team by Outs Above Average.
However, after posting a 15-12 record in April, two members of the Dodgers are directly responsible for L.A.'s recent surge.
First, J.D. Martinez has re-tapped into his raw power. After seeing his power numbers dip last season, he's among the top four percent of qualified hitters in avg. EV, Hard-hit Rate, Barrel Rate, xwOBA and xSLG.
J.D. Martinez in 2022: 16 HRs in 533 ABs

J.D. Martinez in 2023: 10 HRs in 152 ABs

That's a 35 HR pace in the same # of ABs. He'll likely get 600+ this season. We could be a seeing a 40-homer season out of JD right now. pic.twitter.com/kLG0ji2CKO

— RB (@rbhockey6) May 28, 2023
(As a Red Sox fan, I'm infuriated by this.)
Second, Will Smith returned to the lineup after a brief IL stint with concussion-like symptoms. Since April 28, Smith is slashing .308/.414/.490 for a .905 OPS, and he has the highest xwOBA of any catcher this season (min. 100 PAs).
Jay Jaffe wrote a piece about Smith for FanGraphs in mid-May where he included the below graph. These numbers need updating, but they illustrate how important Smith is to the Dodgers.

Image credit: FanGraphs
The Dodgers are 20-9 (!) since Smith returned to the lineup.
I feel okay about the bullpen, which is above average by most marks. However, I'm waiting on the return of…
Daniel Hudson
Blake Treinen
Alex Reyes
Walker Buehler
J.P. Feyeresin
Ryan Pepiot
before I make more generalized statements about the Dodgers' pitching staff.
Starting Pitcher: Bobby Miller (RHP) 
Bright Lights Bobby Miller takes the mound for his third start in the Show.
And so far, it's been pretty impressive.
He put up five innings of one-run ball on the road against the Braves and then six innings of one-run ball against the Nationals. The former performance doesn't need to be explained, but the latter could use some impressive context — the Nationals have a top-five wRC+ against right-handed pitching over the past month.
Miller has a legit, high-90s fastball and three plus secondary offerings, including a slider that checks in with a 157 Stuff+ mark (albeit in a small sample size).
Sure, he's due for some regression (2.46 xERA, .258 BABIP, 80% Strand Rate), but Miller looks like the real deal. If he keeps his velo around 99 and his Ground-ball Rate close to 50%, things will be just dandy for Mr. Bright Lights.
---
Yankees vs. Dodgers Betting Pick
These are two of the hardest-hitting offenses in baseball. You can nitpick about which one is better, and we could dive deep in home/road and pitch splits, but I ultimately make the offensive matchup a wash.
I'd likely give the Yankees a slight bullpen advantage, but they used Holmes, King and Peralta in Saturday's win.
I'd also give the Yankees a slight defensive advantage, but it's close. Meanwhile, the Dodgers have a monster base-running advantage, given they're first in Fangraphs' BsR rankings while the Yankees are 22nd.
This is a very close matchup between two of the best teams in baseball and very worthy of the Sunday Night Baseball stage.
However, I'm all in on Miller and am willing to fade German in a matchup with Bright Lights.
I'm impressed by German's decision-making and improvements, but he still profiles as a mid-4.00s ERA pitcher with questionable pitching model metrics (95 Stuff+, 98 Pitching+).
Meanwhile, Miller is the real deal. His 115 Pitching+ mark is insanity, even through two starts. But it backs up the eye test, so I don't think it's a small sample-size abnormality.
At the minimum, we can project Miller as a half-run better than German over the course of a full season. However, I'm willing to venture the gap could be much wider.
Consequently, I'm willing to place a bet on that. In a relatively even matchup, I'll bet on Miller over German and take the Dodgers at home in the early frames at -150 to win the first five innings.
Pick: Dodgers F5 ML (-150 | Play to -160)
---
How would you rate this article?
This site contains commercial content. We may be compensated for the links provided on this page. The content on this page is for informational purposes only. Action Network makes no representation or warranty as to the accuracy of the information given or the outcome of any game or event.