UFC 229 Betting Preview: Can Conor McGregor Hand Khabib Nurmagomedov his First Ever Loss?
Conor McGregor is a slight underdog (+130 odds) against Khabib Nurmagomedov (-160 odds) at UFC 229.
McGregor's striking ability, and Nurmagomedov's grappling, each represent the other's kryptonite.
Both competitors offer the best betting value of their respective UFC careers.
Betting odds: Conor McGregor vs. Khabib Nurmagomedov
Conor McGregor +130
Khabib Nurmagomedov -160
Over/Under: 2.5 Rounds (+110/-130)
Time: Approx. 11:30 p.m. ET
Channel: UFC Pay-Per-View
The biggest fight in mixed-martial arts history is set to take place this Saturday night at UFC 229 from the T-Mobile Arena in Las Vegas, Nevada.
Undefeated lightweight champion Khabib Nurmagomedov will take on former featherweight and lightweight champion Conor McGregor in a classic striker-vs.-grappler matchup.
The trash-talking Irishman boxed Floyd Mayweather in August of 2017, but hasn't been locked in the octagon since November 12, 2016. It was then that McGregor dethroned then-lightweight champion Eddie Alvarez to become the UFC's first-ever fighter to hold belts in two different divisions.
Meanwhile, Saturday night will mark Khabib's third fight in the last calendar year. The 26-0 Dagestani was last seen at UFC 223 in April when he earned a dominant decision over Al Iaquinta to win the vacant lightweight  championship.
There's more than a little bad blood between these two, and both confirmed during Thursday's press conference that there wouldn't be any hand shaking at the conclusion of the fight. There's little doubt that this is the toughest test of both McGregor and Khabib's respective careers.
Let's break down some of the matchup's biggest questions and attempt to find some value with the odds.
Can McGregor Keep the Fight on the Feet?
It's tough to poke many holes in the game of a fighter who has never lost a round in the UFC, but Khabib's striking ability certainly isn't his strength.
The sambo-specialist regularly grapples the fight to the ground, where his next-level positioning and control has enabled him to dominate all 10 of his UFC opponents.
This strategy has obviously been effective: Khabib's strike differential rate of +2.45 strikes per minute is the second-highest mark in the history of the UFC lightweight division.
Still, there have been two moments in Nurmagomedov's career that have demonstrated flaws in his striking ability:
Michael Johnson "clipped" Khabib with a right hook in the first round of their matchup in 2016.
Iaquinta managed to stand and trade with Khabib for the better part of the final 15 minutes of their fight without getting finished on one-day notice.
Of course, both these moments were mere speed bumps for Khabib. He went on to submit Johnson in a three-round mauling, and Iaquinta lost a lopsided unanimous decision with 50-44, 50-43 and 50-43 scorecards.
The question is whether McGregor can capitalize on his advantage in the striking department before Khabib is able to move the fight to his comfort zone on the ground.
Every round starts standing up, but the current lightweight champion has dragged all but one (Gleison Tibau) of his opponents to the ground during fights in which he's attempted at least one takedown.
There's little debate that Khabib holds a massive advantage on the ground, but the same holds true for McGregor on the feet. Any fight involving Conor's left hand is always mere seconds away from potentially ending via devastating KO: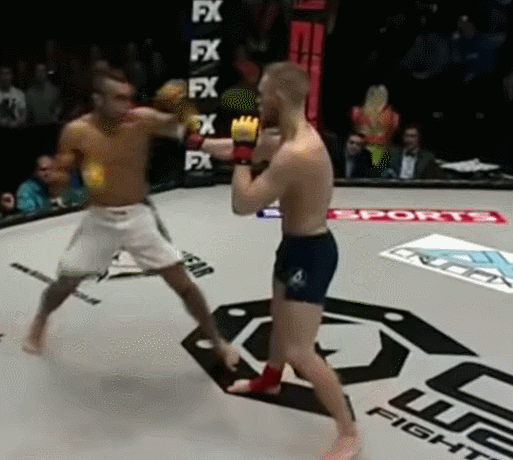 Overall, McGregor owns the fourth-highest knockdown rate in UFC history with 2.2 per 15 minutes inside the octagon. He's only failed to finish Nate Diaz and current featherweight champion Max Holloway during his 10-fight UFC career.
Khabib's striking ability has been ridiculed as amateur from critics, but his success in the octagon probably makes "unorthodox" a better descriptor.
Regardless, Khabib doesn't have much business attempting to consistently trade with arguably the UFC's most-polished striker — and he knows this.
Can Khabib Take Down McGregor?
Khabib's striking coach Javier Mendez was fairly upfront about their disadvantage on the feet:
"There's no amount of time that we have that's going to help us to try and get him to stand up … There's no way possible … We're the better grappler, he's the better striker, but that doesn't mean we won't strike, it just means he's better. It's about who plays whose game."
Both fighters have largely thrived by instituting their respective game plans on each and every one of their opponents. For Khabib, this has consisted of never-ending pressure and chain-style takedowns meant to break his opponents down both physically and mentally.
Khabib's takedown output has been consistently ridiculous regardless of the opponent:
vs. Al Iaquinta 6-of-15 (40%)
vs. Edson Barboza 4-of-13 (31%)
vs. Michael Johnson 2-of-6 (33%)
vs. Darrell Horcher 2-of-3 (66%)
vs. Rafael Dos Anjos 6-of-12 (50%)
vs. Pat Healy 5-of-11 (45%)
vs. Abel Trujillo 21-of-27 (77%)
vs. Thiago Tavares 0-of-0 (Khabib won via KO just 1:55 into the 1st-round)
vs. Gleison Tibau 0-for-13 (0%)
vs. Kamal Shalorus 3-of-9 (33%)
Meanwhile, only Chad Mendes has posted multiple takedowns on McGregor during his time in the UFC. While Mendes was successful in maintaining position on the ground for extended stretches of the fight, McGregor was reportedly fighting with an ACL that was, "80% torn."
Recently, McGregor has only been taken down once in his past 10 attempts from Alvarez and Diaz.
---
>> Sign up for The Action Network's daily newsletter to get the smartest conversation delivered into your inbox each morning.
---
It seems likely that Khabib will be able to get McGregor on the ground eventually, so long as the fight lasts long enough for "eventually" to take place.
Both fighters seem to represent the kryptonite of each other, setting the stage for a seemingly dominant performance one way or another.
Current and Past Odds
The present betting odds boast more value for both fighters than we've grown accustomed to seeing
Both McGregor and Khabib are at their lowest betting odds in their respective UFC careers. This marks only the second fight (Aldo) that McGregor wasn't a clear favorite, while Khabib has never known what it's like to be an underdog.
Prediction
Each competitor's historically close betting odds represents the general conclusion that nobody really know what's going to happen when these two men face off Saturday night.
A well-timed left hand from McGregor, or a dominant takedown from Khabib, could ultimately prove to be too much for either competitor to overcome.
I won't be "Mystic Hartitz" and pretend to know what's going to happen Saturday night, but I will be placing a small wager on the man with plus odds come fight time. For now, that man is Conor McGregor.
The Pick: McGregor +130
How would you rate this article?