UFC 237 Betting Odds: Jessica Andrade Favored vs. Champion Rose Namajunas, More
Credit:
Kevin Jairaj-USA TODAY Sports. Pictured: Jessica Andrade
Check out all of the UFC 237 betting odds for the prelims and main card.
Jessica Andrade is a -130 favorite in her championship strawweight bout against Rose Namajunas.
Saturday night will be full of action in South America as the UFC travels to the Rio Olympic Arena in Rio de Janeiro for the promotion's fourth pay-per-view event of the year.
Fights will get started at 6:15 p.m. ET on UFC Fight Pass with a four-fight early preliminary card that will transition to a four-fight preliminary card at 8 p.m. ET on ESPN before finally starting the PPV portion of the event at 10 p.m. ET with a four-fight main card.
UFC 237 is headlined by a women's strawweight clash between the division's undisputed champion 'Thug' Rose Namajunas and No. 1 contender Jessica Andrade.
Namajunas has won three fights in a row, most recently dispatching longtime champion Joanna Jedrzejczyk during their much-anticipated rematch at UFC 223 in April 2018.
Andrade was last seen knocking out top-10 contender Karolina Kowalkiewicz in just 118 seconds back at UFC 228 this past September.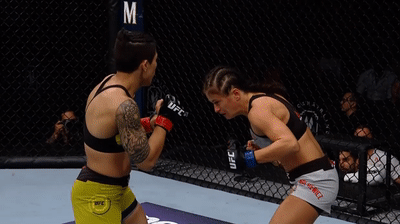 The rest of the card is shaping up to be fun as well. The co-main event features middleweights Anderson Silva and Jared Cannonier, while Jose Aldo, Thiago Alves and even B.J. Penn will be making appearances.
You can find personal attributes and metrics for each fighter in the table below. All statistics are courtesy of UFC.com and UFCStats.com.
Each fighter's official weight is listed in parenthesis.
UFC 237
Championship Women's Strawweight Fight: Rose Namajunas (114.5) vs. Jessica Andrade (114.5)
Monday lines: Namajunas (EVEN); Andrade (-130)
Tuesday: Namajunas (EVEN); Andrade (-130)
Wednesday: Namajunas (EVEN); Andrade (-130)
Thursday: Namajunas (EVEN); Andrade (-130)
Friday: Namajunas (EVEN); Andrade (-130)
Middleweight Fight: Jared Cannonier (184.5) vs. Anderson Silva (185)
Monday lines: Cannonier (-160); Silva (+130)
Tuesday: Cannonier (-150); Silva (+120)
Wednesday: Cannonier (-140); Silva (+110)
Thursday: Cannonier (-140); Silva (+110)
Friday: Cannonier (-140); Silva (+110)
Featherweight Fight: Jose Aldo (146) vs. Alexander Volkanovski (145.5)
Monday lines: Aldo (-145); Volkanovski (+115)
Tuesday: Aldo (-140); Volkanovski (+110)
Wednesday: Aldo (-140); Volkanovski (+110)
Thursday: Aldo (-140); Volkanovski (+110)
Friday: Aldo (-140); Volkanovski (+110)
Welterweight Fight: Thiago Alves (170.5) vs. Laureano Staropoli (170.5)
Monday lines: Alves (-115); Staropoli (-115)
Tuesday: Alves (-115); Staropoli (-115)
Wednesday: Alves (-120); Staropoli (-110)
Thursday: Alves (-120); Staropoli (-110)
Friday: Alves (-120); Staropoli (-110)
Prelims
Light Heavyweight Fight: Antonio Rogerio Nogueira (203.5) vs. Ryan Spann (204)
Monday lines: Nogueira (+125); Spann (-155)
Tuesday: Nogueira (+120); Spann (-150)
Wednesday: Nogueira (+115); Spann (-145)
Thursday: Nogueira (+115); Spann (-145)
Friday: Nogueira (+115); Spann (-145)
Lightweight Fight: Thiago Moises (155) vs. Kurt Holobaugh (154.5)
Monday lines: Moises (-155); Holobaugh (+125)
Tuesday: Moises (-135); Holobaugh (+105)
Wednesday: Moises (-130); Holobaugh (EVEN)
Thursday: Moises (-125); Holobaugh (-105)
Friday: Moises (-125); Holobaugh (-105)
Women's Bantamweight Fight: Irene Aldana (135.5) vs. Bethe Correia (141 – missed weight)
Monday lines: Aldana (-270); Correia (+210)
Tuesday: Aldana (-285); Correia (+225)
Wednesday: Aldana (-305); Correia (+235)
Thursday: Aldana (-350); Correia (+265)
Friday: Aldana (-350); Correia (+265)
Lightweight Fight: B.J. Penn (155.5) vs. Clay Guida (153.5)
Monday lines: Penn (+375); Guida (-550)
Tuesday: Penn (+400); Guida (-600)
Wednesday: Penn (+450); Guida (-700)
Thursday: Penn (+450); Guida (-700)
Friday: Penn (+450); Guida (-700)
Early Prelims
Women's Flyweight Fight: Luana Carolina (124.5) vs. Priscila Cachoeira (125.5)
Monday lines: Carolina (-165); Cachoeira (+135)
Tuesday: Carolina (-170); Cachoeira (+140)
Wednesday: Carolina (-175); Cachoeira (+145)
Thursday: Carolina (-175); Cachoeira (+145)
Friday: Carolina (-175); Cachoeira (+145)
Welterweight Fight: Warlley Alves (170)vs. Sergio Moraes (170)
Monday lines: Alves (-145); Moraes (+115)
Tuesday: Alves (-150); Moraes (+120)
Wednesday: Alves (-145); Moraes (+115)
Thursday: Alves (-140); Moraes (+110)
Friday: Alves (-140); Moraes (+110)
Bantamweight Fight: Raoni Barcelos (135.5) vs. Carlos Huachin Quiroz (135.5)
Monday lines: Barcelos (-550); Quiroz (+375)
Tuesday: Barcelos (-600); Quiroz (+400)
Wednesday: Barcelos (-1000); Quiroz (+600)
Thursday: Barcelos (-1000); Quiroz (+600)
Friday: Barcelos (-1000); Quiroz (+600)