UFC 237 Undercard Betting Preview: Jose Aldo, Anderson Silva, More
Credit:
Jason Silva-USA TODAY Sports. Pictured: Jose Aldo (red gloves).
No. 10 ranked middleweight Jared "Killa Gorilla" Cannonier (-150) takes on an all-time great in No. 14 ranked Anderson "The Spider" Silva (+125).
Legendary featherweight No. 1 ranked Jose Aldo (-135) faces off against No. 4 ranked Alexander "The Great" Volkanovski (+110).
The fight between Clay Guida (-570) and BJ Penn (+410) provides the best betting value on the card.
UFC 237 Undercard Betting Preview:
Early Preliminary Card: 6:15 p.m. ET on ESPN+
Preliminary Card: 8:00 p.m. ET on ESPN
Main Card: 10 p.m. ET on PPV via ESPN+
UFC 237 kicks off on Saturday evening in Brazil with two world class MMA fighters in action on their home turf. Jose Aldo is looking to build on his back-to-back knockout wins, while Anderson Silva hopes to get back in the win column.
Jared "Killa Gorilla" Cannonier (-150) vs. Anderson "The Spider" Silva (+125)
After starting his UFC career as a heavyweight, Jared "Killa Gorilla" Cannonier (11-4) made his middleweight debut last November. Entering as a +255 underdog, Cannonier knocked out David Branch in the second round.
A switch stance fighter, Cannonier is a heavy-handed striker. He's knocked out men in the heavyweight, light heavyweight, and middleweight divisions of the UFC and has a +0.80 strike differential.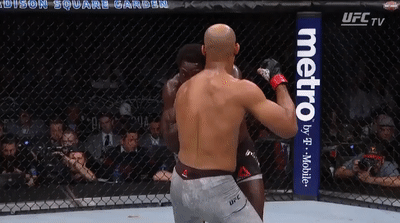 Cannonier has displayed two key weaknesses in the UFC.
Wrestling: Cannonier only defends 44% of takedowns successfully. In his UFC career, Cannonier has landed one takedown and surrendered 16.
Chin: Cannonier has been knocked out twice in the UFC (both first round finishes). Cannonier only absorbed 16 significant strikes per fight in those bouts.
Against the legendary  Silva (34-9, 1 NC), the latter issue will be the one to worry about. Silva has one of the best resumes in UFC history and it's punctuated by highlight reel finishes.
To put his accomplishments into context, Silva ranks:
No. 1 in longest title reign (2457 days) all-time.
No. 1 in longest win streak (16) all-time.
No. 1 in middleweight division finishes (11) and wins (13) all-time.
No. 1 in UFC title fight finishes (9), knockouts (7), and knockdowns (10) all-time.
No. 2 in knockdowns landed (18) all-time.
No. 2 in significant strike accuracy (60.0%) all-time.
Silva's greatest weapon is his counter-striking. He has an ability to draw opponents in and coerce them to make mistakes, opening themselves up in the process.
Recently, Silva's fights have been more confusing and less spectacle. It's likely a mix of Silva's reflexes declining with age — he is still able to stymie opponents, but unable to capitalize — and an apparent change in attitude.
It's difficult to predict exactly what we'll get in the cage on Saturday night. Cannonier is a dangerous puncher, but has been knocked out multiple times and hasn't dealt with any elite counter-strikers in the UFC. Silva has always been an enigmatic figure, but his post-championship career has been one oddity after another.
Silva still has power and his chin has held up since losing the title. Cannonier is a very predictable fighter, and there's a good chance he gets it done, but he'll certainly present Silva with openings.
If this fight goes the distance, Cannonier has had cardio issues in the past and Silva is maybe the best fighter in the history of the sport at convincing the judges he's winning (even if he isn't). Take into account that this fight is in Silva's native Brazil, and I'll ride with the legend on this one.
The Pick:  Anderson Silva (+125)
---
Jose Aldo (-135) vs. Alexander "The Great" Volkanovski (+110)
Tales of Jose Aldo's (28-4) demise have been greatly exaggerated. After losing to Conor McGregor and twice to Max Holloway, many wrote the consensus greatest featherweight of all time off.
Since then, Aldo has reeled off back-to-back knockout victories. This is the first time Aldo has finished consecutive opponents since 2009.
Aldo built his legacy on explosive Muay Thai — notably slick boxing and debilitating leg kicks — and impenetrable takedown defense.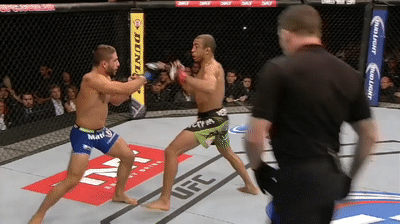 Among active featherweights, Aldo is ranked:
No. 2 in takedown defense (90.6%).
No. 4 in total fight time (3:31:19).
No. 5 in significant strikes landed (706).
No. 7 in total strikes landed (820).
No. 10 in knockdowns landed (4).
Alexander "The Great" Volkanovski (19-1) is the hottest prospect in the UFC's featherweight division. Thus far he's passed every test placed in front of him with flying colors. Most impressively, Volkanovski overcame some early setbacks to knock Chad Mendes out last December.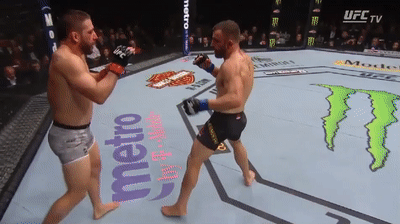 Fighting out of Freestyle Fighting Gym in New South Wales, the Australian is a relentless, powerful wrestler. Volkanovski's activity is among the very best in the division. Among all active UFC featherweights, Volkanovski is ranked:
No. 1 in significant strike accuracy (60%).
No. 1 in strike differential (3.45).
No. 3 in strikes landed per minute (6.06).
Volkanovski has power in his hands, but his ability to pressure and control his opponents is the crux of his game.
Jose Aldo built his legacy feasting on wrestle-boxers like Volkanovski.
Aldo's never lost this style match-up before and I don't expect him to start now. This being a three round fight makes Aldo's cardio less of a question, and the fight taking place in Brazil only reinforces my pick.
The Pick: Jose Aldo (-135)
---
Clay "The Carpenter" Guida (-570) vs. "The Prodigy" BJ Penn (+410)
Jose Aldo may still have a lot left in the tank, but it looks like BJ Penn's (16-13-2) ability to compete in the UFC disappeared a long time ago.
At his peak, Penn was the second multi-divisional champion in UFC history and the consensus best lightweight on the planet. Unfortunately, those days are long gone. Penn is on a 1-8-1 run dating back to 2010 with each loss coming against progressively-worse competition. The man once known as "The Prodigy" has been finished in three of his last four.
If this fight were taking place a decade ago, it's likely the odds would be flipped the other way. It's a testament to Clay Guida's (34-18) work ethic and durability that he is still active and relatively successful in the UFC.
Although "The Carpenter" can no longer compete with the elite of the division, he's been able to earn wins over his contemporaries. Guida is 2-1 in his last three since returning to the lightweight division.
After his win over Joe Lauzon in late 2017, Guida insisted he was "just getting started". While it remains to be seen just how far Guida can go, he should have more than enough for this version of Penn.
This will be ugly. This will be sad. At least we'll win some money.
The Pick: Guida wins inside the distance (-170)
How would you rate this article?