UFC on ESPN 1 Betting Preview: James Vick Squares Off Against Paul Felder, More
Credit:
Tom Szczerbowski, USA Today Sports. Pictured: Paul Felder
The co-main event of UFC's debut on ESPN is a lightweight bout between James Vick (-120) and Paul Felder (+100).
The total on Vicente Luque (-440) versus Bryan Barberena (+350) provides betting value on the undercard.
UFC on ESPN 1 betting odds: James Vick vs. Paul Felder
James Vick: -120
Paul Felder: +100
Time: Approx. 10:30 p.m. ET
Channel: ESPN


---
UFC on ESPN 1 is about as stacked a card as you'll find on free television. UFC on ESPN 1 is filled top-to-bottom with exciting fights, promising prospects, returning legends, and more.
The third time is the charm for the co-main event, as the fight fell apart the first two times James Vick and Paul Felder were booked against each other. Now, both men are looking to rebound from a loss after having their respective win streaks snapped.
"The Texecutioner" James Vick
Fighting out of Mineral Wells, Texas, the 31-year-old Vick made his UFC debut in 2013 after losing in the semi-finals of The Ultimate Fighter 15. Vick has gone 9-2 in the UFC with both losses coming via knockout.
Vick has a well-rounded, if incomplete, game. He's capable of finishing the fight inside the distance with both his striking and his grappling. "The Texecutioner" has two knockout wins and three submissions in the UFC. He's won via decision four times.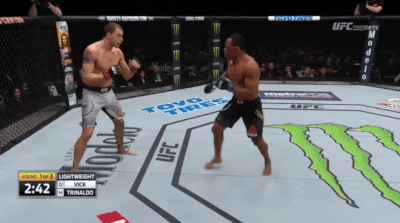 Vick's UFC tenure has been characterized by streaks of victories broken by a single brutal loss. Vick had won five UFC bouts in a row prior to his knockout loss at the hands of Beneil Dariush and subsequently won four UFC fights before being knocked out by Justin Gaethje last August.
"The Irish Dragon" Paul Felder
Philadelphia-born Paul Felder has been fighting in the UFC since October 2014 and has gone on to become one of the most exciting fighters in the UFC's lightweight division.
Felder is 8-4 in the UFC. Coming into the organization primarily as a striker, Felder has knocked out four of his opponents, submitted one, and scored a decision victory twice. He has lost by decision three times and once by doctor stoppage (cut).
Felder is looking to rebound from a grueling decision loss to Mike Perry last July. That fight, which Felder moved up to welterweight for and took on short notice, snapped the best winning streak of Felder's UFC career at three.
The Matchup
Striking
Vick's striking game is defined almost entirely by his abnormally large frame. Standing at 6-foot-3 and possessing a 76-inch reach, the Texan has been the taller and longer man every time he has stepped into the Octagon. That will not change against Felder.
Vick prefers to strike at range where it is much easier for him to hit his opponents than it is for them to hit him. He lands 4.16 significant strikes per minute and outlands his opponents by 1.11 significant strikes per minute.
He has power in his hands and has scored a knockdown in each of his last three wins.
The former Golden Gloves champion utilizes a very active jab that has been improving between fights. Vick also likes to throw naked kicks, particularly leg kicks and a slick body kick.
Defensively, Vick's striking is lacking. He keeps his head up and on the center line, making it dangerously reachable for pressuring opponents.
Vick also tends to charge forward wildly with his chin in the air – he throws a flying knee almost every fight – which has gotten him into trouble multiple times. Vick's biggest flaw is his lack of durability on the feet."
"The Irish Dragon" Felder came into the UFC and quickly made a name off his flashy striking. He's a high-output striker, having thrown 8.19 significant strikes per minute over his UFC career. While Felder's game can look brilliant in pieces, his big flaw is a lack of cohesiveness.
Facing a skilled striker at range, Felder tends to become repetitive. He will attempt the same low-percentage strikes repeatedly when his opponent doesn't give him openings to work with. These strikes look very impressive when they succeed but can allow Felder to let fights slip away from him.
Grappling
Though Felder is ostensibly a striker, he's achieved his highest-level success in the UFC as a powerful grappler and clinch-fighter. In Felder's most impressive win to-date (over current No. 14 lightweight Charles Oliveira) he showcased an extremely talented grappling game.
Felder rarely pursues the takedown – attempting only 0.36 takedowns per 15 minutes – but has excelled on the mat when forced to fight there.
In the Oliveira fight, Felder scrambled through multiple submission attempts by the most accomplished submission specialist in UFC history. In both rounds, Felder wound up in top position and was able to deliver brutal ground and pound.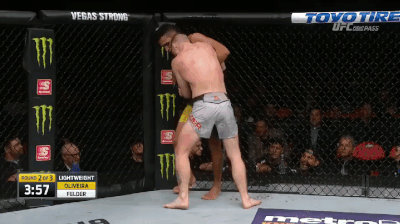 As Felder has developed, his best moments have come in close quarters. Every fight in his recent three-fight win steak – including finishes over Oliveira, Stevie Ray, and Alex Ricci – featured Felder hurting his opponent up close. The Philadelphia-native has incredibly dangerous elbow strikes capable of finishing opponents in the clinch and from top position.
Vick's grappling game is like his striking in that it is defined by his height and extremely potent but lacking defensively. The wrestling in Vick's fights is dictated by his opponents:
Vick attempts just 0.32 takedowns per 15 minutes.
Vick successfully defends only 56% of takedowns.
77% (7/9) of opponents that attempted to take Vick down were successful.
Vick has only landed a takedown when his opponent attempted one first.
Part of Vick's poor defensive wrestling is that he is very comfortable falling to his back to attempt a choke. Vick's height makes it easier for his opponents to get in on his hips but also provides him with leverage to attempt front headlock chokes (guillotines, d'arces, etc.).
On the feet, Vick's clinch game is again defined by his height. Vick's long limbs allow his opponents a wide window to attach through; Vick is very susceptible to powerful strikes when his opponent enters the clinch. Once in the clinch, however, "The Texecutioner" uses his long limbs to smother his opponents and prevent them from doing much.
X-Factor: Dictating Distance
The fight will be decided by the distance it takes place on the feet. Vick wants to stay at range where he can actively land with his jab and snipe his opponent with kicks. Felder is often content to stay at range but would be best served by pressuring Vick and attacking him in the pocket/clinch.
As mentioned above, neither man pursues the takedown out of their own volition. It's unlikely this fight heads to the mat without someone being dropped on the feet.
Current and Past Odds
Both men find themselves in another closely-contented bout. After opening at +135, Vick currently sits as the slight favorite at -120.
Vick has been the favorite entering five of his last six, but four of those fights (including this one) were -135 or closer. Felder is currently dead-even at +100 after opening at -175. Felder has been between -165 and +155 in five of his last six, indicating close matchups.
Prediction
Both men have clear paths to victory: Vick can stay at range and pepper Felder with jabs and kicks and Felder can pressure Vick and beat him up with elbows and knees in the clinch and the ground.
Of the two, Felder is more likely to fight the other man's fight. Felder has shown in the past that he is comfortable to sit at range and lose a closer-but-clear striking match.
Vick will want to keep the fight at range and I expect Felder to be more than happy to oblige.
The pick: James Vick -120
Vicente Luque (-440) vs. Bryan Barberena (+350)
Brazilian powerhouse Vicente Luque is currently on a 7-1 run in the UFC's welterweight division. All seven of Luque's wins in that run are finishes.
The 27-year-old hunts for the finish from the opening bell and can end the fight with both his hands and on the ground. Luque has four UFC knockout wins via punches and three UFC submission wins via choke.
American Bryan Barberena is a grinder in every sense of the word. He's amassed a 5-3 UFC record including wins over Jake Ellenberger, Warlley Alves, and Sage Northcutt. "Bam Bam" throws 10.2 significant strikes per minute and lands 4.98 (49%) of them. His grueling style, relentless pace, and outstanding durability have made him a cult favorite among UFC fans.
The finishing rates of both fighters are defined by whether they win or lose:
Luque has gone the distance in:

100% (7/7) of his UFC wins
0% (0/2) of his UFC losses

Barberena has gone the distance in:

80% (4/5) of his UFC wins
0% (0/3) of his UFC losses
Both men have feasted on inferior competition and have gone to decision when taking steps up in competition. Since both opponents are taking a step up relative to their usual competition, I expect the latter trend to continue.
The pick: Fight goes to decision (+125)