UFC on ESPN 1 Betting Guide: Heavyweights Francis Ngannou and Cain Velasquez Go to War Sunday Night
Credit:
Jerry Lai, USA Today Sports. Pictured: Francis Ngannou
UFC on ESPN 1 betting odds: Francis Ngannou vs. Cain Velasquez
Francis Ngannou +135
Cain Velasquez -165
Time: Approx. 10:30 p.m. ET
Channel: ESPN
---
>> Sign up for The Action Network's daily newsletter to get the smartest conversation delivered into your inbox each morning.
---
There will be plenty of action going down in the octagon this Sunday night at UFC on ESPN 1 from the Talking Stick Resort Arena in Phoenix, Arizona.
Heavyweights Francis 'The Predator' Ngannou and Cain Velasquez will headline the UFC's first ever main card to be shown on ESPN.
Ngannou ripped off six consecutive wins during 2015-2017 upon joining the UFC, but his hype train was quickly derailed by Stipe Miocic during a decisive five-round decision loss.
He suffered another decision loss at UFC 226 to Derrick Lewis in one of the least-offensive fights the division had ever seen, although 'The Predator' got back to his winning ways last November by defeating top-ranked contender Curtis Blaydes by TKO just 45 seconds into the very first round.
Meanwhile, 'Cardio Cain' has fought exactly once since Ngannou's company debut in December, 2015. This occurred at UFC 200 back in July, 2016, when Velasquez easily dispatched Travis Browne by first-round TKO.
The former heavyweight champion is finally healthy after undergoing back surgery in early 2017, although a career of additional back, rotator cuff and knee issues calls into question just how "healthy" a 36-year old Velasquez is capable of being.
Ngannou is the bigger and longer fighter, but nobody in the world can match Velasquez's ridiculous offensive output. Overall, Velasquez's 4.14 striking differential is the highest mark in the history of the UFC heavyweight division. Neither fighter has made a habit of letting their fights get decided by the judges.
Let's break down some of the matchup's biggest questions and attempt to find some value with the odds.
How Can Francis Ngannou Win?
Devastating knockout has usually been how The Predator has gone about finishing his fights inside of the octagon. Ngannou has a very real claim as the scariest man in the UFC.
Of course, we've learned that Ngannou isn't quite unstoppable … as long as you can get out of the first round. The Predator hasn't won a fight that's lasted more than two rounds during his career and displayed major conditioning issues during his five-round fight with Miocic.
It's tough to be too hard on Ngannou for his loss to Miocic, who is on everybody's short-list of the greatest heavyweight fighters of all-time.
Still, Ngannou's lack of wrestling was exposed, as Miocic managed to complete 6-of-14 takedown attempts and regularly controlled his larger opponent on the ground or in the clinch for large portions of the final four rounds.
The only other time we've seen Ngannou lose inside the octagon was in a perplexing affair against Derrick Lewis, when the pair of heavyweights combined to land just 31 total strikes – the second-fewest combined strikes during a three-round fight in UFC history.
Ngannou said the following about his career-worst performance …
"I am not proud of my last performance. I have carried my fear from the last fight to this one. I completely understand the frustration & anger that it has caused to my fans, coaches, teammates, family and friends and I am truly sorry for that. I won't let everyone down again. All I can do now is prove myself and make you proud again. #UFC226"
Basically every other Ngannou appearance has resulted in a badly beaten opponent. He's surprisingly finished four fights during his career by submission, but most of his offense comes from the hardest-hitting hands in the company.
Ngannou also deserves credit for his ridiculous strength and athleticism that has made it difficult for any heavyweight to hang tough during the opening round. He's had a slightly better takedown defense rate during the first round (72%) compared to rounds 2-5 (69%) during his career.
It's tough to see The Predator straying too far from his tried-and-true strategy of attempting to knock his opponent's head into the upper rafters, and it's also probably not a good idea for Ngannou to even try to match Velasquez's cardio or wrestling ability.
History tells us that if Ngannou is going to win, the fight will be over inside of the first 10 minutes.
How Can Cain Velasquez Win?
Current heavyweight champion Daniel Cormier has been teammates with Velasquez at American Kickboxing Academy (AKA) for the better part of the last half decade. Cormier has stated that he can't even beat Cain and gave an update on his friend's health.
"You're going to see vintage, you're going to see the best … Nothing has changed. (Cain) is still as good, still as fast. He still can wrestle, as well. You have to remember, this whole time off he's been helping me the whole time."
Like Ngannou, we've only seen Velasquez lose twice inside the octagon. The first was back in November, 2011, when Velasquez got knocked out by Junior dos Santos in just 64 seconds.
The second occasion was in June, 2015, when 'Cardio Cain' infamously decided against extended training at altitude ahead of his fight in Mexico City against Fabricio Werdum. Cain went on to lose his title to Werdum after getting submitted in the third round.
Velasquez has largely looked like an unstoppable killer during the rest of his career. He avenged his loss to JDS with a dominant five-round decision at UFC 155 to go along with a fifth-round TKO victory at UFC 166.
We might never seen a Velasquez-Werdum rematch, but Cain certainly looked like a killer against Travis Browne during his only fight since that loss.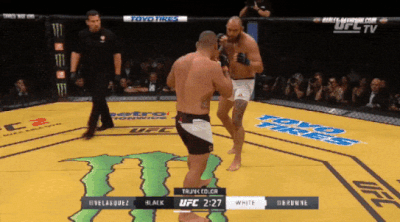 The former Arizona State wrestler should have a solid home-field advantage Sunday night in Phoenix when he returns to the octagon for the first time in 31 months.
There's little doubt that a prime-Cain has enough wrestling and cardio ability to make the fight into a long and painful evening for Ngannou. History tells us that we shouldn't expect too much of a stand-and-bang battle, as Velasquez has consistently implemented his wrestling early and often during his last five trips to the octagon.
Cain Velasquez has attempted multiple takedowns during the first round in each of his last five fights:

vs. Browne: 3
vs. Werdum: 2
vs. JDS III: 5
vs. Silva II: 2
vs. JDS II: 9

— Action Combat (@ActionFights) February 15, 2019
Only Dos Santos has managed to even knock down Velasquez. Age, ring rust and a history of injuries likely doesn't bode too well for the preservation of chins, although there's also a possibility that Velasquez's extended layoff has finally given the notoriously-banged-up fighter enough time to properly heal.
Nobody has ever put Ngannou away inside the distance, but Cardio Cain has the perfect wrestling-based skill set to grind out a decisive decision victory … as long as he can avoid that ever-looming fight-ending power shot.
Current and Past Odds
Both fighters offer more value than we're used to seeing from them based on their respective last eight fights inside the octagon.
Sunday night will be just the third time that Ngannou has been an underdog since he joined the UFC. Meanwhile, Velasquez hasn't boasted better odds since his first rematch with Dos Santos back in December, 2012.
---
Prediction
Velasquez is seemingly the better overall fighter, but he's also coming back from back surgery and a two-plus year layoff against the most-dangerous man in the company.
It's tough to take too much away from warmup sessions, but there have certainly been better exhibitions than what we've seen from Velasquez during the past few weeks. Note that Cain's knee appeared to buckle around the 43 second mark of the below video.
We've only seen one man truly get the better of Ngannou inside the octagon, and I haven't seen enough recent evidence from Velasquez to feel confident that we're getting the best version of himself.
I'm happy to be receiving plus-odds on The Predator, although they've shrunk since the week started.