UFC Fight Night 143 Betting Preview: Cerrone vs. Hernandez, Plus Undercard Bets
Credit:
Ron Chenoy, USA Today Sports. Pictured: Donald Cerrone
Alexander "The Great" Hernandez (-190) and Donald "Cowboy" Cerrone (+165) main event the ESPN portion of UFC on ESPN+ 1: Cejudo vs. Dillashaw.
Notable fights on the card include "12 Gauge" Paige VanZant (-170) versus Rachael Ostovich (+140) and Glover Teixeira (-125) versus Karl Roberson (+105) provide opportunities elsewhere on the card, including a best bet.
Betting odds: Alexander Hernandez vs. Donald 'Cowboy' Cerrone
Alexander Hernandez: -190
Cowboy Cerrone +165
Time: Approx. 9:30 p.m. ET
Channel: ESPN
---
>> Sign up for The Action Network's daily newsletter to get the smartest conversation delivered into your inbox each morning.
---
The ESPN portion of the UFC's first event with the Worldwide Leader is headlined by a lightweight clash between No. 11 ranked Alexander "The Great" Hernandez and No. 13 ranked Donald "Cowboy" Cerrone. This is Hernandez's third fight in the UFC and Cowboy's first fight at 155 lbs. since December 2015.
Hernandez vs. Cerrone
Alexander "The Great" Hernandez
Filling in for Bobby "King" Green, Hernandez made his UFC debut on short-notice against Beneil Darisuh at UFC 222 back in March 2018. A large, unheralded underdog heading into that bout, Hernandez made short work of his opponent, knocking Dariush out via punches in the first minute of the bout.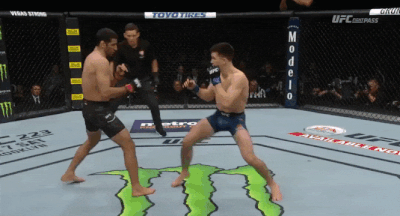 "The Great" followed up with a grueling unanimous decision win over "OAM" Olivier Aubin-Mercier at UFC on FOX 30 this past July.
From the opening seconds of his UFC career, Hernandez has come out guns blazing and has never let up. The 26-year-old American charges right at his opponent with a high-volume striking attack. He continues to pressure until he runs his opponent into the clinch. In the clinch, Hernandez is happy to work the body and go for takedowns.
Hernandez is the rare fighter that has the gas tank to back up such a demanding style. Against OAM, Hernandez was able to keep the pressure on his opponent for the full 15 minutes. He attempted 48, 29, and 60 strikes in rounds one, two, and three respectively – with the most success coming in the final stanza. Hernandez also found the most success with his wrestling in round three when OAM was unable to match Hernandez's pace.
Donald 'Cowboy' Cerrone
"Cowboy" is a household name to all but the most casual of fight fans. His armbar victory over Mike Perry in November 2018 secured his position as the all-time UFC leader in wins (21) and finishes (15). The victory over Perry marked the end of a 6-4 run at welterweight for Cerrone.
Cowboy is the epitome of an action fighter. He utilizes his lanky frame and deceptive strength to batter opponents on the feet. While not a potent offensive wrestler, Cowboy can be devastating in the clinch and possesses a sneakily dangerous grappling game, capable of securing the submission from virtually any position.
The Matchup
Striking
Hernandez's striking attack is defined by his constant desire to come forward. He charges in with powerful boxing combinations capable of knocking his opponents out cold. Hernandez targets the head and the body and is quick to pounce on a sign of weakness.
The key cause for concern on the feet is that Hernandez leaves his head on the center-line and can be hit cleanly coming in, though he has yet to have an opponent make him pay for it.
Cowboy's work in recent years with striking coach "Six Gun" Brandon Gibson as seen him take his striking to another level. A supremely talented kickboxer, Cerrone hits opponents with increasingly impressive combinations on the feet. He can rock opponents with his hands, and his head kick has ended the night of many an opponent.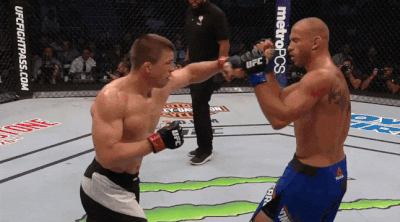 Cowboy is also very comfortable in the clinch and routinely utilizes elbows and knees effectively in close-quarters.
Cerrone lands more significant strikes than Hernandez (4.09 versus 2.99) per minute, but Cowboy also gets hit nearly 2.7x as much as "The Great." Furthermore, Hernandez's strike differential of +1.52 significant strikes/minute is much higher than Cowboy's +0.07 significant strikes/minute.
While Cowboy has the ostensibly better technical defense, these stats are a product of Hernandez's ability to pressure his opponent and control the fight while Cerrone is much more content to strike in open space and off his back foot.
Grappling
Hernandez relentlessly pursues the clinch and likes to use it to force his opponent against the fence. From there, Hernandez alternates between peppering the body with powerful knees and going for takedowns. "The Great" prefers to strike from dominant position (he's yet to attempt a submission in his UFC career).
Though his sloppiness can cause him to wind up in a poor position, Hernandez possess the athleticism and scrambling ability to force his way, and he's never stuck for long.
Cerrone's grappling is dictated by his lackluster ability to take the fight to the ground (34% takedown accuracy over his UFC/WEC career), but he's consistently showcased plenty of deadliness once the fight hits the floor. Cerrone is more than happy to scramble or fight off his back and has six submission wins in the UFC to show for it.
I expect Hernandez to initiate the clinch/grappling exchanges in this fight and for Cerrone to be more than happy to oblige him. Hernandez will most likely work for dominant position where he can hurt Cerrone with ground-and-pound while Cerrone is likely to constantly attack with submissions.
X-Factor: Pace
Throughout Cerrone's storied career inside the Octagon, his most glaring weakness has been that he is a slow starter. When Cowboy's opponent can put it on him early, it usually means he's on his way to a loss.
In Cowboy's eight losses in the UFC he was outstruck in the first round every time. Hernandez's style is built to take exploit this weakness. Hernandez throws 5.99 significant strikes/minute and he is ready to go from the opening bell. Unlike Cerrone, Hernandez requires no feeling out process to get comfortable inside the Octagon.
The Pick
After winning as an underdog in his first two fights with the UFC, Hernandez enters this fight as a favorite. Cowboy is the underdog for the third time in a row and for the fourth time in his last six fights. Cowboy is 2-3 over his last five.
Cerrone has been happy to play spoiler throughout his career and he certainly has multiple paths to victory in this fight. I wouldn't be shocked for him to catch Hernandez coming in on the feet or for him to snatch a submission if Hernandez gets sloppy or tired on the ground.
However, I think history repeats itself as Cowboy will find himself pressured from the opening bell and fail to have an answer. Look for Hernandez to pour it on early and often and either put Cerrone away early or to do enough damage to secure the decision before Cerrone gets warmed up. The odds are a little inflated, but I think the books are favoring the right man.
The Pick: Hernandez -190
---
The Undercard
"12 Gauge" Paige VanZant (-170) vs. Rachael Ostovich (+140)
Initially promoted as one of the next big things in women's MMA, Paige VanZant has fallen on hard times as of late. She's on a 1-3 run since December 2015 and hasn't fought since breaking her forearm in a losing effort to Jessica-Rose Clark last January.
Inside the cage, VanZant's fighting-style is defined by her ability to look great in moments but an inability to form a cohesive game. Paige throws her kicks very well – her body kick in particular – but she overly relies on low-percentage strikes like the jumping switch kick and flying knee, often throwing them with little-to-no setup.
Sometimes, the results are brilliant.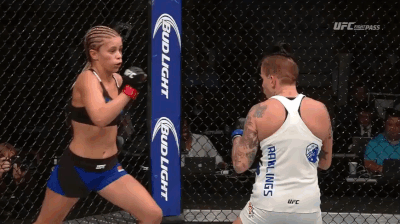 VanZant's grappling game is structured similarly to her standup. She can scramble very well, but constantly puts herself in terrible positions (particularly via failed head-and-arm throws).
Still, VanZant's toughness is remarkable as she constantly fights out of submissions and through injuries. Paige also has the cardio to keep an active pace for all three (or five) rounds if necessary.
And then we have Rachael Ostovich, who is 1-1 in the UFC and was last seen losing via submission to Montana De La Rosa in July 2018. Ostovich takes a fundamentally sound boxing stance on the feet but throws little volume and is very hittable. Ostovich does not take her head off the center-line and backs straight up when pressured.
Where Ostovich has had success is in the clinch and on the ground. She doggedly pursues takedowns and has demonstrated good scrambling ability. Her lone UFC win came when she was able to land a takedown and secure an armbar.
Ultimately, this is PVZ's fight to lose. She's the bigger (5-foot-4 vs. 5-foot-3), longer (65-inch reach vs. 62-inch), and more experienced fighter. Ostovich has durability issues and poor striking defense, so one of VanZant's wild strikes might have a better chance than usual of finding its target.
However, Paige's track record of poor decision-making and Ostovich's grappling ability makes the -170 price tag too high a price to pay.
The value in this fight can be found on the Inside the Distance (ITD) prop:
VanZant: 5-of-7 UFC bouts ended ITD (4-1 run in last five)
Ostovich: 2-of-2 UFC bouts ended ITD (4-1 run in last five)
The Pick: Fight doesn't go to decision (+150)
---
Glover Teixeira (-125) vs. Karl Roberson (+105)
Rumors of Glover Teixeira's demise have been greatly exaggerated. The Brazilian light heavyweight is coming off a unanimous decision loss to Corey Anderson in July 2018. Prior to that he alternated wins and losses for a few fights and overall has accumulated a 10-5 UFC record. Glover is a talented submission grappler with finishing power in his hands.
At 2-1 in the UFC's middleweight division, Karl Roberson is a promising prospect facing his toughest test yet. Roberson suffered his first career loss when he was taken down and submitted by Cezar Ferreira in May 2018 but rebounded nicely with a decision win over Jack Marshman last December. In that fight, Roberson demonstrated improved grappling ability and a more well-rounded game.
The story of the fight is the takedown. Throughout Glover's UFC career, he is:
7-1 when he gets at least one takedown
3-4 when he is unable to get at least one takedown
1-4 when he is taken down at least once
Roberson may have improved, but the Ferreira fight was not that long ago. Ferreira is a more one-dimensional fighter than Teixeira and was able to easily takedown, control, and submit Roberson.
On a purely technical level, I don't see Roberson being able to stop Glover's takedowns. Moreover, Glover is a formidable light heavyweight and Roberson is a natural middleweight taking the fight on short-notice. On the ground Glover is too powerful, too big, and too crafty for Roberson to survive.
Best Bet: Teixeira (-125)