Cavaliers-Raptors Series Preview: Is Toronto a Rightful Favorite?
Credit:
David Richard-USA TODAY Sports
We were this close to having a LeBron-less month of May. Part of me wanted to see it; part of me didn't. I guess there's no point in looking at what might have been.
Instead, we have another Raptors-Cavs playoff series. There are a couple of great stories around this one. First, we know that the Raptors are always a flaming-dumpster-fire GIF of a team against the Cavs in the playoffs.
BUT … the Cavs looked so pedestrian in their series against the Pacers that Toronto is a sizable series favorite.
Here's what we have to say about a third straight season of Toronto-Cleveland playoff action. — Mark Gallant
---
Odds
Series: Raptors -195, Cavaliers +168
Game 1 (Tuesday at 8 p.m. ET): Raptors -6.5, Over/Under 214.5
---
What I'm Watching For
By Matt Moore
It's the second round, which means it's LeBron time. LeBron James carried his team through the first round … and, I mean, we always say that about stars, but it cannot be said any more strongly about James.
James accounted in the first round for 36% of the Cavs' points, 45% of their assists, 26% of their rebounds, 22% of their steals and 28% of their blocks.
He's done it all. Everything. The whole kit and caboodle.
What the Raptors have to do — what they will try to do — is give him only the kit, and keep the caboodle sidelined.
The question is always, "Do you try and make him a scorer or a passer?" The Atlanta Hawks, for some reason, always tried to make him a passer. They would layer the defense to try and get as much in between him and the rim as possible. It never worked, and in those series against Atlanta, James racked up 68 assists in eight games, well above his career playoff average and his average since returning to Cleveland.
It's just really difficult. He's LeBron James, and when he's torching you, you tend to react.
One thing the Cavs will do is space Jonas Valanciunas out of the paint with lineups where Kevin Love is at center. The Cavs went to Tristan Thompson in Game 1. How they manage that against Toronto will be key. Watch how much space James has once he beats his man here because Valanciunas is spaced to the top.
And again, Valanciunas can't help down here:
In the wins against the Raptors late in the season, the Cavs used LeBron off-ball a lot. That didn't happen against Indiana. James had 20 possessions for points or turnovers that were off-ball in the first round, according to Synergy Sports. He had 72 in isolation.
But the problem when he's on-ball is … well, he's a freight train and he freaks you out. Serge Ibaka helps all the way off from the corner here, James has a half-court head of steam, and Love's wide open for a 3-pointer.
The key is to find ways to slow him down without ever giving up those 3-pointers. That's what Toronto has to do, and by the sounds of it, the Raptors know that. From Toronto blog Raptors Republic:
More than anything, the Raptors face the eternal basketball dilemma of whether to load up to stop a star or let said star go off and neutralize his teammates. Head coach Dwane Casey wouldn't tip his hand in terms of specifics, saying that whatever they set out to do, it could change game to game or even quarter to quarter. Digging a little deeper, it sounds very much like the Raptors intend to guard James one-on-one as much as they can, preventing the rest of the Cavaliers from getting going.

"There's not one right way or wrong way – if he's scoring on it, it's not right – but there's one thing that they're gonna live with and go with," Casey said. "You have to understand that. Like I said, we're gonna have different looks, different approaches to how to guard to him, to guard their team. He's shown he's gonna score his points. Now what you can't do is let three or four other guys come up and have career nights."

Conceding that the approach will change doesn't mean the Raptors will be panicky. The hope is to be flexible while staying within their game plan, which is a fine balancing act.

"I think that's one thing about playing against him – you have to pick your poison," Kyle Lowry said. "You have to stick with your game plan, what you want to do and ride with it. You have to make adjustments but stick to your game plan and have confidence in it."
Can you survive defensively if James averages 40 in this series? If the Raptors can contain his passing and keep their own offense up, that's a path to success. It may also mean a more offensive-centric series than what we saw in the first round with so many games hitting the under.
---
Advanced Metrics Breakdown
By Bryan Mears
If you looked at this series simply based on numbers and not which team had LeBron James on the roster, it honestly wouldn't even be close. On the season, the Cavaliers had a +1.0 net rating — +0.1 from the starters and +2.4 from the bench. They ranked 29th in defensive efficiency (per Cleaning the Glass) and dead last in effective field-goal percentage allowed. They were literally the worst half-court defense in the NBA. Toronto, on the other hand, ranked in the top 10 in every offensive Four Factor, as well as finishing fourth in offensive efficiency. The Raps posted a stellar +7.6 net rating — +7.1 from the starters and +8.3 from the bench. Again, if this series were simply based on math, the Raptors would be similar to a -1000 favorite like the Warriors or Rockets. Instead, they begin the series under -200. The LeBron effect is real.
I'm most interested in how the Cavaliers' offense looks in this series. They were the best offense after the All-Star break, but they've been one of the worst of the playoffs, recording just 103.0 points per 100 possessions in seven games against the Pacers. The Cavs won the final two games of the three they played against the Raptors in the regular season, and they had no trouble scoring. In the second game, they put up 141.9 points/100, which was one of the most impressive offensive performances of the entire season. Both teams scored over 120 points/100 in the half court and shot the lights out; LeBron went for 35-7-17 on just 19 shot attempts. People will make a lot of the Cavs' struggles in the first round, and probably for good reason, but LeBron has historically matched up well against Toronto. Is this the year the stellar regular-season numbers from the Raptors matter? Or will LBJ make it yet another trip to the Eastern Conference finals?
---
Locky's Betting Analysis
By Ken Barkley
It would be so easy to just say "LeBron James is an underdog (+175 at last check) to a team he typically owns in the playoffs" and leave it at that. It would be easy to focus on the two meetings this season post-Cavs trades, in which the Cavs won both (and you could make the argument they were the team's two best wins with their current construction the entire season).
I just think there's no value here to back Cleveland, for a variety of reasons. First, both meetings in the regular season of significance were in Cleveland, and considering Toronto has maybe the best home-court advantage of any team in the league, that matters. The first of the two significant meetings in March had the Raptors on the second night of a road back-to-back as well, and they led by almost 20 at halftime before blowing the lead in the final half. If your case for Cleveland is just those two wins down the stretch, you would be well-advised to build a stronger one.
More than anything, this series has the look of a long one. Specifically, over 5.5 games at -176 is my favorite of the available props here. The implied probability (63.77%) doesn't match my projections in terms of the likelihood of a longer series. The way that over 5.5 games doesn't hit is actually for Cleveland to fold due to LeBron's fatigue, more than any other permutation. He's LeBron, so I have to believe he's got enough in the tank to at least carry the series forward to its late stages. On a game-specific level, much like with Utah and Boston, I'm not sure Cleveland can have much in the tank here for Game 1 up in Canada. The number is pretty favorable given the rest and home-court advantage to play Toronto at -6.5, so I will be doing just that.
Toronto finally has everything it wants — home court, a massive depth advantage and a weak Cavs supporting cast around LeBron — to take down James. I think the Raptors will have a Game 7 at home with a chance to do it, but I have no idea whether they will. I'll just bet we get to that point instead and see what happens at the end.
---
Notable Matchups and DFS Spin
By Chris Raybon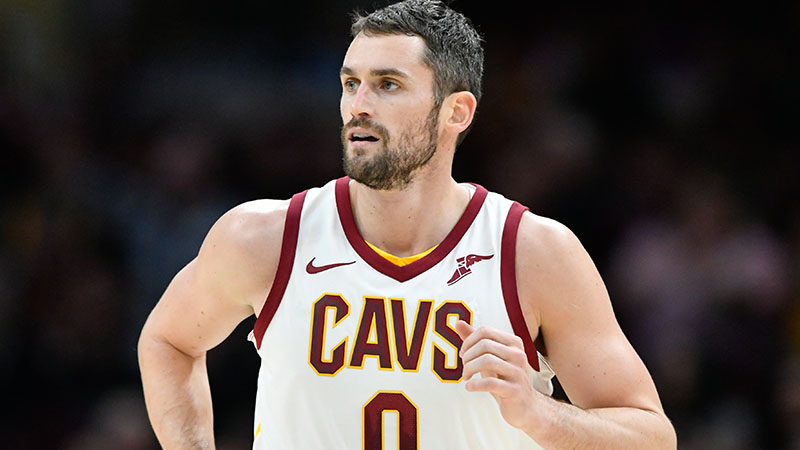 David Richard-USA TODAY Sports
It would be insanely tough for a team to be as good without Kyrie Irving as it was with the superstar out of Duke, but the Cavs weren't supposed to be this bad. Once they moved on from hopeful Irving replacement Isaiah Thomas, it was clear any hopes they had of a Big 3 were dashed — but they still were supposed to have a Big 2. However, Love hasn't gotten that memo yet in the postseason. Love is third-wheeling it when the Cavs don't have a second wheel — playing the Chris Bosh role when the Cavs don't have a Dwyane Wade.
Love averaged just 11.4 points per game on 33.8% shooting in the first round, and his playoff usage rate of 21.2% is down from his regular-season mark of 25.2% despite getting the same amount of touches. This isn't the first time Love's become more passive with the season on the line: His usage rate dipped from the regular season to the playoffs in each of the past two seasons as well, going from 26.4% to 21.8% in 2016-17 and from 23.4% to 21.8% in 2015-16.
Love was primarily bothered against the Pacers by Thaddeus Young, who on 247 possessions held him to 27.8% shooting and 20.1% fewer shots per possession than his season average. The Raptors have already achieved a similar effect this season with Valanciunas and Ibaka defending Love. Valanciunas held Love to 29.4% below his season average in shots per possession, and Ibaka held Love 8.2% below, with both of them also holding him well below his season average in points per possession. The stellar play of the Raptors' bench has been well-documented, but interestingly enough, it was their bench bigs who faltered against Love during the regular season. Whereas he scored only 22 points on 103 possessions when guarded by Valanciunas or Ibaka, he scored 18 points in 28 possessions when Jakob Poeltl or Pascal Siakam was on him.
Love actually has averaged a solid 38.8 DraftKings points per game and a +4.6 Plus/Minus against the Raptors this season thanks to that explosion against their bench and shooting an unsustainable 8-of-13 from 3 in those games. However, Casey can always shorten his rotations if need be, and those 3s aren't likely to be as easy to knock down if the Raptors indeed intend to not overhelp on LeBron, as Matt Moore discussed earlier. And it would be ideal for DFS purposes if Cavs coach Tyronn Lue, as Matt also discussed, indeed went back to Love at center, because Love's rebounding rate (11.3%) lagged behind that of Thompson (20.5%) and LeBron (15.9%) last series in the 26 minutes in which all three shared the floor.
---
Betting Trends to Know
By John Ewing and Evan Abrams
In LeBron's 15-year career, during which he has played in 43 playoff series, he has been listed as an underdog to win the series now 10 times. James' teams are 3-6 in those series, including 1-2 against Eastern Conference opponents and 0-2 against the East before the conference finals. LeBron was last listed as an underdog to win a series against a conference opponent in the 2008 Eastern semifinals against the Celtics (+600 and lost in seven games).
In the Raptors' franchise history, they are 2-12 straight-up and 3-11 against the spread in Game 1s, though they won Game 1 in the first round of this year's playoffs against the Wizards. Under Dwane Casey, the Raptors are just 3-12-1 ATS in the first two games of a playoff series, failing to cover by 7.9 PPG. Since Casey took over the Raptors in 2011, no coach has been less profitable in the first two games of a series.
The Cavs opened as 6-point underdogs in Game 1. LeBron has been a dog of six or more points 19 times in previous postseasons. His teams went 2-17 SU and 8-11 ATS in those games. – John Ewing
---
Picks
Raybon: Raptors in 7
Mears: Raptors in 7
Barkley: Raptors in 7
Pictured above: LeBron James and Pascal Siakam