Cavs-Celtics Game 4 Guide: Can the Cavs Keep Up Their Defensive Intensity?
NBA Eastern Conference Finals Betting Guide

Boston Celtics vs. Cleveland Cavaliers
Celtics Lead 2-1
We have a series, folks! LeBron and Co. came to play in Game 3, and if they can keep it up, the Celtics will have their hands full. But, can they keep it up? Is this series destined for a Game 7? Will the Celtics' extreme home/road splits during the postseason end up giving them the upper hand?
I'm getting ahead of myself here…
Game 4. Here's what you need to know. — Mark Gallant

GAME 1
Sun. 5/13, 3:30pm ET
Open: Celtics -1, O/U 204
Close: Cavaliers -1, O/U 204
Result: Celtics 108-83
GAME 2
Tue. 5/15, 8:30pm ET
Open: Celtics PK, O/U 202.5
Close: PICK, O/U 205.5
Result: Celtics 107-94
GAME 3
Sat. 5/19, 8:30pm ET
Open: Cavaliers -5, O/U 204.5
Close: Cavaliers -6.5, O/U 207
Result: Cavaliers 116-86
GAME 4
Mon. 5/21, 8:30pm ET
Open: Cavaliers -6.5, O/U 206.5
Close: TBD
Result: TBD
Cavs-Celtics Game 4 Guide: Can the Cavs Keep Up Their Defensive Intensity?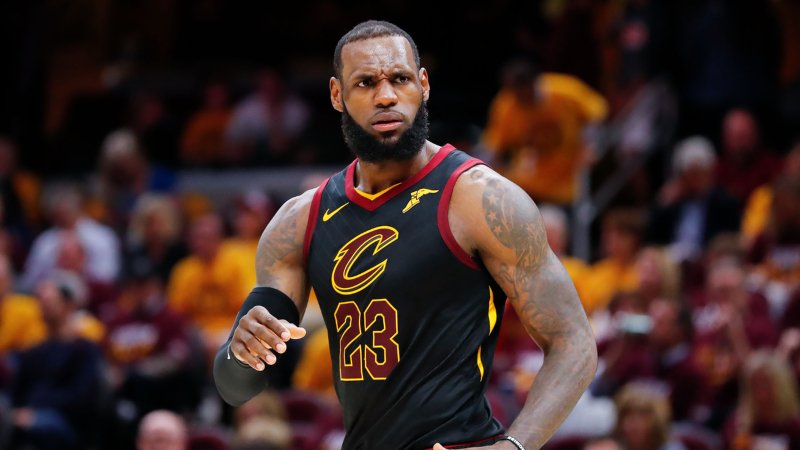 Rick Osentoski-USA TODAY Sports
Locky: If You Like the Celtics, Wait to Bet Them in Game 5
By Ken Barkley
Well, Game 3 was really something. Sometimes you get a team's A++ game combined with the worst effort from an opposing team in the entire playoffs, and when that happens, hoo boy, the sky is the limit when it comes to margin of victory. To say Saturday night was noncompetitive would be an understatement. I'm sure it made people mad they didn't make other plans for the evening.

As I wrote in a couple of different spots, I wasn't really interested in that game from a spread standpoint (although saying "Cleveland was the lock of the century" is absolutely something many are doing right now). I thought there were better spots to play the Celtics if you liked them in the series, especially in Game 5, when they'll be close to a pick 'em and return to the home court they have completely dominated on thus far. But there's business to attend to before the series heads back east, and I'll be very curious to see what form of the Celtics we get here.
The Cavs' preposterous 3-point shooting was good even for them, and the Celtics' defense was lackadaisical at times — a far cry from some of their efforts this postseason. The most likely situation is we get a reasonable regression with both of those things — the Cavs probably shoot a little worse, and the Celtics probably defend a little better — but where does that really leave us? It probably leaves us with a correct number that I don't really want a part of.
The Celtics reverted back to their old completely-different-on-the-road selves that made them disasters in some of those Bucks games a few weeks back, and they probably need to be passed on in future road situations going forward. The Cavs are already getting a pretty good amount of credit spreadwise coming off, again, their absolute A++ game. I never like taking teams off that type of effort within the same series. Considering how each team comes into the game seems to make this a big, fat pass for me, but if I have a preferred outcome, it's a huge Cleveland blowout. Why? Because I'll get a better number by a couple of points in Game 5 to play the Celtics.
Is the Cavs' Defensive Performance in Game 3 Sustainable?
By Bryan Mears
We all know what LeBron James can do on offense. He is averaging 28.0 points, 7.3 rebounds and 11.0 assists per game so far in the Eastern Conference finals. The problem is that a dynamic offensive performance from the King hasn't been a surefire recipe for success: In Game 2 he put up 42 points, 10 rebounds and 12 assists, and the Cavs still easily lost by 13 points.
They need his offense, but they also really need his defense. And when he's locked in and engaged on that end, the overall ceiling for the Cavs — offensively and defensively — is significantly higher. In Game 3, Boston got nothing going in transition. The Celtics still tried to push the ball (like they have all series), getting into semi-transition opportunities on 28.6% of their plays off live rebounds. The problem is they posted a -4.8 per 100 possessions on those plays, which, again, is indicative of the Cavaliers actually getting back on defense and giving adequate effort.
Further, the Cavs posted 16 deflections versus just eight for the Celtics. For reference, Cleveland ranked 25th this season with 12.8 deflections per game. The Cavs contested 38 2-point shots in Game 3; the Celtics contested just 22. Tristan Thompson and LeBron protected the rim, and Boston shot just 50.0% there, which is in the eighth percentile of all games this season. You get the point: The Cavs' offense is important and must knock down open shots. But for them to actually take Game 4 and put themselves in a spot to win this series, they'll need to keep up the defensive pressure. It's do or die now: Lack of effort just won't cut it this late in the season.
Game 4 Trends from John Ewing and Evan Abrams
Boston lost Game 3 116-86. This is just the fourth time in the Brad Stevens era that the Celtics have lost by 30 or more points. In the next game the C's have gone 2-1 straight-up and 2-0-1 against the spread.
Since 2005, teams that suffered a playoff loss by 30 or more points have gone 21-16 ATS in their next game. Favorites have gone 7-1 ATS, and underdogs have gone 14-15 ATS. Boston opened at +6.5 for Game 4.
That said, teams that lost by 30 or more points in the conference finals or NBA Finals have gone 8-3 ATS in their next game since 2005.
Can the Cavaliers even the series at 2-2? Since LeBron James returned to Cleveland, the Cavs have gone 2-5 SU and ATS following a playoff win by 30 or more points.
Including the playoffs and regular season, the Celtics are 21-9-1 ATS after a loss this season — the second-most profitable team in the NBA behind the Pacers. Boston is 4-0 ATS in the playoffs after a SU loss. When the Celtics have lost by double digits this season, they have gone 10-2 SU and 10-1-1 ATS in their next game.
In James' career in the playoffs, he has defeated an opponent at home by double digits and then played his next game at home 22 times prior to Game 4. James' teams have gone 19-3 SU and 13-9 ATS in those spots.