How to Fade Teams Eliminated From the NBA Playoff Race
Credit:
Kim Klement-USA TODAY Sports
There are currently 11 teams eliminated from the NBA playoff race. Combined, the league's bottom dwellers have gone 281-577 (32.8%) straight-up this season. Despite struggling to win games, the NBA's worst teams have covered the spread in nearly 50% of their match-ups (409-431-18 ATS).
Bettors know the Atlanta Hawks and Phoenix Suns are actively tanking, but have not been able to profit from their futility. Until now. Once the calendar flips to April, it is easy to bet against teams eliminated from the playoffs and win if you know what to look for.
Using Bet Labs, I've found a winning betting system for fading eliminated playoff teams that has two matches on Wednesday (7:00 p.m. ET and 7:30 p.m. ET).
Unfortunately, we do not have a filter in Bet Labs that tracks who is "in" or "out" of the postseason. However, we can approximate this by looking at a team's win percentage. Of the 11 teams eliminated from this year's playoffs, nine have a winning percentage below 40%. These squads with nothing to play for are the ones we want to target.
Since 2005, favorites facing an opponent that has won fewer than 40% of its games have gone 385-348-13 (52.5%) ATS in April. Road favorites facing a team that has won less than 40% of its games have had even more success.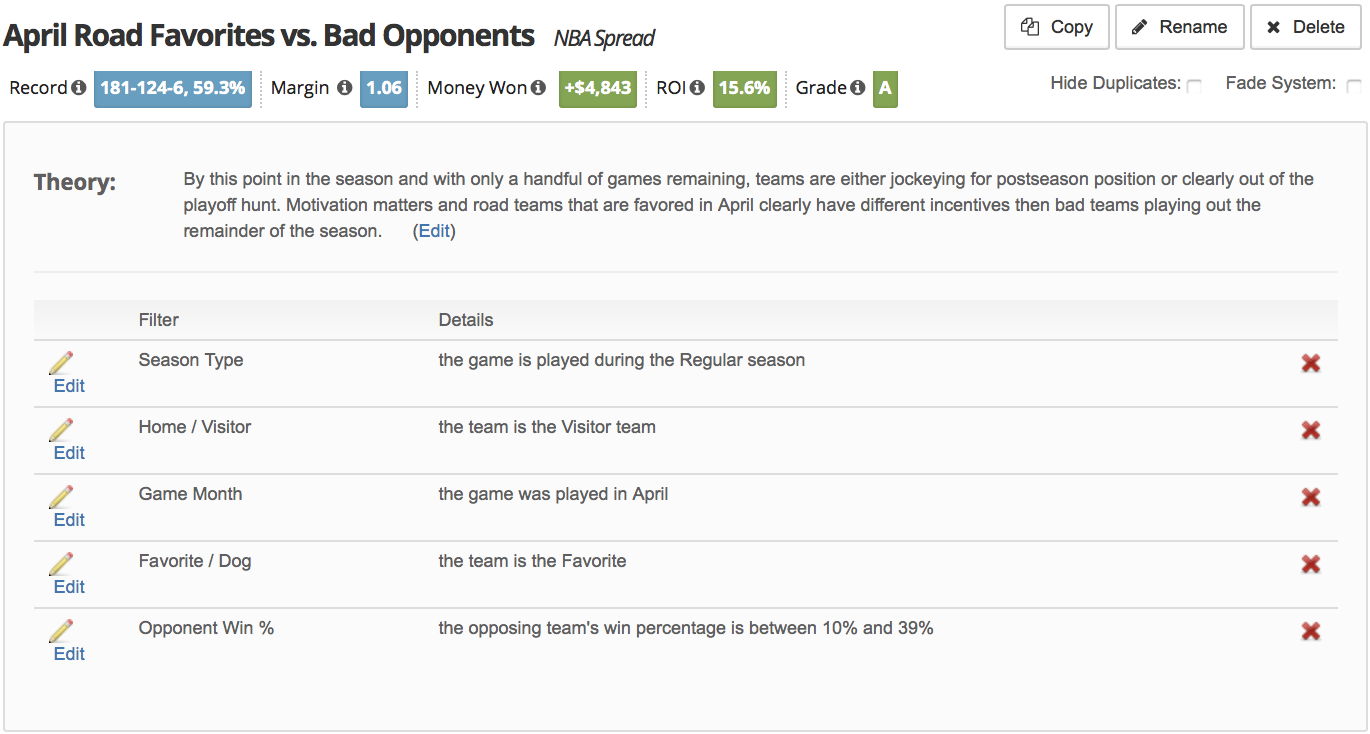 By this point in the season, with only a handful of games remaining, teams are either jockeying for postseason position or clearly out of the playoff hunt. Motivation matters and road teams that are favored in April clearly have different incentives than bad teams playing out the remainder of the season.
Betting road favorites against teams with a winning percentage below 40% in April has gone 181-124-6 (59.3%) ATS since 2005. This betting strategy has been profitable in 11 of the past 13 years and a $100 bettor would be up $4,843 following this system.
Wednesday Road Favorites
Dallas Mavericks (-1.5) at Orlando Magic (7:00 p.m. ET): You want to believe in this system, but the Mavs have just a 24-54 record themselves. What happens when the road favorite is also a bad team? Since 2005, if the road favorite has a losing record, this system has gone 52-35-2 (59.8%) ATS and if the road favorite has a winning percentage below 40% like the Mavs: 18-8-1 (69.2%) ATS.
Miami Heat (-8.5) at Atlanta Hawks (7:30 p.m. ET): Miami has clinched a playoff berth, but the Heat should be highly motivated to win this game as they compete with the Washington Wizards and the Milwaukee Bucks for seeding in the Eastern Conference. Then there's this: In early betting 75% of spread tickets are on the Hawks. (Track live numbers here.) Since 2005, teams with a winning percentage below 40% that are receiving more than 70% of spread bets have gone 81-112-5 (42%) ATS.
Picture: Orlando Magic forward Aaron Gordon