Home-Court Advantage Could Be the Difference in Jazz-Thunder
The Jazz have been rolling lately. They don't have the household names that the Thunder do, but they play a very effective brand of basketball. They say defense wins championships, and at 99.8 points allowed per game, Utah's defense is legit.
The Thunder played much better in the second half of the season once they took out their chemistry set and got down to business. Will star power prevail, or will the defensively sound Jazz knock out this newly formed Big 3? — Mark Gallant
---
Odds
Series: Thunder -135, Jazz +115
Game 1 (Sunday at 6:35 p.m. ET): Thunder -3.5, Over/Under 206
---
What's Happening on the Court
By Matt Moore
Let me tell you who the most important player in this series is. It's not Russell Westbrook. Or Paul George. Or Rudy Gobert. Or Donovan Mitchell. It's certainly not Ricky Rubio or Carmelo Anthony.
It's Joe Ingles.
Ingles was fourth in the league in points off unguarded catch-and-shoot attempts this season. "Big whoop, he made open looks, Matt." Well, here were the top four:
Stephen Curry
Klay Thompson
Marc Gasol (?)
Ingles.
Those are guys who are vital to their team's offensive success. Think about it. You run your offense. You make the passes. You execute. You create a wide-open look. You brick that? For a pedestrian offense like Utah's, that's doom.
Ingles doesn't miss those shots. He spaces the floor as well as any player in the league. He punishes teams for loading up on the Rubio/Mitchell-Gobert pick-and-roll, and punishing that forces the wing defender to stay home, which opens up the lob for Gobert.
If you can't pack the paint against the Jazz, they'll tear you to pieces. If you do, this happens:
Paul George needs to be on Ingles, and he has to balance helping with closing out to take away that shot.
The Jazz were 15-25 this season when Ingles made two 3-pointers or less this season. They were 33-9 in games in which he hit at least three 3-pointers. You cut off Ingles, and the Jazz offense loses oxygen, suffocates and blacks out. You let Ingles get looks, and you're getting hit with haymakers while you try and deal with their defense.
I'll say it again: Ingles is the most important player in this matchup.
---
Advanced Metrics Breakdown
By Bryan Mears
A lot has been made of Andre Roberson's importance to the Thunder defense, and it's all true (more on that below). But it isn't as if Oklahoma City has no ways to win on that end of the floor. For all of the Thunder's flaws, they do have playoff experience in spades with guys like Westbrook, George and even Steven Adams. And Utah doesn't: The Jazz's offense will be led all series by a rookie — a fantastic rookie, but a rookie nonetheless. And the Jazz have adopted some youthful tendencies on offense as a result. Notably, they sit just 25th in turnover rate. They can shoot the ball, ranking top 10 in effective field-goal percentage, and their defense is elite, but turnovers in a game that's already pretty much even can be absolutely costly.
And that's the one good part of the Thunder defense still. The main unit of Russell Westbrook-Corey Brewer-Paul George-Carmelo Anthony-Steven Adams hasn't defended well, allowing 109.9 points per 100 possessions, but they have turned teams over at a 15.8% rate. All lineups this season without Roberson, in fact, have been right above 15.0% in defensive turnover rate. And things get even better when the Thunder play Jerami Grant instead of the brutally inefficient Anthony. The Thunder defense isn't perfect by any means, and that will perhaps be the most popular storyline of the series, but it can be active and aggressive enough to take advantage of a rookie point guard in his first playoff series.
---
Locky's Betting Analysis
By Ken Barkley
This series has the most narrow price difference on the board, with the Thunder just a -135 favorite (Jazz +115) in most places to advance. As the price implies, basically any outcome is in play here and would be unsurprising. Maybe there's no clear favorite because we have no real experience to draw from between these teams: They got their season series (four games) over with by Christmas, when Gobert was missing a ton of games and Roberson still played for the Thunder. It's tough to really point to anything there as meaningful from a handicapping standpoint.
As well as the Jazz played toward the end of the season, it's just impossible to believe experience counts for nothing in these situations. Utah is the least experienced team in the field, and the Thunder have two players in Westbrook and George who have exceeded individually in the playoffs multiple times. In a series that figures to be decided by a handful of possessions, I have to side with two superstars who can create their own shot versus an opposing team where that same responsibility falls on a rookie (something that traditionally doesn't go well in the postseason).
In the end, I'd lean Thunder -135 at what I think is a little short of a price considering the home-court advantage. If both teams hold serve, which seems likely, you could always hedge out of your -135 price by taking the Jazz before the series heads to Utah for Game 6 and guarantee profit. On an individual game level, these are two defensive teams with high upside, and as they get really honed in to what the other team likes running, we could see some absolute rock fights. The totals will adjust a little downward but probably not enough, and there could be opportunity for some under bets for totals set in the high 190s to low 200s, especially when the series shifts to Salt Lake City. These teams played a 96-87 game to start the season, so don't be surprised if we get another one to end one of their seasons.
---
Notable Matchups and DFS Spin
By Chris Raybon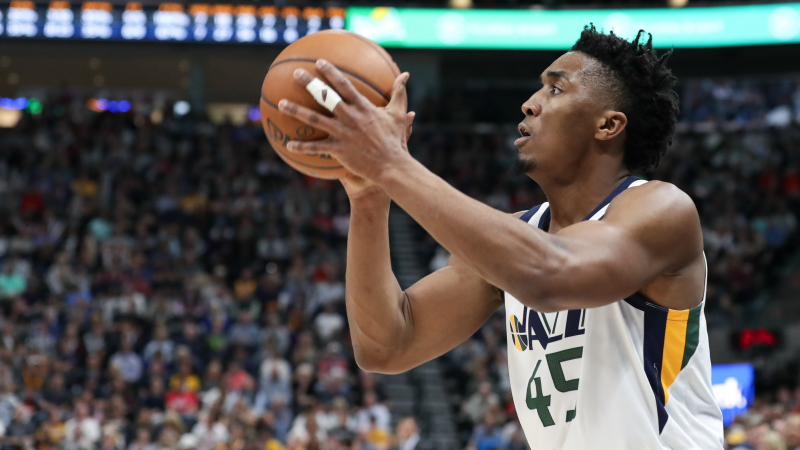 Chris Nicoll-USA TODAY Sports
Remember Andre Roberson? If not, I'll remind you: He's the guy who finished third among all players in ESPN's Defensive Real Plus-Minus this season. He's the guy who's not very good at shooting and dribbling but very good at making it difficult for his opponent to shoot and dribble. Donovan Mitchell and the Jazz sure remember him. Roberson guarded Mitchell for 78 Utah possessions this season — 40 more than anyone else on the team — and the Jazz had a -13.8 net point differential on those possessions. Roberson blocked two of Mitchell's shots and forced him into four turnovers on those 78 possessions; OKC's other defenders also blocked two shots and forced him into four turnovers, but it took them an extra 40 possessions to do so.
Roberson's replacement in the lineup is journeyman Corey Brewer, who's yet to get a chance on Mitchell this season but has been nowhere near as good as Roberson on defense. While Roberson ranks No. 3 in overall Defensive Real Plus-Minus and No. 1 among shooting guards, Brewer ranks No. 356 overall and No. 57 among small forwards. Perhaps the Thunder could try Paul George on Mitchell, but the Jazz were a +9.9 per 100 possessions with George on him, albeit in a limited sample of 12 possessions.
Even when the Thunder had Roberson available to throw on Mitchell, Utah's talented rookie still produced in DFS. Mitchell played only 22 minutes in the first game of the series Oct. 21, but in Games 2-3 he averaged 44.0 DraftKings points in 36.5 minutes per game.
---
Betting Trend to Know
By John Ewing
Westbrook made NBA history by becoming the first player to average a triple-double twice. The OKC star takes heat for stat-padding, but his triple-doubles have helped the team. The Thunder are 20-5 straight-up and 16-9 against the spread in games in which he logs a triple-double versus 28-29 SU and 18-38-1 (32%) ATS when he doesn't.
---
Picks
Barkley:  Thunder in 7
Mears: Thunder in 7
LaMarca: Thunder in 6
Raybon: Thunder in 5
---
Pictured above: Russell Westbrook and Paul George
Photo credit: Mark J. Rebilas-USA TODAY Sports