Monday NBA Playoffs Guide: The Clash of the Triple-Double Kings
Credit:
Mark D. Smith-USA TODAY Sports
Want to help us make The Action Network better? Take our brief user survey.
The series resuming tonight are in interesting spots. Can the Wolves really tie up this one 2-2 with Derrick Rose leading the team in usage? Or are the Rockets just toying with them?
In the later game, the winner seems to be the team with the first point guard to register a triple-double. In Game 3 that distinction went to Sir Ricky Rubio, and afterward Russell Westbrook vowed to "shut that s*** off." Buckle up.
So how should you bet tonight? We've got you covered. — Bryan Mears
All info as of Monday morning. Check back throughout the day and keep an eye on our Twitter handle for any updates.
For live spreads and bet percentages, check out this page. Follow the latest injury info on our industry-leading news feed. To get access to our premium betting tools, subscribe here.
---
GAME 4: HOUSTON ROCKETS (-5.5) AT MINNESOTA TIMBERWOLVES | O/U: 219
Houston Leads 2-1
8 p.m. ET | TNT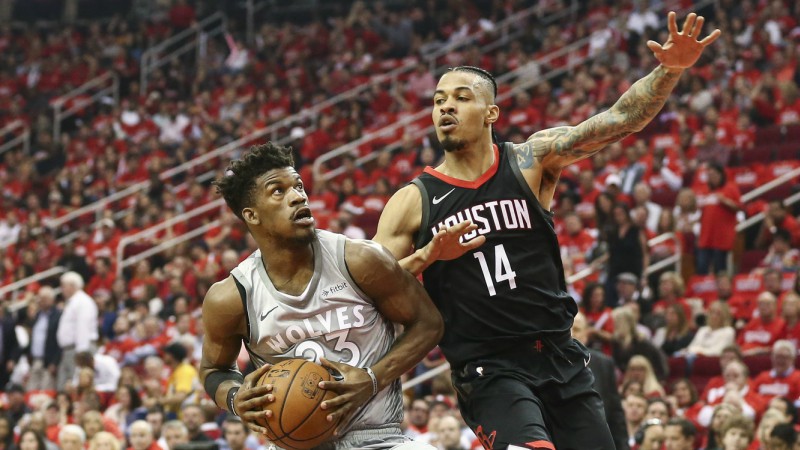 Troy Taormina-USA TODAY Sports
Metrics to know: The issue for Minnesota has never been offensive firepower. The Wolves have incredibly skilled players, and they ranked fourth in offensive efficiency this season despite having a pretty terrible offensive shot profile. They ranked just 20th in frequency of shots at the rim and dead last in frequency behind the arc. Thus, Matt Moore and I have been harping on what we call "The Math Problem" with the Wolves. Even with efficient players and decent shooters, trading 2s for 3s just isn't going to work long term, especially against a Houston team that is the most 3-point-heavy team in the history of the NBA.
That was an issue in Games 1 and 2, but it wasn't in Game 3 since the Wolves hit a ridiculous 60% of their non-garbage-time 3-pointers. They went 60% from the corner and also from the non-corner, which is especially impressive. Houston was merely average shooting the ball, and the Wolves added a nice +7.0 points/100 in transition. There was the game. Of course, it's hard to bank on Minnesota continuing to be hot from outside, and the Wolves will honestly need to be scalding if they want to keep up with the 3-point barrage that will certainly keep coming on the other side. This will be a fascinating Game 4. — Bryan Mears
Trend No. 1 to know: The bounce-back just hasn't been there for Mike D'Antoni and the Rockets this season. Houston is 6-11 against the spread after a straight-up loss this season, including just 2-5 ATS after a loss when facing an opponent over .500 (although one of the Rockets' two ATS wins after a loss came against the Timberwolves this season). — Evan Abrams
Trend No. 2 to know: Since 2006, 1-seeds that lost their previous game in the playoffs playing on the road in their next game have gone just 29-40 ATS (42.0%) for -11.1 units. — Evan Abrams
Trend No. 3 to know: In their Game 3 win at home, the Timberwolves shot 15-of-27 (55.6%) from 3-point range, beating the Rockets by 15. In the playoffs, Tom Thibodeau-coached teams have not had much success the game after a good 3-point shooting outing: — Evan Abrams
His Bulls went 0-2 SU and ATS in games after shooting more than 50% from 3.
His Bulls went 2-13 SU and 4-11 ATS in games after shooting more than 40% from 3, including 0-7 SU and 1-6 ATS in the first round, failing to cover by 8.7 PPG.
Trend No. 4 to know: Houston opened as a 5-point road favorite. Teams favored on the road have a winning ATS record in the playoffs, going 116-103-6 (53%) since 2005. In that same span, sizable favorites of 5 or more points have been a profitable 46-25-3 (65%) ATS. A $100 bettor would be up $1,913 placing a wager on these favorites. — John Ewing
---
GAME 4: OKLAHOMA CITY THUNDER AT UTAH JAZZ (-5.5) | O/U: 209
Utah Leads 2-1
10:30 p.m. ET | TNT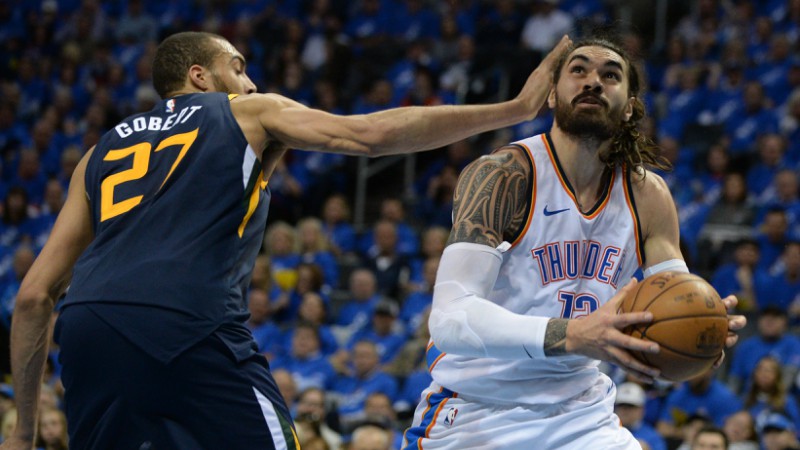 Mark D. Smith-USA TODAY Sports
Metrics to know: Game 3 was another affair in which Utah absolutely dominated the glass. That's the most important storyline going into tonight — sorry all you triple-double enthusiasts — given how close these teams already are. The Jazz posted a ridiculous 36.6% offensive rebound rate, which ranked in the 93rd percentile of all games this season. Interestingly, that has been a source of mediocrity for the Thunder this year: Steven Adams and Co. posted easily the best offensive rebounding mark in the league, but they ranked just 18th on the season on the defensive glass. And it was a huge problem last game.
The Jazz's main unit of Ricky Rubio-Donovan Mitchell-Joe Ingles-Derrick Favors-Rudy Gobert shouldn't be that dynamic offensively. Ingles is the only real scary threat from outside, and yet that fivesome posted a stupid 136.2 Offensive Rating in 21 minutes together. The Jazz outscored the Thunder by 52.2 points/100 during those minutes. It wasn't great shooting or beautiful assists; rather, it was rebounding that got the job done. That fivesome grabbed 44.4% of its misses and gobbled up 90.5% of OKC's bricks. The rebounding battle is huge in this series, and the Thunder need to shape up if they don't want to fall down by two games. — Bryan Mears
Trend No. 1 to know: Bettors are expecting OKC to bounce back after a 115-102 loss in Game 3. More than 70% of spread tickets are on the Thunder, moving the line from +6 to +5.5. Since 2005, underdogs that lost the previous playoff game and have had the line move in their direction have gone 73-91-1 (45%) ATS in their next game. — John Ewing
Did you know? Rubio posted a triple-double in Game 3 at home against Mr. Triple-Double, Westbrook, and the Thunder. Rubio became the third true point guard to post a triple-double against the Thunder since Westbrook was drafted in 2008 (the first since J.J. Barea in 2012). Chris Paul and Joe Johnson posted triple-doubles against OKC in the first two months of Westbrook's career in 2008. Since that stretch, four guards have accomplished the feat, and the Thunder are 4-0 SU and 3-1 ATS in Westbrook's next game. Before Rubio's feat in Game 3, the last guard to record a triple-double against the Thunder was Victor Oladipo in 2015. — Evan Abrams
Top photo: Russell Westbrook and Ricky Rubio