NBA Betting, DFS Angles for Cavs-Rockets, and Every Saturday Game
While the Super Bowl is on most folks' minds, we have a big NBA slate kicking off the weekend. The highlight, of course, will be when the Rockets head into Believeland for a preview of the fourth-most likely NBA Finals matchup.
On one side, you have The Beard, CP3, and a slam dunk legend whose taste in baked goods is questionable at best according to our very scientific reader poll . . . I guess you guys would've wanted him to eat some milk and cookies on top of the rim.
On the other, you have a big fat question mark. How will LeBron and the Cavs play without Kevin Love for the next two months? You'd have to imagine they can manage better than a 28.6% cover rate, no?
We break down that game and all the others on Saturday's slate, so time to leave your dessert biases behind and get to reading. — Mark Gallant
All info as of Saturday morning. We'll be adding more insight throughout the day, so check back later and keep an eye on our Twitter handle for any updates.
For live spreads and bet percentages, check out this page. Follow the latest injury info on our industry-leading news feed. To get access to our premium betting tools, subscribe here.
---
The Main Event: Rockets (-4) at Cavs | O/U: 230
8:30 p.m. ET | ABC
What I'm watching for: Speed kills. The Rockets give up the most transition 3-pointers in the league. The Cavs give up the most everything in the league (outside of the Kings). Who can punish the other one more? The advantage obviously tilts toward Houston because they are not currently a burning hazmat zone of decaying chemical combustion, but the Cavs still have shooters.
Harden and LeBron seem to bring something out of one another, and Harden on national TV is a site to behold. James knows what time it is. It's February. He's got two months to get whatever this team is into shape for a playoff run. Houston, meanwhile, knows it has a shot to catch the Warriors. They're within three games of that No. 1 seed and homecourt in a potential Western Conference Finals. Every game matters. It's a chance to put more room between Harden and the rest of the MVP field. This should be one of the more fun games this season, and both teams are well-rested.
But will the Cavs show up? — Matt Moore
What the metrics say: Both the Cavs and Rockets rank in the top-three in frequency of shots from the 3-point line, and they're both bottom-three in transition defense. There could be blood, and lots of points. Offensively, they're actually quite similar squads: They rank top-five in points per possession, effective field goal percentage, and foul rate. They have uber-efficient offenses when humming, although it's fair to wonder how well the Cavs can play in that regard without floor-spacer Kevin Love. The projected starting lineup for the Cavs — a combination of Isaiah Thomas-JR Smith-James-Jamison Crowder-TristanThompson — has been atrocious this season, scoring just 90.5 points per 100 possessions and posting a -38.9 net rating in 84 minutes. That won't fly against this high-powered Rockets squad. — Bryan Mears
Injury watch: Chris Paul is listed in the Rockets' game notes as probable due to a sore right groin that recently forced him to miss a game. Eric Gordon (back) has already been ruled out vs. the Cavs on Saturday, and Trevor Ariza (hamstring) remains sidelined. The absence of Gordon and Ariza will allow Luc Mbah a Moute to remain in the starting lineup — likely to guard LeBron James — and Gerald Green to remain a key cog in the rotation.
DFS spin: James Harden is the most-expensive player on the slate on DraftKings, but he still might be one of the best values of the day. The Rockets have a fantasy-friendly matchup vs. the Cavs' atrocious D, and their current implied team total of 117.25 points trails only the Warriors' on today's slate. Harden has averaged over 60 DraftKings points per game over the past two seasons with a comparable implied team total, and that kind of production would represent a strong return on investment at $11,600. — Matt LaMarca
Trend No. 1 to know: Contrarian bettors buy low and sell high. The Cavs won their last game, and teams against Cleveland after a victory this season have gone 20-9 ATS. The Cavs are the most profitable team to bet against after a win. — John Ewing
Trend No. 2 to know: Over the past two seasons, the Cavs are 14-31-1 ATS (31.1%) vs. the Western Conference. Cleveland has failed to cover 12 of their past 13 games against the West. — Evan Abrams
Trend No. 3 to know: Since the beginning of last season, the Cavs are 12-18-2 ATS vs. teams with a win percentage of 60% or more — the least profitable team in the NBA. They've lost six straight in this spot. — Evan Abrams
---
Quick Hits on the Rest of the Slate
Bulls at Clippers (-7.5) | O/U: 221.5
3:30 p.m. ET
Injury Watch: Rookie Lauri Markkanen remains out, which means Bobby Portis should have a large role now with Nikola Mirotic traded. On the Clippers' side, Avery Bradley, Tobias Harris, and Boban Marjanovic are available to make their debut.
I'm interested to see the debut of Avery Bradley and Tobias Harris next to Milos Teodosic. The Clippers' offense has been crazy good despite a depleted roster this year. We'll see if Doc Rivers can duct tape a new team together quickly… and if DeAndre Jordan is in uniform. — Matt Moore
The Bulls are 2-18 straight-up against the Western Conference this season — the least profitable team on the moneyline in that spot in the NBA (-$1,455). — Evan Abrams
Heat at Pistons (-3.5) | O/U: 199.5
7 p.m. ET
Injury watch: Hassan Whiteside has been listed out vs. the Pistons on Saturday due to an illness that limited him to 18 minutes in Friday's loss. Bam Adebayo could draw the start at center to match up with Andre Drummond, and he'll garner strong cash-game consideration in DFS at just $3,800 on both DraftKings and FanDuel. Kelly Olynyk proved to be the biggest beneficiary during the recent 13-game stretch that Whiteside was sidelined, averaging 26.4 DraftKings points per game in 28.1 minutes. Adebayo and Olynyk each played at least 25 minutes on Friday, and in the games Whiteside has missed both have averaged at least 25.3 minutes per game.
Entering Friday, the under has gone 31-19-1 (62%) in the Miami Heat's 51 games this season, the best mark in the NBA. The under has hit in five consecutive games for the Heat. Unsurprisingly, this game features the second-lowest total on the board. — Evan Abrams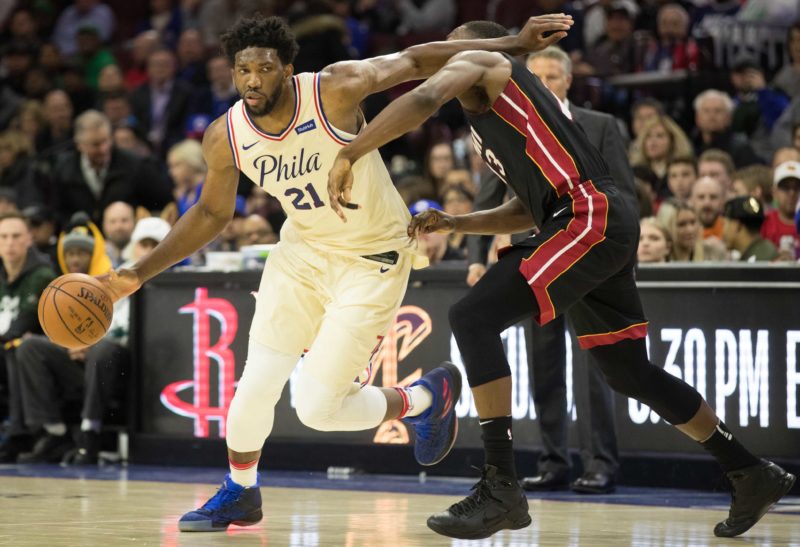 76ers at Pacers (-2.5) | O/U: 211.5
7 p.m. ET
Philly and Indiana are each on a back-to-back. Since 2005, when two teams from the same conference are on B2Bs, the home team is 417-472-13 (46.9%) ATS. — John Ewing
Joel Embiid is expected to play the first back-to-back of his professional career on Saturday. (For the record, he has played the second leg of a back-to-back for the Sixers — he just hasn't played both nights before.) Over the past two seasons, the Sixers are 4-17 straight up without Embiid on the second leg of a back-to-back and 2-1 SU with him. — Evan Abrams
Wizards (-3.5) at Magic | O/U: 217
7 p.m. ET
Injury watch: Both teams are without perhaps their best players in John Wall and Aaron Gordon. The Magic forward will sit for the third straight game due to a strained left hip flexor. Mario Hezonja and Marreese Speights alternated turns in the starting lineup over the past two games, and the Magic scored 127 points with Speights starting against the Lakers on Wednesday. Either Hezonja or Speights will likely start, and when Gordon, Nikola Vucevic (hand), Terrence Ross (leg), and Jonathan Isaac (ankle) have been off the court, Elfrid Payton has led the team with 1.2 DraftKings points per minute and a +4.6% usage rate differential.
DFS spin: Bradley Beal appears to be in one of the best spots of the day against the Orlando Magic. The Magic have been a disaster against guards defensively this season, and Beal has seen a usage increase of 3.3 percent in games without Wall. He's scored at least 47.7 FanDuel points in three of his past four games. — Matt LaMarca
A win over the Raptors on Thursday improved the Wizards' record to 15-14 straight-up and 19-10 ATS without John Wall over the past four seasons. — John Ewing
Wall missed 11 games in November and December, and the Wizards went 5-6 SU and 6-5 ATS during that time. Wall then returned to play 21 consecutive games for Washington before sitting again with knee pain. In Wall's recent absence, the Wizards are 3-0 SU and ATS, fourth in offensive efficiency, and third in net rating. — Evan Abrams
Pelicans at Timberwolves (-8.5) | O/U: 221
9 p.m. ET
Injury Watch: Nikola Mirotic is available to make his Pels debut, and he'll likely slide into the starting role occupied by Dante Cunningham last game.
DFS spin: Rajon Rondo played 34 minutes yesterday for the Pelicans and could see a similar role moving forward. If that's the case, he's almost undoubtedly underpriced at $4,600 across the industry: He's averaged 0.94 fantasy points per minute on the season. — Matt LaMarca
The Pelicans were a disaster in their first two games without DeMarcus Cousins: 0-2 SU and ATS, out-rebounded by 16, minus-16 in points in the paint, and minus-26 in second-chance points. They won (and covered) on Friday night against OKC, but rebounding was still an issue (minus-11), and now they get to play Karl-Anthony Towns on the second night of a road back-to-back. — Evan Abrams
Jazz at Spurs (-6) | O/U: 195.5
9 p.m. ET
Injury Watch: Joe Johnson has been ruled out, and Rodney Hood is probable to suit up.
Utah has an outside chance of getting back in the playoff picture, and they've played San Antonio well in recent years; Quin Snyder knows the system having coached their D-League team back in the late 2000s. — Matt Moore
The Spurs lost 102-91 to the Rockets on Thursday night in San Antonio. They are 59-36-1 (62.1%) ATS following a home loss since 2005. — John Ewing
Warriors (-5) at Nuggets | O/U: 229.5
9 p.m. ET
Take this for whatever it's worth: The Warriors got to their hotel from the airport at 4 a.m. this morning in Denver. — Matt Moore
It could be worth a lot. This game has a big schedule alert, evidenced by the 8.5 MahScore. — Bryan Mears
Injury Watch: David West and Jordan Bell have been ruled out. Both Andre Iguodala and Shaun Livingston will return to the rotation Saturday.
DFS spin: The Nuggets look like one of the better team values on the slate on DraftKings. Gary Harris, Will Barton, and Nikola Jokic all have Bargain Ratings of at least 98 percent, which makes them quite intriguing given their high implied team total of 114 points. — Matt LaMarca
Since March of 2015, the Warriors and Nuggets have faced each other 12 times. The over has cashed in 11 of those 12 contests, hitting by an average of 7.0 PPG. When analyzing the O/U for this game in particular, the average O/U for Golden State and Denver over this streak was a touch over 220. It's nearly 10 points higher than that tonight. — Evan Abrams
The Warriors are 37-26-2 (58.7%) ATS on second night of a back-to-back under Steve Kerr. — John Ewing
Mavericks (-4.5) at Kings | O/U: 203
10 p.m. ET
Injury watch: J.J. Barea is listed in the Mavs' game notes as questionable in advance of Saturday's match vs. the Kings. He missed the previous three games due to a strained left oblique, and in the most recent game, Dwight Powell replaced Maxi Kleber in the starting lineup. Barea was hopeful to return for Saturday's game, and coach Rick Carlisle confirmed Barea would go through a workout during Friday's practice in order to gauge his availability. In the games Barea has missed, Dennis Smith Jr. has averaged team-highs of 30.19 DraftKings points per game, a 31.8 percent usage rate, and a 42.2 percent assist rate in 32.6 minutes per game.
Dallas has lost five straight. Road teams on a losing streak of five or more games have gone 499-404-21 (55.3%) ATS since 2005. Against opponents with a 33.3 percent win rate or less, they've gone 93-67-3 (58.1%) ATS. — John Ewing
Do not watch this game under any circumstances, even if you are sweating it. I beg of you. — Matt Moore
Photo via Troy Taormina-USA TODAY Sports