How Good Will the Lakers Offense Be in 2018-19?
Credit:
Credit: USA TODAY Sports. Pictured: LeBron James, Lonzo Ball, Brandon Imgram.
LeBron James has been known to make shooters around him better, but three Lakers players are poised to regress in 3-point shooting.
Brandon Ingram's development as a shooter will play a huge role in the Lakers' new offense with LeBron.
Say what you want about LeBron James' help in Cleveland last season, but the Cavs team at least boasted excellent 3-point shooters. LeBron alongside four floor-spacers has been one of the most destructive combinations in the league for a decade, and he had that in spades a season ago.
Jose Calderon (46.4%), Kyle Korver (43.6%) and Kevin Love (41.5%) were all better than 40% from the 3-point line in the 2017-18 season. J.R. Smith, Cedi Osman and George Hill were all average or better.
---
>> Sign up for The Action Network's daily newsletter to get the smartest conversation delivered into your inbox each morning.
---
LeBron goes to a Lakers squad that boasts bad-to-questionable shooters in Lonzo Ball, Rajon Rondo and Lance Stephenson. In fact, I took a look at all players from last season who attempted at least 100 3-pointers and estimated who was due for positive or negative regression.
To do so, I looked at their 2017-18 3-point percentage, their career mark and their free-throw percentage. Based on that, the top 10 players most likely to experience regression are:
Maurice Harkless, Portland Trail Blazers
Justise Winslow, Miami Heat
Brandon Ingram, Los Angeles Lakers
Lonzo Ball, Los Angeles Lakers
Tomas Satoransky, Washington Wizards
Tyreke Evans, Indiana Pacers
Chandler Parsons, Memphis Grizzlies
Al Horford, Boston Celtics
Rajon Rondo, Los Angeles Lakers
Anthony Tolliver, Minnesota Timberwolves
The Lakers ranked 18th in 3-point rate and just 29th in 3-point percentage (35.3%) last season, per Cleaning the Glass. And that was with two players on the regression list plus another in Rondo, whose 33.3% mark last season was much better than his career mark of 30.9%.
Ingram is the most interesting case here. He jumped from 30.3% in his rookie year — very below average — to 39.8% in his sophomore campaign, which ranked in the 82nd percentile of all wings last year. Which is the truer mark?
It's easy to say it's the second-year one — young players get better as they age, after all, and Ingram oozes potential with his fluidity and length. But that ignores his poor career free-throw mark of 65.5%, which is incredibly poor for a jump shooter.
For reference, Stephenson, who has not proven to be a knock-down shooter, hit 66.1% of his free throws last year. Elfrid Payton, long maligned for his shooting, was at 64.9%.
According to Basketball-Reference's play index, there have been only 58 players in this history of the NBA to shoot at least 100 free throws and 50 3-pointers and shoot 66% or worse from the foul line. The guys on that list are names like Josh Smith, Andre Iguodala, Gerald Wallace, Austin Rivers and Corey Brewer. Those guys have their positives, but they're not exactly enticing comps as shooters.
Of course, it's possible Ingram improves as a free-throw shooter — or perhaps he shows he can be a reliable 3-point shooter despite poor free throw marks, as historically rare as that might be.
He hit 39.4% of his catch-and-shoot 3s last season, albeit on just 1.6 attempts per game, but that's encouraging. Especially considering how many more of those open looks he'll get with LeBron in town and running pick-and-rolls.
The form is there …
Brandon Ingram shooting 10-for-14 from 3 over his last 4 games, up to 39.3% on the year. Small sample but increased confidence. Shooting on the hop more than ever. Was a shot-maker at a young age. Lifetime 34.8% from 3 on 660 attempts (via DX database) https://t.co/5roX7mpIhq pic.twitter.com/mvPPPMObAc

— Mike Schmitz (@Mike_Schmitz) February 12, 2018
And some players have shown they can knock down big outside shots when needed, despite poor shooting marks overall. Another exciting young wing, Boston's Jaylen Brown, comes to mind in this regard. A lot of the Lakers' success this season will depend on Ingram's shooting development.
Ball and Rondo, on the other hand, are different stories. I'm in the camp that Ball's shot doesn't matter that much — compared to other players, at least — given his profound impact with passing and defense.
He might have one of the highest basketball IQs in the league, and he'll figure out how to provide value even if his stroke is permanently broken. And at this point, I'd say it's significantly more likely that he's never a good shooter than he will become one.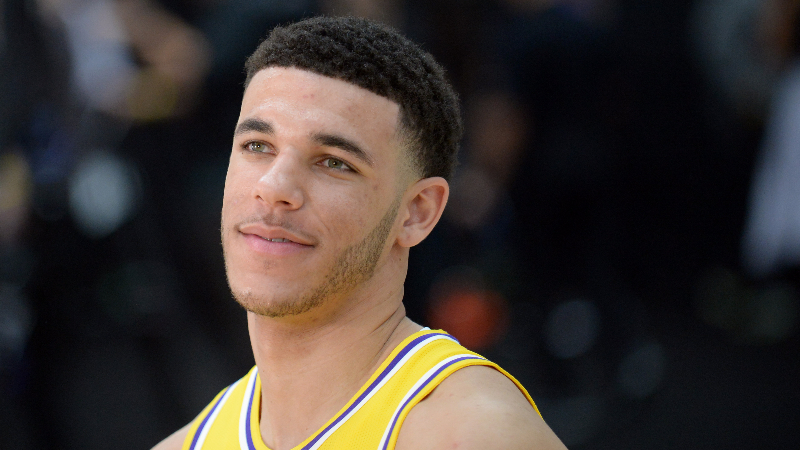 And finally, the Lakers' success will depend on head coach Luke Walton's rotations. Josh Hart was MVP of the 2018 Summer League and shot 39.6% from the 3-point line last season. Kentavious Caldwell-Pope (38.3%) and Kyle Kuzma (36.6%) aren't Korver and Love, but they're serviceable enough and still have room for improvement.
But it remains to be seen exactly how much a guy like Hart will get on the floor. I believe that he's perhaps the best fit on the roster next to LeBron, but the Lakers brought in veterans like Rondo, Stephenson, and Michael Beasley for a reason. If Hart gets buried in favor of non-shooters, the Lakers could struggle in an absolutely loaded Western Conference.
For the reasons stated above, it could be wise to take a look at the under of 48 wins for the Lakers this season. Or just wait and bet them in individual games: The Cavaliers last year were the worst team against the spread in the NBA, going 31-49-2 (38.8%).
LeBron is the most public player in the league, and the Lakers are one of the most public teams. LeBron in L.A. could set public betting records, which makes it enticing to consistently bet against them in terms of their spread.
And because I couldn't leave you hanging, here are the 10 players most likely to experience positive 3-point shooting regression, per my study:
Isaiah Thomas, Denver Nuggets
Joe Johnson, free agent
Mario Chalmers, free agent
Danilo Gallinari, Los Angeles Clippers
Jodie Meeks, Washington Wizards
Dennis Schroder, Oklahoma City Thunder
Khris Middleton, Milwaukee Bucks
Norman Powell, Toronto Raptors
Channing Frye, Cleveland Cavaliers
Sean Kilpatrick, free agent