The Case For & Against the Brooklyn Nets Winning the NBA Title
Credit:
Mike Stobe/Getty Images. Pictured: Kevin Durant #7 and Kyrie Irving #11 of the Brooklyn Nets.
All season long, the Brooklyn Nets have been a difficult team to comprehend.
The Nets opened the season as title favorites, even when it was uncertain if Kyrie Irving would play at any point.
Their odds barely budged when Kevin Durant went down for six weeks with a knee injury and barely moved when James Harden got hurt and then forced his way to a division rival. They fell from first in the East earlier this year to the play-in tier and still remain the favorites or co-favorites at every major book to win the East.
No matter what we've seen on the court, sportsbooks simply will not budge on the Nets.
So should we bet on Brooklyn making a postseason run? Is there any value on Nets futures with the postseason around the corner? Let's make the case for and against the Nets.
Kyrie Irving Is Back and Hot at the Right Time
Things look about as good right now for the Nets as they have for a few months. That's largely because of Durant and, especially, Irving. Irving was recently cleared to play in home games, which is a pretty big deal for a team built entirely around two superstars.
Since the Harden trade, Irving is averaging 31.2 points per game on scorching hot shooting splits of 49/45/90. His True Shooting percentage is 67% in that span, and the Nets have a 123.6 Offensive Rating with him on the court.
Since the All-Star Break, Irving's 8.8 Box Plus-Minus ranks second in the entire NBA, behind only Nikola Jokic and Giannis Antetokounmpo. Considering Kevin Durant's 6.2 also ranks in the top 10 and is always one of the league's top few players, the case for Brooklyn sort of makes itself.
With Durant and Irving available for every game, the Nets can outscore any team any given night.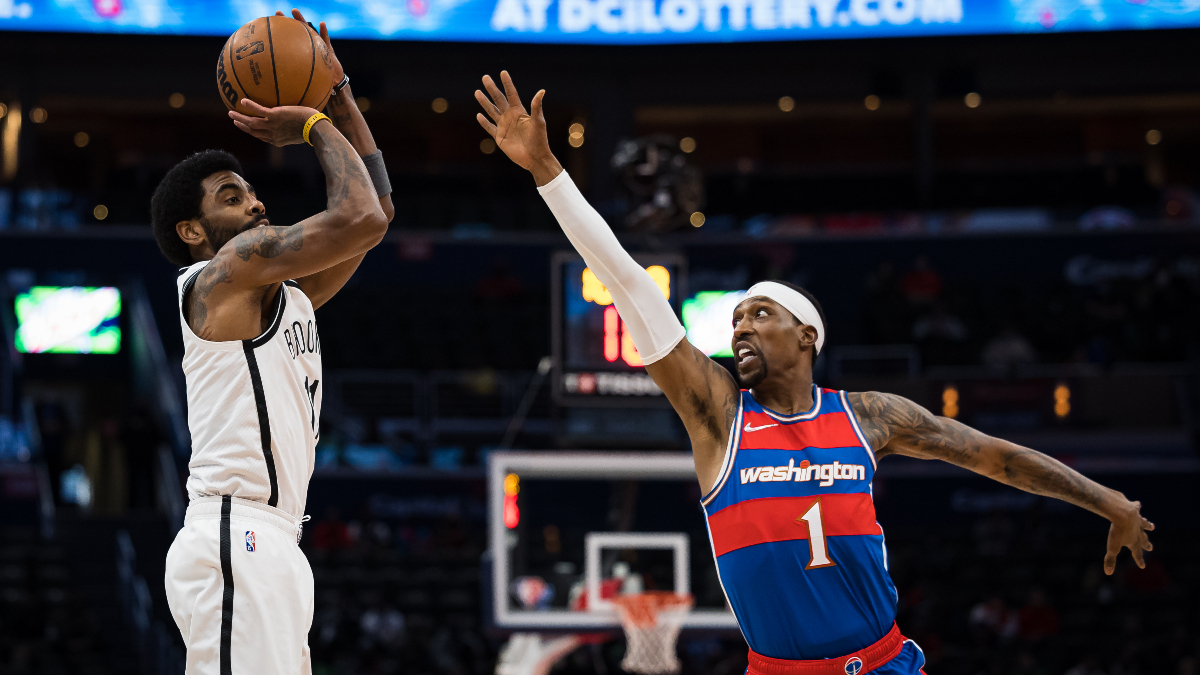 The season-long numbers from Pivot Analysis show that this isn't really even anomalous.  For the season, the Nets are +72 in 283 minutes with Durant and Irving on the court. They've scored 761 points in 590 possessions together, putting up a season-long 129.1 Offensive Rating miles ahead of the league's No. 1 offense at 116.5. With Durant and Irving on the court this season, the Nets have a +12.2 Net Rating.
And lest you think that's all just Durant, know that the Nets offense has a 119.6 Offensive Rating for the season with Irving on the court versus a 110.4 with him off. Irving's handle and creation open things up, but his sharpshooting and spacing are just as valuable and needed.
By comparison, the Nets with Durant and Harden on-court together had just a +2.3 Net Rating with a 116.5 Offensive Rating. It's no coincidence that players like Seth Curry, Goran Dragic and Andre Drummond also have terrific metrics so far with the Nets — they too joined after the Harden trade, once Irving was back on the court.
The Nets have the No. 2 offense in the NBA since Durant returned from injury on March 3. The defense still isn't great — it never will be with this roster — but it's becoming increasingly clear that we are seeing the best version of the Nets right now with two superstars playing at an MVP level.
Of course, the Nets weren't actually built around two stars — they were built around three. That was supposed to be Harden, but now Ben Simmons is the third star on this team.
But we've yet to see Simmons in a Nets uniform, and there's still no timetable on any potential return (debut?) for Simmons.
Simmons has barely even practiced in a year, and we've been told it would be a long ramp-up to playing. Even if he is physically ready at some point, you don't just throw a player into your rotation mid-playoffs, especially one as unique as Simmons.
Bettors should operate with the mentality that Simmons will not play for the Nets this season.
What Do Brooklyn Playoff Rotations Look Like?
The most likely five-man starting Nets lineup obviously has Durant and Irving. Bruce Brown is the other locked-in starter since he's been mostly attached at Durant's hip lately and is pretty clearly Brooklyn's third-best and most reliable player. Add in a starting center — Andre Drummond, Nic Claxton or Blake Griffin — and another 3-point shooting guard (Seth Curry is the most likely choice, but Goran Dragic could get the call).
That likely means Irving, Curry, Brown, Durant and Drummond starting and likely leaves Dragic, Patty Mills, Griffin and Claxton as the key bench guys. Rookies Cam Thomas and Kessler Edwards are likely excised from a playoff rotation, though this roster is woefully short on wings so you never know. James Johnson could be called into action too.
What would that team look like over a full 82-game season?
They'd likely be a top-five offense with Durant and Irving healthy and a bottom five defense. (That five-man starting lineup has a 129.5 Offensive Rating and a 128.6 Defensive Rating in 84 minutes this season).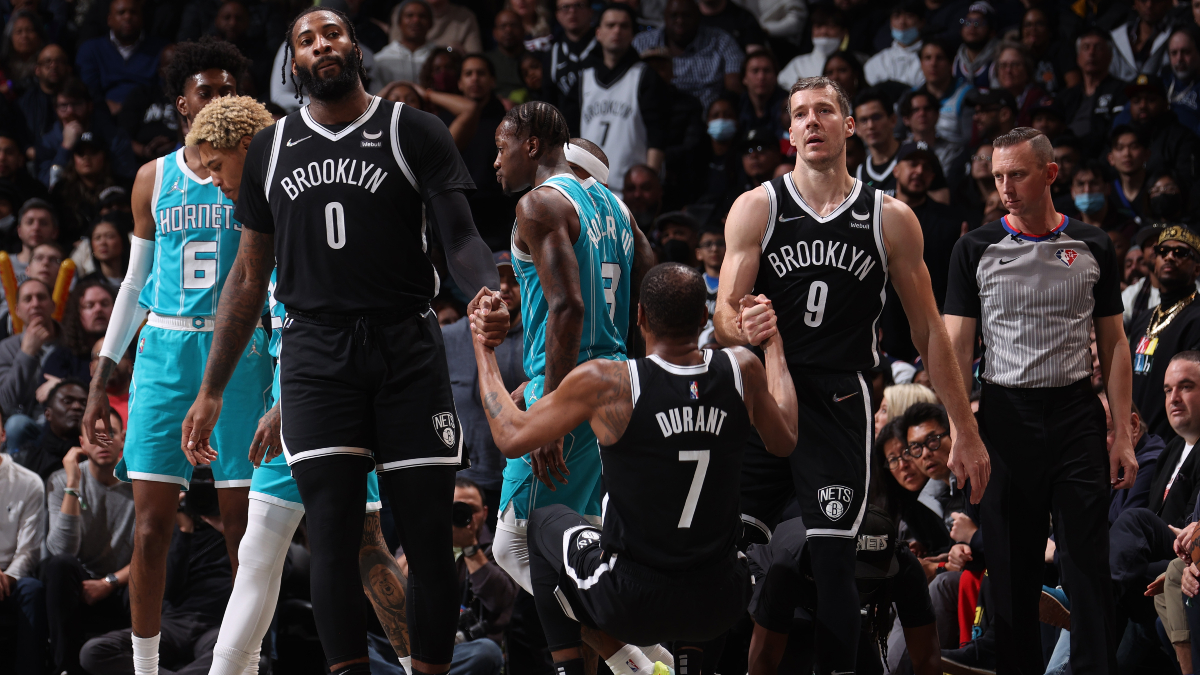 The margins are pretty thin here. If the offense is No. 1 and the defense is closer to 22nd than last, it can work.
But if the offense slips a couple of spots and the defense doesn't improve, suddenly now you get a team that profiles much closer to this season's Atlanta Hawks or Charlotte Hornets — ironically, the teams the Nets are battling for play-in positioning.
There's another interesting historical comp here: The 2017 Cleveland Cavaliers. Coming off their championship, they ranked third in Offensive Rating but 21st on defense. By the playoffs, they stepped it up on both ends and made it all the way to the NBA Finals, destroying the Eastern Conference with only one loss before falling to the Golden State Warriors.
Is that a realistic outcome for the Nets? It's possible. Durant at his very best can approximate LeBron James's value, and Irving can reprise his role, perhaps even better now.
Those Cavs had a third key player in Kevin Love, who averaged 17 points and 11 boards, shot 45% 3s and — just as importantly — soaked up 32 minutes a game in the playoffs. These Nets would need that sort of performance from an unlikely player like Curry or Dragic to make a true run.
There are myriad problems with Brooklyn's roster construction, especially while Simmons isn't able to play. None of the big men are reliable, there's no wing depth, and the team is overloaded with talented guards who shoot but don't defend.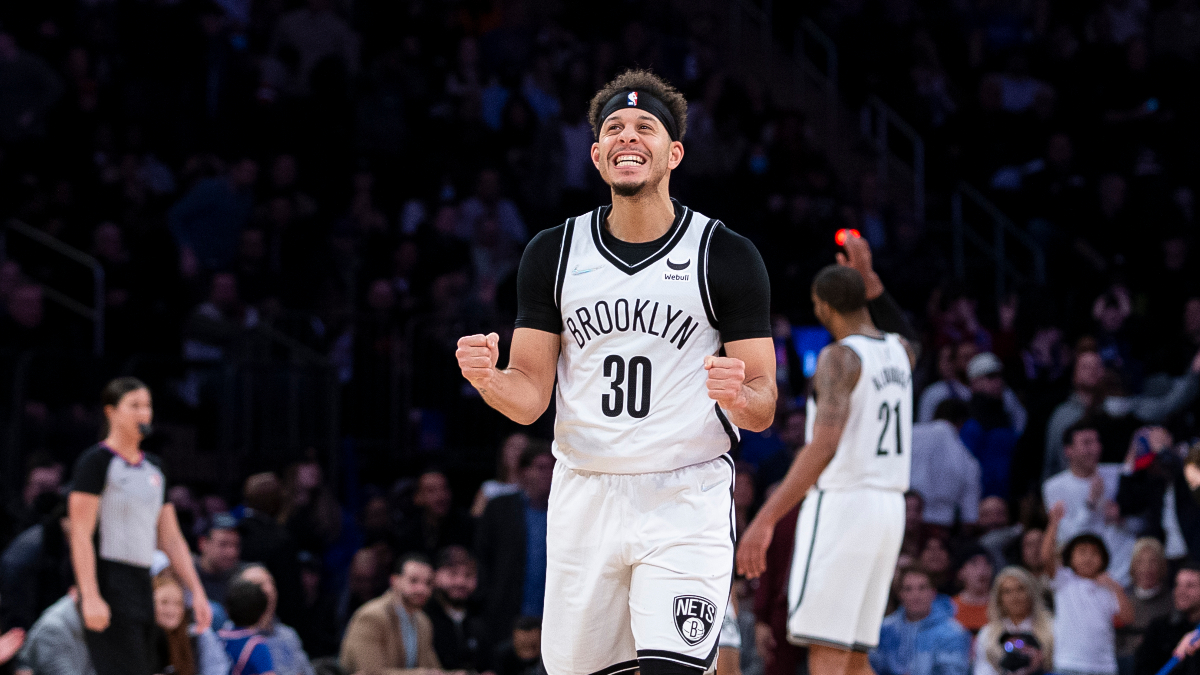 It's possible Brooklyn will need to just sacrifice defensively and get more from those shooters on the court at some point. That means playing Durant as the de facto center in a small-ball lineup like we've seen occasionally in the past, and it leaves Durant and Brown as the big men surrounded by Irving and two of Curry, Mills and Dragic.
That team will have obvious defensive problems, but could be lethal offensively, and it's much easier to play defense when the opponent is taking the ball out under their own hoop every time.
It's not much of a sample size, but the Nets have played 44 minutes this season with Durant and Irving but no Drummond, Griffin, Claxton, or LaMarcus Aldridge. The Nets have a 140.0 Offensive Rating in that limited sample, along with a tantalizing +30.2 Net Rating.
The Milwaukee Bucks are the only top-seven offense the Nets should see in the Eastern playoffs. The Boston Celtics and Miami Heat rate just outside that level and struggle in half court at times. The Philadelphia 76ers are barely league average on the season, actually below the Chicago Bulls and Toronto Raptors right now.
Maybe the Nets will have to do what we've suspected all along: Rely on their offense carrying them in every game. And with Durant and Irving playing this well, they just might do it.
The Case Against the Nets
Our fragile case above only works if Durant and Irving both play at MVP levels for a two-month playoff run. With their respective injury histories, and prospective minute loads, it's a steep task.
There's also no guarantee that Irving will continue to be able to play, depending on where the pandemic heads. He already still couldn't play in a potential play-in game or series against the Raptors. All of this works only if we truly get two superstar runs from Durant and Irving.
The matchups will be key.
Maybe the Nets really can go small and play Durant at center for stretches against contenders like the Heat or Celtics. Bam Adebayo and Al Horford aren't exactly the sort of players who will take over in the post or punish opponents for staying small.
But what happens when the Nets run into the 76ers and have to rotate through their decrepit big men options against Joel Embiid? And who on this team has any chance of defending Giannis Antetokounmpo if they draw the Bucks?
The Nets aren't even a surefire playoff team yet. If they remain in the play-in, they'll still have to win one or possibly two games there just to make the playoffs.
Let's say you think the Nets are heavy favorites, somewhere in the range of 70% likely to win, against any play-in opponent. That would make them something around a 6-point favorite, which is pretty generous considering one or both games could come on the road against a pretty good Raptors, Bulls, or Cavs team.
Even with that lofty assumption, the math says there's still a 9% chance of the Nets missing the eight-team playoff field. And if you drop that chance of winning to 60%, the chance of being eliminated in the play-in goes to 16%, about one in six. When the margins are already this short, that's a significant added risk.
Escape the play-in and the Nets will almost certainly play the Celtics, Sixers, Bucks, or Heat. In most realistic scenarios, they'll have to beat three of those four teams still to make the Finals.
Would Brooklyn be favored against Milwaukee or even Philadelphia?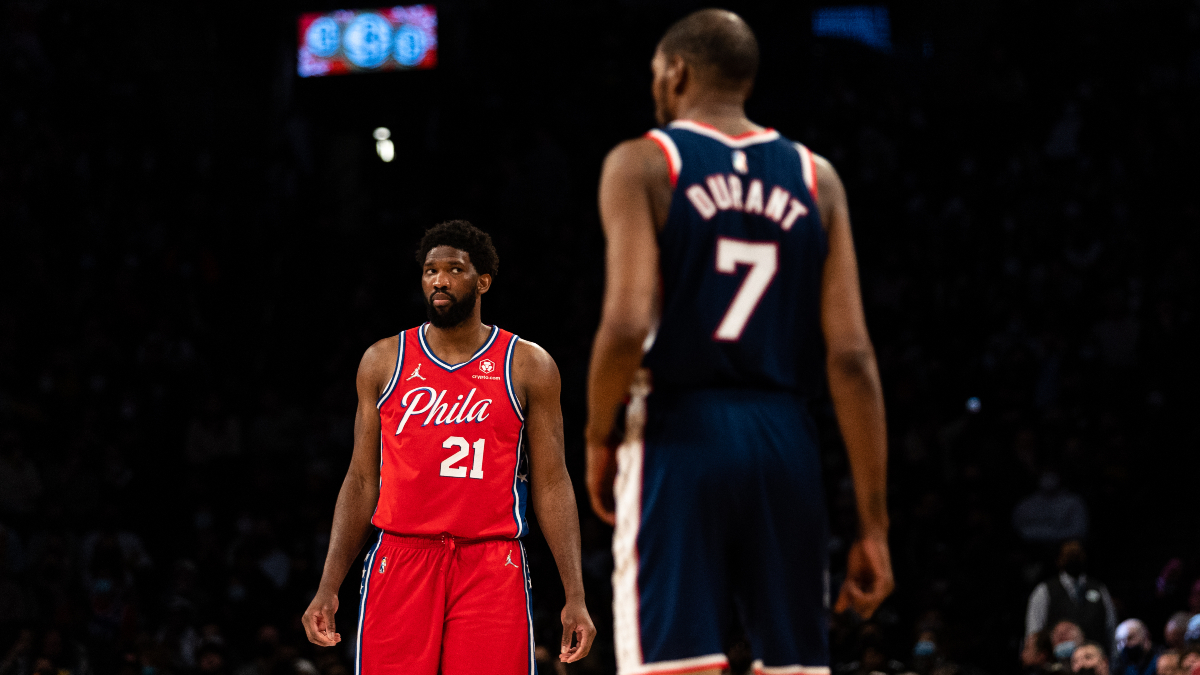 Let's say the path lines up perfectly and the Nets avoid the Bucks and Sixers until the Eastern Conference Finals, assuming those are the worst matchups.
Let's say you really like the Nets and make them heavy favorites against Boston and Miami, call them 2-1 favorites (67%). You generously give them coin-flip odds against the Bucks or Sixers (50%). Add in the perfect path and the optimistic 91% chance of escaping the play-in. Where does that leave us?
That's almost exactly a 20% chance of reaching the Finals. That would be +400 to win the Eastern Conference, and the Nets have never approached that number at any point this season.
Even right now with the playoffs in question altogether, the best available line is +300 at BetMGM, an implied 25%. And that's the most optimistic path available. You'd have to bump the Nets to 2-1 favorites against the Bucks and Sixers too to get to +300. And that's making an awful lot of assumptions about a roster that's been mostly theoretical to this point.
The math simply does not line up. There is little to no value betting on Brooklyn futures.
The title odds are in a similar spot. The best available line is +625 at PointsBet, implying just under 14% likelihood. That means our very optimistic chance at making the Finals now has to win that Finals 70% of the time for that bet to provide value. It should be very clear by now that it does not, not even a little.
The Nets remain a dangerous playoff opponent as long as Durant and Irving are healthy, on the court, and playing at an MVP level.
But even in the most optimistic outlook, there's just no value betting on Nets conference or title futures. You'll have to look to play the Nets game-by-game and series-by-series or find another angle for value.
How would you rate this article?
This site contains commercial content. We may be compensated for the links provided on this page. The content on this page is for informational purposes only. Action Network makes no representation or warranty as to the accuracy of the information given or the outcome of any game or event.