Bucks vs. Celtics Game 1 Betting Preview: Is Milwaukee Getting Too Much Respect?
Credit:
Jeff Hanisch-USA TODAY Sports. Pictured: Milwaukee Bucks forward Giannis Antetokounmpo (34) defends Boston Celtics guard Kyrie Irving (11).
Game 1 Betting Odds: Boston Celtics at Milwaukee Bucks
Spread: Bucks -7.5
Over/Under: 223.5
Time: 1 p.m. ET
TV Channel: ABC
---
>> All odds as of Saturday night. Download The Action Network App to get real-time odds and live win probabilities on your bets.
---
Last year, these teams went to seven games with the higher-seeded Celtics finally advancing. The Bucks have taken incredible strides this season, however, and are favored by 7.5 for Game 1. Our analysts dive into this afternoon's affair.
Betting Trends to Know
Sunday will be the first time the Celtics open up a Game 1 on the road since 2016 against the Hawks. Under Brad Stevens, the Celtics are 5-4 straight-up and 6-3 against the spread (ATS) in Game 1 of a playoff series, winning and covering their last four such games since the beginning of last year's playoffs. — Evan Abrams
In Game 3 against the Pacers, the Celtics won as 2.5-point underdogs to take control of their first-round series. That said, under Stevens, the Celtics have had their issues covering the spread in the playoffs as an underdog compared to when they are listed as the favorite.
As an underdog: 12-17 ATS (41.4%, -3 PPG ATS)
As an favorite: 19-3 ATS (86.4%, +4.4 PPG ATS)
— Abrams
Did you know? The Bucks absolutely dismantled the Pistons in their four-game sweep of Detroit in the first round of the playoffs. The Bucks outscored the Pistons by 95 total points in the series, which was tied for the second-highest differential in a sweep in NBA history. The biggest sweep?
The 2010 Magic over the Hawks in the conference semifinals. In the Magic's next series, they faced the Boston Celtics and lost the series in six games after dropping the first three. — Abrams
After sweeping Detroit, Milwaukee has had six days to rest and prepare for Boston. Since 2005, it has been profitable to bet well-rested home teams in the playoffs — even if the opposing team, like Boston, is rested, too. — John Ewing
---
Locky: My Thoughts on Game 1's Spread and Total
I'll start by saying the spread is very close to what I handicapped.
I made it Bucks -6.5, the opener was Bucks -6.5, and now that it's gone to 7.5, I think a small bet on the Celtics, but nothing that significant. What is really interesting to me here is both the total and the complexion of the series.
To me this is very similar to the other East series in that it's really the true start of the playoffs for these teams. Each of the four semi-finalists have basically been eyeing the playoffs almost the entire year, and preparing for this round by resting players or acquiring new talent.
Therefore, we shouldn't put much stock in how each team closed the season, nor should we read too much into their first-round playoff series, neither of which were ever going to be close unless Joel Embiid's health took a turn for the worst.
The Raptors and Sixers basically hadn't truly played each other the way they are currently constructed until Saturday. And although C's and Bucks faced off in February, Gordon Hayward didn't play in that game, and Nikola Mirotic had basically just joined the team.
Same problem. For that reason I think I'm going to have a lean to the "underdogs" in the first game of each East series because I'm not even really sure those teams are true underdogs.
All four of these teams are incredibly close in talent, and although Milwaukee performed the best in the regular season, that's more of a measure of longevity and commitment to playing well each night. That doesn't really mean as much here as you'd think.
So with the number moving away from my projection a little, I think Celtics +7.5 is worth something without a true read on how these teams match up. Why give the Bucks this credit?
As for the total, I think it's too high. An early start, with both teams off a lot of rest, and very continuity or familiarity as presently constructed. These are all things which make me think the defensive identities of the teams will be present but the offensive sets and adjustments might take some work.
An early "feel-out" game, if you will. All we have to base pace/defense on is the previous regular-season meetings (for now), and I would consider it at least a positive sign for the under that each team defended the other better than most teams in the league.
The Celtics specifically held the Bucks to one of the lowest defensive efficiencies in their games of any team in the league. Until we get a better idea for THIS series, I will bank on each team's defense showing up first, and take the under at 223.5. — Ken Barkley
---
Mears: How I'm Handicapping Today's Game
This series is a difficult one to handicap. The Bucks are a bit of a wild card in the playoffs: On one hand, their season-long metrics suggest they are an incredible team, one definitely worthy of winning an NBA title. On the other hand, they're young and unproven — even more so than Boston.
If you removed these team's names and simply looked at the data, this line of Bucks -7.5 is more than fair for Game 1 at home. Milwaukee was the most dominant team all season, posting a league-best +9.1 Net Rating. The Bucks finished third in offense and second in defense.
These teams are actually not that dissimilar in a ton of areas. They have singular talents in Giannis Antetokounmpo and Kyrie Irving, and they surround those guys with awesome, long defenders and shooters.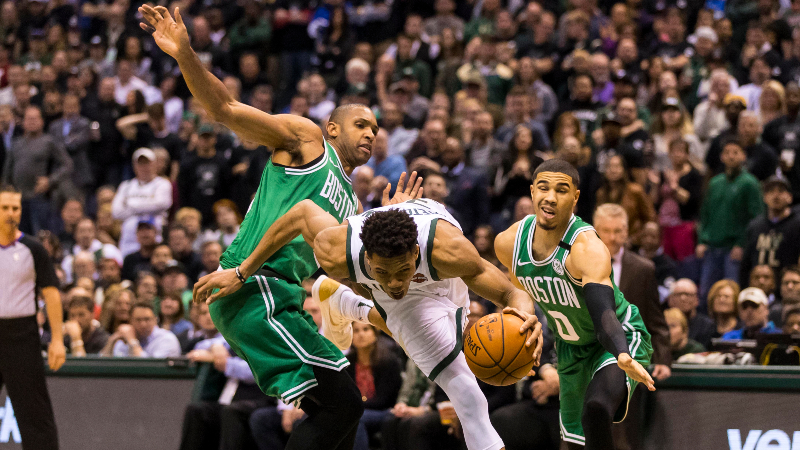 Even their defensive schemes are alike, as I wrote about this year: Although switching has become en vogue in the NBA, they both play conservatively with their bigs, dropping in pick-and-roll coverage and trusting their long wings to cover ground and force shots to the opposing team's worst offensive players.
But the metrics suggest, if they're alike then Milwaukee is just a superior version. That doesn't mean the Celtics can't win this series, though: Irving has a ceiling as high as any player in the league, and Boston should have a coaching advantage with Brad Stevens. But if you simulated this series a million times, the Bucks win a decent majority of them, I think.
All that said, this line of Bucks -7.5 indeed already suggests that Milwaukee is better, and thus I don't think there's a lot of value in it. I can't swing at the over/under, either, though Locky made some good points. I actually think there will be scoring in this one, mostly because these teams allow a bunch of jump shots and are good jump shooting teams. I'll wait for Game 2 unless something changes. — Bryan Mears
---
Editor's note: The opinions on this game are from the individual writers and are based on their research, analysis and perspective. They are independent of, and may not always match with, the algorithm-driven Best Bets from Sports Insights.
How would you rate this article?