Moore & Wob: Our Way-Too-Early NBA Awards Leaderboard Update
What if the NBA season ended today? Who would win MVP, Rookie of the Year, Coach of the Year, Most Improved Player, Executive of the Year and Defensive Player of the Year?
Matt Moore and Rob Perez take a look at the landscape over a quarter way into the 2018-19 NBA season.
This is an exercise in experimentation.
For approximately eight weeks, I (Wob) have been tracking who my leader in the clubhouse is to win every major NBA end-of-season award, including:
Most Valuable Player
Rookie of the Year
Sixth Man of the Year
Most Improved Player
Coach of the Year
Executive of the Year
Defensive Player of the Year
It's time for an update. Let's get to it. — Matt Moore and Rob Perez
---
MOST VALUABLE PLAYER
WOB:  Every Giannis Antetokounmpo advanced analytic is eye-popping.
You name it: PER (28.6), BPM (+9.3), Bucks with Giannis on the court (+13.1) vs. off (+2.6). They just beat a full-strength Raptors team in Toronto. Giannis has played in all but one game this season. He is undoubtedly going to be in the running for the award when the time comes to vote.
But here's the problem: Steph has all those numbers, too — 29.2 PER, +8.3 BPM, +13.8 (on) vs. -0.6 (off). In addition, the Warriors just went into Milwaukee and backhanded the soul out of the Bucks on national television.
And most importantly: Steph is unequivocally the most important player on arguably the greatest team of all time, on AND off the court.
When he was rehabbing his leg injury, missing all of those games that Giannis was playing in, he traveled to Houston during the peak of the Kevin Durant/Draymond Green drama to help bring peace to the war and get the freight train from hell back on the tracks.
Was he single-handedly responsible for the two making amends? We will probably never know for sure, but the importance of Steph's locker room presence, as reported by The San Francisco Chronicle, cannot be understated:
"He's got the respect of everybody in the organization," Warriors head coach Steve Kerr said. "He's very wise. He brings us together."
For all the Bucks fans who will surely spew vitriol at me: It's not 1) Curry, 2) Giannis — it's 1a) Curry, 1b) Giannis.
Moore: I did a full breakdown on MVP last week, and Giannis was the straw poll leader by a clear margin.
However, Curry was the one most often mentioned as "if not, then," and it's clear he's gaining on Antetokounmpo.
Anthony Davis keeps peaking his head in the room and then ducking out.
One of the developing keys for Giannis is that he has signature, nationally-televised monster games, like the one vs. Golden State. Even the not-nationally-televised-but-still-huge game Sunday in a win over Toronto was a showcase.
However, keep in mind that as the year goes on, Curry and the Warriors are on national TV much more often than the Bucks. That won't be the end-all determining factor, but you can bet that key performances do drive votes in close races, and if Curry doesn't miss more games, this will get tougher.
Finally, LeBron James looms in the background, and with every win the Lakers take towards 50 wins, the louder the hawkish calls to remember his greatness will be.
---
ROOKIE OF THE YEAR
WOB: I am still head-over-heels in love with Jaren Jackson Jr. as the best long-term prospect from this draft, but this is a no-brainer.
It's Luka Doncic.
By the way: Can we come up with a name for Luka's stepback?
'The Stepback of Death' was an impulse thing, but what about:
The Slovenian Stutter
The Slovenian Stammer
The Slovenian Switchblade?
Eh, needs some workshopping.
Also: I will be referring to Luka Doncic from now on as Don Luka, the Godfather of Stepbacks.
P.S. How mad were Rockets fans that they couldn't scream "TRAVEL[!" on Twitter after Luka hit them with that? This is Harden rule-bending 101: Someone finally gave them a dose of their own medicine.
Moore: Impact isn't going to matter here, which is fine; it normally doesn't. With Trae Young's shot MIA and Marvin Bagley basically invisible in Sacramento, there's little competition.
It's a two-man race between Jackson and Doncic, and because Doncic is on a worse team, he'll always be featured more often. It would take something unforeseen to change this.
---
SIXTH MAN OF THE YEAR
WOB: This one is going to be close.
Never forget the time Domantas Sabonis was a top-five player in the league in PER. That was a real thing.
While he has 'cooled off' after his unfathomable start to the season and the Pacers are only three points (per Net Rating) better with him on the floor vs. off, he is still shooting 63.9% from the floor, cleaning the glass like he's paid on commission and carrying the entire franchise on his back with Myles Turner while Victor Oladipo is sidelined.
Stephen A. Smith voice
BUT[[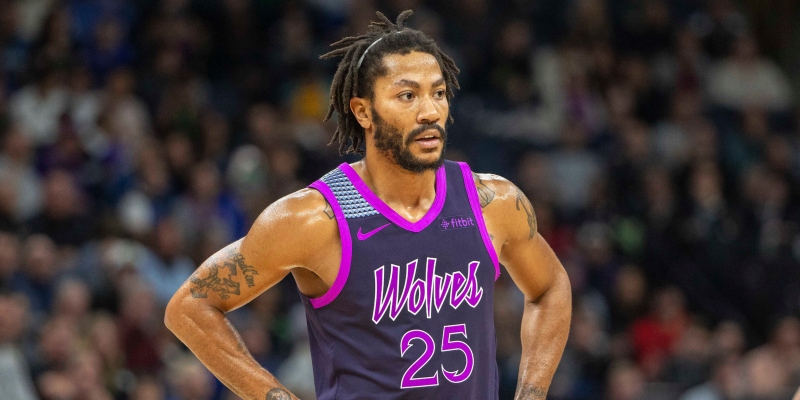 Derrick Rose!
The man is averaging current career-highs in…
Field Goal Percentage (48.8%)
3-Point Percentage (47.6%!?!?!?!)
Effective Field Goal Percentage (54.2%)
True Shooting Percentage (57.7%)
This is the most points per game he's averaged (18.4) since the infamous ACL tear during the 2012-2013 campaign.
And can we talk about that 3-point percentage some more please? — 34% is his next best number in any season. How the hell did we get all the way to FORTY-SEVEN?
This is the NBA equivalent of when Greg Maddux lost his fastball and extended his career another god knows how many years because he figured out the changeup.
This man is back to being a walking, breathing bucket — just in a way that none of us thought was possible.
(Also, that 50-point game is going to loom LARGE come voting time. That was a trophy-winning moment.)
Moore: Hi, hello, yes, it's me, here to say that Derrick Rose will not shoot 47.6% from 3 for the rest of the year, and while it's a nice story that he's managed to become an impact player again (even though "nice story" given what's gone on in his personal life feels extremely gross), it's not going to last.
Guess what happens to the Wolves' record, his impact and his candidacy when his shot regresses?
Meanwhile, this award continues to bother the snot out of me. It's just about "who is the best volume jump-shooter off the bench," and while that's valuable, it removes all context of team needs from the bench.
You mentioned Sabonis, a phenomenal candidate. How about Josh Hart with the Lakers? He's shooting the lights out, he's one of the few positive-value Lakers next to LeBron and he's hard worker and a guy who doesn't have a discernible and obvious gaping hole in his game.
I also want to give Monte Morris of the Nuggets some love. This is a guy who was in the G-League last year and has now become the anchor of one of the best bench units in the league.
His box score stats not popping off the page shouldn't matter. His team wins. That should matter.
---
MOST IMPROVED PLAYER
WOB: This is another award that's probably going to see some serious volatility from now through April.
During that Clippers win binge that got them to the top of the Western Conference, no one was as vital to their success as Montrezl Harrell.
You want to talk career-highs? Just name the category with Trez and the answer is probably "yes, that one, too."
He has evolved into Manimal 2.0 — everything Kenneth Faried was supposed to be. I was all about giving the Clippers their recognition there for those weeks of bliss.
But Pascal Siakam just does not stop.
What does this guy not do well? That's a serious question.
He has become the best team in the Eastern Conference's version of Draymond Green — the irreplaceable X-Factor who doesn't always fill up the box score but does things that you know are vital for the system to prosper.
Since this award is "Most Improved," you have to consider his previous seasons in comparison to this one:
Points: This year (14.6) vs. Career (7.5)
Rebounds: This year (6.5) vs. Career (4.5)
Assists: This year (2.7) vs. Career (1.5)
Field Goal Percentage: This year (61.3%) vs. Career (53.6%)
3-Point Percentage: This year (34.6%) vs. Career (25.1%)
Free Throw Percentage: This year (77.4%) vs. Career (69.5%)
Also, he has a trademarked spin move now, too. That drop-step thingy he does when he drives and turns into the Tasmanian Devil is his now.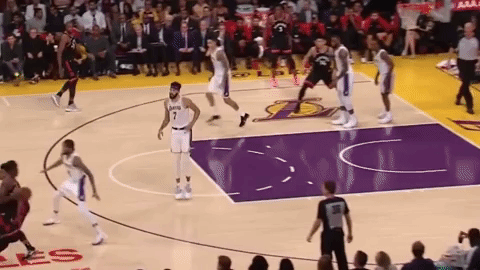 Moore: Second-year players are out for me in this award; you're supposed to get better in your second season! You know what you're doing!
But Siakam's in his third, so he's in.
He's leaps and bounds above the field. There were so many plays vs. Philadelphia last week where the Sixers just had no chance because of plays Siakam made.
He's filling a difficult and key role — a fluid-position forward who also makes big plays to spark runs. Those guys set your team apart, and he's done that.
Mason Plumlee should be on that list as well, along with Jerami Grant, Sabonis and Josh Richardson.
---
COACH OF THE YEAR
WOB: Doc Rivers had a hell of a run there getting the Clippers to the summit, but even when the award was his, Nick Nurse was always on his heels.
This Raptors team has evolved from funny LeBron punchline joke to "Holy crap, how many games could these guys win a seven-game series against the Warriors?"
It's not just because of Kawhi, either.
We all know he is an eye-popping upgrade from DeMar DeRozan, but he has been unleashed in a way that we haven't seen since his Finals MVP campaign.
Siakam and Lowry on another level isn't by accident, either. It just works.
Doc can get it back if he gets the Clippers back into the top three in the West, but I don't see any other option here.
Moore: This is probably the deepest award. I can make a strong case for the following: Doc, Nurse, Mike Budenholzer, Mike Malone, Luke Walton (yes, seriously) and J.B. Bickerstaff.
All those guys have great win percentages relative to talent, but as we always see, December and January will thin the herd significantly.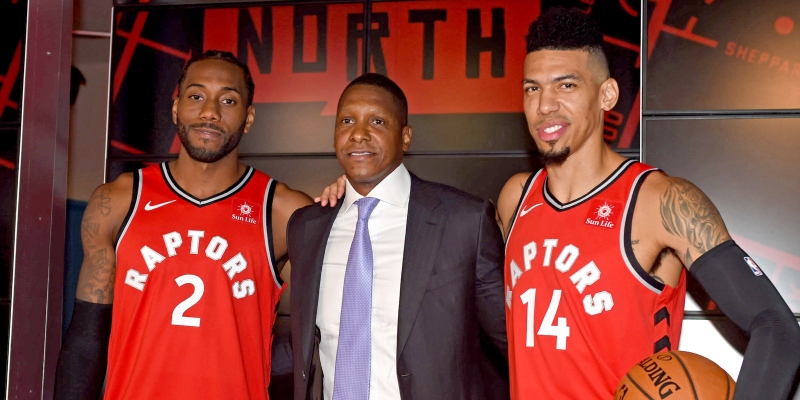 ---
EXECUTIVE OF THE YEAR
WOB: This is the most obvious on the board. It needs to be restated why the acquisition of Kawhi Leonard was a no-lose situation for Toronto: They acquired the best player in the Eastern Conference at the peak of his powers.
They look to be Finals bound or damn near close to it with an 11-player deep rotation of guys who would start on just about any other team in the league.
And most importantly, should Kawhi leave in free agency this summer, Masai Ujiri can blow everything up and rebuild instantly without the burden of any long-term contracts haunting the salary cap. 
I also love how he's willing to put business over everything.
It's a harsh tactic — I understand there are always emotions and relationships to consider when including a big name in a transaction — but the DeRozan trade proved Ujiri will do anything to make this team better.
We all saw Kyle Lowry's "he's the President of Basketball Operations, and that's it" comment after being asked about his relationship with Masai. He said he felt betrayed because DeMar felt betrayed. Completely reasonable.
But Ujiri is not hosting an episode of Dr. Phil here; he is trying to win a championship.
"Loyalty" between front office executives and players is just a word in the dictionary, nothing more. It's refreshing to see blunt honesty from both sides, and in the end I think they'll all end up respecting each other more because of how this all went down.
Moore: Look, Magic signed LeBron James, so he's going to get votes. He's just starting with a huge advantage because LeBron wanted to make TV shows, enjoy the weather and see his kid's games.
Give this one a while, though. I have a feeling the trade deadline could be a big factor, with some teams taking huge swings.
---
DEFENSIVE PLAYER OF THE YEAR
WOB: I don't even need to give any testimony here; just look at this stat our Justin Phan dug up:
Robert Covington has to be DPOY so far, right?

Wolves before trade: 113.9 DRtg (30th)
Wolves since trade: 100.4 DRtg (2nd)

Covington #2 in deflections per game, #1 in steals, #16 in blocks. Opponents shoot 9.8% worse when guarded by him.

— Justin Phan (@jphanned) December 5, 2018
DUDES ARE SHOOTING TEN PERCENT WORSE WHEN GUARDED BY ROCO.
That has to be one of the more absurd individual impacts I've seen on the defensive end in a long time. He should have been on the podium for this award last year, too. It's his time.
Moore: Draymond being out changes this, as does Kawhi's in-and-out status.
The Wolves are 6.7 points worse per 100 possessions with Covington on the bench, so, yeah, he's probably leading the league at this point.
However, I'm not sold the Wolves are actually suddenly good defensively; let's wait a bit.
Meanwhile, I am absolutely sure that the Thunder are elite defensively, and so Steven Adams needs more recognition.
His box score stats will never leap, but he's so smart, so tough and so relentless. He's like trying to beat a brick wall. He needs more credit. I'd have it 1) RoCo, 2) Adams, 3) Giannis right now.
How would you rate this article?
This site contains commercial content. We may be compensated for the links provided on this page. The content on this page is for informational purposes only. Action Network makes no representation or warranty as to the accuracy of the information given or the outcome of any game or event.