NBA Stock Watch: Are the Warriors, 76ers Moving in Opposite Directions?
Credit:
Getty Images. Pictured: Joel Embiid #21 of the Philadelphia 76ers, Stephen Curry #30 of the Golden State Warriors.
The Golden State Warriors and Philadelphia 76ers are in two different conferences and two different tiers as we enter the latter half of the NBA schedule.
The Warriors started off dominating the league and, for a while, only the Phoenix Suns seemed like a true match for their dynamic team. They are the clear No. 2 team out West, but their fortunes took a turn recently when their defensive star Draymond Green was sidelined with a calf injury turned back issue. Green is expected to miss at least two weeks and could be out for more depending on the severity.
The 76ers began the season with the drama of Ben Simmons' holdout hanging over them. That combined with COVID absences caused them to stumble out of the gates, but they have been rolling in recent weeks and currently sit sixth in the East. Injury misfortune to two teams ahead of them — the Chicago Bulls and Brooklyn Nets — and the looming trade of their absent point guard could have a positive impact on the Sixers moving forward.
With that in mind, we've turned to our NBA analysts Matt Moore, Raheem Palmer, Brandon Anderson and Joe Dellera, to sort out what we should make of these teams in the short and long term and if there's opportunities to find a betting edge on either team.
Odds listed below are via BetMGM.
How does the current roster without Draymond Green affect the way you will bet on or against them?
Palmer: The current Warriors roster is solid without Draymond Green, however his impact can't be understated. He's primarily responsible for the Warriors' defensive identity as he's one of the best and smartest defenders of all time and his ability as a playmaker allows Stephen Curry to play off the ball.
The Warriors should have no problems beating up inferior teams or teams without dominant bigs, but against teams Milwaukee Bucks. they're likely to struggle while Green is sidelined. The Bucks scored 40 points in the paint their recent 118-99 win over the Warriors.
Before Green's injury, the Warriors were second in opponent points in the paint (41) and tied for fifth in opponent second chance points (12.2). Since he's been out, the Warriors are 13th in opponent points in the paint (46) and 23rd in opponent second chance points (15), according to NBA Advanced Stats. We also see the Warriors go from fifth in Defensive Field Goal Percentage (59.4%) in opponent field goals less than six feet to 24th (66.1%).
Of course, some of this is noise due to a small sample size, but it feels like the loss of Green is rearing its ugly head most on defense.
Dellera: The Warriors can survive Green's injury during the regular season because, as Raheem mentioned, they will play bad teams and they should destroy them.
However, when the Warriors play some of the better teams in the league his absence is notable. Raheem also mentioned the game against the Bucks, and it's no surprise that Milwaukee steamrolled the Warriors without Green. He's the favorite to win DPOY for a reason.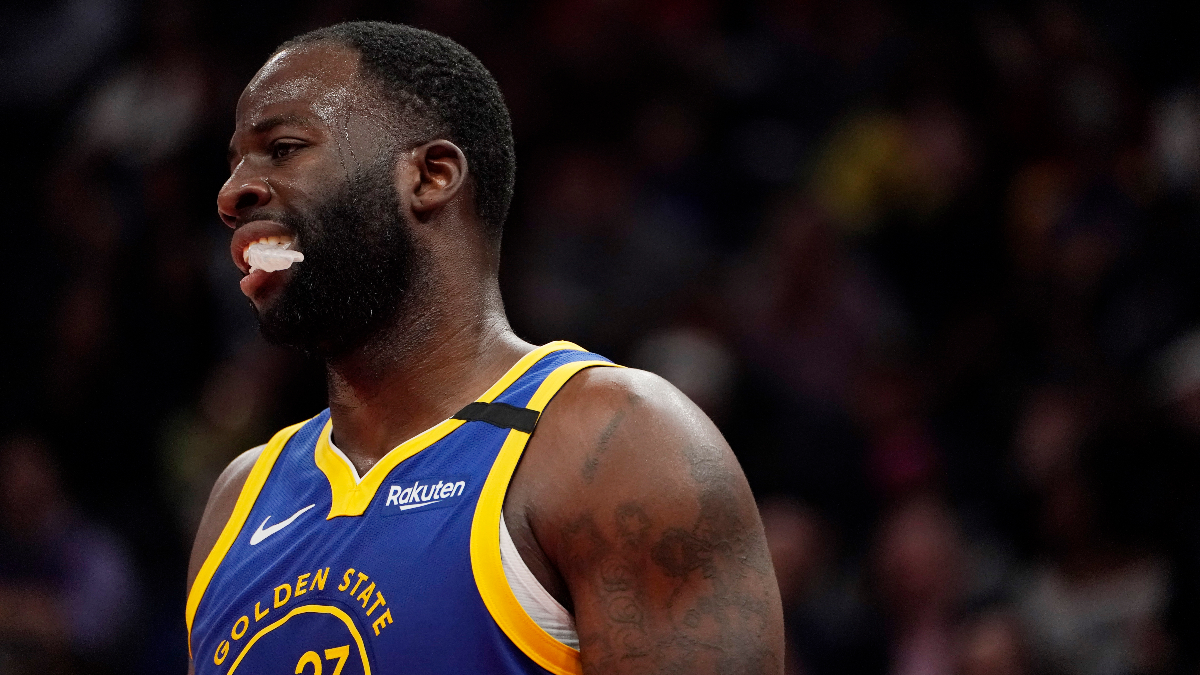 His impact, and now absence, on offense is notable as well. Green is a key cog for this Warriors' offense because of his role as a facilitator, a shot creator, and a disruptor. He sees passing lanes before they open up, he works effectively in the pick and roll, and he allows Curry to play off-ball — something no other Warrior does as well.
Losing Draymond caps this team's ceiling and versatility. They should still breeze by bad teams, but I'll be cautious before backing them against the league's best.
---
Does Green's injury open the door for DPOY and is there value there for someone else?
Dellera: If I am holding a Green ticket for DPOY, this might be an opportunity to hedge on Rudy Gobert, the clear second choice at +175.
However, we don't know how much time Green will miss, and if he misses just the two weeks the team mentioned this week, you've essentially bought the top of Gobert's odds.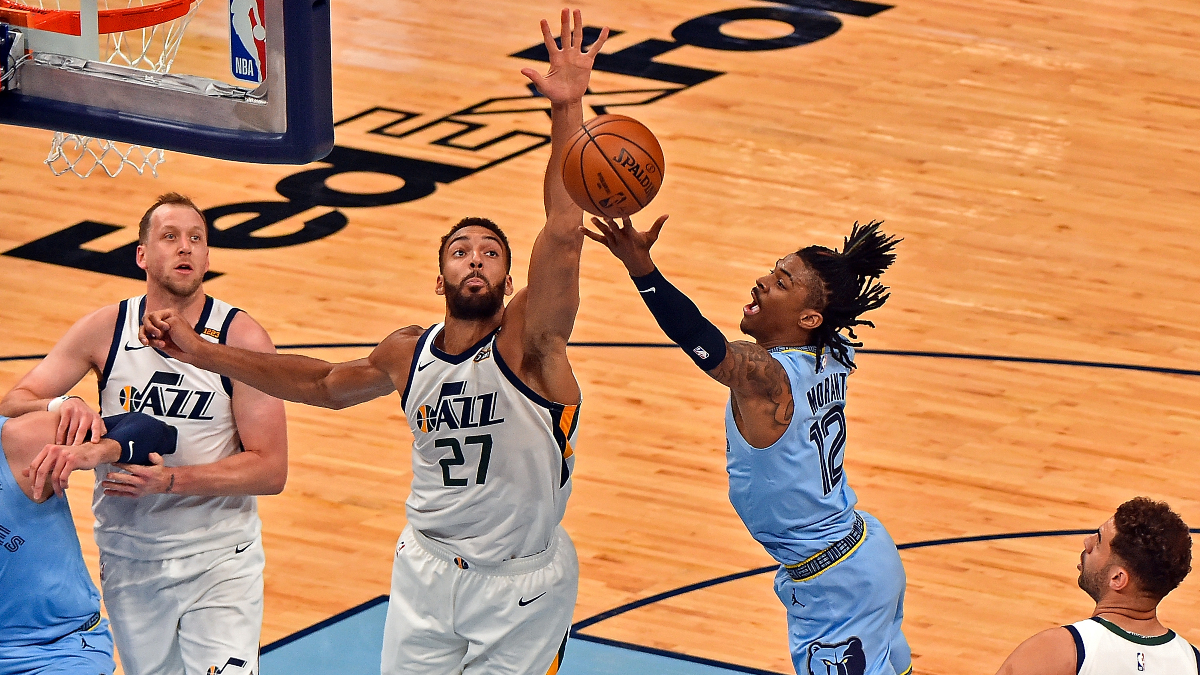 If you're going to take a longshot, those odds are unlikely to change much because Gobert's odds are so close to Green's. I'll likely just sit tight on this award and assess if his injury becomes a lingering issue.
Palmer: I think it does and one name that immediately stands out to me is Mikal Bridges at +2000. The Suns are the best team in the West, so we could see voters reward one of the best wing perimeter defenders in the league if the Green injury is serious enough to knock him out of contention.
Anderson: I do think it opens the door, but I'm not that worried about Green missing a few weeks right now. This is not a stats award, and it's not one of those awards where we will penalize someone for missing 15 or 20 games as much as the others. If Green comes back in a few weeks and is healthy the rest of the way, I'm still confident he'll win.
Part of the reason for that is that I still don't see a great alternate option. I don't see Gobert winning this (sorry, Joe). The Jazz just aren't a hot team or one anyone wants to vote for, and I think there will be a lot of Gobert voter fatigue. That's why Green was my pick for this award back in the preseason when he was at +2800, and I'm still feeling great about that ticket.
I also don't know if there's another name I can get too excited about yet. I don't buy a perimeter player like Mikal Bridges winning it (sorry, Raheem). Cavaliers bigs Evan Mobley and Jarrett Allen would likely split votes. Giannis Antetokounmpo already has one.
I might nibble a little on Joel Embiid at +3000 at DraftKings as more of a career achievement award, especially if he stays healthy and the Sixers climb to the top of the East.
---
As of today, the Warriors are still the favorites to win the West (+225). Are they overvalued?
Anderson: Everything happening with the Warriors makes them a wait-and-see on futures. I've said for years that Green is the most important player on this team. He's Golden State's identity, and he's the heart and soul of this team.
Green is older and has always profiled as a player whose game might disappear quickly once it started to go, because of his smaller size as a center and the way he plays. And a back injury is the exact sort of thing that could derail a whole season or even a career.
If the Warriors don't have a healthy Green, I'm not interested in any Warriors futures — like, not even a first-round series necessarily. He's just that important.
That means I'm not looking to add to any Warriors positions right now, and it means I'm not willing to bet on Golden State until I see Green back healthy and rolling again for a couple weeks so I can be confident this injury scare is behind us.
Palmer: I'm going to be honest, I've never truly been a believer in this Warriors team. Although the Warriors have the league's top ranked defense, holding opposing teams to 103.5 points per 100 possessions in their non garbage time minutes according to Cleaning The Glass, it's the offense that's a concern for me.
Curry is the most unique player in NBA history. His ability to the floor allows for teammates to play three-on-four with his mere presence creating open shots for teammates. He's like the perimeter version of Shaquille O'Neal in terms of cheating gravity, however he is a smaller guard whose size isn't ideal for the physicality of playoff basketball.
When the playoffs start and officials are calling fewer fouls and allowing more physicality, what happens when teams start trapping Curry? He is in the midst of one of the worst shooting seasons of his career and while that may not continue, he is getting older so we can't expect 2016 again. Even with Klay Thompson back, do we really trust Andrew Wiggins, Jordan Poole and Otto Porter to consistently hit shots?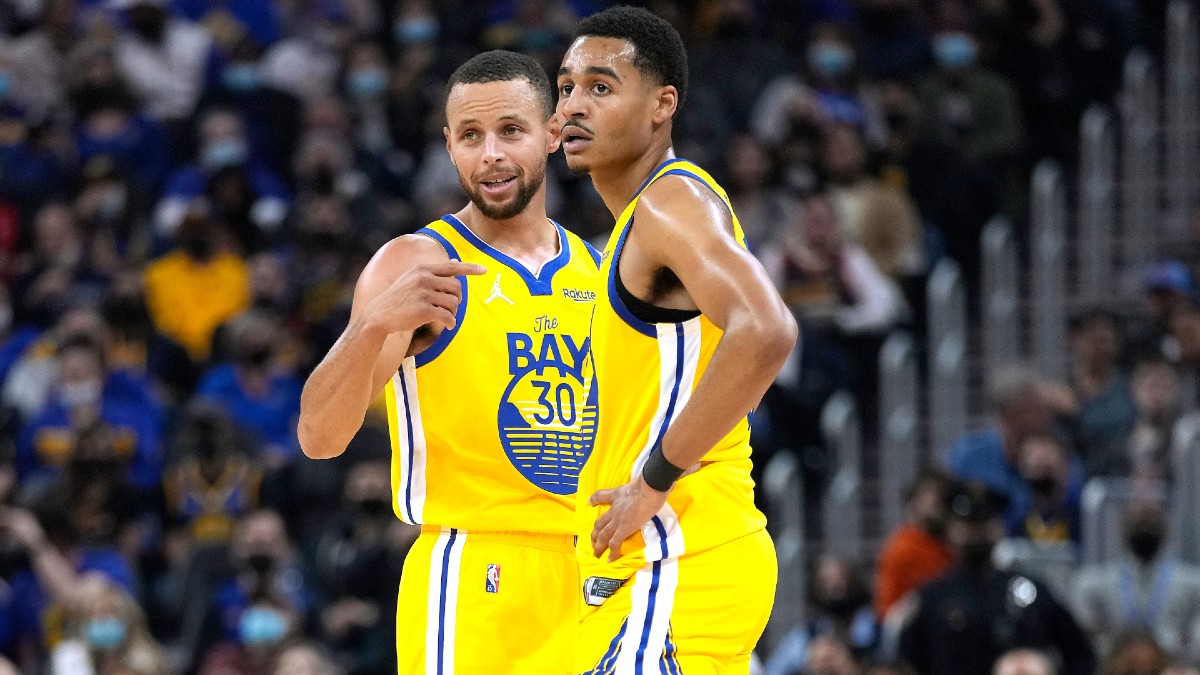 One of the big problems the Strength and Numbers Warriors had was not having another player who could bend the defense and create their own shot when Curry was trapped. I'm seeing similar issues on this roster and I believe it can hurt them against teams like the Phoenix Suns, Milwaukee Bucks, Brooklyn Nets and even the Memphis Grizzlies.
With Green's injury, if it is as serious as it appears to be, the Warriors could be all but drawing dead.
---
Does the Kevin Durant injury place value on the 76ers in Division (+155) or Eastern Conference (+900)?
Anderson: The Durant injury doesn't move the needle for me on futures, because seeding is not important for the Brooklyn Nets and I expect KD back healthy by the playoffs. It does affect regular season positioning, and that means it opens the door for the Sixers or others. Theoretically that means value, yes. But I'm not sure the +155 division is the way to bet it.
If Philly does pass Brooklyn, it probably means getting up to a No. 2 or No. 3 seed. At that point, I'd rather bet on Joel Embiid to win MVP and/or Doc Rivers getting some Coach of the Year votes. I don't think the division odds are juicy enough for the upside of things going right for Philly.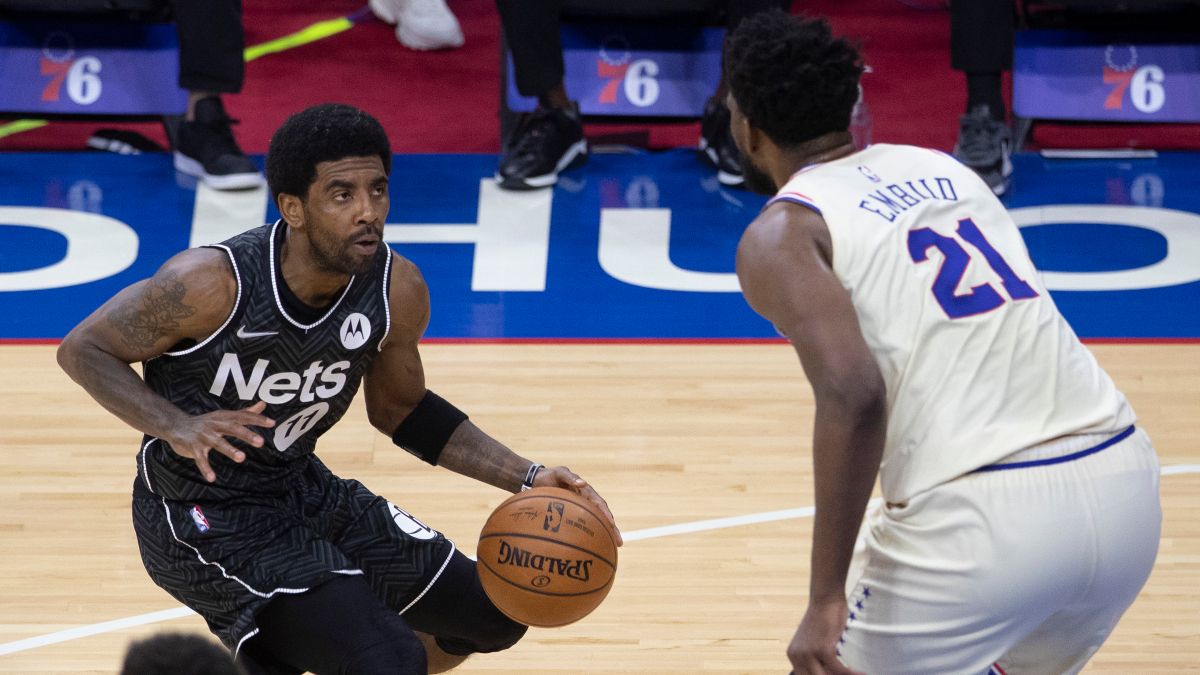 I've never been a believer in Embiid personally, but he's an awesome player and an MVP when he's healthy and at his best. Right now, at +1600, he's a very intriguing candidate and a good number. If he actually stays healthy the rest of the way, he has a much better than 5.8% implied chance of winning it. That's the move here, not just division.
Palmer: It's very difficult for me to trust this 76ers team.
They're 16-8 straight up as a favorite, but consistently underperform: They lost as a -670 home favorite against the Atlanta Hawks and as a -360 home favorite against a short handed Miami Heat team. Games like those say a lot about Glenn Rivers' shortcomings as a head coach. I simply don't trust this team to win the games they're supposed to win.
Although Embiid is putting up another MVP caliber season like Brandon mentioned, he is injury prone and this team is one injury to him away from a total collapse.
The rest of this roster is blah, particularly with Ben Simmons sitting out this season hoping for a trade. Until Morey makes a trade to get Embiid some help, I'm not willing to play any futures on the 76ers.
How should bettors approach betting the 76ers ahead of the trade deadline in anticipation of a Ben Simmons move?
Moore: Let' run through the scenarios.
The Sixers will see their futures remain flat and gain EV if they trade for a composite of role players who can fit around Joel Embiid along with picks. Think of a trade that involves Pascal Siakam and OG Anunoby, or DeAaron Fox and Harrison Barnes (preferably Buddy Hield for spacing). This would fill in the holes around Embiid and address central needs (shooting, versatility) around an already effective core.
Unfortunately, this is the least likely outcome.
Morey wants a superstar in return for a superstar and is willing to wait as long as necessary to get one (if that ever happens.)
The Sixers will see their futures shorten, but lose EV if they manage to trade for a star. It's difficult to identity what star that might be, especially given the confidence from the Washington Wizards that Bradley Beal does not wish to be dealt.
Damian Lillard is almost definitely off the table, so any star that the Sixers can trade for (and Siakam honestly fills this definition as well) is going to be more of a name that an impact player.
The odds will shorten but the biggest area that President of Basketball Operations Daryl Morey tends to very purposefully disregard is fit. With Chris Paul and James Harden, there were fit questions and the two made it to within a game of the Finals and a likely championship. Never mind that a year later that combination imploded.
So if there's a big name player that doesn't fit with Embiid, that's likely optimum return, but that doesn't help the Sixers in matchup problems in the playoffs or addressing central issues.
The Sixers will see their futures remain flat and maintain EV if they don't trade Simmons at all, which might be them most likely outcome. The Sixers are underrated in the East right now with the 16th-ranked adjusted offensive rating and 10th-ranked adjusted defensive rating despite injuries and COVID concerns having derailed them.
They're in a pretty good spot. That may not mean that they can get through the East, but bear in mind that the Nets have no frontcourt defense, the Bucks are still without Brook Lopez and Miami's offense comes and goes.
If you want sure things you can feel good about, this is not the team for you no matter what. But if they lower the asking price and improve the overall make up of the roster? The Sixers will quietly have value in a vulnerable Eastern conference.
How would you rate this article?
This site contains commercial content. We may be compensated for the links provided on this page. The content on this page is for informational purposes only. Action Network makes no representation or warranty as to the accuracy of the information given or the outcome of any game or event.