NBA Win Total Odds & Pick: Are Stephen Curry and the Golden State Warriors Contenders?
Credit:
Noah Graham/NBAE via Getty Images. Pictured: Stephen Curry #30 of the Golden State Warriors.
The Golden State Warriors are expected to be among the best teams in the West with an over/under of 47.5 wins.
Matt Moore analyzes the Warriors' win total odds below.
Check out this post for updated season win totals and this post for my other 29 season win total picks.
Golden State Warriors Win Total Odds
The Case for the Over
Last season, Golden State won at a 44-win pace, with Stephen Curry and Draymond Green each missing nine games and Klay Thompson out all season. Plus, you have to look at before and after James Wiseman was in the rotation.
Pouring all the blame on a rookie who missed almost all of his freshman year of college and was inserted into a high-IQ system is rough. However, after the Warriors shut Wiseman (and Kelly Oubre) down on April 12, they finished 14-5 to make the play-in tournament.
Golden State went 37-25 overall when Curry played and 2-7 when he was out. It's unreasonable to expect Curry to play in all 82 games, nor Green, who is pivotal to Curry's success.
But Thompson's expected return around New Year's and an improved roster will help buttress against the drop off when he misses time. The Warriors don't have to be extraordinary without Curry, they just have to stay afloat, and the roster is better built to do that this time.
Curry remains the most impactful player in the league, but that impact is dependent on Green. Golden State outscored opponents by 6.9 points per 100 possessions with Curry-Green lineups and lost by 3.2 points per 100 possessions when Curry was on-court without Green. Without Curry, Green lineups were outscored by 6.3, and without either one, they were outscored by 6.0.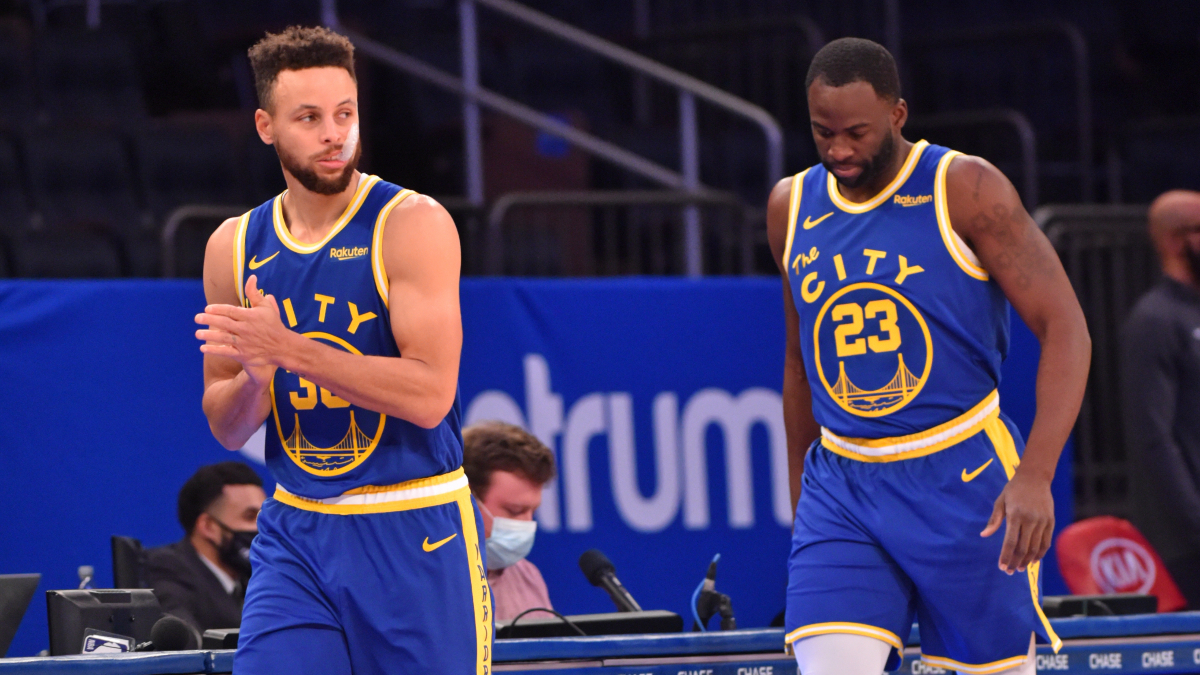 So to wrap up:
Curry with Green: elite
Curry without Green: not good
Green without Curry: awful
Neither Curry nor Green: also awful
Again, the roster is better built to avoid getting destroyed in those minutes without Curry than it was last season. Thompson will help at midseason even if he's not nearly the player he was before both an Achilles and ACL injury. Otto Porter will bring some defense and versatility when he's available. Jordan Poole and Juan Toscano-Anderson took significant steps forward last season.
There's an upside with the rookies. Jonathan Kuminga is raw, for sure, but flashed skills in Summer League, which will translate. Moses Moody is a little more ready-made and can contribute immediately.
Eight of the Warriors with the ten worst VORP ratings have been replaced, including six of the bottom seven players in net rating differential (on vs. off-court). They quite literally got rid of their worst players.
This team won't go back to being a juggernaut like at the apex of their dynasty, but ultimately this is still Curry-Thompson-Green, and that combo has been an absolute beast since 2015 under Steve Kerr.
They won at a 44-win pace last season, with Andre Wiggins playing the most minutes of any player and JTA and Bazemore playing 20 minutes per night. The bar is low for them to cross at this number, and there are already 48's showing up in the market because of the action. You don't even have to bet this team will win 50 to hit the over.
Curry finished third for MVP last season, with more 1st-place votes than Joel Embiid. He's a force unlike anything the league has ever seen, and he was as good last season as any in his career. The Warriors run a complicated system that requires practice and team cohesion. The pandemic compromised those essential elements.
Bounce-back Warriors season.
The Case for the Under
Let's start with Thompson. Thompson is attempting to come back from both a ruptured Achilles and a torn ACL — the two most devastating injuries in the NBA — in back-to-back seasons.
Thompson hasn't played an NBA game since the 2019 Finals; it will have been over 2.5 years since then. That's a long time away from the game, especially for a soon-to-be 32-year-old.
Thompson's best known for his shooting, and there's a good chance that skill returns at a reasonably-high-to-elite level. But Thompson's other significant impact was on the defensive end.
He was All-Defensive team in his last season before injury. If that part of his game is compromised by injury, then what made those lineups with Curry, Green, and Thompson so special will be compromised.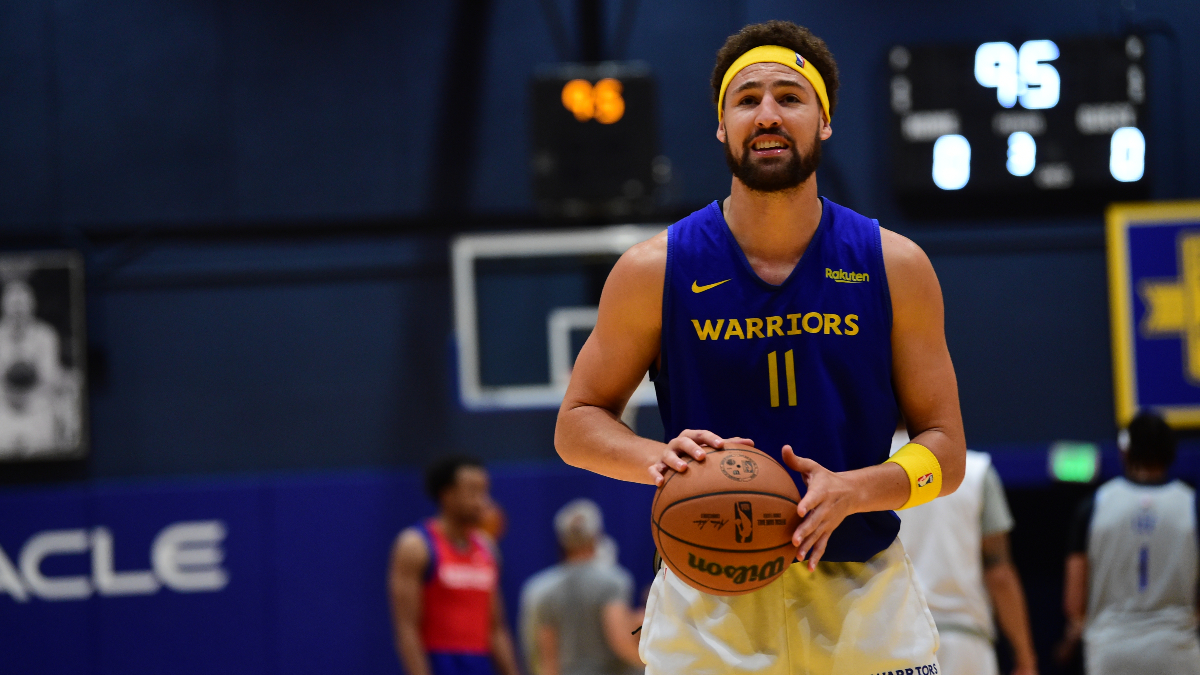 If Thompson can't defend at a high level, you have two players in the backcourt with Curry who are weak spots. Green can't cover everyone. Thompson will have to miss time even after he comes back, sometime around or after Jan. 1. He'll have rest nights and minor injuries, and the team will be forced to be conservative with him, given what he's returning from.
Curry and Green are no spring chickens, either. Curry turns 34 late this season, Green 32. Their primes may not be over, but the sun's getting real low. Curry missing only nine games last season feels like a fortunate bounce.
Speaking of injury concerns, Otto Porter games played the last three seasons: 56, 14, 28. There is simply no reason to expect him to stay healthy, and he was a critical veteran pick-up for them. The Warriors brought back Andre Iguodala, who turns 38 in January.
Wiseman needs to play; the Warriors have to figure out if he's part of the future or not. He won't be available for a few months, and so the Warriors are rolling with one full-time center on the roster.
When Wiseman does return, if things go like they did last season, he could sink the team's performance. Kuminga and Moody are rookies; can you trust them to handle performance at the level Golden State needs?
The Warriors have the second-most miles to travel this season, the 12th-toughest rest-adjusted schedule, and 14 back-to-backs, tied with a bunch of other teams for second-most. Golden State has more rest disadvantage games than advantage games.
The Warriors also have the toughest rest-adjusted schedule after the All-Star break, with 13-of-22 on the road. So in the early part of the season, with a more manageable schedule, they have Thompson and Wiseman out, and then at full strength, the schedule gets more challenging.
Last season, yes, the Warriors played at that 44-win pace, but based on expected wins, it was only 42. They were fortunate to get to that 44-win pace.
Golden State, with the third-place MVP finisher, was 20th in offensive rating last season. Their non-rookie additions — Porter, Nmanja Bjelica, and Iguodala — do not forecast as needle movers on that end.
Yes, the offense cooked with Curry on-court, but what is there to keep the offense up in those minutes he's on the bench or out with rest/injury? Klay Thompson, coming off a torn ACL and ruptured Achilles?
Warriors Win Total Bet
I've bet the over. Much of it is simply faith in Curry.
The Warriors are still absolutely explosive and dominant when he's on the floor, and I expect those marks to improve with a better roster this year. I don't think Thompson has to bring all that much. He can just be a top-end shooter, and the spacing threat alone makes them terrifying offensively.
Defensively, they were fifth last season with a terrible roster. In the offseason, they added better defenders, so I have no reason to think they'll slip on that end. I'm high on Jordan Poole for Sixth Man of the Year and think JTA brings a lot that they need. There's no one from last year's team I think they'll miss.
I have a bigger position on Curry's MVP. Curry was on pace for 2016-level 3-pointers made and is why the Warriors were in the play-in. Had they gotten past Memphis, who knows what would have happened with Curry vs. the Jazz' drop defensive scheme.
There are enough paths to the Warriors being good and fewer paths to them being underwhelming that don't involve the same injury concerns as other teams. I like the over to 49.5.
How would you rate this article?
This site contains commercial content. We may be compensated for the links provided on this page. The content on this page is for informational purposes only. Action Network makes no representation or warranty as to the accuracy of the information given or the outcome of any game or event.