NBA Win Total Odds & Pick: Can the Houston Rockets Fast-Track Development?
Credit:
Logan Riely/NBAE via Getty Images. Pictured: Jabari Smith Jr. #1 of the Houston Rockets.
Check out this post for updated season win total odds for all 30 NBA teams.
---
Houston Rockets Win Total Odds
| | |
| --- | --- |
| 2023-23 Win Total | 23.5 |
| Previous Season's Wins | 20 |
The Case for the Over
Top-Five Talent in Jalen Green and Jabari Smith
Surprising Defensive Upside
Internal Development vs. Low Number
We're talking about such a low bar here. As of this writing, there are 23.5's in the market. Will Houston really try and tank a third season in a row? If they simply do not attempt to be bad, they're likely to pick up wins vs. the other competitors for lottery prominence. That gets them into the 25-26 range.
The team has talent, it just has to figure out how to use it.
Kevin Porter Jr. was 99th percentile on catch-and-shoot opportunities. He's a phenomenal off-ball shooter with a 75.2% eFG% on those shots. He was literally the most elite catch-and-shoot player with at least 100 attempts last season.
Jalen Green was 61st percentile on catch-and-shoot, 76th percentile on jumpers off the dribble. He was every bit the bucket-getter he was advertised as.
The combination of Jalen Green and Kevin Porter Jr. after Feb. 1, when the Rockets started to figure out their rotation, had a 113 offensive rating. It's not great — it ranks 104th among two-man lineups in that span in offensive rating — but that's really promising. It's a combination that worked with some upside, given the other players and Houston's tanking inclinations.
It also got a lot better relative to the early season.
The gambit is on Alperen Sengun. He was fourth among qualified rookies in assists per 36 minutes at 4.5. He was also second among qualified rookies in turnovers per 36 minutes at 3.5.
Sengun has the feel to make high-level playmaking passes, but tries them about two seconds too late. Compared to a Nikola Jokic or Domantas Sabonis level pass, he's a step behind. You can argue he'll improve on that timing, or you can argue that being ahead on those passes is naturally what makes those players great playmakers.
If you like the upside on what Sengun brings to the table as a playmaker, the offense could legitimately be middle-of-the-pack to good. That puts them into the high 20's at least.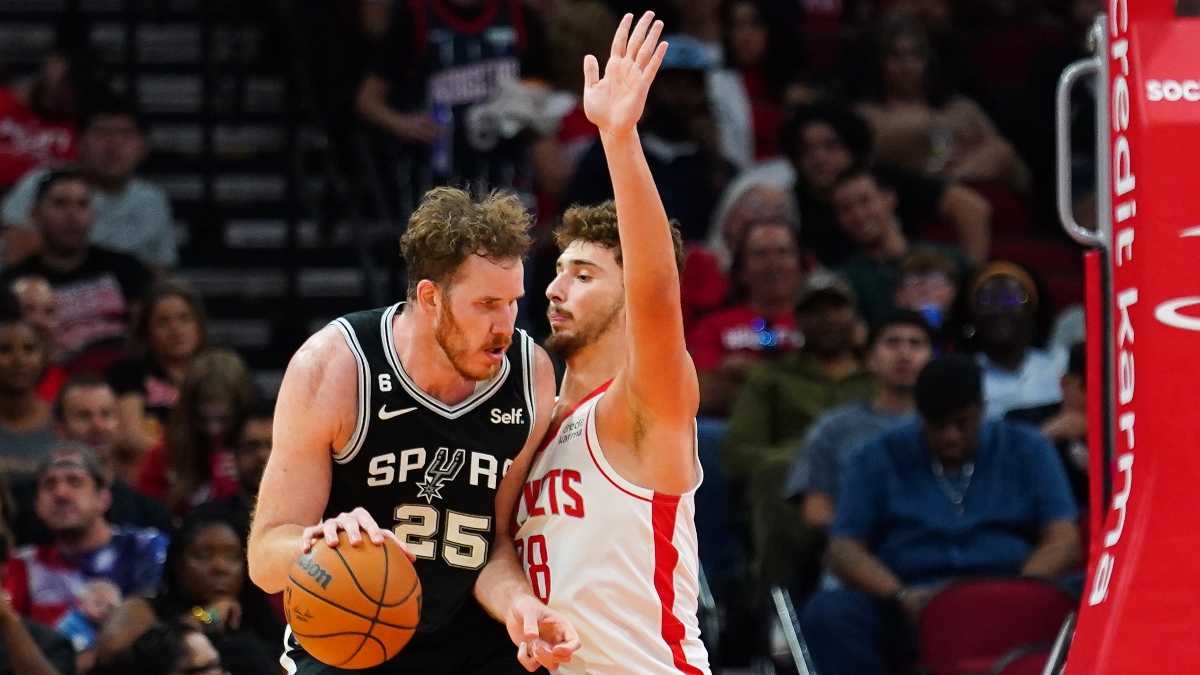 Sengun actually stands out more on defense than offense, which was not what I was expecting. He had the second-highest block rate of any rookie last season (among players qualified for rebounds per game leaderboard).
He has terrific defensive instincts in terms of help contest, rim protection and guarding against drives. Yes, he was bodied at the rim at times, as you would expect given his frame, but another year of strength training helps there.
Maybe most interesting thing with Sengun is that his numbers on switches were great. He was 86th percentile among players defending at least 100 possessions switching off the screener, giving up less than 0.87 points per possession. Those numbers skyrocketed in sets that required help from his guards, like drop or blitz coverage.
How does this square with him getting bodied at the rim, allowing 56% shooting at the rim, which was 22nd percentile defensively?
When he switched on guards, they typically deferred and shot pull-up jumpers. When he was attacked in ISO situations by bigs, he got mauled. So if the Rockets switch a little more, they may actually have some stopping points defensively.
Jae'Sean Tate is a perfect connector on both ends. KPJ-Green-Tate lineups had a 112 offensive rating and a -0.7 net rating after the All-Star break, which by Houston standards, is terrific.
Jabari Smith is a big help on both ends. Smith was projected as the No. 1 pick all the way until draft night. He's a rangy defender with size for his position, and will fill in the gaps as a potentially lethal shooter. His overall talent might get them to 25-ish wins as a floor.
The Rockets aren't going to be good. But head coach Stephen Silas is going to face pressure to show direction this year and the easiest way to show direction is to win games. To some degree that lowers the percent chance they wind up going in a tank direction out of the gate.
Houston doesn't have to be good to hit the over, they just have to be a 24-win or better team to go over. Given their talent and some underlying promise on the defensive end, they can get there.
The Case for the Under
Talent Doesn't Fit Together
Silas Is a Major Question Mark
Tanking Is a Strong Possibility
Here are the components of the Houston offense:
Score first guards who don't necessarily understand how to get an offense organized and for whom passing is not the first instinct.
A passing big-man hub who is extremely turnover prone and hasn't showcased an ability to raise the floor or ceiling for the offense.
Spotty shooting options like Garrison Matthews who was an elite jump shooter last season but has not stuck with a team on a long-term deal for a reason.
Veteran guards like Eric Gordon who make the team better, but can't be featured over the younger talent who need reps, and who will remain on the trade block indefinitely.
An elite rookie prospect who very much profiles as a player that needs competent guard play to unlock his talents.
An offensive system with little discipline or definable intent that too often caters to the whims of players who do not have the experience to generate high-efficiency possessions.
It's not a good combo.
Last season, Green and Porter Jr. profiled as the same guy: score-first guards and absolute bucket-getters. They had Christian Wood, who clearly clashed with the coaching staff and was the same malcontent he was in Detroit. But he was pretty clearly the best player on the team and put up points consistently.
Houston finished 26th in schedule-adjusted offensive rating last season. After the All-Star break — the "good" part of their season — they were 26th in overall offensive rating.
The idea of the Rockets' offense is good. But the reality of their offense is far from good; Sengun is extremely turnover prone, even on simple moves, and opponents swarmed his weak ball control inside last season. KPJ and Green's instincts are still better suited to augmented scorer roles.
Smith in particular is not well set-up to succeed as a top-three pick with Houston's approach going into the season. If Smith were paired with pass-first, floor-general guards (despite the dearth of them league-wide), he would feast in pick-and-roll opportunities and in triple-threat ISOs. But there is a real danger of Smith getting lost in the offense for stretches, even though he'll definitely have some quality, or even prolific, perfomances.
Sengun translates as more of a lesser-man's Sabonis than a Jokic comp, but he's being asked to play center. Green may well end up being a Bradley-Beal level scorer but without John Wall type to facilitate.
If the Rockets had another lead guard in the starting unit, even one with a lower skill ceiling than Porter Jr., it would be easier to make the case for the over. But Green and Porter are best suited for the same role. After All-Star, Green averaged just 3.3 assists per 36 minutes.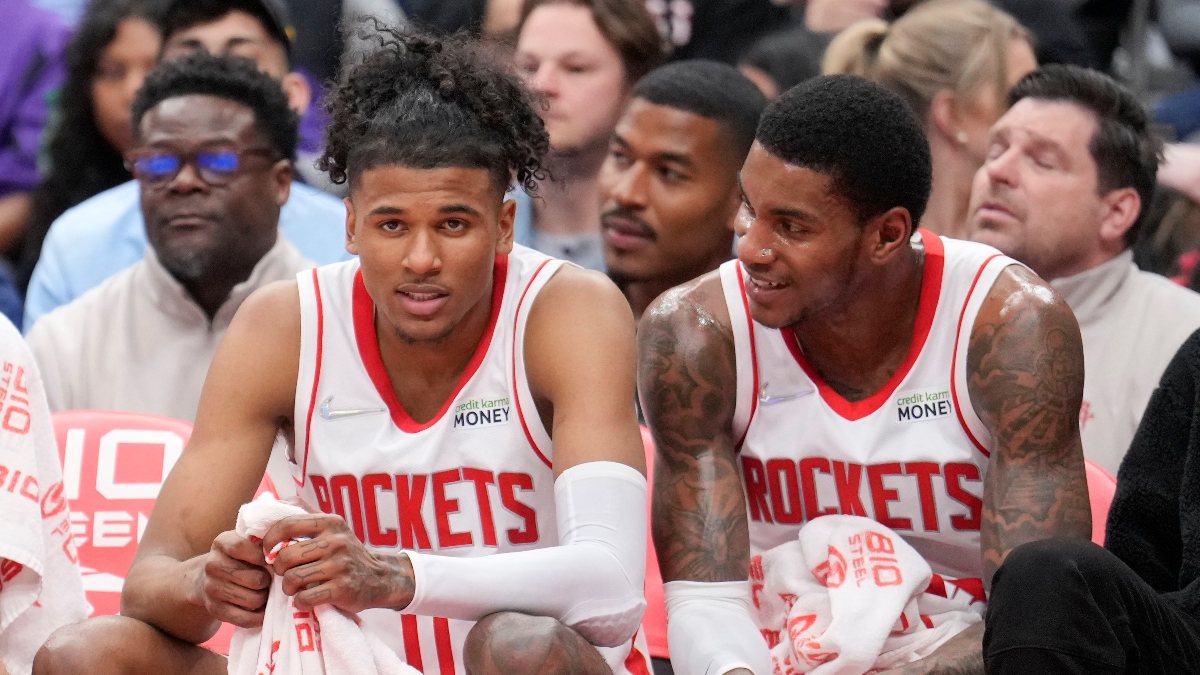 Porter Jr. was better as a playmaker than his profile would suggest. He was 45th percentile when passing out of pick and rolls per Synergy and 41st percentile via Second Spectrum. That's not great, but given the Rockets' finishers and shooting options, it's passable. (Shot quality on those possessions was also not great, 47th percentile, but again, it's fine.)
The bigger issue is the way the offense is structured. There are a few teams you can watch and just realize how disorganized their offense; the Rockets were definitely one of those teams.
Silas was highly regarded as a candidate; his hiring was almost universally praised in league circles. (It's seldom a hire is seriously derided.)
The first season for Silas was a wash. You can't adequately judge him based on James Harden's trade request and the fallout from it. Last season was a painfully young team trying to figure out its identity, but this team is in the same position.
Just as it is with players, often times coaching success is determined more by their situation than their talent level. The Rockets' success when veteran players like Eric Gordon were on the floor suggests that with a typical NBA roster, even a middling one, Silas might be a good fit. But not every coach is good with developmental situations and so far, it's hard to argue Silas is well suited to this situation.
If they take a big jump this season, then he'll look like a good developmental coach for whom it just took time. They'll also hit their over. We just have no real reason to believe that will happen.
As I noted above, the defense has a little more potential than you would think, and It does, but it should still be terrible. Does a move from 29th to 23rd — a substantial improvement — get them over 23.5 if the offense is still bottom-10?
Rockets Win Total Bet
This number opened at 27.5 on PointsBet. There was definitely value on the under there, which is why it dropped within a few weeks. At 23.5 I think it's a pass.
A smart play may honestly be to wait until after the preseason, to get a sense for the vibe. Everyone's optimistic in the offseason, but preseason kind of shows you who you actually are. If there's buzz from beat writers about the team, an over at 23.5 might be a small play.
On the other hand, if there are indications that the team is still likely to tank for Victor Wembanyama late in the year, it's obviously an under. Figuring those out are difficult, but it's mostly if the beat writers write things like "the Rockets are still focused on the future."
If there's an article about Silas being on the hot seat, it's an under play. He'll absolutely try and win to save his job, but if that goes against the team's desires, they will intercede. There has been zero indication Silas is on the hot seat currently, but it was discussed last November.
At 23.5, I can see them being bad and going over by getting the defense to 25th-ish and the offense to 23rd-ish based on talent alone. The Sacramento Kings, for example, were 23rd in offense and 27th in defense last season, and won 30 games.
Will the Rockets be as good as the Kings last season? Probably not. But they could be four wins worse and still coast over. Unless you find a 27.5 in the market to play to the under (and you likely won't at this point), this needs to be a stay away.
How would you rate this article?
This site contains commercial content. We may be compensated for the links provided on this page. The content on this page is for informational purposes only. Action Network makes no representation or warranty as to the accuracy of the information given or the outcome of any game or event.