The Try-Ons for Zion: Ranking the Duke Star's Best Fit in the NBA
Credit:
Photo credit: Bob Donnan-USA TODAY Sports. Pictured: Zion Williamson
Duke's Zion Williamson is one of the most anticipated NBA prospects in recent history -- perhaps since LeBron James.
Let's dive into the likely lottery teams in this year's NBA Draft and rank each team's potential fit with the freshman superstar.
There's one story in the NBA Draft, and it's Zion Williamson. There will be consolation prizes: Ja Morant, Jarrett Culver and others. But Williamson projects not only as the definitive best player in this draft, but the best prospect since Anthony Davis… if not since LeBron James himself.
So how does the superbeast fit with various franchises in the lottery with a chance to get him? Let's go team-by-team, and I'll rank each fit on a 0-5 scale at the end.
---
New York Knicks (14% chance of No. 1)
The immediate response here is "… Anthony Davis?" The idea is that with Kyrie Irving and Kevin Durant possibly coming, you then throw the No. 1 pick and whatever else to the Pelicans to get Davis and form a super-duper team.
Now, what winning the lottery would allow for is the Knicks to not need the Diva Duo to sign up. If they swing and miss, as they have in every single free agency attempt since Tyson Chandler (and most before that), they would still be set. Even with Frank Ntilikina not looking like a player, Emmanuel Mudiay looking similarly ineffective and with Kevin Knox's rookie year struggles, the Knicks would still have a young core built around a dominant big man.
Additionally, pairing Zion with Mitchell Robinson, who leads the league in blocks per 36 minutes, would make for a beastly combo. The spacing might suffer unless Williamson can develop a reliable 3-point shot, but the sheer athletic monstrosity would overwhelm teams if they find any guard — literally any guard — who can provide starter-caliber play.
Could they just pair Kyrie and/or KD with Williamson? Sure, but I think this year shows the dangers of putting a young guy with big dreams on a team next to Irving.
Rating: 3 out of 5
---
Phoenix Suns (14% chance of No. 1)
I mean, on the surface, this is incredible. Devin Booker gets someone to run with; they have Tyler Johnson to play point guard now. You can run Johnson-Booker-Oubre-Zion-Ayton, and that's just crazy athleticism. Igor Kokoskov can run constant sets with the bigs both screening and one diving as the guards dart around.
That said, Booker is 72nd percentile shooting out of the pick-and-roll, but he has a 13% turnover rate when passes are included. That's also a team with a lot of mouths to feed… and very little spacing on account of Ayton. This isn't a great fit, honestly, and not just because Phoenix is where young careers go to vanish into the ether or score 59 in a loss.
Rating: 2 out of 5
---
Cleveland Cavaliers (14% chance of No. 1)
On the one hand, giving them another No. 1 pick after they landed three in four years seems ridiculous, and giving Dan Gilbert another gift after how he's handled things feels like rewarding at-best questionable owner behavior…
And yet, this would be a pretty fun team. You're going to run small with Zion at the 5, and that's OK, because Kevin Love is going to help you with your rebounding and floor-spacing. Collin Sexton has been really good offensively for the last few months. He's shooting 41% from 3 on the season, with a 43% eFG mark on pull-up shots. He's averaging only 2.9 assists and is 30th percentile in pick-and-roll pass-out situations, but, hey, he's young; he can learn.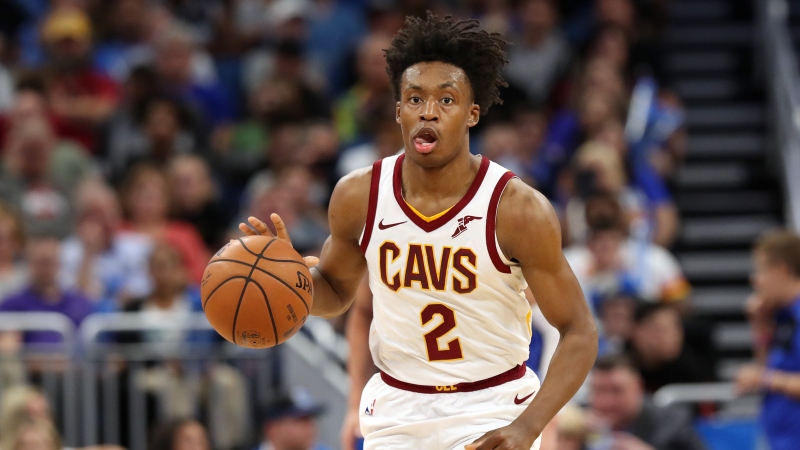 The Cavs can, if they so choose, move Love for complementary pieces if Love-Zion doesn't work out as a tandem. In that case, you can take a little less than market value for Love because, well, you got Zion, so who cares.
Throw in Cedi Osman to space the floor and you got a little something. It would be best if they brought in Pelicans assistant Chris Finch to run some DHO with those guys and let Zion work out of the pinch post — driving, shooting if opponents sag off or attacking with a head of steam. This would be a pretty great fit.
Rating: 4 out of 5
---
Chicago Bulls (12.5% chance of No. 1)
I go back and forth on this. On the one hand, when the Bulls have been fun this last half of the season, they've been a blast. On the other, when they haven't been fun, they've been a miserable feces factory covered in a sheet of misery.
I love the Lauri Markkanen-Zion combo. It gives you raw aggression, shooting and a killer rebounding edge. You can push the floor with Zion in transition, and if opponents crash there's Markkanen walking into the trailing 3.
But this is all contingent on having the guards to make the play, and Zach LaVine is not that man. I get that it sounds crazy, but Ryan Arcidiacono (84th percentile as a passer out of the pick-and-roll) is a better fit than LaVine (51st percentile with a 22% turnover rate).
Much like with Phoenix, you don't want a lot of mouths to feed around Zion; you want him to be the tip of the spear on most possessions (though he can work as initiator as a passer as well, which might be a better fit here). With Otto Porter and LaVine, will there be enough possessions to go around?
The Markkanen fit is great in theory, but the spacing might be complicated. A Kris Dunn-Arcidiacono-Porter-Markkanen-Zion lineup might be able to get stops but would score 0.6 points per possession, and all other variations compromise the defense. Maybe you can bank on Williamson changing the defensive culture overnight with the tone he sets given how hard he plays, but there's an inverse risk of the Bulls' malaise infecting him as well.
It's hard to feel good overall here.
Rating: 2 out of 5
---
Atlanta Hawks (10.5% chance of the No. 1 pick)
Yes, all of the yes. Sign me up. Make this happen, right now.
Trae Young spacing the floor to 35 feet as Williamson barrels down, panicking defenders across 45 feet. John Collins and his newfound floor-spacing balancing out Williamson while also helping with raw height inside. Kevin Huerter coming off screens. The inevitable nickname for Trae-Huerter-Zion as Run THZ.
This would instantly become the most fun team in the league — a must-watch League Pass Pantheon. Young's spectacular passes and Williamson's ability to finish, along with his passing ability to set up Collins and Huerter…. it's magnificent. This is the best reasonable basketball situation for Zion.
Rating: 5 out of 5
---
Dallas Mavericks (9.0% chance of No. 1)
Boy, would this mess a lot of plans up. Is Luka Doncic still your best player? What about Kristaps Porzingis? Is KP going to be happy being third fiddle? Because that's what he would be.
It's a great combo with Porzingis' height and length and spacing next to Williamson's skill package, but that's a lot of mouths to feed. That's three stars who will all feel they are the best player on the team.
The Luka-Zion connection is funky but could also be devastating. Not just in the pick-and-roll — but Doncic streaming around an off-ball screen as Williamson faces up out of the post and panics the defense. Defensively, with the right series of offseason moves, they could be legitimately great.
It just seems like it's a gluttony of talent that's too much for one team. This is supposed to be Luka's team. Is it best for Zion to go somewhere he's the sidekick? Can they share the spotlight? And what then for the mercurial Porzingis? Lot of danger to this one, along with an insane amount of talent.
Rating: 3 out of 5
---
Memphis Grizzlies (7.5% chance of No. 1)
Come on, be honest. You're really not at all interested in a Jaren Jackson Jr.-Zion Williamson frontcourt? With Jackson spacing the floor and blocking shots while Williamson tears teams asunder? Or Mike Conley having a legit lob threat for the first time in his career? Or Joakim Noah and Zion alternatively screaming at full volume at one another after a defensive stop?
Memphis seems moribund and lifeless, but Williamson instantly changes that. Keeping Conley seems like the move, as he could legitimately make a playoff run with a healthy 3J and Zion. They'd still have to add better wings, but they'd be most of the way towards a playoff team, and in time Williamson takes the reins from Conley and he and Jackson form a tandem that terrifies teams for years. A twin towers combo with upside in spacing, as Williamson draws the double in the post and lobs to Jackson… or vice versa.
They would be raw and terrifying, if not perfect.
Rating: 4 out of 5
---
Washington Wizards (6% chance of No. 1)
Oh, the hilarity. The Wizards after all their failures fall ass backwards into a generational talent. This might almost be worth it just for how mad everyone would be that the Wizards were rewarded for their total disaster of a season.
John Wall's contract would still be an albatross, but he no longer has to be a star with Williamson around, and his deal would expire just as Williamson's rookie extension is kicking in. Bradley Beal and Williamson would be a killer duo to try and solve, and the flexibility the team has created for 2020 (only $73 million on the books before Beal's extension kicks in in 2021-22) would give them a chance to really build around that core.
I know it seems like it's wasting Zion in a place that never makes the most of its stars, but at least it has actually developed talent (Wall, Beal, Oubre, Porter, Satoransky) and it means Zion is playing with guys who want to win now. There are worse destinations.
Rating: 3 out of 5
---
New Orleans Pelicans (5.3% chance of No. 1)
Oh, the delicious irony if this happens. First off, this sets so many teams off in a panic because the Pelicans no longer have any urgency to get super return for Anthony Davis. They have Zion Williamson. They're good.
For what Alvin Gentry wants to do, which is run the floor and attack constantly, Williamson might honestly be a better fit than Davis. He's like Julius Randle with Super Soldier Serum; Randle's defense was bad this year, but his offense was great. Like with Memphis and Conley, it gives Jrue Holiday someone to revive his career. If the Pelicans nail their front office hire, this could set things up. (That could also mean moving on from Gentry, but let's kick that can down the road.)
The shooting problem on the wings would still be an issue, and the defense would still be rough as Williamson gets his feet wet. But think about Jrue Holiday, Jaylen Brown, Marcus Smart and Zion Williamson as a core. Or Holiday, Brandon Ingram, Kyle Kuzma and Williamson.
The possibilities with the Davis trade are endless. Root for this.
Rating: 5 out of 5
---
Los Angeles Lakers (3% chance of No. 1)
Again, also hilarious for how mad every NBA fan would be. Do absolutely nothing right, have all your plans backfire, have your culture be a disaster, be rewarded with manna from heaven. Lakers, baby. Lakers.
But that said… man, alive.
Alright, so at this point, you can throw everything at the Pelicans. If Tatum is off the table, the Pelicans might take one of Lonzo/Ingram along with Kuzma. Now you have Lonzo/Ingram/replacement-level free agent, Ingram/Lonzo/replacement-level free agent, LeBron, Anthony Davis and Zion.
Good grief. If the Lakers don't want to trade for Davis, they can just go back in with the young core, LeBron and Zion. Williamson takes some of the load off James, and Zion gets to learn from the greatest of his generation and develop his skillset. Putting the best prospect since LeBron James next to LeBron James seems like it would be a pretty good team.
Rating: 4 out of 5
---
Minnesota Timberwolves (2% chance of No. 1)
This is a weird fit. Karl-Anthony Towns and Zion take up a lot of the same space, and while Towns can stretch to the 3-point line, it limits the  defensive versatility a bit with those two, especially as little injuries and muscle gain slow down Williamson.
Every single time that Andrew Wiggins shoots would be a disaster when you have Towns and Zion, and yet you can't just run it through the post because of how the modern NBA works. They don't have great shooters, and Tyus Jones may not be ready to be the dynamic point guard Williamson needs. Not a great fit.
Rating: 2 out of 5
---
Charlotte Hornets (1.5% chance of No. 1)
Kind of interesting, to be honest. Kemba Walker re-signs and gets a real running mate who can destroy teams on the interior, pass and run the floor. They have $94 million on the books guaranteed before Kemba's new deal next season, which is bad. But in the summer of 2020, they will have just $84-$87 million on the books after Kemba's new deal, roughly.
That would open $20 million in space to add shooters after Zion goes through his rookie growing pains, then clear another $46 million-plus in cap space the summer after. So essentially the Hornets could compete with Kemba in the East as Zion develops and then add new pieces to maximize them as their bad contracts expire, even if they don't make more trades to clear cap space.
Still, there's no wing that seems like a perfect fit, and Walker's a good playmaker but not an elite one. It's interesting, but not great.
Rating: 3 out of 5
---
Orlando Magic (1% chance of No. 1)
Nope. The Magic have whiffed on too many developmental prospects, have too many bigs (Jonathan Isaac, Mo Bamba, Aaron Gordon half the time). They have no point guard prospect. Their wings are good but not great. This is just not a good fit at all. The Magic would totally change direction if they landed Zion, and Isaac could space the floor and make for the most athletic frontcourt in the league, but still … not great.
Rating: 1 out of 5
---
Philadelphia 76ers (0.5% chance of No. 1)
This is the Kings' pick, which, man — this would be absolutely cruel for them to have had the year they did, be fun and competitive, only to miss the playoffs by a handful of games and then have to give the Sixers the No. 1 pick. (If it's not No. 1, it goes to Boston. Boy, the Kings made a bad trade back in 2015.)
Simmons-Butler-Harris-Zion-Embiid?
That's just crazy. Even if Jimmy Butler leaves in free agency, you have shooters in J.J. Redick and Harris around athletic monstars in Simmons and Williamson. Embiid and Zion is a little redundant, and Simmons' lack of shooting complicates things as well. This would be the best 2-point team in a 3-point league. That's problematic, but they also might just ram the ball down everyone's throat to the point it didn't matter.
It's fascinating to think about, as long of a shot as it is.
Rating: 3 out of 5
How would you rate this article?