Kyrie Irving Traded to Dallas Mavericks: NBA Title Odds, Betting Implications
Credit:
Pictured: Kyrie Irving. (Photo by Maddie Meyer/Getty Images)
On Friday night, a league executive texted me asking this question "What team is going to be desperate enough to trade for Kyrie to try and save their season/jobs?"
The answer is the Dallas Mavericks.
On Sunday, the Athletic first reported (and ESPN quickly confirmed) the Mavericks agreed to trade Dorian Finney-Smith, Spencer Dinwiddie, a first-round pick and two second-round picks in exchange for Kyrie Irving and Markieff Morris.
The Mavericks have made a huge gamble to try and save their season (28-26 at the time of writing) and get Luka Doncic the help he reportedly desired.
This move has massive implications for both teams, which we'll get into. To begin, here's how the market shifted following the news.
Mavericks NBA Title Odds Movement
I'll start by telling you this is a predictable market overreaction to this kind of news. News is like a deep-sea earthquake in the betting market — it may not generate a massive wave of bets, but you want to be buffered against it in the event bettors hit you hard with those bets. So, the Mavericks moved significantly shorter and the Nets get significantly longer.
This is mitigated to a degree by sports betting not being legal in Texas (yet), but the move is anticipatory less than it is an actual adjustment.
Even if you're a believer in what Dallas has built, this is not the time to bet the Mavericks. The market has overreacted and after this push there will be a slow subsiding of the wave and the Mavericks' odds will move longer. You're not just chasing steam right now, you're chasing anticipatory steam.
The Nets are also a no-buy. I put in a play on the Nets at +1400 Friday after the news based on the possibility of them keeping Irving (which was pretty likely at the time), or trading for Chris Paul, or some other meaningful improvement.
Now, we'll get into why the Nets are likely better overall, given their current roster construction, but there are still a number of questions to answer here, the biggest being what Kevin Durant wants. You need to wait until after the deadline to really assess what Brooklyn will be and determine if the Nets are in a buy-low spot.
OK, now for the basketball side.

For the Mavericks
The best way to look at this is that Dallas decided its best chance at winning a title rests with this kind of gamble. There are, in reality, two outcomes here.
Irving and Doncic fit like a glove. The addition of another ball-handler who can create his own offense and shoot off-ball is just what the Mavericks offense needed. You can stagger Irving with the second unit, and there's enough auxiliary shooting with the gravity Doncic and Irving provide to create high-quality shots.
Reporting has suggested there will be no extension, in the short-term, for Irving. Dallas will wait to see how everything goes this summer and then evaluate whether to agree to a max deal for Irving or something in-between if he changes his contract demands.
The supposed upside for the Mavericks is that even if this doesn't work, if Irving burns his fourth team in a row with his dramatic antics, they will have cleared all the cap space to make a free-agency move.
The problem is the Mavericks (and, if we're being honest, Texas teams in general) have a hard time signing marquee free agents. The best players simply haven't signed there. In 20-plus years, the only marquee free agents to sign in Texas are Dwight Howard (Houston Rockets), LaMarcus Aldridge (San Antonio Spurs) and Monta Ellis (Dallas Mavericks).
While Dallas theoretically has the ability to reconfigure a contender on the fly if Irving walks, the reality is much more difficult given their history.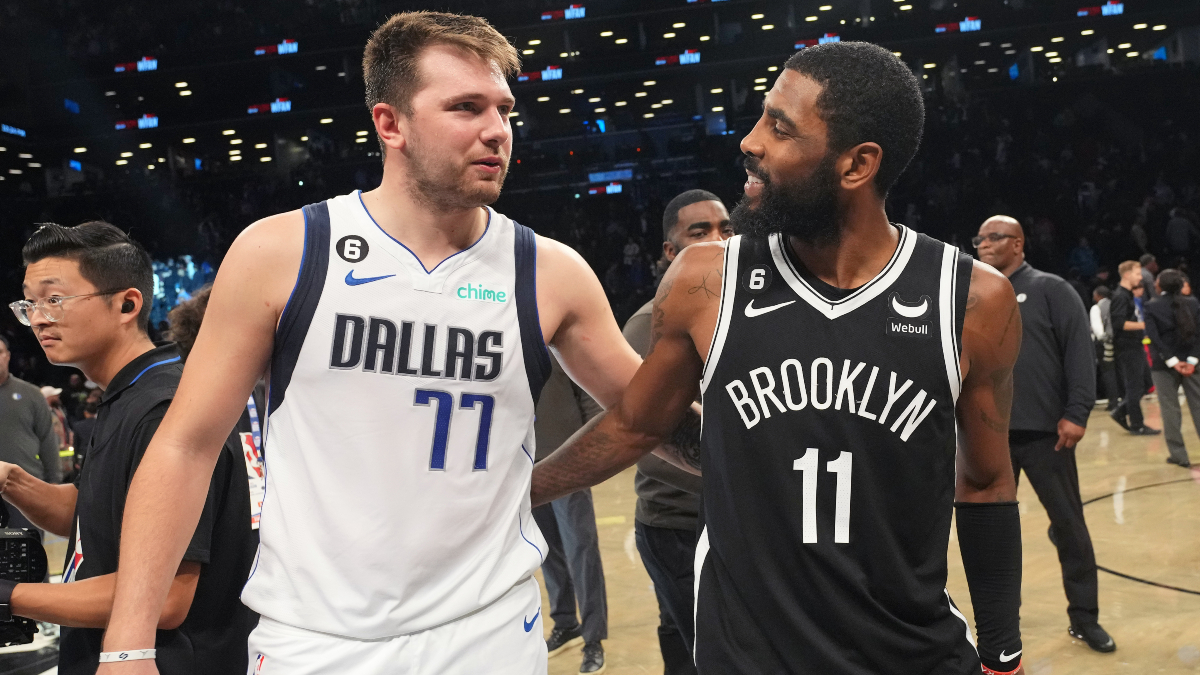 Meanwhile, the Mavericks gave up a plus defender who has struggled this season in Finney-Smith and another guard creator in Dinwiddie, along with a first-round pick and two seconds. That's a significant haul for everything Irving brings to the table, good and bad.
Josh Green's emergence makes this move a little more manageable. Green has the best on-court Net Rating of any Mavericks player, and his athleticism and shooting compensate for what the Mavericks lose with Finney-Smith.
It's also possible the Mavericks make another move to augment their wings. They have Tim Hardaway Jr. to use in talks and could package one of their bigs (Christian Wood, JaVale McGee, Dwight Powell) for another wing upgrade.
The defensive units with Doncic, Irving and Wood will provide teams with three players to target. Doncic can hold his own in isolation, but putting any combination of those players in complex actions or even just pick-and-rolls will make things pretty easy.
Dallas' formula will be to play the similarly glacial pace it has played at this season, and rely on tough shot-making with Doncic and Irving down the stretch. Stops may have to generate mostly from shooting variance, but with that much firepower, it's not the worst plan.
All of this requires Irving to be the player he was for two months since his suspension for promoting anti-Semitic materials on social media. He balked at any resistance early and only turned to formal apologies (managed by his representation) once fines and suspensions were levied.
Two months later, he demanded a trade when he wasn't given a fully guaranteed max extension. This is after missing half a season due to New York's COVID vaccine mandate (an issue he certainly won't have to deal with in Texas).
Irving wreaked havoc on the Cavaliers, who were competing for a championship in 2017. He wrecked the Celtics by saying he was staying, then effectively bailing on the team when everyone knew he was leaving in 2018. And then he wrecked the Nets.
But the Mavericks, as the meme goes, believe it just might work for them.
If you're a gambler who believes in buying in on the ceiling of teams, there's value on Dallas when the dust settles. But we at least need to see a few months of how this works to truly believe in the Mavericks.
For the Nets
This is a great return, given the situation. Irving had burned the Nets enough for them to hold steady on not giving him fully guaranteed money. They got back a quality defender who can shoot in Finney-Smith and a point guard replacement in Dinwiddie.
The picks are the sweetener on this. Getting three picks, even a late first-rounder and two seconds, is great considering the Nets' lack of leverage.
The most important question, as I wrote Friday, is how does Kevin Durant see this? If Durant buys in and the Nets make one more move, they could be actually closer to contending than before.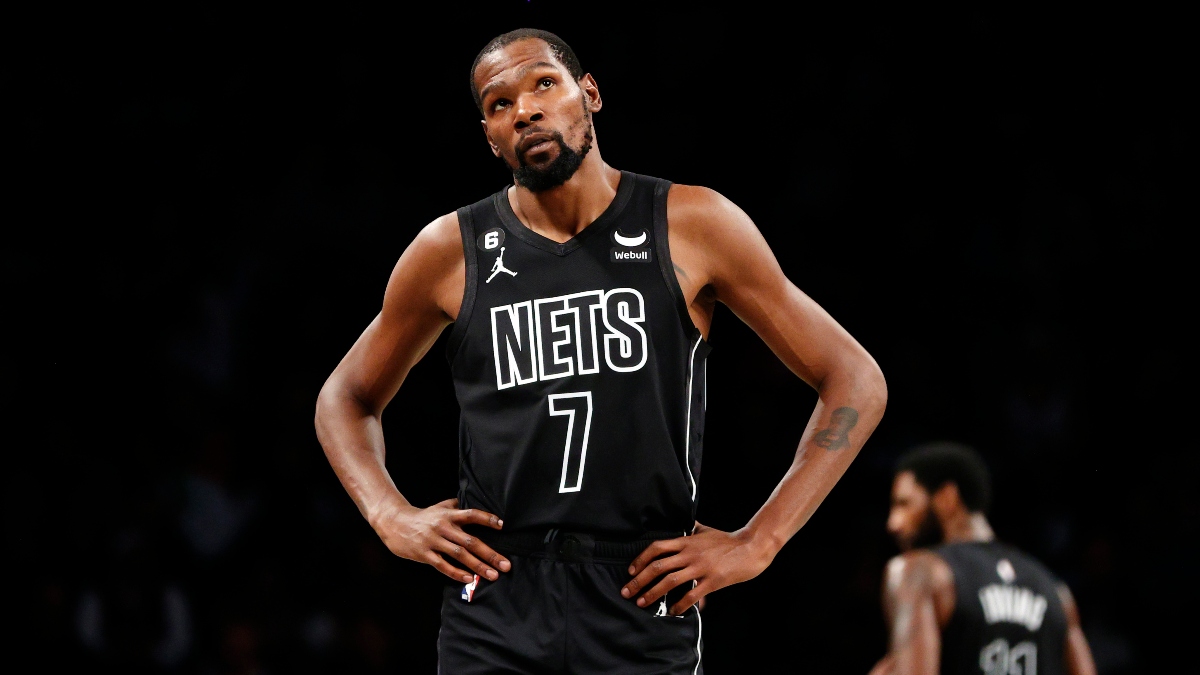 The Nets' strength in recent months has come from their balance of shooting, Durant's play and exceptional defense. League sources told Action Network that Joe Harris, Patty Mills and Seth Curry are all available for upgrades in wing defense, and those players still hold value around the league given their veteran experience and skillsets.
The Nets can make another move here.
But all of it depends on Durant. If he's upset the Nets traded his friend, whom he has stuck by through all the controversy, and decides to re-engage his trade demand from the summer, that will be all she wrote for Brooklyn.
If Durant buys in on a team construct that does not include Irving, the Nets could conceivably still have the balance of offense and defense to make a run, even if they didn't get back approximate talent (when Irving actually plays).
The best thing to dow now is wait to see what happens with Durant at the trade deadline. If the odds are still long on Brooklyn, buy the dip if you're a portfolio, long-position bettor.
If you're looking to make small positions for the NBA title? The Nets are in the same place they were before the trade: unbettable.
How would you rate this article?
This site contains commercial content. We may be compensated for the links provided on this page. The content on this page is for informational purposes only. Action Network makes no representation or warranty as to the accuracy of the information given or the outcome of any game or event.