Lakers Post-Mortem: LeBron & Co. Were Victims of Bad Luck and Compromised Identity
Credit:
Adam Pantozzi/NBAE via Getty Images. Pictured: LeBron James.
LeBron James can finally rest.
And go promote "Space Jam 2."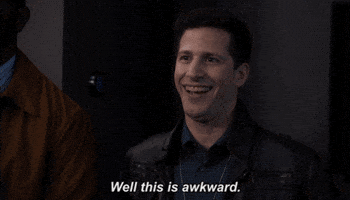 Trying to sort through the Lakers' disappointing first-round exit, the first of James' career, isn't as easy as any side would make it.
THE BACK AND FORTH
His critics, finally armed with fresh ammo, will diminish James' accomplishments even now, after four rings and two decades of brilliance.
It's easy to push the blame to the "others," and criticize the roster construction that left the Lakers vulnerable when Anthony Davis was never truly healthy. But those roster decisions, as always, are tied to James and his agency Klutch Sports who have a massive influence on the roster. From the New Yorker's feature on head of Klutch (I mean, after LeBron), Rich Paul:
We started talking about the Lakers, who were in a slump. Paul brought up the Nets, saying that they were "the only team that can beat us." This sounded like a strangely partisan observation for an agent with clients across the N.B.A., especially after all the criticism he had received when bringing Anthony Davis to the Lakers. "I've got six guys on the team," he said, shaking his head. "C'mon."
Still, it's easier just to simply blame bad luck. The Lakers were always constructed as a top-heavy team, built around the two superstars James and Davis.
The rest of the supporting cast was built with those two in mind. Kentavious Caldwell-Pope and Wes Matthews were meant to space the floor around Davis and James' gravity to punish defenders for sending help. Without Davis, that gravity wasn't there, and they were just spot-shooters well-defended.
Marc Gasol was meant to give the Lakers a big who could defend the big, bruising players that Davis hates to mark, while also spacing the floor and bringing high basketball IQ and passing. Gasol's absence was curious and pointed to the politics at play with Drummond.
Drummond, too, only makes sense with Davis, giving the Lakers a bullying identity while not forcing Davis to play center, which he clearly despises given the constant move away from him at 5, despite it being the best Lakers lineup option. Without Davis, Drummond was just the same player he was in Detroit and Cleveland, a slow-footed poor defender without versatility to compliment James beyond lobs.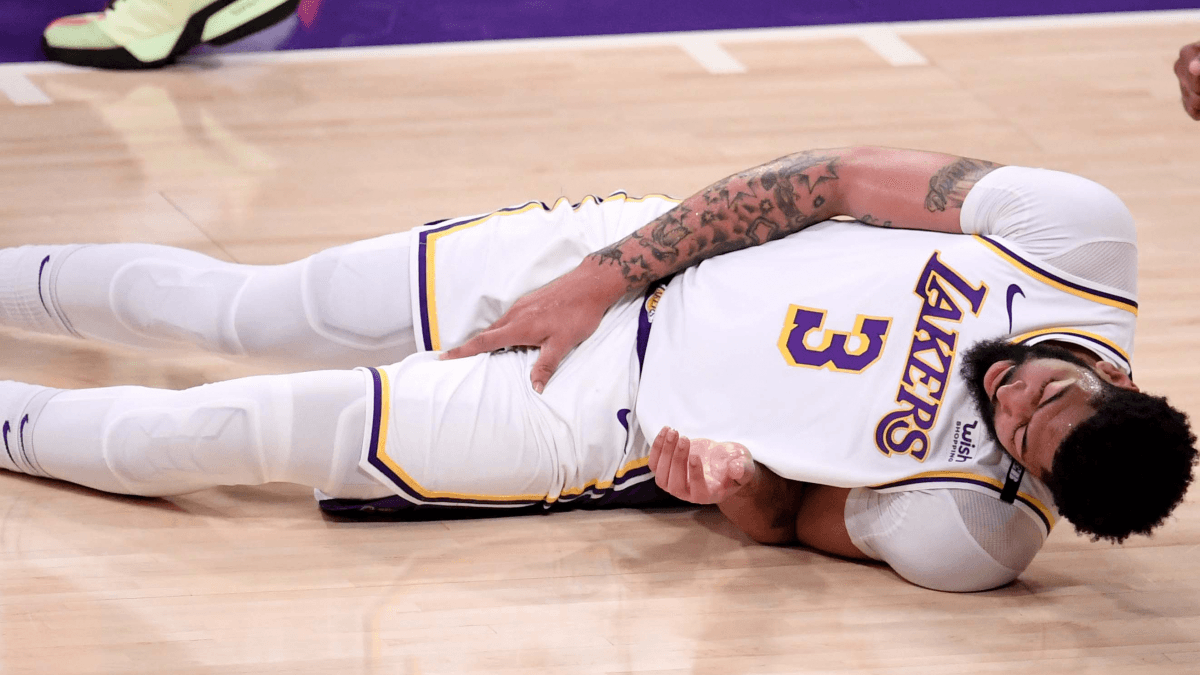 On and on, the Lakers had no one to step up without Davis because the roster was never meant to be played without James or Davis. Instead Los Angeles ended up playing much of the season without one or both.
The injuries to Davis, first in his Achilles area, then his knee, then his groin, simply were a bad break.
However, that too ignores some of the facts. Davis is an injury-prone player.
We should be able to describe Davis as such accurately, backed by empirical evidence of his time missed and a never-ending stream of times when Davis will leave to go to the locker room mid-game and use it to inform our analysis, without ascribing character value to this.
Davis does not choose to be injured. His injuries hamper him more due to his body size and frame, the same combination that makes his game so special.  A player is not responsible for his injury status unless he fails to take care of his body, and there's never been any evidence that Davis has failed in that regard in the slightest.
It not being Davis' fault also does not change the fact: Davis is injury-prone.
If you are to evaluate the future of the Lakers (and to prepare for when the 2022 title odds surface during this year's Finals should you wish to wager), you have to factor in that LeBron James is 36 and has spent at least half the season injured in two of the past three seasons, and that Davis has simply never shown an ability to consistently avoid various injuries. Injuries are a risk to every player, but the risk is higher with some than others.
So then we're left with two options: the Lakers make do … or they find a third guy.
THE THIRD MAN
With the Lakers, that prospect of a third guy is always circumspect. On the one hand, it's the most attractive team in the most attractive market with the most attractive superstar combination in the league, outside of maybe Brooklyn. On the other, the Lakers don't have any assets. They sent them all for Davis in Brandon Ingram, Lonzo Ball, Josh Hart and three first-round picks.
Kyle Kuzma, Talen Horton Tucker, and a very-future first-round pick are not going to be enough to land a player like Damian Lillard, unless Lillard exerts even more pressure on the Blazers than Davis and Paul did on the Pelicans.
Maybe that third player is 35-year-old Kyle Lowry, headed to the free agency market this summer.
Maybe it's an unknown star, but still, the Lakers' cache is tight, as is their cap sheet. Changes are sure to come this summer, with most decisions on impending free agents likely tied to their relationship with James and Davis.
"This has always been how (LeBron) has operated," one long-time league observer noted Friday. "At least since the second time in Cleveland. There are guys who were in, like J.R. Smith, and guys who weren't. And you could tell who would stay and who would go."
If the Lakers don't pursue a third star, they risk the same problem next year. A full offseason will help. A more normal schedule than this year's Fury Road will help. But they will always be one cascading sequence of bad-but-not-necessarily-improbable-luck away from being right back here unless there is someone else to help carry the load.
The Nets are the proof of this, as their Big 3 all missed significant time this season, but it didn't matter because one was always available, and often two. The Lakers would do well to allow their stars that same luxury, but it's a luxury they'll have to find a way to create.
THE BUBBLE AND ITS IMPACTS QUESTION
The Lakers won the 2020 title. No asterisk. It was hard on everyone involved. You can't take away that performance, or the Heat's, or the Nuggets' or the Celtics'. All four of those teams suffered for it the following season, with only the Nuggets advancing to the second round.
Except the Nuggets lost their second-best player, Jamal Murray, in April. They still finished top three and advanced to the semifinals while missing three of their top five guards. So when we look at the Lakers' failures, even with James' injury, the Nuggets' ability to persevere needs to be considered.
Then there's this: This was Anthony Davis' shot chart in the playoffs last year: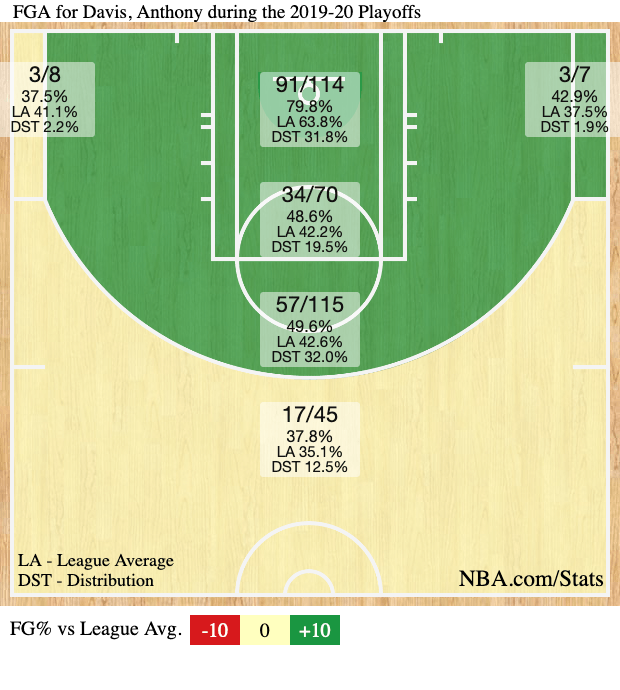 Here's his shot chart from this regular season: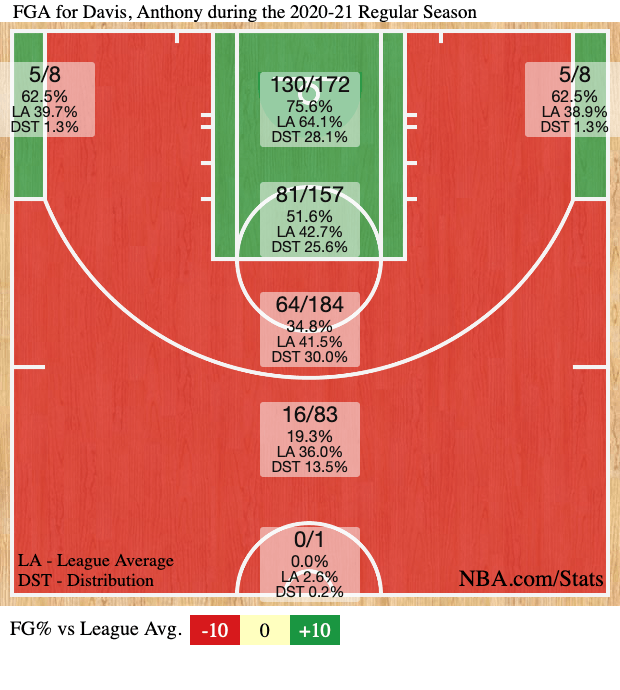 And here's his shot chart from the playoffs: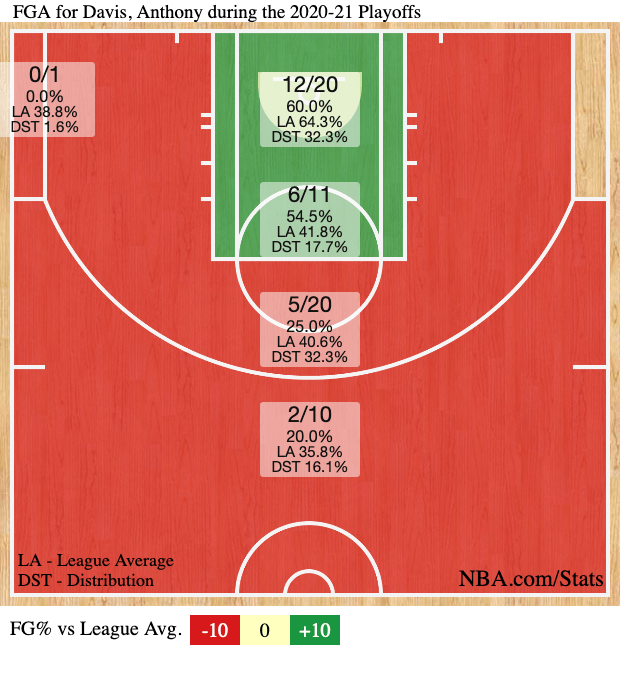 "OK, so he doesn't shoot well when he's hurt," will be the conclusion reached.
Except Davis has never been a great jump shooter. He's had stretches when he was "good" or "average," but never great.
He was superb in the bubble, shooting jumpers. Davis shot 47% on jumpshots in the bubble playoffs per Synergy Sports. He shot 34% on jumpers in the regular season. He did not shoot better than 41% at any point in New Orleans.
He's not a good jump shooter, but in the bubble, he was prolific.
Great players step up in great moments, but it's absolutely something to watch going forward when it comes to Davis.
The Lakers do deserve contextual understanding for their failure this season, while we still acknowledge it was a failure, and their inability to rise above the challenges presented were in part a product of their roster construction and the decisions made in building that roster.
The Lakers will likely still be second-highest in title odds for next season behind whoever wins the title this season. They will re-enter next season with one of the two greatest players of all time (at least) and a dominant All-Star that some (incorrectly) described as the best big man in the league. The Lakers will be back.
But in a season largely described by what percentage the two superstars were night-to-night in the end, the question will be what percentage they will be back, and if it will be enough to secure an 18th banner for the Purple and Gold.
How would you rate this article?
This site contains commercial content. We may be compensated for the links provided on this page. The content on this page is for informational purposes only. Action Network makes no representation or warranty as to the accuracy of the information given or the outcome of any game or event.