Moore: Raptors' Trade for Marc Gasol Another All-In Gamble
Credit:
Mark J. Rebilas-USA TODAY Sport. Pictured: Memphis Grizzlies center Marc Gasol (33) against the Phoenix Suns at Talking Stick Resort Arena.
The Toronto Raptors swung a deal for Memphis Grizzlies Marc Gasol ahead of the 2019 NBA trade deadline.
At age 34, Gasol will be an interesting fit for a Raptors squad that could be playing deep into the NBA playoffs.
I must be honest with you, this one is quite the gamble.
The Raptors traded Jonas Valanciunas, C.J. Miles, Delon Wright, and a second-round pick for All-Star center Marc Gasol from the Grizzlies. Toronto continues to pursue big moves. They aren't messing around. However, while this was a big move, I'm not sure if this moved the needle significantly.
Now, that doesn't matter too much because the Raptors is awesome. They are 39-16, second-best in the East, tied for the fourth-best net rating in the league. They are versatile, they are deep, they have Kawhi Leonard. However, there are some risks here.
---
>> Sign up for The Action Network's daily newsletter to get the smartest conversation delivered into your inbox each afternoon.
---
Let's start with losing Valanciunas.
It took me a long while to get sold on him. For years he did a little bit of everything but nothing great, didn't have any real identity. He was just "a good center." The league became more perimeter oriented and that made the issues worse.
But in 2016 vs. the Pacers, the Raptors needed someone, anyone to step up as Kyle Lowry and DeMar DeRozan both turtled viciously hard. Valanciunas surprisingly did so, and was huge in getting them to the second round. He even helped them gain an early advantage vs. the Heat before going down with an injury.
This year, he had been maximized. Coach Nick Nurse elected to basically matchup swap his starting lineups to match the opponent. If he needed size, he used Valanciunas next to Pascal Siakam, if he needed to stretch the floor, he put Serge Ibaka in. This is more difficult with someone like Gasol, who has lost a step, but has been starting his entire NBA career. Maybe Gasol is open to it, but it's a gamble.
Next, Valanciunas and Lowry were great together. Lowry without Valanciunas has a plus-9.7 net rating, which is phenomenal. But together, their net rating was plus-11.4, even better.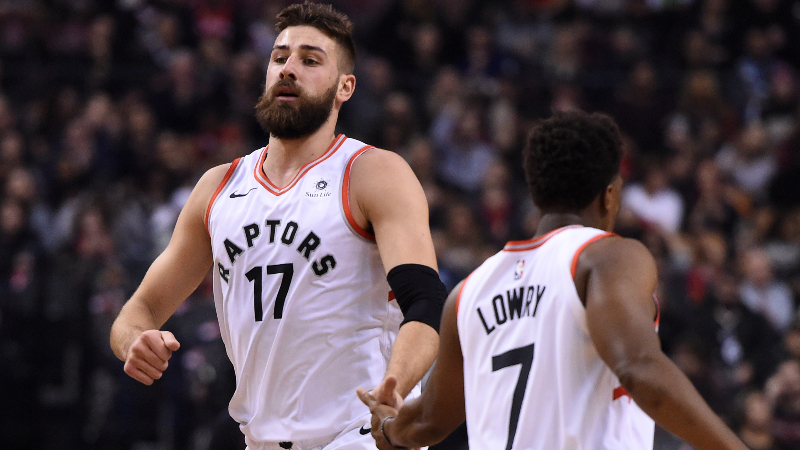 Lowry shot 51% from the field, 39% from 3-point range with JV on-court, but just 38% and 30% on 3s with JV off. Much of that is injury related, but the success with Valanciunas is more important.
Gasol is, objectively, an upgrade, provided he doesn't slow further. He's a top-level defender in the post and in space, is a consistent, if not great, 3-point shooter at 34% and the second-best passing big man in the game behind Nikola Jokic.
That said, there are some fit questions.
Can Lowry and Gasol replicate the dribble hand-off action that Gasol and Mike Conley had?
Is Gasol useful given where he operates next to isolation-centric Kawhi Leonard?
The Raptors average the second-fewest points off cut plays in the league. How does Gasol's work from the pinch post as a passer high in the set work with how this team is constructed? Gasol and Ibaka may be an even more awkward fit than Valanciunas and Ibaka were, though Gasol and Siakam may be an even better fit.
Gasol was just 31st percentile as the pick-and-roll man in Memphis, though as a pick-and-pop weapon he was considerably better at 54th percentile shooting 37%. He shot just 45% in the post; that number may be most alarming.
Gasol doesn't have to score in Toronto the way the Grizzlies needed him to after Zach Randolph left, but his struggles to do so efficiently should still be noted. Much of Gasol's value is based on making reads, value plays, smart passing, great screens. He might set devastating picks for Kawhi Leonard while popping to the perimeter to give him space. Or it might be awkward.
One guy who could benefit a lot from this deal? Danny Green, who is the kind of shifty guard good at catching on the move and finishing or shooting that can combo with Gasol. Both are high-IQ players, that's a natural fit.
Defensively, I have some concerns as well. The Grizzlies were actually 1.6 points better on defense per 100 possessions with Gasol on the bench. That's a concerning number since most of the Grizzlies' key players outside of Garrett Temple were in the black defensively. Gasol's 34, and slower than he once was.
However, the biggest key of all may be what Gasol's addition means long-term, in the playoffs.
this is why the raps made the gasol move:
– bucks entire defense is built around collapsing the paint
– gasol's ability to pop is the counter pic.twitter.com/KA9caCz2Fd

— William Lou (@william_lou) February 7, 2019
Gasol presents a pretty clear counter to Al Horford, Brook Lopez, and Joel Embiid. He's strong enough to battle Embiid in the post.
He's quick enough to contain Horford in pick-and-pops (though it will be close). He's smart enough to combat Lopez, even if trying to contest in the paint and close to Lopez will be a chore on his old knees and back.
He's a quality counter, and someone the opposing offenses and defenses will have to account for more than Valanciunas. But that's based on the ideal version of Gasol, and it's been two years since we saw him in truly meaningful late-season basketball.
It's not whether he can be that player, he absolutely can. It's whether he will. Age robs players of their consistency, and if he happens to hit a bad run in a bad matchup, it will not be well received after the Raptors traded their home-grown talent for him. .
Of note, both the Raptors and Grizzlies were respectively wrecked in the minutes that Lopez shared with Valanciunas and Gasol respectively.
The Bucks were outscored in the minutes Lopez was not on the floor and either one was on.  The same is true with Boston and Al Horford, in similarly limited minutes. Joel Embiid, however, had more trouble with Gasol.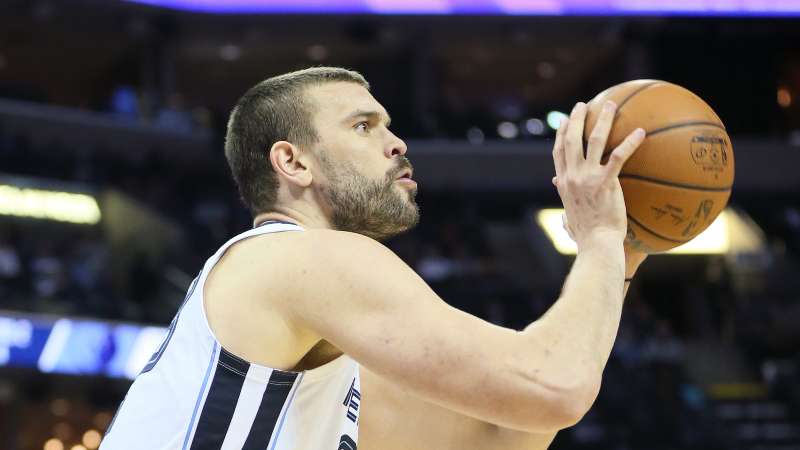 Gasol's player option for this summer could be tricky for the Raptors. They can retain Leonard despite Gasol's big contract, and if he were to opt out it would give them cap flexibility. His contract is set to expire the same time as Lowry and Ibaka's (and Leonard's if for some reason he opted in which he is not expected to). The Raptors didn't surrender future flexibility.
What they did surrender was depth. Last year's bench mob wasn't the same this year without Jakob Poeltl, sent to San Antonio in the Kawhi trade, and losing Wright hurts. Miles never was able to rediscover his shooting touch, shooting just 31.4% from deep this year, but he was still a veteran presence. In short, the Raptors are very short-handed now.
Their rotation is effectively down to 10 guys. They will find additions on the buyout market or bring in some G-League players, but they are going to be starter-heavy in the playoffs. That's OK, most rotations shorten. But it does make them more vulnerable than others to injuries.
In the end, the Raptors are banking on the best version of Gasol to show up for one more playoff run and maybe one more year. If so, great, if not, their risk is limited. But the Raptors also didn't make a huge, crystal-clear upgrade here, even if those are the optics.
There are questions to be answered. Like it was with the Leonard trade, the upside for GM Masai Ujiri is high, the floor painfully low. Once again, the Raptors are all-in on this season.