NBA Odds & Picks for Tuesday, Oct. 29: Best Betting & DFS Values, Injuries to Know, More
Credit:
Jerome Miron-USA TODAY Sports. Pictured: Memphis Grizzlies guard Ja Morant (12).
From betting analysis to player props to DFS value picks and more, Bryan Mears gets you ready for Tuesday's three-game NBA slate.
This NBA season, I'm trying something new. I'm going to write a daily piece that highlights everything bettors and DFS players need to know for that night's slate. For more information on what to expect, read the introduction on last week's first piece.
Yesterday I finished 3-1 for +0.4 units. While I don't want to get sucked into the past, I think it's worth reviewing things each day.
The best way to do that is to look at closing line value (CLV), which is just measuring whether the line you bet moved for or against you by closing.
I bet the Jazz-Suns under 214.5 and it closed at 213.5
I bet the Warriors moneyline at +145 and it closed at +120
I bet the Magic-Raptors under 211 and it closed at 209
I bet the Bulls -1.5 and it closed at -2
We got CLV on each bet, which is an encouraging sign. The game I lost was Bulls -1.5, which was a pretty brutal beat. The Bulls were up the entire game, but then the Knicks stormed back behind a Bobby Portis revenge game.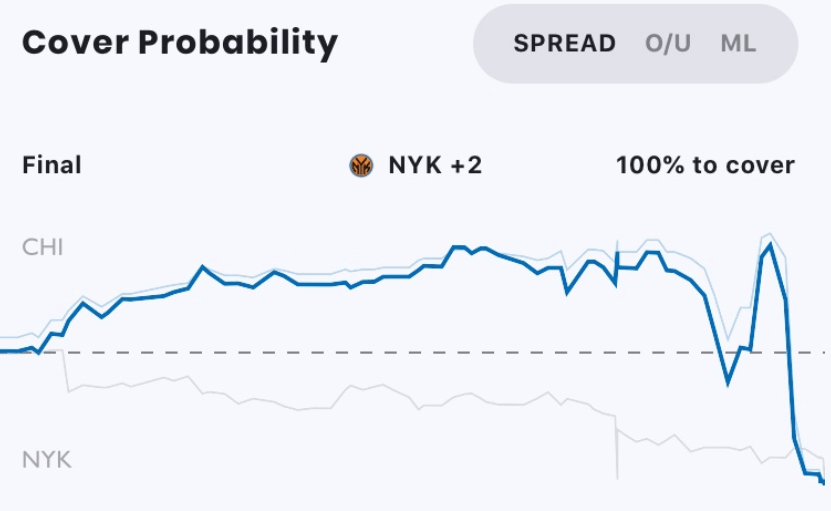 A lot of sharp people were high on the Bulls this year, and it's obviously been just four games, but a lot of the optimism revolved around the growth of their young guys, particularly Lauri Markkanen, who was awesome as a rookie.
In a bit of an injury-filled sophomore season, though, Markkanen declined as the season went on, especially his shooting:
December 2018: 37-of-94 from 3, 39.4%
January 2019: 36-of-95 from 3, 37.9%
February 2019: 24-of-69 from 3, 34.8%
March 2019: 23-of-74 from 3, 31.1%
October 2019: 5-of-27 from 3, 18.5%
It's a small sample, and 3-point percentage is notoriously one of the least sticky stats in all of basketball. But this team absolutely needs the spacing of Markkanen and Otto Porter, the latter who is at 21.1% behind the arc this season. Current starting point guard Tomas Satoransky is shooting 22.2%.
Markkanen is not good enough defensively to be valuable overall if his shot isn't falling. Fellow big Wendell Carter Jr. has yet to expand his game outside at all; he's taken four 3-pointers so far.
The Bulls have a ton of talent, but if they are going to be a poor shooting team, we perhaps need to re-evaluate their ceiling and whether this actually is a darkhorse playoff team. Definitely a squad to keep an eye on moving forward.
Anyway, let's dive in to the teams actually playing today. This is a long post, so use the jump links below.
Note: For updates, see the chat at the bottom of this post.
Jump to: Betting Odds & Analysis | Projected Starting Lineups & Injury News
Player Props | DFS Values & Strategy | My Bets | Live Chat
---
Betting Odds and Analysis
7:30 p.m. ET: Atlanta Hawks at Miami Heat (-8), 225
9 p.m. ET: Dallas Mavericks at Denver Nuggets (-5.5), 213
10:30 p.m. ET: Memphis Grizzlies at Los Angeles Lakers (-11.5), 219
(Odds via PointsBet — claim your 200% deposit match, an exclusive promotion for Action Network users)
I've yet to bet on anything tonight, but instead of just scrapping this piece, let me explain why I'm holding off. Sometimes knowing what not to bet can be just as valuable as what is providing an edge.
Athletic NBA writer Seth Partnow tweeted this earlier:
Early season Jedi defense watch, opponents are hitting <30% of open threes against

OKC (23.1%)
ATL (23.6%)
WAS (26.2%)
MEM (27,1%)
CLE (28.6%)
PHX (28.8%)

If that strikes you as strongly overlapping with the list of "surprisingly frisky teams" those things might be related…

— Anchorage Man (@SethPartnow) October 29, 2019
And a cool chart to go along with it:
To explain, 3-point shooting is one of the most random things in basketball. It can vary wildly from game-to-game, and it's often one of the last stats to stabilize over the course of the season.
That means teams who are allowing a high percentage of open 3-pointers but opponents haven't hit them at an expected rate have been pretty darn lucky. There are some minor reasons why a team would allow a lower 3-point percentage on open shots than others, such as designing a scheme to allow worse 3-point shooters to take them instead of the good ones.
But very few teams have such schemes: The exception is the Milwaukee Bucks, who play so conservatively in pick-and-roll sets and pack the defense that they've since last year allowed one of the higher 3-point rates to big men but much lower vs. guards, who are likely superior shooters.
Some of the teams getting lucky so far — the Hawks and Grizzlies notably, as they're playing tonight — are not the Bucks. I think it's just a matter of luck.
When lines were first posted on these games last night, I initially thought they were too high for the favorites. In general, back-to-backs are overrated early in the season, and eight points seems like a lot against a Hawks team that has been very good so far this year, ranking seventh in the league with a +6.0 Net Rating in non-garbage time.
I thought perhaps Jimmy Butler's debut would be overrated by the public and it could be a spot to buy the Hawks. But a big part of the Hawks' early-season success has been defense — they're eighth in Defensive Rating and 15th on offense — and as shown above, a big part of that has been luck.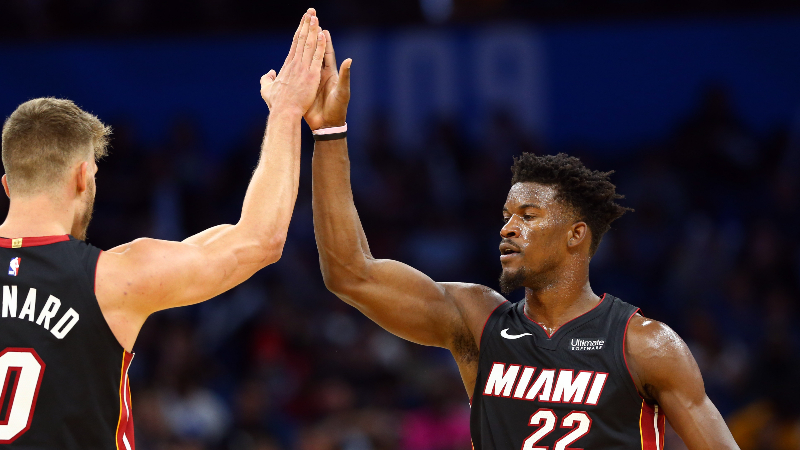 For the over/under, I want to buy unders in Heat games. So far this year, they rank third with a sky-high 111.7 pace. But Butler likes to have the ball in his hands and will be the main shot creator. I think the pace should go down with him back in the lineup.
But against a Hawks team that could be tired after battling the physical Sixers last night and one that has been very lucky so far, I'm not sure tonight is the night to make that bet.
A similar dynamic exists in the Grizzlies-Lakers game. Memphis ranks 28th with a 100.6 Offensive Rating in non-garbage time this season but 18th with a 108.0 Defensive Rating. They've been surprisingly decent, but if that defense regresses as luck stabilizes, we're looking at a bottom-tier team again.
They'll likely continue to play fast — today's game is a matchup between one of the fastest teams in league and the absolute slowest — but the Lakers could be hyper-efficient, especially as LeBron James and Anthony Davis get more comfortable playing together.
And finally, the Mavericks-Nuggets game also has an important factor that makes this game hard to predict: the potential debut of Dwight Powell. I wrote a lot about that situation in the section below, but to summarize: Powell's rim-running could really open things up for both Luka Doncic (who has been amazing) and Kristaps Porzingis (a mixed bag but could really benefit playing alongside a center with gravity).
But Powell is a liability on defense, and it's unclear how well Porzingis can hold things together as he continues to develop and get his legs under him. On the other side of the ball, Dallas could continue to find success offensively, but Denver has been very good this year at limiting high-leverage shots.
All in all, these three games have a lot of uncertainty, as a result I don't think there's a ton of edge on the odds as they currently stand. We haven't seen much movement yet today, which indicates other bettors might be equally flummoxed.
I know that's not the most exciting thing to read — tomorrow's massive slate is likely to produce some edges — but, again, knowing when to pass on a bet and why can be very valuable when grinding a bankroll.
---
Projected Starting Lineups and Injury News
(As of 2:15 p.m. ET. For up-to-the minute lineups and news, see FantasyLabs' matchups page.)
Lineups…
Atlanta Hawks: Trae Young – Cam Reddish – De'Andre Hunter – John Collins – Alex Len
Dallas Mavericks: Jalen Brunson – Delon Wright – Luka Doncic – Kristaps Porzingis – Dwight Powell
Denver Nuggets: Jamal Murray – Gary Harris – Will Barton – Paul Millsap – Nikola Jokic
Los Angeles Lakers: LeBron James – Avery Bradley – Danny Green – Anthony Davis – JaVale McGee
Memphis Grizzlies: Ja Morant – Dillon Brooks – Jae Crowder – Jaren Jackson Jr. – Jonas Valanciunas
Miami Heat: Justise Winslow – Kendrick Nunn – Jimmy Butler – Meyers Leonard – Bam Adebayo
And injury news…
Atlanta Hawks: Evan Turner (Achilles) is doubtful.
Dallas Mavericks: Dwight Powell (hamstring) is questionable.
Denver Nuggets: Nothing new.
Los Angeles Lakers: Rajon Rondo (calf) is questionable.
Memphis Grizzlies: Kyle Anderson (calf) is questionable. Ja Morant (ankle) is probable.
Miami Heat: Dion Waiters, James Johnson (conditioning) and Derrick Jones Jr. (groin) are out. Kelly Olynyk (quad) is probable. Jimmy Butler (personal) has been removed from the injury report.
For my thoughts on the Jimmy situation, read today's injury report. Let's hit on the Powell news for a moment, though.
The Mavericks clearly believe in Powell being a part of the growth of this young core, as they handed him a three-year contract extension this offseason at solid money. We currently have him projected to start alongside Porzingis in the frontcourt.
Doncic has looked every bit a potential generational superstar to begin his sophomore campaign, averaging a 29.3-10.3-7.3 line with 2.3 steals per game in 36.3 minutes. The Mavericks have been 10.2 points per 100 possessions better with him on the floor vs. off.
And tonight he could get back an important player for him specifically in Powell, who is a solid rim runner in pick-and-roll settings. Porzingis also has that potential, but has largely played outside, taking 7.3 3-point attempts per game so far. With Porzingis on the floor, the Mavs have actually taken 8.6% fewer shots at the rim than with him off.
With Powell, the Mavs can have their cake and eat it, too. Porzingis can space the floor and open up the offense, while Powell can put pressure on the rim in pick-and-rolls in a way Dallas has been missing so far.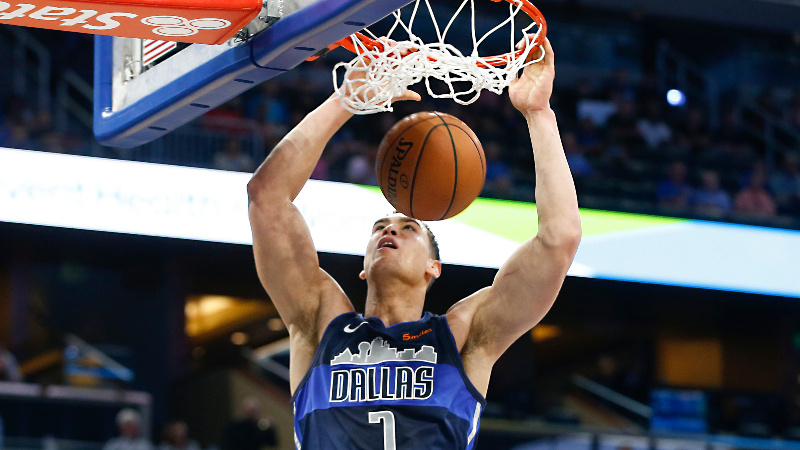 With Powell on the floor last season, the Mavs were 7.0 points/100 better on offense. They were much worse on defense, but the hope is the combination of Powell and Porzingis long term can hold up on that end.
It's unclear if Powell will have a minutes limit in his debut, which may or may not come tonight. He went through a full practice Monday, which bodes well for his chances at a return soon. We currently have him projected just over 20 minutes for tonight's affair vs. the Nuggets.
DFS-wise, Powell's inclusion would bump Maxi Kleber to a backup role, but likely wouldn't negatively affect the rest of the rotation. In fact, his addition could make the offense more efficient while slightly dinging the defense — that's all good for fantasy. Luka looks like another fine play tonight at $9,500 on DraftKings; he's easily outperformed his salary-based expectations in all three games this year.
Betting-wise, the spread of -6 feels about right if not a smidge high in Denver's favor. The total has moved down to 214 after opening at 216, which isn't surprising given the Nuggets have played at one of the league's slowest paces so far and have been excellent defensively. This will be a good test on the road for Luka and a healthier starting unit.
---
Player Props
To bet props, I use our FantasyLabs player props tool. Follow me in the Action Network app to see my bets (or go to the bottom of the article), but the more important thing is the tool, which measures our projections for every player vs. current odds in the market and highlights the biggest edges for you.
Player props are an inefficient market, which allows casual bettors (limits are low, so pro bettors aren't incentivized to prioritize them) to grab very +EV bets. That said, the lines move quickly. Our props tool is set up so you can always see whether there's an edge even at the updated numbers throughout the day.
It's one of my favorite tools we offer and should be one of your bookmarked pages if you like making a few extra bucks. Here's a screenshot of what it looks like:

One +EV way to bet player props is to take advantage of player news. Let's take the Butler news today, which, as I stated above, is that he's going to make his season debut after missing the first three games due to the birth of his daughter.
Butler is a huge force on the floor, and he's clearly the go-to guy in Miami. His insertion back into the lineup means rookie Tyler Herro will likely get bumped to the bench, and it also means that the starters, especially Kendrick Nunn — the surprise of the season — will have significantly less usage.
Nunn has used 25.3% of the Heat's possessions while on the floor so far; we're projecting that to go below 20% tonight. As a result, the under on his points prop (14.5) is one of our higher-rated props of the night. We're currently projecting him for just 11.7 points, giving a 21% difference between projection and implied market total.
Betting unders can be scary, especially against a Hawks team that does not project to be good defensively and is playing on the second leg of a back-to-back. But note that unders are generally better bets than overs.
Last season, 10-rated props in our tool hit at a 60.31% rate. But overs hit at a 57.08% rate vs. 66.47% for unders. For 9-rated props, 55.96% of overs were successful bets vs. 62.60% for unders.
As I wrote about yesterday, unders have more outs: A blowout, an injury, a poor shooting night — all will likely make the under hit. When betting props, make sure to use our tool but also take advantage of injury news and change in roles. And remember: unders are better bets.
---
DFS Values and Strategy
The top-two players in ROY voting last season, Luka Doncic and Trae Young, are standing out in our FantasyLabs models today thanks to sizzling hot starts to the season. Young has posted a usage rate higher than 36% in all three games so far, dishing out nine assists per game as well.
Luka is a walking triple-double threat and has been above 60 DraftKings points in back-to-back games. They are tough fades in all formats and are not yet properly priced.
That means it could be wise to target the other studs — Nikola Jokic, Davis and LeBron — in tournaments. The latter two have been a bit up and down this year — LeBron is talking about "chill mode" again — but today they're facing a Grizzlies team that should regress defensively (read more on that in the betting analysis section) and is currently playing at the league's fourth-fastest pace.
Values are fairly hard to come by today: The guys standing out in our models are DeAndre Bembry, Danny Green, Cam Reddish and Will Barton, for example. Most of those guys are scoring-dependent, low-usage players who are unlikely to blow past 30 minutes.
Thus the dilemma today: Pay up for the studs and pair them with volatile punt plays, or go with mid-tier options like Jamal Murray, John Collins, Bam Adebayo, etc. As always, it depends on what the slate looks like closer to the 7:30 p.m. ET lock. We could have more value open up, which will make it optimal to take a more stars-and-scrubs approach.
I likely prefer that build anyway, but the main point is that DFS slates are dynamic throughout the day. I'll try my best each day to highlight potential studs and value plays, but the way to build +EV lineups is to use our models and see our up-to-the-minute projections. I wouldn't play DFS without them.
For more DFS analysis, check out the FantasyLabs NBA models.
---
My Bets Currently
Nothing yet, but I will put any bets I make in the app, so stay tuned!
---
Updates and Live Chat
I will put updated thoughts below, whether they're about line movement, injury news, etc. You can also ask questions, which I'll answer as quickly as I can.
How would you rate this article?