NBA Predictions, Picks & Betting Odds (Wednesday, Feb. 12): Keep Fading the Cleveland Cavaliers?
Credit:
Photo credit: David Liam Kyle/NBAE via Getty Images. Pictured: Andre Drummond
This NBA season, I'm trying something new. I'm going to write a daily piece that highlights everything bettors and DFS players need to know for that night's slate. For more on what to expect, read the inaugural piece.
Yesterday I finished 0-3 for -1.1 units. While I don't want to get sucked into the past, I think it's worth reviewing things each day.
The best way to do that is to look at closing line value (CLV), which is just measuring whether the line you bet moved for or against you by closing.
I bet Celtics +2 and it closed at Celtics +2.5 (lost)
I bet Celtics-Rockets (2H) under 118.5 (lost)
I bet Spurs-Thunder (2H) under 112.5 (lost)
Tough day yesterday. I had just one pre-game bet, and the Celtics weren't able to come through despite historically dominating in this spot (road dog). It was a weird game: The Rockets had a 50% free throw rate, which is honestly the highest number I think I've ever seen. Any time you're getting 42 free throws and going 88% on them, you're likely to win.
My one mistake I think was not pulling the trigger on the Sixers, who I wrote up and liked. I waited because I thought it would keep going up, but late sharp money pushed it to a pick'em (as opposed to +2, which is where I thought it would go earlier in the day). In the end, those points didn't even matter. Oh well.
Anyway, let's dive into today's slate and find some angles.
YTD Record:
Overall: 217-196-2
Spreads: 85-83-2
Totals: 83-82
Moneylines: 23-10
Props: 29-22
Jump To: Odds & Analysis | Projected Starting Lineups & Injury News | Player Props | DFS Values & Strategy | My Bets
---
Odds as of Wednesday afternoon and via FanDuel, where Action Network users get a risk-free bet up to $500.
---
Betting Odds and Analysis
7 p.m. ET: Atlanta Hawks (-2) at Cleveland Cavaliers, 234.5
7 p.m. ET: Detroit Pistons at Orlando Magic (-7.5), 206.5
7:30 p.m. ET: Washington Wizards at New York Knicks (-2.5), 229.5
7:30 p.m. ET: Toronto Raptors (-3.5) at Brooklyn Nets, 224.5
7:30 p.m. ET: Milwaukee Bucks (-1.5) at Indiana Pacers, 222.5
8 p.m. ET: Portland Trail Blazers at Memphis Grizzlies (-4), 235.5
8 p.m. ET: Charlotte Hornets at Minnesota Timberwolves (-8.5), 226
8:30 p.m. ET: Sacramento Kings at Dallas Mavericks (-8.5), 227
9 p.m. ET: Miami Heat at Utah Jazz (-4.5), 217.5
9 p.m. ET: Golden State Warriors at Phoenix Suns (-7.5), 225.5
10 p.m. ET: LA Lakers (-2.5) at Denver Nuggets, 220.5
Hawks at Cavs
We got a sense for what both the Pistons and the league at large thought of Andre Drummond at the trade deadline, and the answer — given the package sent to acquire him — was not much. And then in his first game with the Cavs, they lost by FORTY-ONE points to the Clippers.
This team just stinks: On the season, they're dead last with a -9.4 Net Rating. Over the past two weeks, they're dead last with a -14.8 Net Rating. They've lost 13 of their past 14 games, during which they've gone 5-9 against the spread. Since Jan. 1, they're 8-12 ATS, failing to cover by more than four points per game.
Meanwhile, the Hawks have been profitable ATS over that same time frame, and there continues to be good signs of life.
They've had an absolutely brutal three-week stretch in terms of scheduling, but have more or less held their own:
1/20 vs. Raptors: 5-point loss
1/22 vs. Clippers: 7-point win
1/24 at Thunder: 29-point loss
1/26 vs. Wizards: 19-point win
1/28 at Raptors: 16-point loss
1/30 vs. Sixers: 10-point win
2/1 at Mavs: 23-point loss
2/3 vs. Celtics: 8-point loss
2/5 at Wolves: 7-point win
2/7 at Celtics: 5-point loss
2/9 vs. Knicks: 5-point win
2/10 at Magic: 9-point loss
They've had some tough losses but also gritty wins against the Clippers, Sixers, etc.
Their long-term data this season isn't good: They've been outscored by 8.1 points per 100 possessions. But their most-used lineup has actually posted a +9.4 Net Rating. With their young core — Trae Young, John Collins, Kevin Huerter and De'Andre Hunter — on the floor, they've been neutral in terms of Net Rating over now a fairly large sample size. They're frisky.
The Cavs are just nowhere near neutral. What's more, Kevin Love is questionable tonight with an Achilles injury. They'll likely play a bunch of Tristan Thompson, Larry Nance Jr. and Andre Drummond together, which is likely a doomed experiment to begin with — but there's also little chemistry given Drummond was just acquired.
The Hawks aren't an elite basketball team, but they're more than two-points better than this Cavs squad right now.
Blazers at Grizzlies
My colleague, John Ewing, wrote a piece today about how teams on a back-to-back are undervalued right before the All-Star break. On the final two nights leading up to vacation for these players, teams on a B2B have historically covered the spread at just a 41.1% rate. (Teams in that spot have been right around 50% in all other situations, for some context.)
Both the Blazers and Wizards are on a back-to-back tonight, and the Blazers had to travel from New Orleans — they got rocked last night by 20-plus points — to Memphis to face a young, scrappy Grizzlies squad.
The Blazers have had a tough travel schedule of late and could be really looking forward to the time off:

They showed it last night, as they allowed a stupid-high 131.4 Offensive Rating to the Pelicans, who posted a 63.5% eFG%. Sure, the Pels shot well from outside, but most of the damage was done on the interior, where the Blazers still have a ton of question marks this season.
The Pels took 50.6% of their shots at the rim last night, which is among the highest marks you'll see — it's literally the 99th percentile of games. And on those attempts, they shot a ridiculous 73.5%. It was a layup line.
If that doesn't shore up tonight for the tired Blazers, it'll be the same story. Since Jan. 1, the Grizzlies rank third in the entire NBA with a 68.8% field goal mark at the rim. With Ja Morant, Jaren Jackson Jr., Jonas Valanciunas and team, they're athletic and skilled; they thrive in transition and attacking the paint.
Perhaps the Blazers rally and go into the break on a high note, but given the historical trends, I think it's more likely that they'll be tired from all their recent games — not to mention the extreme workload of Damian Lillard — and the young Grizzlies show their youth by pushing and attacking.
I like the Grizzlies in this one, and I also put a little bit on the Knicks at -2.5, as scary as that may seem.
Pistons at Magic
I was on the Pistons under the other night against the Hornets and it hit with ease. They've been the slowest team in the league over the past few weeks, and we've seen point and pace totals like 1990s basketball.
There's a reason for that: They play at an incredibly slow pace without Derrick Rose, who has been out with an adductor injury.
With Rose on the floor, the Pistons have increased their Offensive Rating by 8.1 points and have posted an eFG% 4.4 percentage points higher. They play in the halfcourt 2.9% less (94th percentile, for context), and they push in transition 3.8% more often (98th percentile). They just fundamentally change the offense when Rose is at the helm vs. Reggie Jackson, Bruce Brown or others.
But Rose is available to make his return today. We aren't sure whether he will play in the starting lineup or have a minutes limit, but if it looks like he's going to play a good chunk of minutes, this over/under is just too deflated by recency bias and unrepresentative data.
The Magic, meanwhile, have been pretty awful defensively of late, which is perhaps a bit surprising. They just allowed 135 to the Hawks in a game that shot way over the total and was played at a pretty brisk pace. I'm not expecting that type of performance again, but at this number — if Rose seems to be legitimately back — it doesn't need to be.
Projected Starting Lineups and Injury News
Note: Info as of 12:15 p.m. ET. For up-to-the-minute lineups and news, see FantasyLabs' matchups page.
Projected Lineups
Atlanta Hawks: Trae Young – Kevin Huerter – De'Andre Hunter – John Collins – Damian Jones
Brooklyn Nets: Spencer Dinwiddie – Caris LeVert – Joe Harris – Taurean Prince – Jarrett Allen
Charlotte Hornets: Devonte' Graham – Terry Rozier – Miles Bridges – PJ Washington – Cody Zeller
Cleveland Cavaliers: Darius Garland – Collin Sexton – Cedi Osman – Kevin Love – Andre Drummond
Dallas Mavericks: Luka Doncic – Tim Hardaway Jr. – Dorian Finney-Smith – Maxi Kleber – Kristaps Porzingis
Denver Nuggets: Jamal Murray – Gary Harris – Torrey Craig – Jerami Grant – Nikola Jokic
Detroit Pistons: Reggie Jackson – Bruce Brown – Tony Snell – Christian Wood – Thon Maker
Golden State Warriors: Ky Bowman – Damion Lee – Andrew Wiggins – Draymond Green – Marquese Chriss
Indiana Pacers: Malcolm Brogdon – Victor Oladipo – TJ Warren – Domantas Sabonis – Myles Turner
LA Lakers: LeBron James – Avery Bradley – Danny Green – Anthony Davis – JaVale McGee
Memphis Grizzlies: Ja Morant – Dillon Brooks – Kyle Anderson – Jaren Jackson Jr. – Jonas Valanciunas
Miami Heat: Kendrick Nunn – Jimmy Butler – Duncan Robinson – Derrick Jones Jr. – Bam Adebayo
Milwaukee Bucks: Eric Bledsoe – Wes Matthews – Khris Middleton – Ersan Ilyasova – Brook Lopez
Minnesota Timberwolves: D'Angelo Russell – Malik Beasley – Josh Okogie – Juancho Hernangomez – Karl-Anthony Towns
New York Knicks: Elfrid Payton – RJ Barrett – Reggie Bullock – Julius Randle – Taj Gibson
Orlando Magic: Markelle Fultz – Evan Fournier – Wes Iwundu – Aaron Gordon – Nikola Vucevic
Phoenix Suns: Ricky Rubio – Devin Booker – Kelly Oubre – Mikal Bridges – Cheick Diallo
Portland Trail Blazers: Damian Lillard – CJ McCollum – Trevor Ariza – Carmelo Anthony – Hassan Whiteside
Sacramento Kings: De'Aaron Fox – Bogdan Bogdanovic – Harrison Barnes – Nemanja Bjelica – Harry Giles
Toronto Raptors: Kyle Lowry – Fred VanVleet – OG Anunoby – Pascal Siakam – Serge Ibaka
Utah Jazz: Mike Conley – Donovan Mitchell – Joe Ingles – Bojan Bogdanovic – Rudy Gobert
Washington Wizards: Ish Smith – Bradley Beal – Isaac Bonga – Rui Hachimura – Ian Mahinmi
Injury News
Atlanta Hawks: DeAndre Bembry (hand) expected to be available. De'Andre Hunter (ankle) is not on the injury report.
Brooklyn Nets: Kyrie Irving (knee) likely remains out.
Charlotte Hornets: Cody Martin (nose, concussion) is TBD.
Cleveland Cavaliers: Kevin Love (Achilles) is questionable.
Dallas Mavericks: Luka Doncic (ankle) said he'll play. Delon Wright (ankle) is probable.
Denver Nuggets: Will Barton (knee) and Michael Porter Jr. (ankle) are out. PJ Dozier (hip) is probable.
Detroit Pistons: Derrick Rose (adductor) and Svi Mykhailiuk (hip) are available to play.
Golden State Warriors: Kevon Looney (hip) is questionable.
Indiana Pacers: Nothing new.
LA Lakers: Anthony Davis (finger) is probable.
Memphis Grizzlies: Nothing new.
Miami Heat: Tyler Herro (ankle) is out.
Milwaukee Bucks: Giannis Antetokounmpo (personal), George Hill (hamstring) and Kyle Korver (back) are out.
Minnesota Timberwolves: Nothing new.
New York Knicks: Damyean Dotson (illness), Mitchell Robinson (illness), Moe Harkless (illness) and Allonzo Trier (illness) are probable.
Orlando Magic: Nothing new.
Phoenix Suns: Dario Saric (ankle) is out. Deandre Ayton (ankle) is unlikely to play.
Portland Trail Blazers: Mario Hezonja (ankle) and Nassir Little (ankle) are TBD.
Sacramento Kings: Richaun Holmes (shoulder) is out at least 2-3 weeks. Jabari Parker (shoulder) is questionable.
Toronto Raptors: Marc Gasol (hamstring) is out. Serge Ibaka (illness) is questionable.
Utah Jazz: Mike Conley (illness) is questionable.
Washington Wizards: Thomas Bryant (foot) remains out.
Player Props
To bet props, I use our FantasyLabs player props tool. Follow me in the Action Network app to see my bets (or go to the bottom of the article), but the more important thing is the tool, which measures our projections for every player vs. current odds in the market and highlights the biggest edges for you.
Player props are an inefficient market, which allows casual bettors (limits are low, so pro bettors aren't incentivized to prioritize them) to grab very +EV bets.
That said, the lines move quickly. Our props tool is set up so you can always see whether there's an edge even at the updated numbers throughout the day.
It's one of my favorite tools we offer and should be one of your bookmarked pages if you like making a few extra bucks. Here's a screenshot of what it looks like:

My usual recommendation: Bet unders.
Last season, 10-rated props in our tool hit at a 60.31% rate. But overs hit at a 57.08% rate vs. 66.47% for unders. For 9-rated props, 55.96% of overs were successful bets vs. 62.60% for unders.
As I have noted in the past, unders have more outs: A blowout, an injury, a poor shooting night all will likely make the under hit. But also, props are less efficient as a market given the low limits, so they're less likely to adjust for things like opponent and pace.
One under I like tonight is OG Anunoby's 5.5-rebound total.
Anunoby went for 12 rebounds the other night against the Timberwolves, but note that was without Marc Gasol and Serge Ibaka, who were out for an injury and illness, respectively. Ibaka is back in our projected starting lineup tonight, which means they'll have a traditional big; Anunoby, Pascal Siakam and Rondae Hollis-Jefferson largely filled that role in small lineups vs. the Wolves.
Anunoby is averaging less than this prop per game this season, and in the prior 12 games before the Wolves tilt, he had gone for five or fewer rebounds in 10 of those. With Ibaka likely back, I'll take his under again.
DFS Values and Strategy
Today's slate is massive with 11 games, which means we have no shortage of studs from which to choose. Above $10K on DraftKings are Anthony Davis, Nikola Jokic, Damian Lillard, Trae Young, Karl-Anthony Towns, LeBron James and Luka Doncic, who makes his triumphant return.
As usual, pricing is much softer on FanDuel than it is on DraftKings; on the former site, nearly every stud is projecting as a decent value. Some of the differences are incredibly stark, too: Luka, for example, is just $9,700 — the seventh-highest priced player — on FanDuel but the highest guy on DraftKings at $10,900. As a result, he's a mediocre value on DraftKings but a massive one on FanDuel against the Kings, who remain bad defensively.
On DraftKings, the studs rating the highest currently are Towns, Trae and Dame, mostly on account of the combination of their current roles and games against the Hornets, Cavs and Grizzlies, respectively. The other options are in tougher games — the Nuggets and Lakers face each other in Denver — so it's likely that most people will build around those three.
Values today include Serge Ibaka (could return from an illness and way underpriced), Victor Oladipo (still getting his feet under him but playing good minutes and just $4,800 on DraftKings), James Johnson, Pat Connaughton, Dewayne Dedmon, Ersan Ilyasova and others.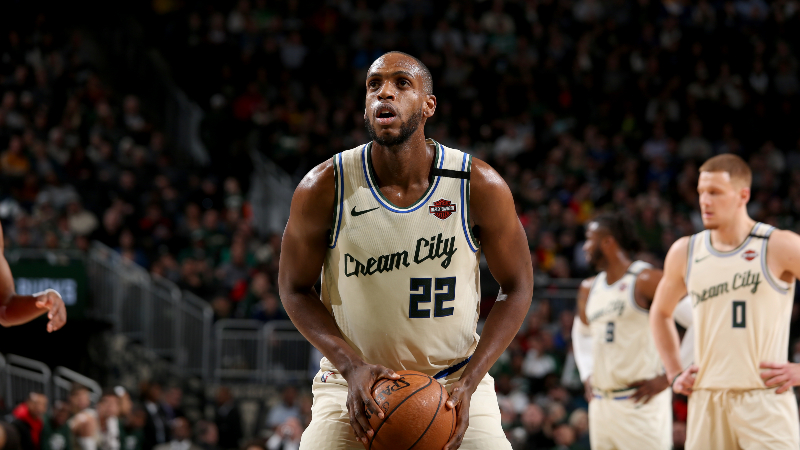 You'll notice two Bucks on the above list, and they'll provide nice value tonight since Giannis Antetokounmpo is out for personal reasons. Eric Bledsoe is our current top value on FanDuel, and a bunch of those guys — Khris Middleton included — will have bigger roles and nice ceilings without their star.
Make sure to monitor news of course. Derrick Rose has been confirmed in, while Kevin Love, Serge Ibaka and Mike Conley are all questionable. Deandre Ayton is doubtful to play, which will open up some value in Phoenix.
You know the drill: Follow the news and make sure to subscribe to our models to see up-to-the-minute projection updates.
For more DFS analysis and value plays, check out the FantasyLabs NBA models.
My Bets Currently
Hawks -2
Raptors-Nets under 223.5
Knicks -2.5
Grizzlies -4.5
[In New Jersey, Pennsylvania, Indiana or West Virginia? Bet now at FanDuel]
Follow me in our free app if you want an alert on bets I make.
How would you rate this article?