NBA Draft Freeroll: One Bet That Can't Lose
Credit:
Ron Chenoy-USA TODAY Sports. Pictured: UCLA Bruins guard Aaron Holiday
The Highlights
The NBA draft is boring, unless you bet on it.
Betting is no fun, unless you win.
Here's how to freeroll the NBA draft.
---
The 2018 NBA draft is almost here and there are oodles of proposition bets available:
There is inherent risk in gambling. While The Action Network's NBA analysts have identified the sides offering bettors value in the above props, there is a chance these wagers don't cash. But what if that wasn't the case? Here is how to have all the fun of betting without the downside of losing.
It's wise to shop around for the best line before placing a bet. Offshore sportsbooks will offer different lines for the same event. For example: UCLA's Aaron Holiday has a draft over/under of 21.5.
Why are the odds different? It doesn't matter. What is important is that the varying juice has created an arbitrage opportunity. Assuming you are a $100 bettor, place the following wagers:
$100 on over 21.5 at +165
$150 on under 21.5 at -150
If Aaron Holiday gets taken with the 22nd pick or later in the draft, you'd win $15 ($165 minus $150). If Holiday goes 21st or earlier you'd win nothing ($100 minus $100). This is an NBA draft freeroll.
$15 isn't much, though it is a 6.0% return on investment with no downside. I'll let my friends from Parks and Recreation take it from here…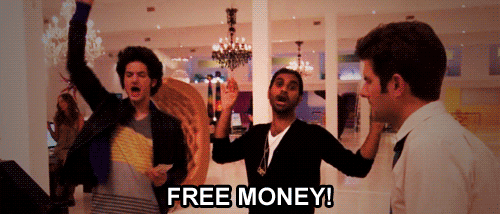 ---
More NBA Draft Betting Coverage