NBA Fantasy Waiver Pickups & Schedule (Week 18): Tyrese Haliburton, Keldon Johnson Among Biggest Risers Post Trade Deadline
Credit:
Getty Images. Pictured (L-R): Keldon Johnson of the San Antonio Spurs, Tyrese Haliburton of the Indiana Pacers, Ben Simmons of the Brooklyn Nets.
Trade season has passed and the All-Star break is right around the corner.
Due to All-Star weekend, Week 18 for fantasy basketball is extended from Feb 14-Feb 27. We'll post the schedule for games after the All-Star break by next Monday. Here is the list of games for the first week of Week 18.
Joe Dellera and Dan Titus break down how they see those trades impacting each team involved, which players are rising or falling and note how to benefit on worthwhile player prop angles fantasy trends and scheduling quirks.
Fantasy Basketball Schedule — Week 18
Schedule Notes
Three Games: BKN, HOU, LAC, MIL, NOP, WAS
Two Games: ATL, BOS, CHA, CHI, DAL, DEN, DET, GSW, IND, MEM, MIA, MIN, NYK, OKC, ORL, PHI, PHX, POR, SAC, SAS, TOR, UTA
One Game: CLE, LAL
Fantasy Friendly Teams in Week 18
Wizards (DET, @IND, @BKN)
Nets (SAC, @NYK, WAS)
Bucks (POR, IND, PHI)
Waiver Adds
Guards: Devin Vassell, Raul Neto, Justin Holiday, Malik Beasley, Cameron Thomas, Lonnie Walker IV, Josh Christopher, Ben McLemore, Dennis Smith Jr.
Forwards: Justise Winslow, Terance Mann, Darius Bazley, Isaiah Jackson, Oshae Brissett, Corey Kispert, KJ Martin, Aleksej Pokusevski, Zeke Nnaji, Luke Kennard
Centers: Alperen Sengun, Jaxson Hayes, Hassan Whiteside, Zach Collins
Players to Watch
Injury Pivots
Norman Powell/Terance Mann, Los Angeles Clippers 
We just wrote about Norman Powell last week and we expected him to retain his scoring upside and usage rate following the trade from the Blazers to the Clippers. However, Powell was just diagnosed with a fractured foot and will be out indefinitely.
The Clippers have not indicated whether his injury will require surgery, so he may be able to return at some point this season, but it immediately means that Terance Mann will be the next "Mann" up and should remain in the starting lineup.
Mann has played extremely well as of late and he's led the second unit, which has increased the Clippers' Pace. If Mann remains with the starters, it could mean an uptick in possessions and counting stats for the rest of the starters.
Over the last week, Mann is averaging 16 points, 6.7 rebounds, 4.0 assists, and 1.7 steals in 30.6 minutes per game while shooting 54% from the floor. He's closer to a 48% shooter on the season so this should regress but he has carved out a decent role on this shorthanded Clippers team.
Additionally, without Powell, it should slightly clear up the logjam that is this 12 player rotation and one of Luke Kennard, Amir Coffey, and Nic Batum will likely take over the lion's share of Powell's minutes.
---
Risers
Ben Simmons, Brooklyn Nets
If you did not stash Simmons prior to the trade deadline, he's likely long gone. We are unsure when he will play but considering he has already reached out to Kevin Durant this is much more promising than the situation in Philadelphia.
Simmons is just 25 years old and is an All-Star that recently averaged 14.3 points, 7.2 rebounds, 6.9 assists, and 1.6 steals. He's an excellent facilitator and a lockdown defender when he's on the floor. Simmons is at his best when he is surrounded by shooters so he can drive and kick to find the open man.
This is not uncommon, this is something that's been done to much success for both Giannis Antetokounmpo and LeBron James. The Nets can do this with elite scorers such as Kyrie Irving and Kevin Durant who can score from anywhere on the floor. Simmons is less of a scoring threat than Harden, so Kyrie and Durant may see an uptick in their points when they are able to play together.
One thing to also remember is that Kyrie Irving still can only play in away games, so Patty Mills remains a hold at least until Durant returns from injury although both his value and Seth Curry's are going to hinge on who remains in the starting lineup and when Joe Harris will return. I'm estimating that the Nets' ideal lineup would be Kyrie, Harris, Simmons, Durant, Aldridge.
Overall, I get that the Nets lost one of the best players in the NBA, but Simmons is 25 years old, a defensive chameleon, and is under contract for the next 4 years. There's plenty of room for him to grow and the Nets brought him in while returning some draft picks.
For the 76ers, they immediately become title contenders with the addition of Harden, but we will need to see how he meshes with Joel Embiid on the floor to truly determine if they can make a title run. But remember, regular season defense is one thing, and although Simmons is a flawed player, his defensive versatility is shared by few others in the NBA.
Fantasy Impact: Fantasy managers will have to remain (even more) patient with Simmons as he'll be "ramping up" through the All-Star break.
Ben Simmons has already talked to Kevin Durant and Sean Marks, @KlutchSports' Rich Paul tells ESPN. Simmons is eager to join Nets and ramp up for a return to play this season, Paul says. "We've got to work to do to get him back to play, but it's a great step in right direction."

— Adrian Wojnarowski (@wojespn) February 10, 2022
He's been ruled out for Monday's contest against the Kings to start the week, and there's been no timetable for this return. He's missed 54 games this season and hasn't been seen on a professional basketball court since briefly attending a couple training camp practices with the Sixers back in October.
Let's not forget it wasn't just Simmons wanting out of Philly – he was also dealing with what he described as "mental health issues" so despite the change in scenery, his return might take longer than anticipated.
Simmons should provide 4th round value in a system that will allow him to push the pace, get the ball to his knock down shooters, and pad stats within a leaky Nets frontcourt.
---
Tyrese Haliburton, Indiana Pacers
The trade that sent Tyrese Haliburton to the Pacers for Domantas Sabonis was stunning for a multitude of seasons, but it certainly cleared up the logjam for both of these teams. Haliburton is no longer shackled to the Kings front office and De'Aaron Fox and Sabonis is not clogging the paint alongside Myles Turner.
Both players are in "better" situations, although I'd take that with a grain of salt with Sabonis. Sabonis will see more opportunity and minutes down the stretch because the Kings play at the seventh-fastest Pace in the league, and their Offensive Time of Possession is the fourth-fastest.
Haliburton should excel in Indiana. He will share a backcourt with Malcolm Brogdon and Chris Duarte, but Brogdon is a better complement to his skill set than Fox. Brogdon is a better shooter, and his length allows him to be a better defender as well. This should help spread the floor and allow both Brogdon and Haliburton the opportunity to drive, kick, set screens, and shoot.
Additionally, all of Brogdon, Haliburton, and Duarte possess length which may allow them to play a position-less guard lineup which will give them each the opportunity to thrive on both sides of the floor.
Duarte is slated to miss the next two games with a foot injury. They should be leaning on Haliburton even more and whenever Brogdon returns he should be on a minutes limit. It would not shock me to see Tyrese Haliburton record his first career triple double this week.
Fantasy Impact: With Chris Duarte leaving Sunday's contest with a foot injury, and Malcolm Brogdon only playing in 30% of the 57 games this season when he's been listed as "questionable", Haliburton is going to go off in Week 18.
The Pacers will play four games across the extended All-Star week and he gave a sneak peak of his upside since joining the Pacers on Sunday, delivering 22 points (7-14 FG, 6-6 3PT, 2-2 FT) with 16 assists, five rebounds and one steal in 41 minutes.
The second-year player had 10 assists in the first half alone! He's racked up 15 double-doubles this year and this was a strong follow up to Friday's debut where he scored 23 points with six assists, three rebounds, three steals, and six turnovers.
---
Keldon Johnson/Devin Vassell, San Antonio Spurs
Derrick White was traded away to the Celtics for a bag of peanuts which is great news for Boston who desperately needed a true point guard to help them orchestrate their offense but the real winners for fantasy and props purposes are Keldon Johnson and Devin Vassell.
I'm leaving out Dejounte Murray here because he is an absolute monster to begin with and has been this entire season with averages of 20 points, 8.4 rebounds, 9.3 assists, 2.1 steals, and 2.4 turnovers.
Both Johnson and Vassell have a much better path to both minutes and usage without White. While Johnson is likely owned in your leagues, Vassell has a ton of value as well.
I expect the Spurs to lean on their young talent down the stretch and in these two games without White these young guns are performing. Since January here are their stats:
Keldon Johnson: 32.1 minutes | 16.6 points | 5.1 rebounds | 2.1 assists | 2.7 3s (41.1%)
Devin Vassell: 27.7 minutes | 13.2 points | 4.9 rebounds | 2.0 Assists | 2.2 3s (36.4%)
These numbers should only improve without White. Moreover, Johnson has been crushing his points prop. Books continue to set his points line at 15.5 and he's gone over that in 10 of his last 11 games while averaging 18.7 points during that stretch. He should be able to clear this against the Bulls on Monday as well.
Fantasy Impact: Vassell's under 51% rostership is about to be a thing of the past as he's started and played well in the last two games sans Derrick White.
He dropped 20 points with five rebounds and three assists on Friday and followed it up with 14 points, four rebounds, four assists, and two stocks, while averaging 29.5 minutes in those contests.
The Spurs are running a pretty deep rotation at the moment, with 10+ players getting minutes in those games and it looks like Lonnie Walker IV and Josh Primo are the biggest threats to him seeing more than 30 minutes per night.
However, as long as Vassell is starting and continues to sport a 20% usage rate without White present, he'll be a solid cross-category contributor for the rest of the season. Pick him up if he's available with the Spurs playing four games in an extended Week 18.
Alperen Sengun, Houston Rockets
Daniel Theis was traded from the Rockets back to the Celtics at the deadline, which should bode well for the 16th pick of the 2021 NBA Draft.
Sengun has struggled to receive both consistent and significant minutes this season but he finally could have a path to seeing the floor. His per-36 numbers this season should get fantasy managers excited, as he projects to be a stat filler.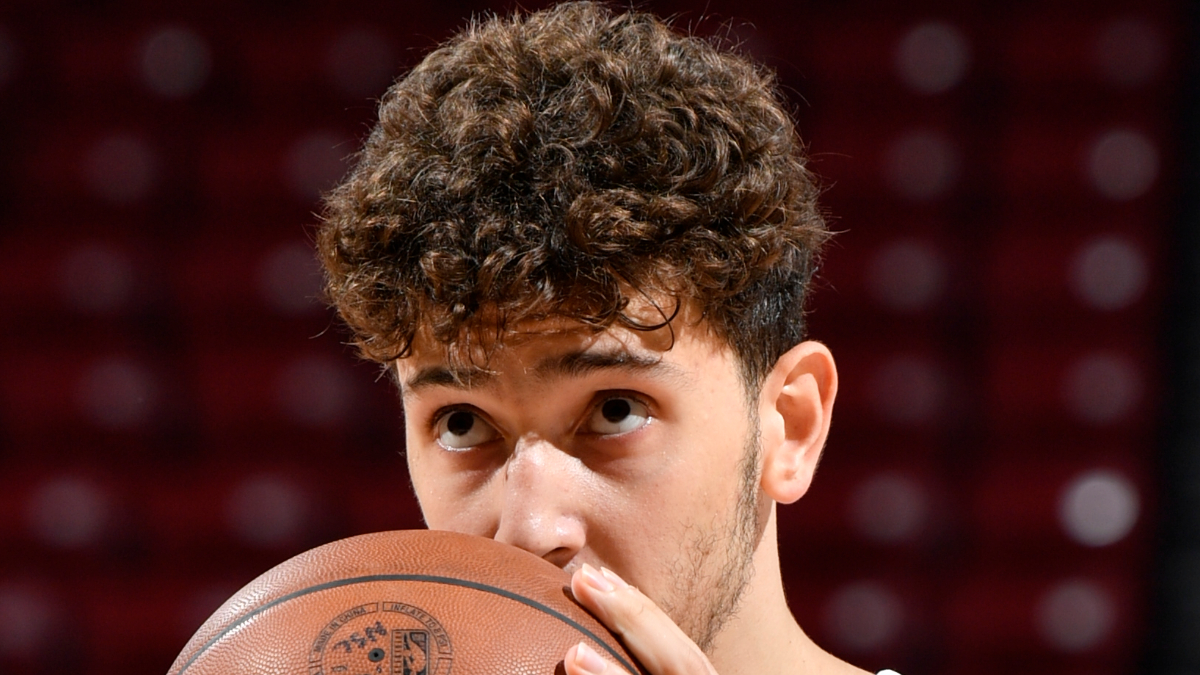 Sengun's per-36 numbers this season: 16.6 points, 9.0 rebounds, 4.8 assists, 1.5 steals, 1.8 blocks with 47/26/69 shooting splits.
Sure, he could improve his shooting from beyond the arc and the charity stripe but he does more than enough in the other categories to be worthy of picking up. Sengun has a similar profile to fantasy legend Andrei Kirilenko so make sure he's not still sitting on your waiver wire.
Justise Winslow, Portland Trail Blazers
The Blazers didn't add a power forward at the deadline and Winslow averaging 12.3 points, 6.7 rebounds, 4.0 assists, with 3.3 stocks across 34.5 minutes per game in his last three starts for the Trail Blazers.
Josh Hart has yet to play and with Portland on the brink of mailing it in, Winslow makes for a strong pickup to help your team win now. So feel free to cut the "urkels on your team," that's why your wins-low.
Kristaps Porzingis, Washington Wizards
Porzingis is not cleared to play quite yet but he should soak up a ton of usage in Washington with Bradley Beal out for the season, Montrezl Harrell traded to Charlotte, and Spencer Dinwiddie in Dallas.
He and Kyle Kuzma will be the main focus on offense and assuming Porzingis can stay healthy (a big if), he should dominate the final four weeks of the season with a new team. Porzingis still ranks in the top-30 in seasonal averages this year so he's still a valuable fantasy asset despite the injury risk.
---
Check out our free NBA odds page, which automatically surfaces the best line for every game. 
---
Fallers
Robert Covington, L.A. Clippers
Did Covington come to LA in the doghouse? Does Ty Lue not value having a 3-and-D wing in his lineup regularly? It's hard to discern where his lack of playing time is coming from — whether it's integrating with a new team or maybe he's just buried on the bench behind players like Nic Batum, Terance Mann, Amir Coffey, and Luke Kennard.
Either way, he's nearing drop status. He's played a grand total of 22 minutes in his first two games as a Clipper, averaging 4.5 points, 2.5 rebounds, 0.5 assists, and 1.5 stocks. He's actually made a positive impact on the court when he's played, as his plus/minus is +16 thus far.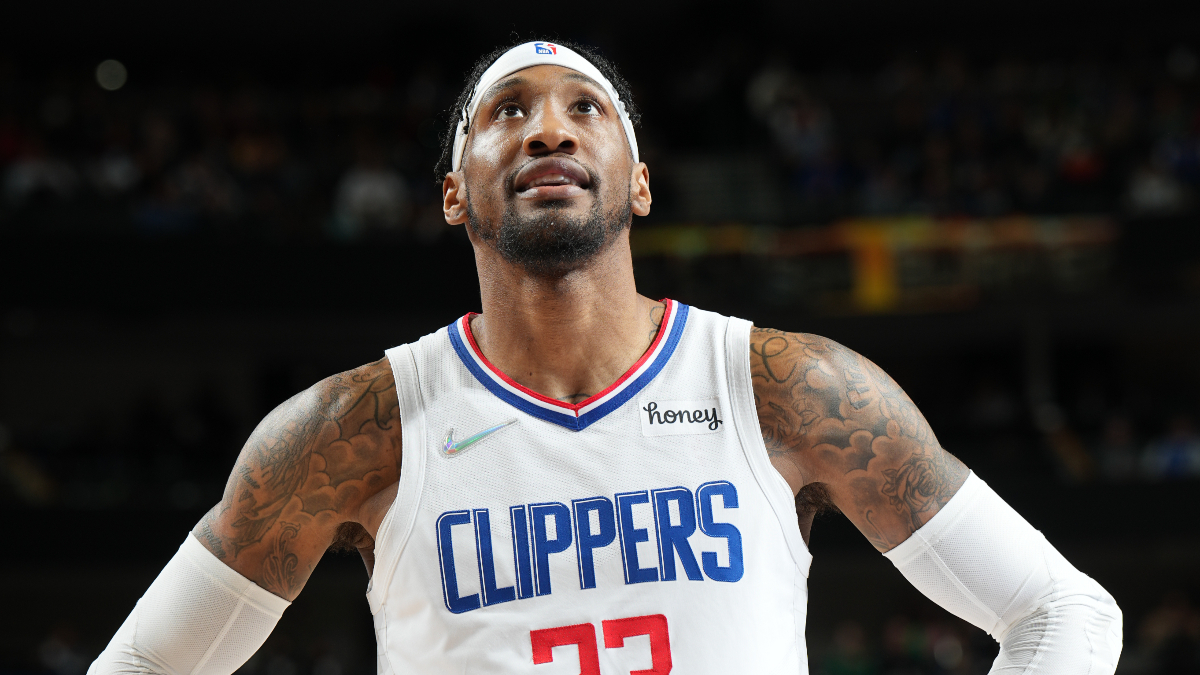 That's not going to cut it for fantasy managers and if it weren't for the Clippers playing four games in the extended All-Star Week 18, he'd be cut bait.
Powell will be out indefinitely with a fracture in his left foot, but that likely benefits the aforementioned players more than Covington. His ability to accumulate stocks makes him worth holding onto, but if he's not getting at least 20 minutes of burn nightly, feel free to move on if there's a better pick up available on waivers.
---
Richaun Holmes, Sacramento Kings
Richaun Holmes was a top-35 player last season in H2H 9-category formats, resulting in him being drafted with third/fourth round upside in most competitive leagues this year. Since Alvin Gentry came to the helm, Holmes has not earned consistent playing time in the rotation.
He's reportedly healthy and despite battling numerous injuries throughout the season, he's still not getting minutes. Look at his splits from January to February in 2022. His minutes, scoring, rebounding, field goal attempts, and percentage are all down. To make matters worse, former All-Star Domantas Sabonis is in town and he's already making an impact.
It appears Holmes is going to be relegated to a bench role going forward with Alvin Gentry electing to roll with a lineup of De'Aaron Fox, Justin Holiday, Harrison Barnes, Mo Harkless, and Domantas Sabonis.
With Holmes seeing less than 20 minutes per contest, it's hard to justify holding on much longer as his lack of playing time is a troubling trend considering he re-signed with Sacramento on a 4-yr/$46M deal this past offseason.
---
How would you rate this article?
This site contains commercial content. We may be compensated for the links provided on this page. The content on this page is for informational purposes only. Action Network makes no representation or warranty as to the accuracy of the information given or the outcome of any game or event.