NBA Trade Reactions & Futures Bets: Celtics, Suns, Nets Have Value Post-Deadline
Credit:
Jim Davis/The Boston Globe via Getty Images. Pictured: The Celtics Jaylen Brown in the spotlight during pre-game introductions.
The 2022 NBA trade deadline has come and gone, and it was a wild one. In the week leading up to the deadline, we already had deals involving Domantas Sabonis, CJ McCollum, Caris LeVert, and Norman Powell. But all of that paled in comparison to the blockbuster deal we've been waiting on all season.
Ben Simmons was finally traded — and he was packaged for James Harden.
And just like that, the top of the Eastern Conference was blown up, with the title favorite Brooklyn Nets breaking up their big three before it ever got out of the starting blocks. When all the dust had settled, Kevin Durant, Kyrie Irving, and Harden played a whopping total of 16 games together, just 364 minutes of game time. That's not even a full eight-hour work day on the court together, unless you take a three-hour lunch break.
So now that the Nets have been re-imagined, and Harden has joined MVP favorite Joel Embiid in Philadelphia, what do we make of the Eastern Conference? And what about the Kristaps Porzingis deal, the trades from earlier this week, and everything else that happened on Thursday?
Let's break it all down and look at the NBA big picture with an eye towards futures markets.
Sixers Go All-In on Harden and Embiid
Embiid has played as well as anyone the last couple months, and now he'll play with his best ever teammate in Harden. At their best, they might be the best duo in the entire NBA, maybe even better than LeBron James and Anthony Davis — and those two won a title together.
Philadelphia is the second favorite to come out of the East now behind Brooklyn, and the Sixers are all-in on these next few years of the Harden-Embiid pairing. And Philly managed to keep both Tyrese Maxey and Matisse Thybulle in the deal, though it cost them sharpshooter Seth Curry and a pair of first-round picks to get the deal over the line.
Losing Curry hurts. His shooting, spacing, and shot creation were vital to this team, and he'll be missed. Philadelphia's bench is perilously thin now, since Maxey will have to soak up those Curry minutes. Still, the Sixers have been playing very good ball, and they effectively add Harden into the lineup in place of Curry, since Simmons wasn't playing anyway.
Make no mistake about it — the window is now for Philadelphia. And with Embiid's health and Harden's age, this window won't stay open long. Once Harden signs his inevitable max extension, this pair could cost north of $450 million over the next five seasons — and probably get worse each year.
I don't trust Harden to stay healthy, and I don't believe old MVP Harden is still magically hiding behind those tired legs. The fit will take time. Harden usually plays with a rim-running big man, and he prefers to switch on defense instead of fighting over screens. Both Harden and Embiid want the ball in their hands all game.
I'm fading the Sixers. The ceiling is clear, but there are too many avenues to fall short, and you're purchasing at peak hype. I'm also fading Embiid as the MVP favorite. He'll go long stretches without the ball, and fewer touches will mean a slight uptick in efficiency but some statistical duds now when Harden goes off. Add in the usual injury risk, and I don't see it.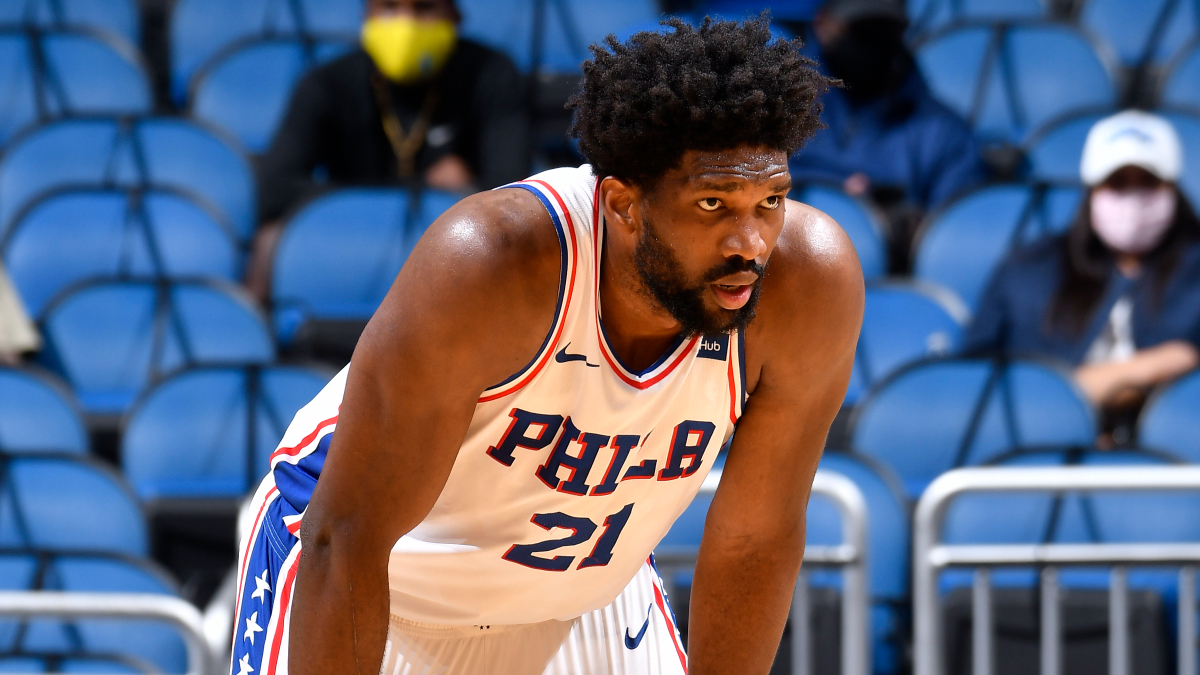 Embiid has not earned our trust as bettors, and neither has Harden. We never know when either will pull up lame or if either will show up motivated and ready to play any given night. We've never seen either one give us a full, reliable playoff run. At this point, I'm just going to have to lose money to these two if they change that pattern now.
I might even sniff around a little at Philadelphia to miss the playoffs at +1600. The way Boston and Toronto are playing, one of the teams in this blockbuster could end up vulnerable in the play-in, and Philly will be in big trouble if Harden or Embiid miss a chunk of time.
The trade makes sense for Philadelphia. The Sixers got a potential star to pair with Embiid and finally ended the Simmons saga. The timelines make sense. But only one team can win the title, and I'm not sure these Sixers will ever be versatile or healthy enough to win four straight playoff series.
Nets Get More Balanced and Versatile
Given how depreciated Harden's value was, the haul Brooklyn pulled for a guy who could've walked for nothing this summer was quite impressive. Ben Simmons has his foibles, but he's 25 years old, a preternatural passer, and one of the league's best and most versatile defenders. It's possible Simmons may be more valuable the next five years than Harden — maybe even likely.
In addition to Simmons, the Nets also acquired one of the league's great shooters in Seth Curry, two valuable first-round picks with lean protections that'll be available for future trades, and a big man who could help on the glass in Andre Drummond. Still, Simmons is the key to this trade and maybe to this team going forward. Harden is clearly the better player than Simmons right now, but could Simmons be the better fit for this roster?
Brooklyn needed defensive answers in a big way. One man is no defense, but Simmons is a great start. He might win DPOY someday, and he gives this team a real defensive anchor and identity. Simmons is an intriguing fit in a Draymond Green role. The Nets could theoretically play "small" with Durant and Simmons as the bigs, switch everything, and have a ton of defensive versatility.
Durant and Irving have been useful defenders when they're focused in the playoffs. A defense with Simmons at its heart can be palatable, maybe even good in certain matchups. Simmons could be an intriguing defensive weapon against Giannis or Draymond small-ball lineups.
The Nets also have a pupu platter of big men to throw at opponents in Drummond, Blake Griffin, Nic Claxton, and LaMarcus Aldridge. That means bodies that can bang with Embiid or Nikola Jokic, switch or drop in the right matchup, or sit and watch a smaller lineup space the court and score.
The amount of shooting on this roster is staggering. Even without Harden, there should be more than enough offense. Consider that Durant, maybe the most gifted scorer of all-time, is now the fourth best shooter in the starting lineup. Curry and Joe Harris both sit at 44% on 3s for their career and will get countless open shots. Irving and Patty Mills are at 39%. Honestly, throw in Steve Nash and we could have an entertaining 3-Point Contest featuring only Nets.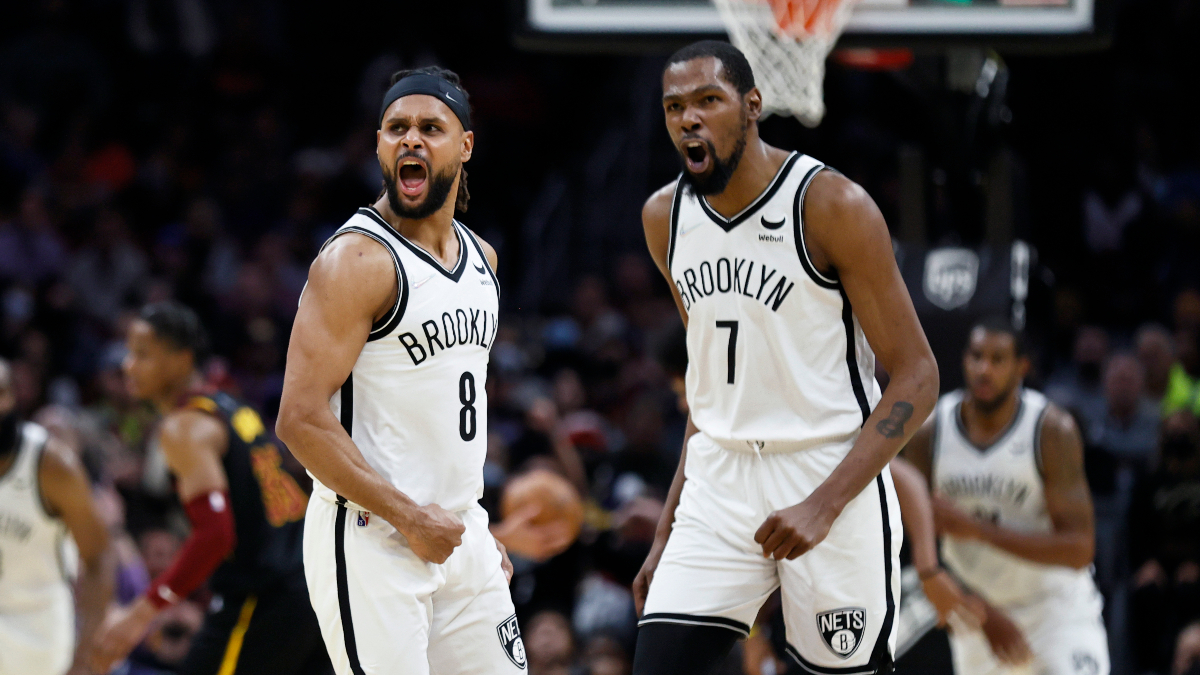 How do you defend a Brooklyn lineup featuring Simmons and four shooters? Simmons can run point and attack the rim with all that spacing, or he can function as the roll man and get downhill as Kyrie or KD attack. Blitz either of those two and Simmons turns into a devastating 4-on-3 short roll passer a la Green, and we know Simmons is terrific hitting teammates for open 3s.
This is now an extremely versatile Nets roster, and a surprisingly deep one once they get fully healthy. If Patty Mills returns to the bench, he might be the best sixth man in the league (100-to-1 at PointsBet, if you want to get crazy), and both Griffin and Aldridge can be effective in the right matchups.
This is a buy-low spot for the Nets.
All season long, I've had a difficult time totally buying into this team but considered them among the favorites anyway. The pre-deadline roster never really made sense together, but there was just too much top-end talent to ignore. Now, with Harden gone, it's undeniable that there's top-end less talent. But I wonder if this might actually turn out to be a better team, once the Nets find themselves.
It won't be easy. Simmons hasn't played in a long time, and we don't know where he's at physically or mentally. Irving can only play road games. Durant is still out another few weeks, and there's no timetable yet on Joe Harris. Those are the four most expensive players on this team. The locker room will be … volatile? We have no idea yet how this team will fit, on or off the court.
But the Nets won this blockbuster trade, both now and in the future.
Unlike Philadelphia, Brooklyn's title odds dipped today. They may dip even further these next few weeks with KD and Harris still out and Simmons working his way back into shape.
Brooklyn could end up in the play-in, and that could mean an elimination game against a team like the Boston Celtics or Toronto Raptors, then three playoff series against the Bucks, Heat, and Bulls just to get out of the East. This is the tougher conference now. The path won't be easy.
Still, I'm looking for a spot to buy low on Brooklyn's title odds. The Nets dipped as low as +450 at some books Thursday, and they could fall back there over the next couple weeks. This team finally makes a little sense to me, and I finally want some Brooklyn action.
Mavericks Finally Gave Up on Kristaps Porzingis
The Nets-Sixers trade was the headliner, but the Porzingis deal was the day's biggest shocker.
It sure felt like the Mavericks were headed in the right direction. Dallas is 16-5 since New Year's Eve, a 62-win pace. Porzingis was playing some of the best ball of his career until this recent injury stretch, enough so that he was a fringe All-Star candidate and finally looked like the second star Dallas envisioned when it traded for KP to pair him with Luka Doncic.
And just like that, Porzingis is gone.
And for what? Spencer Dinwiddie was done in Washington. He's had a miserable season with the Wizards, can't shoot the 3, and plays effectively the same position as Dallas's best two remaining players.
Davis Bertans is basically just a shooter since he doesn't defend, rebound, or create, and he's shooting below 32% behind the arc this season. Dinwiddie and Bertans are negative assets right now, and they're all Dallas got back. Heck, the Mavs had to add a draft pick to get Washington to accept.
It's hard to figure out what the Mavericks are doing here other than punting entirely and finally getting off Porzingis the first chance they got. Dallas now has three handlers, a trio of guys who mostly just shoot in Bertans, Reggie Bullock, and Tim Hardaway Jr., one 3-and-D guy they just overpaid in Dorian Finney-Smith, and a super underwhelming set of big men featuring Dwight Powell and Maxi Kleber. That's it — that's the entire team.
Worse, Dallas barely even saved any money here, and they doled out $52 million to DFS and will have to pay more than that to keep Brunson this summer. Porzingis's contract was bad, but Dinwiddie and Bertans are owed more money combined. Porzingis was unquestionably the second best player on this team, and Mavericks had their best Defensive Rating when he was on the floor, no small feat for a team winning because of its No. 5 rated defense.
I don't get it.
I'm out on the Mavericks. It's too late for a Doncic MVP run, and I'm just not sure there's enough help around him on this roster. I wouldn't be surprised at all to see Dallas fall into the play-in race, so that could open a top-six spot for Minnesota or one of the L.A. teams. It could also leave the Mavs vulnerable to missing the playoffs entirely if Doncic gets hurt or just has a bad play-in game. I'll look to bet that once the market reopens.
With Utah also faltering and failing to add anyone of significance at the deadline, this could also open the door for the Denver Nuggets. Denver might be adding the best piece of them all in Jamal Murray, effectively a midseason acquisition getting ready to come back soon.
The Nuggets could push themselves past Dallas into the 4-5 matchup, and they're an intriguing division bet at +800 behind Utah, while Nikola Jokic could make an MVP push if Denver wins enough games too.
The Celtics Could Be an East Sleeper
I love what Boston did at the deadline. The Celtics acted like a team that knew its strengths and weaknesses and acted accordingly.
Dennis Schroder and Josh Richardson were the big offseason additions, but neither of them ever fit into this roster. Both are gone now. Richardson heads to San Antonio with Romeo Langford and this year's first-round pick as the Celtics acquire guard Derrick White, and Schroder was shipped to Houston for Daniel Theis.
Theis is a familiar player, and he gives the Celtics four reliable big men with Al Horford, Robert Williams, and Grant Williams already in tow. Boston is starting two bigs, and that's a good matchup fit against Philadelphia and Miami, two likely playoff opponents. The Celtics have really found their defensive identity, leading the NBA in defense over the past month and ranking third in Defensive Rating now on the season.
That defense will only get better with White replacing Schroder's minutes. Schroder was a bad fit defensively and a bit of a ball stopper on offense. White is far less sticky with the ball and comfortable on or off the ball, so he'll be a better connecting piece on this offense. And he's a far better defender, meaning the league's hottest defense just traded in its one weak link for a plus defender in his prime on a nice contract.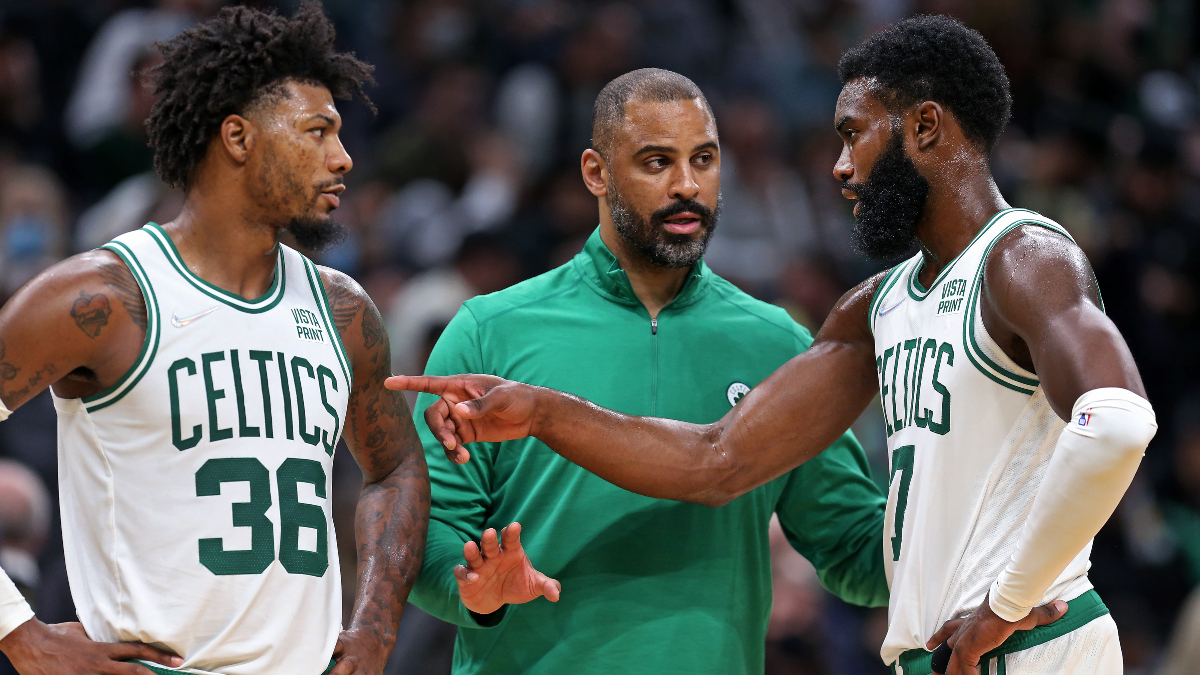 Boston has a nasty defense now, and the Celtics have won 12 of their last 16. This is a team that's finally starting to find itself under Ime Udoka and one that could be a formidable playoff opponent, the sort that could knock out Chicago or Cleveland as a lower seed or maybe take down one of the favorites with a few lucky bounces. They remind me a bit of Miami a couple seasons ago, who made a Finals run when the path opened up.
Boston did made smart business moves. The Celtics dumped Bol Bol and P.J. Dozier for little cost, ducking below the tax line. They also added a very tradable contract in White, owed $16.4 million next season.
Between White, Smart, Timelord, and Theis, the Celtics have a handful of mid-sized contracts, the exact sort of contracts you need to package together for a third star in the offseason. They also have Al Horford, who can match $26.5 million in salary but be bought out for about half of that. White is yet another option to cobble two or three of these guys together for the right star trade down the line.
For now, I'll be looking to bet Boston to make the playoffs, a number that should still have value since the play-in is still a threat. I'll also keep riding the Celtics night to night since defense travels, and this will be a team to keep an eye on as an underdog once the postseason starts.
Kings and Pelicans Went All-In for No. 10
The West playoff race feels more open that it has in years thanks to superstar injuries and the expanded play-in field, and that play-in race has caused two fringe teams to push their chips in for a misguided run at the 10-seed and a chance to get blown out by one of the L.A. teams in the play-in games.
The Kings were rumored for weeks to be looking to trade De'Aaron Fox and veteran Harrison Barnes. Instead, Sacramento kept both Fox and Barnes and traded away its best young asset, Tyrese Haliburton, who was in the midst of a breakout sophomore campaign. In his place, the Kings added Domantas Sabonis, Justin Holiday, and Jeremy Lamb. They also punted on another young asset in Marvin Bagley in a trade for Donte DiVincenzo.
Sabonis is very good and certainly raises the floor of this team, but to what end? The Kings still don't play any defense, and it's extremely hard to see this team winning two play-in games to get to the playoffs, if they make the play-in at all.
The Kings also failed to extract any value for Barnes or Richaun Holmes, and they'll hurt their own draft pick with this playoff push. The good news is that Fox (24) and Sabonis (25) are the best young pair this franchise has seen in quite some time, but this team is 21-36 and far from relevance.
It looks like the Pelicans are Sacramento's top competition for the 10-seed, as New Orleans was the other team that pushed its chips into the center by trading for CJ McCollum. The Pels gave up Josh Hart, Nickeil Alexander-Walker, three draft picks, and a couple other players, all for a guy who's overpaid, on the wrong side of 30, and never been the focal point of an offense.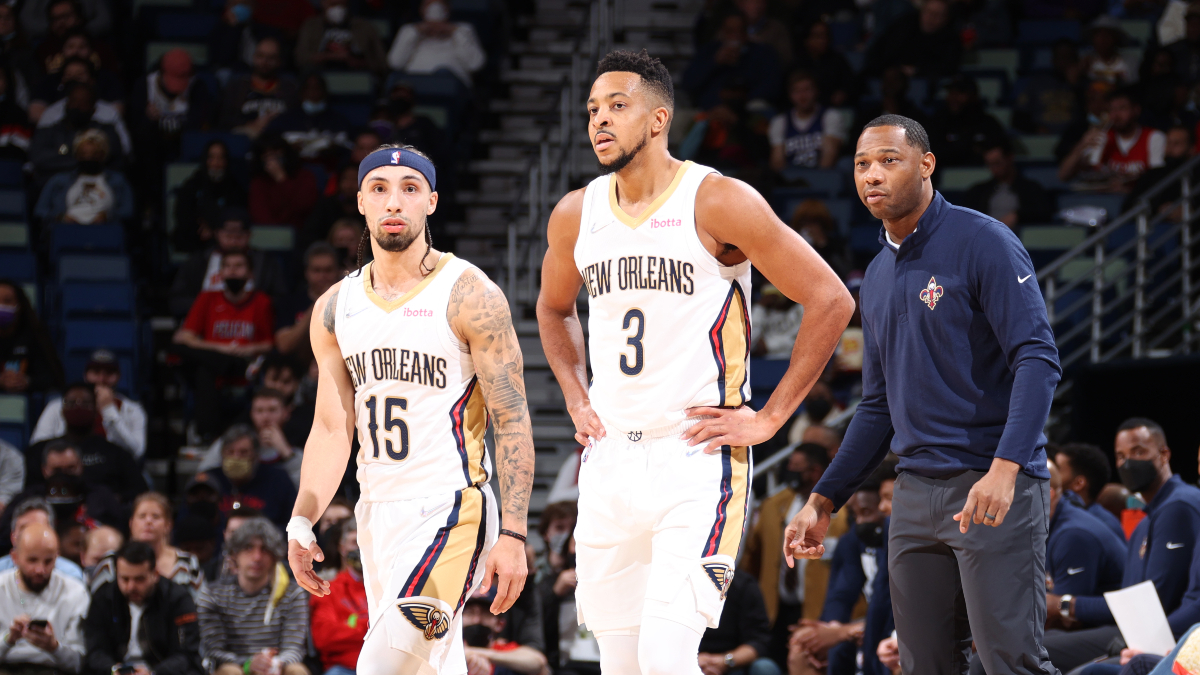 The Pelicans swallow a ton of salary in this deal and take on heavy money the next couple years too. They add another score-first-defend-later guy next to Brandon Ingram and Devonte' Graham, who play with the same mentality.
The Kings and Pelicans can fight all they want for the 10-seed, but neither of these teams is making the real playoffs. That would imply two play-in wins against teams like the Lakers, Clippers, Nuggets, Mavs, or Wolves, and that just ain't happening. I'll be looking to play both Sacramento and New Orleans to miss the playoffs, even after their splashy moves.
The Kings and Pelicans went the other direction, opting instead for an ill-fated chase at a 10-seed and a potential 25-point blowout loss in the play-in. Hope their fans enjoy their one forthcoming postseason game combined.
Did the Suns Win the Trade Deadline?
Phoenix didn't do anything splashy Thursday, but they didn't need to either. They rolled through the defending champs in a Finals rematch on Thursday night, barely breaking a sweat. They also quietly added a pair of nice rotation players Thursday in Torrey Craig and Aaron Holiday. Those two will fill a role on this team, adding depth and keeping the stars fresh.
Phoenix has been the best team in the NBA for much of the season, and the Suns are deadline winners simply by virtue of no other top contenders making a newsworthy move.
The Lakers stood pat. The Warriors stayed put. The Bucks added Serge Ibaka at the cost of Donte DiVincenzo, then lost DiVincenzo's replacement, Pat Connaughton, with a broken finger. The title favorite Nets gave talent away and saw their title odds drop.
And there the Suns sit, churning out yet another win with a masterpiece performance by the maestro, Chris Paul. The Suns continue to roll, and they're still not title or even Western favorites (tied with the Warriors to win the West and the championship). They might be soon, though, now that we know there's no blockbuster waiting to reshape the title race landscape.
If you haven't gotten your Suns futures bets in yet (currently +450 at BetMGM), your window may be closing quickly.
How would you rate this article?
This site contains commercial content. We may be compensated for the links provided on this page. The content on this page is for informational purposes only. Action Network makes no representation or warranty as to the accuracy of the information given or the outcome of any game or event.