Bulls vs. Wizards Odds & Picks: Chicago's Deeper Bench Could Be The Difference
Credit:
Jonathan Daniel/Getty Images. Pictured: Tomas Satoransky (left) and Billy Donovan.
Two winless NBA teams meet Tuesday night in the nation's capital when the Washington Wizards host the Chicago Bulls.
Russell Westbrook will be back in the Wizards lineup, but his return doesn't make this an automatic bet on Washington.
Austin Wang explains why and shares his pick for this game below.
Bulls vs. Wizards Odds
On Tuesday evening, these two struggling Eastern Conference teams will face off in Game 1 of a two-game home-and-home series in Washington D.C.
Both teams are playing their third game in four nights with both teams are coming off back-to-back games this past weekend. Also, both teams remain winless after each blowing leads going into the fourth quarter in their previous game.
Which disappointing team will prevail in getting their first win? I find an edge with the underdog below.
Chicago Bulls
The Bulls are coming off a disappointing season, finishing 22-43 while battling injuries to key players like Lauri Markkanen, Wendell Carter and Otto Porter Jr.
To help change the culture and improve the poor morale, the Bulls replaced Jim Boylen and hired Billy Donovan, known to be a "player's coach" with a knack for developing young talent and has demonstrated that he can win at both the collegiate and pro level.
The Bulls have picked up where they left off last season, struggling out the gate and going 0-3. Per NBA.com Stats, they are ranked poorly across the board in all categories: Offensive Rating (102.4), 24 in Defensive Rating (115.6), 24th in EFG (.509), 30th in Assist-to-Turnover Ratio (1.15), 29th in Turnover % (18.5%).
They looked primed to pick up their first victory of the season against the Golden State Warriors on Sunday, but they blew an 9-point lead with less than four minutes left in the game.
Despite the loss, there were still some bright spots.
The Bulls shot 51% from the field and Markkanen continued his strong play this season, averaging 20.0 PPG, .528 FG% and, knocking down 3.3 3-pointers per game. Wendell Carter Jr. also had a nice game, going 8-for-9 from the field for 22 points and 13 rebounds.
Even though it was against the poor Warriors defense, the Wizards are not a great defensive team either, ranked 21st in Defensive Rating (113.8) and 20th in Opponent's Turnover % (13.2%).
While Washington has the edge with the two best players on the court (Bradley Beal and Russell Westbrook), the Bulls are more well-rounded and have more depth on the bench with Porter Jr., Thaddeus Young, Garrett Temple and Tomas Satoransky. Rookie Patrick Williams has shown some promise, especially on the defensive end with his length and versatility.
Teams playing on the road off three consecutive home losses have gone 31-17 ATS (64.6%) since 2017, per the Sports Data Query Database. This is active on the Bulls. The market tends to undervalue a road team that has struggled at home.
On the injury front, Markkanen has a calf injury and is questionable to play on Tuesday. As mentioned, he has started the season off strong and is poised for a bounce-back season.
Washington Wizards
The Wizards made a major change at point guard, parting ways with John Wall after 10 seasons and brought in the electric and polarizing Westbrook.
Westbrook brings leadership, insane athleticism and tempo to a team that was already one of the most fast-paced teams in league. I believe he could pair well with Beal, who can play off the ball and does not demand as high of a usage rate as James Harden.
Beal should be a huge beneficiary of open looks from Westbrook penetrating and drawing double-teams. Beal has started off hot, averaging 33.0 PPG and shooting 46.7% from the field.
Westbrook's leadership and his work ethic should serve as a good role model for the team of young talent. Thomas Bryant, Davis Bertans and Isaac Bonga have all shown they can be solid role players.
The player with the most upside is Rui Hachimura, who had a nice breakout rookie season.  Unfortunately, he has not played in any games due to conjunctivitis in his eyes and is expected to miss two more weeks. Once he returns, he should thrive alongside Westbrook and Beal.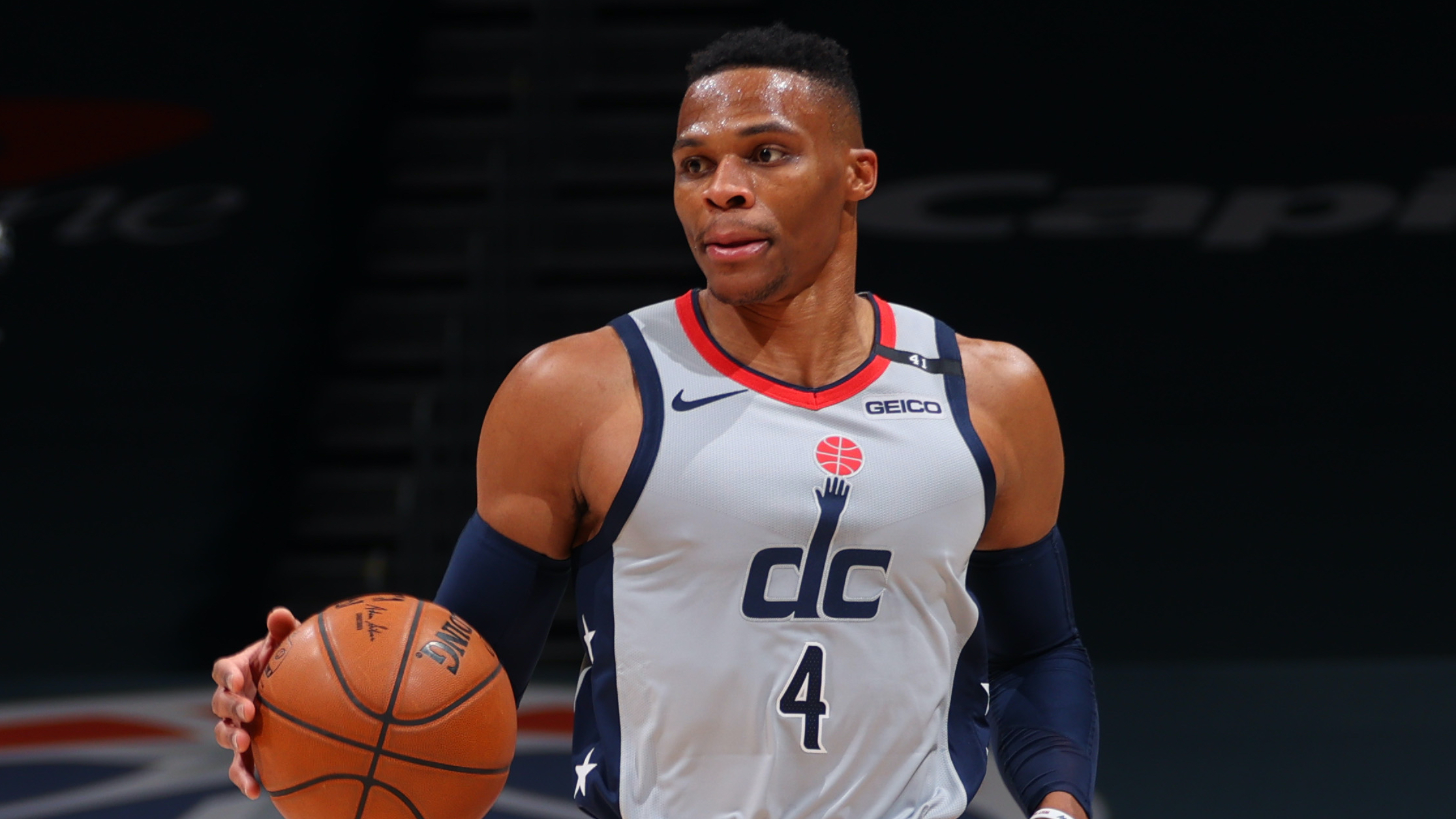 The Westbrook acquisition did not occur until midway through training camp, which did not give the team enough time to build rapport and chemistry.  Adjusting to life with a high-usage player such as Westbrook takes some time and, as a result, the Wizards have gotten off to a slow start. Per Basketball Reference, Russell Westbrook has the highest career usage rate (32.69%) out of all active NBA players.
Washington had a chance to win its first game on Sunday against the Orlando Magic, but ended up squandering a 17-point lead in the fourth quarter. In fact, they have had some major fourth-quarter struggles in their first three games, getting outscored, 121-72. They have completely disappeared down the stretch.
Westbrook sat out last game on the second night of a back-to-back. In Westbrook's career, in games where he returns to the court after he did not play the previous game, his teams have gone 11-20 ATS (35.5%), per SDQL.
I believe the teams struggle after having to adjust to playing without a ball-dominant player such as Westbrook. My theory is that players struggle having to defer back to his high usage rate.
In a matchup of winless teams, home teams that lost their previous game when leading after the third quarter have lost seven straight ATS since 2018. This is active on the Wizards as the market tends to overvalue the home team, but the demoralizing loss mounts pressure on them and they tend to underperform.
Bulls-Wizards Pick
The Bulls are 11-4 ATS vs. the Wizards over the past four season per our Bet Labs Database.
It is hard to trust either team at the moment, but I believe the line is shaded a couple of points too high in favor of the Wizards. While some may think getting Westbrook back in the lineup should be an automatic bet on the Wizards, I think it may be tough for his teammates to re-adjust to his return.
Hachimura's absence will continue to hurt them in the frontcourt and I think they may struggle after a demoralizing loss.
The Bulls, on the other hand, have continuity in their lineup and their improvement on offense vs. the Warriors was promising to see, and I can see that success continue against a below-average Washington defense.
Their deeper bench will prove to be beneficial in a matchup of two fatigued teams.
Should Markkanen suit up, I make the fair price on this game Wizards -3.5, and therefore I like the Bulls at +5.5 and would play this down to +4.5.
Pick: Chicago Bulls +5.5
How would you rate this article?