Celtics vs Heat Odds, Picks, Predictions: Anderson's Game 4 Bets
Credit:
Photo by Megan Briggs/Getty Images. Pictured: Jimmy Butler (Heat) & Jayson Tatum (Celtics)
Brandon Anderson has seven bets to take in the Celtics-Heat series as we get set for Game 4.
Anderson is expecting a blowout in Game 4, but he doesn't know which side.
Read below for more bets on Celtics vs. Heat Game 4 below.
Celtics vs. Heat Odds
The 8-seed Miami Heat are up 3-0 on the mighty Boston Celtics with a chance to close out the series at home.
How did we get here?
The Heat won a pair of close games in Boston before blowing the doors off the Celtics in Miami.
In Game 3, the Heat made over 50% of their 3s for the second time in this series. They forced 15 turnovers too, and Boston was down 30 before pulling its starters for the whole fourth quarter.
Suddenly, Boston is down to its last dying breath — and Miami is a favorite for the first time all series.
It looked ugly in Game 3, and you're forgiven if you felt like you saw the Celtics quit on each other — and on their coach — right before your eyes.
So, do the Celtics have any fight left in them in Game 4?
Let's start there and decide how to bet this.
---
Shot Variance Has Played Huge Role — and Could Mean Game 4 Blowout
Shot variance is a big part of any modern NBA game, but this was always going to be a heavy shot-variance series.
Boston takes the second-most 3s in the NBA. Miami isn't far behind offensively and has a defense that allows the third most.
Still, it's hard to argue with the fact that shot variance has drastically swung this series.
The Heat made 19 3s in Game 3 — one short of their franchise playoff record — and their 55% more than doubled Boston's 26%.
Miami had a similar margin in Game 1, making 52% of its 31 3s, while the Celtics were again below 35%.
Boston is 0-5 this postseason when it shoots below 35% on 3s, and that includes all three games in this series.
The Celtics are 35-2 when they hit at least 40%.
Both of these teams are incredibly streaky shooting squads.
If shots are missed, it's hard to lock in on defense, especially for Boston.
If they're hitting everything, it can feel like an avalanche.
I think we might get a blowout in Game 4, but I have no idea which direction. It all depends on which team is hot from the field.
Boston has three games this postseason with at least a 24-point margin, and Miami has three at 19+.
I'll play both sides of a 24-point win: Boston +2200 and Miami +1800, both at FanDuel. Playing those together gives us implied odds of +942.
Maybe Miami's shots all fall again and Boston lets go of the rope quickly — like they did in Game 3.
Or perhaps things reverse and Boston finally hits its own landslide, burying Miami and pushing the Heat to conserve energy to try again in Game 5.
I know better than to try to predict the shot variance. I'm betting on it being just one of the two sides.
Bets: Boston -23.5 +2200 (FanDuel) | Miami -23.5 +1800 (FanDuel)
---
Stick With What's Working on Props
Since I'm expecting an unpredictable Game 4, I'll play it mostly safe on props and stick to what's been working.
That means starting with Jaylen Brown's turnovers. He's had at least two turnovers in all but two playoff games, and he's gone over 2.5 in 11-of-16, a 69% hit rate with 3.3 turnovers a game.
He just can't take care of the ball against this handsy Miami defense.
We're paying steep juice at -145 on Brown, but don't let that throw you off. That implies 59% on Brown going over, and we're well above that.
Sometimes the juice is worth the squeeze.
I'm banking on that being the case for Caleb Martin's 3s again, too.
The undrafted Martin has been a revelation for Miami this series, as he's second on the team in scoring at 19.3 points per game.
I'm not positive that his scoring will keep up — since he's at 14-of-17 on 2s and Boston is starting to give him some respect.
However, the 3-point volume continues to be there.
Martin has hoisted seven 3-point attempts in each of the three games. He's not going to keep shooting 48% from deep forever, but we only need 29% if the attempts remain.
Martin might play more than ever if Kevin Love's injury limits him.
Again, the juice has swung to -142 here — implied 59% — but again, that shouldn't throw us off. Keep riding the wave.
Bets: Jaylen Brown Over 2.5 Turnovers -145 (DraftKings) | Caleb Martin Over 1.5 3s -142 (Caesars)
---
Look for Marcus Smart to Stay Aggressive
In Game 3 — with the Celtics playing from behind — we bet on an aggressive Marcus Smart.
Smart still didn't take many shots — scoring only nine points — but his nine rebounds and eight assists helped us hit his PRA over and alternate over.
The Celtics are obviously still trailing in the series, so let's stick with what's working — mostly.
You've probably noticed Boston doesn't always know where to turn when things get sticky.
Jayson Tatum and Brown take turns getting shots up, and Al Horford has been invisible in this series.
Smart's energy is the one constant. He always plays hard at all times and brings his confidence to the biggest games, for better and for worse.
We noted in our Game 3 card that Smart's numbers all go up when Boston is trailing.
His scoring is down in that spot in this series and has mostly evened out that advantage, but check out the rebounding and assists:
5.9 RPG when trailing in a series, 4.1 RPG in all other games
7.0 RPG when trailing in a series, 5.5 APG in all other games
Smart is aggressive, pushes in transition and attacks the paint. His RA is up from 9.6 to 12.9 when Boston trails, and he's the one guy I trust to play hard all the way no matter what.
I'll nibble the 12.5 RA escalator at +280, too (FanDuel).
Bets: Marcus Smart Over 9.5 Rebounds + Assists -121 (FanDuel) | Smart Over 12.5 RA +280 (FanDuel)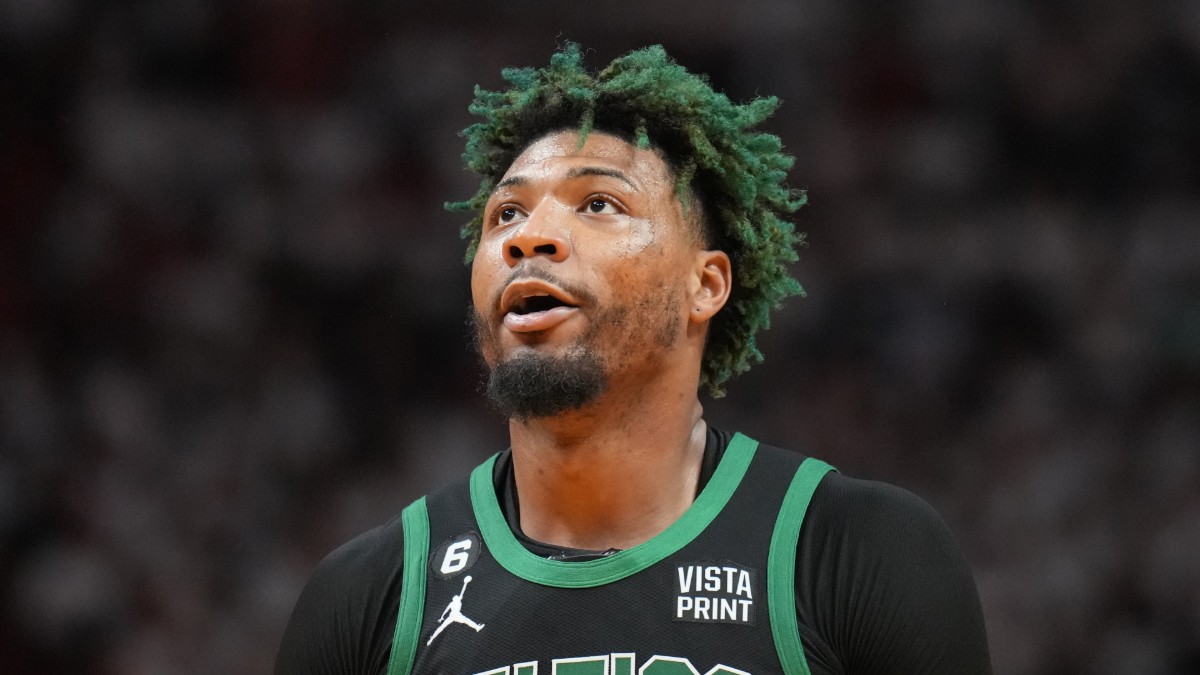 ---
Can the Celtics Still Win This Series — and Should We Bet It?
The Celtics can absolutely still win this series.
Oftentimes in sports, it's darkest just before the dawn.
Things could hardly look bleaker for Boston right now, but zoom out and the big picture doesn't look as bad.
NBA teams down 0-3 in a series are 0-149 all time, but precious few of those teams have the winning pedigree Boston has.
The Celtics had the No. 1 Net Rating on the season, home court in a potential Game 7 and many on-paper advantages over the Heat.
But if Boston is to win — even once — the Celtics will almost certainly need to see a major swing in shot variance.
That shot variance has swung wildly in Miami's direction so far, but the ball bounces funny sometimes.
You're forgiven if you don't think the Celtics believe much right now, but belief can come in a hurry when 50% of your 3s start raining in.
We already saw that in Game 6 in Philadelphia, and we've seen these Celtics go on torrid stretches.
I wrote at length about Boston's title chances going forward. The Celtics are not dead yet.
Their profile and shot variance says they have a real shot. I don't like them at +800 to win the East, but I'll sprinkle on Jayson Tatum for ECF MVP at +1200 as a proxy.
If you've been tailing, you've got a lot of juicy Miami futures — Heat -1.5 series at +680, Denver over Miami at +1600 to name a few — so if nothing else, this acts as a fun little hedge.
Bet: Jayson Tatum ECF MVP +1200 (BetRivers)
---
Anderson's Game 4 Betting Card
Celtics -23.5 +2200 | Heat -23.5 +1800 (0.25 units each)
Jaylen Brown Over 2.5 Turnovers -145
Caleb Martin Over 1.5 3s -142
Marcus Smart Over 9.5 Rebounds + Assists -121 | Over 12.5 RA +280 (0.25 units)
Jayson Tatum ECF MVP +1200 (0.25 units)
How would you rate this article?
This site contains commercial content. We may be compensated for the links provided on this page. The content on this page is for informational purposes only. Action Network makes no representation or warranty as to the accuracy of the information given or the outcome of any game or event.