NBA Player Prop Bets: 3 Picks, Including John Collins & Ivica Zubac (Friday, June 18)
Credit:
Todd Kirkland/Getty Images. Pictured: John Collins #20 of the Atlanta Hawks.
Two NBA Playoffs series have reached potentially season-ending Game 6 matchups on Friday night.
The Hawks seek to close out the 76ers while the Clippers hope to dispatch the Jazz in the nightcap.
Brandon Anderson utilizes the Action Labs Props Tool to identify the top 3 player props to bet across both games, and he details each of those three recommendations below.
We've got two elimination games on tap tonight as both No. 1-seeds stare into the abyss. The Philadelphia 76ers and Utah Jazz hit the road tonight in what may be our last day of the season with multiple games unless both of them win and force Game 7s on Sunday.
Elimination games are all about trust. Who does the coach trust out there in the biggest game of the season? It's easy to focus on the stars, but in games like this, we can make our props picks based on the guys we trust to be out there when the rotations tighten up with everything on the line.
Who has earned their spot in the rotation, and who is fading quickly?
---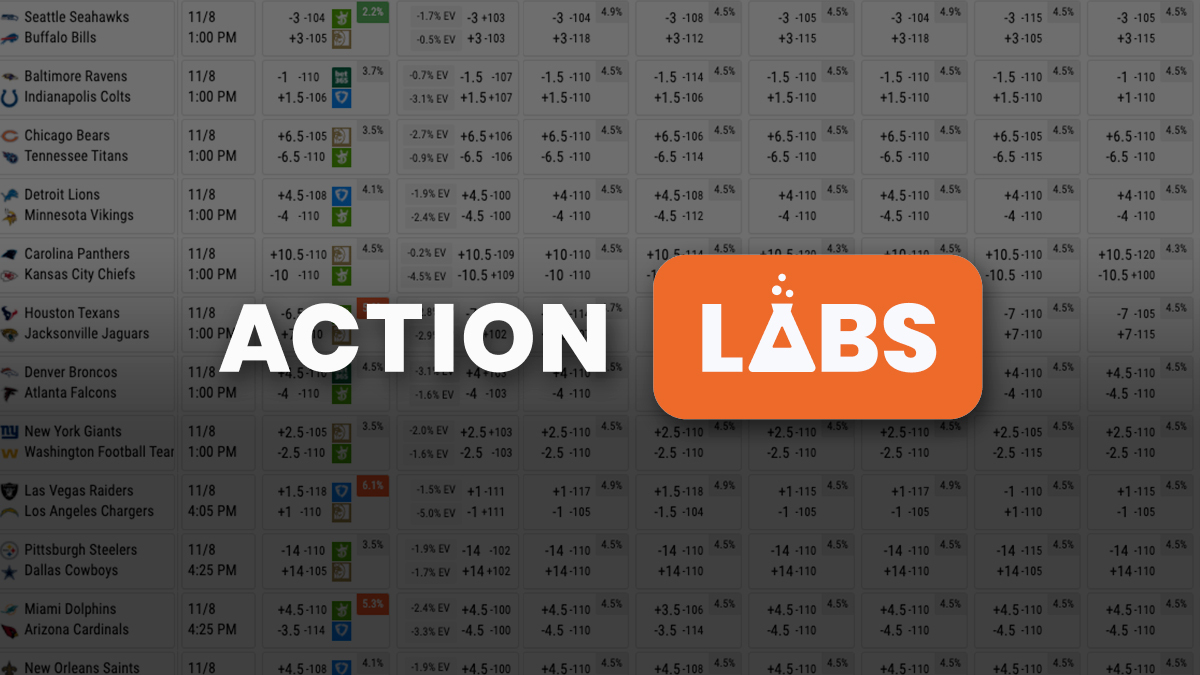 ---
For those who are new to this article, we'll be using the Action Labs Player Prop tool to compare our NBA projections to the props posted at a variety of sportsbooks. Each bet is then graded on a scale from 1-10, with 10 being the best possible grade.
Below, I have laid out three prop bets that I'm playing, the case for each bet and the best books to find odds on those player props.
---
NBA Player Props & Picks
Furkan Korkmaz, over 1.5 threes (-143)

| | |
| --- | --- |
| 76ers vs. Hawks (Game 6) | 76ers -3 |
| Time | TV | 7:30 p.m. ET | ESPN |
| Best Book | DraftKings |
Meet Furkan Korkmaz.
Korkmaz has been playing professionally in his homeland of Turkey, where he was a star, since he was 15 years old. He won the Turkish Cup twice, was an All-Star three straight years, and even won the dunk contest there before joining the 76ers in 2017 and fighting for his spot on an NBA roster.
Now, with Danny Green out and the Sixers fighting for their NBA lives, Philadelphia has turned to Korkmaz as its starting shooting guard — in part because it has no other options.
Green is hurt. Matisse Thybulle can't score. Rookie Tyrese Maxey has played only 19 minutes the last four games and can't stay on the court. George Hill's minutes have dropped in three straight games; he played under 12 in Game 5 and looks washed.
Shake Milton might be the best alternative as a decent shooter, but he's been a non-factor all series outside of five minutes in Game 2.
With nowhere else to turn, Korkmaz was inserted into the starting lineup in Game 4, and he's averaged 27 minutes over the last three games once Green got hurt. When Korkmaz is out there, he knows exactly what his job is: To space out the offense and shoot the open 3 when he gets a pass.
Korkmaz has played at least 25 minutes in 12 games this season, including each of these last three playoffs games. In those 12 games with quality minutes, Korkmaz is averaging 7.2 3-point attempts per game — with at least five shots up in all but one of them — and he's averaged 2.8 makes. In fact, he has multiple 3s in 10 of those 12 games, hitting this over 83% of the time when he gets minutes like he's playing now.
It's tricky playing a role player in an elimination game, because you never know when the rotation will tighten and who the coach will trust out there. But with Danny Green out, Philly really only has four answers to that question — Joel Embiid, Tobias Harris, Ben Simmons, and Seth Curry. One of those answers is playing hurt while another keeps getting benched because he's afraid to take free throws.
Philadelphia has put its confidence in Furkan Korkmaz, and we should too. Even if Philly gets behind and desperate, that may be all the more reason to play Korkmaz and fire away from deep.
I don't think this line has been adjusted for Korkmaz's increased minutes. We project him at 2.9 makes, basically double the posted line, and that gives us a 20% edge in our favor. I'll play up to -175.
---
John Collins, over 7.5 rebounds (-134)

| | |
| --- | --- |
| 76ers vs. Hawks (Game 6) | 76ers -3 |
| Time | TV | 7:30 p.m. ET | ESPN |
| Best Book | PointsBet |
The Atlanta Hawks were never supposed to be on the brink of the Eastern Conference Finals — not already in 2021. The Hawks weren't even certain to make the playoffs this season, and just getting there should have been a win for a young team still finding itself. The Hawks have only made the Conference Finals once since 1970; they've only even been one win away from getting there two other times.
This is a breakthrough season for Atlanta, and it's not just because of Trae Young. Young has been awesome, but the other young Hawks have really stepped up too. Bogdan Bogdanovic has looked like a star. Clint Capela has stepped up as a top defender. And John "the Baptist" Collins has been a versatile scoring and rebounding machine.
Part of the reason the Hawks weren't supposed to still be playing right now is because their defense wasn't to be trusted. Collins hasn't been a good defender in the past, Bogdanovic and Danilo Gallinari are weak links, and Young is still one of the league's worst defenders. But against the Sixers, like the Knicks, Atlanta is playing an opponent that doesn't have the options to really pick on and target a weak defender repeatedly.
That means Atlanta can keep its offensively-skewed players on the court for bigger minutes, and that's been happening with Collins. He's averaged over 35 minutes these last four games, accumulating 16.0 points and 10.0 rebounds per game as a key contributor.
Collins has always been a terrific rebounder, and if you look closely at the numbers and watch the film, you'll see that's where Collins is really making his mark: On the offensive glass.
The Hawks have realized that Philadelphia is playing slow. The 76ers are ill-equipped to push well on the fast break, especially with Simmons afraid to have the ball and get fouled much of the game. That gives Atlanta license to crash the glass and without fear of being punished on the break.
And look what that's meant for Collins: Four, three, five, and two offensive rebounds these last four games — an average of 3.5 offensive rebounds per game. Those are extra possessions for the Hawks, and they're among the most valuable possessions, too. Every time Collins snares an offensive board, Atlanta's most athletic finisher begins a "new" possession with the ball a couple feet from the hoop.
Atlanta ranked seventh in the NBA in offensive rebounding per game this season, and the Hawks have unleashed Collins to attack the glass on that end. He's had 10, 7, 12, and 11 rebounds these last four games, and I think he has a good chance to get to double digits again.
You can play this number at 7.5 or 8.5, depending on the book. The 8.5 comes with plus juice if you want to be more aggressive, but I'll play it a little safer and look for the more certain win. I'll play over 7.5 to -150 or pivot to over 8.5 at any plus number.
---
Ivica Zubac, under 9.5 points + rebounds (-130)

| | |
| --- | --- |
| Jazz vs. Clippers (Game 6) | Jazz -2 |
| Time | TV | 10 p.m. ET | ESPN |
| Best Book | BetMGM |
So, we trust Korkmaz to stay out there for Philly because of his shooting, and we trust Collins to play for Atlanta because the 76ers haven't been able to punish him. But in the nightcap, we're going the other way and fading a player I don't think has much of a role anymore in this series: Ivica Zubac.
Let's talk about Zubac's usage so far. He started out with 41 minutes the first two games of the series but got picked on repeatedly as the opponent's superstar attacked the rim mercilessly and Zubac's drop coverage wasn't good enough.
By Game 3, the Clippers had adjusted and dropped Zu's minutes down. He played only 28 the next two games combined, and by the end of the series Zubac was down to single-digit minutes, effectively reduced from a starter to a spare part.
Does that sound familiar? That's because we aren't even talking about Zubac this series against the Jazz. That was the Zubac story during the last series against Dallas.
The Clippers fell behind 0-2 early, realized they had no defensive answer with their usual drop coverage against Luka Doncic, and slowly switched to an all-wing switch-y defense that exiled Zubac from the rotation as they made their comeback.
Then, after learning all those lessons, the Clippers went out and started the whole process again this round against Utah.
Zubac played 20 minutes in Game 1 and even started again in Game 2, and Donovan Mitchell lit up the Clippers for 82 points those first two games. That included six 3s each game as Spida hits every shot, but it also included 19 made 2s by Mitchell as he attacked the rim over and over against LA.
And so, again, the Clippers were down 0-2 with no defensive answer … other than the answer they'd already found a week earlier against the Mavs. And so Zubac saw his role reduced yet again. He lost his starting spot in Game 3 as the Clips gave more minutes to Nicolas Batum, Reggie Jackson, Marcus Morris, and anyone else who could shoot and switch.
Zubac played only 31 minutes in Games 3 and 4, then dropped all the way to 8.3 minutes in Game 5. It's right where he ended up in the final two games last series, at 5.2 and 2.6 minutes each: On the bench watching.
Zubac is a fine rebounder, and he can score some easy looks in the paint, but life isn't easy against Rudy Gobert anyway, and I just don't think Zubac plays much tonight. The Clippers have found their answer against the Jazz, and it does not include Zubac.
We're projecting Zubac at 8.9 minutes, so unless you think he averages a point or rebound per minute on the court, this looks like a strong under play. This is one of those unders that has the chance of coasting to victory with your guy watching on the sidelines. I'll play the under to -150, grateful for the opportunity.
How would you rate this article?
This site contains commercial content. We may be compensated for the links provided on this page. The content on this page is for informational purposes only. Action Network makes no representation or warranty as to the accuracy of the information given or the outcome of any game or event.