NBA Player Props Betting Forecast: Impact of Returning Stars LeBron James, Kevin Durant
Credit:
Adam Pantozzi/NBAE via Getty Images. Pictured: LeBron James #6 of the Los Angeles Lakers.
As the NBA regular season winds down, we are beginning to prepare for the postseason. Teams are fine-tuning their rotations and major stars are returning from injury. Let's focus on two Western Conference teams that are returning some of the best players the league has to offer.
Let's break down returns and how we can to pivot within the betting market for this week's NBA player props forecast.
---
NBA Player Props Betting Forecast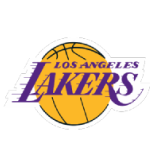 The King Is Back
Schedule: Wed. vs. Bulls | Fri. vs. Timberwolves | Sun. at Rockets
LeBron James returned after missing time with a foot injury. He avoided foot surgery by going to the "LeBron James of feet" and the Lakers are certainly happy to have him back in the lineup. He had not played since Feb. 26 and returned on Sunday against the Bulls and logged 30 minutes off the bench with 19 points, eight rebounds, and three assists.
James' return is critical for a Lakers team that, as of the time of this writing, sits in the ninth seed in a West Conference that is closely intertwined with just four losses separating the four-seed Suns from the 12-seed Jazz. This team now will have just seven more games to finalize their rotations and improve their postseason positioning as the season winds down.
On the season, LeBron has averaged 35.9 minutes with 29.3 points, 8.4 rebounds, and 6.9 assists per game. His usage is massive at 34.1% and the team will need to acclimate to his return. Essentially everyone else will take a usage hit, but the players who should see the biggest downturns are D'Angelo Russell, Dennis Schroder and Austin Reaves as their playmaking will not be needed as much.
It's a bit difficult to project props for the Lakers because the team was dramatically restructured at the trade deadline and then that team barely had the opportunity to play with each other; however, it is absolutely notable that Malik Beasley had his best game in weeks playing alongside James off the bench.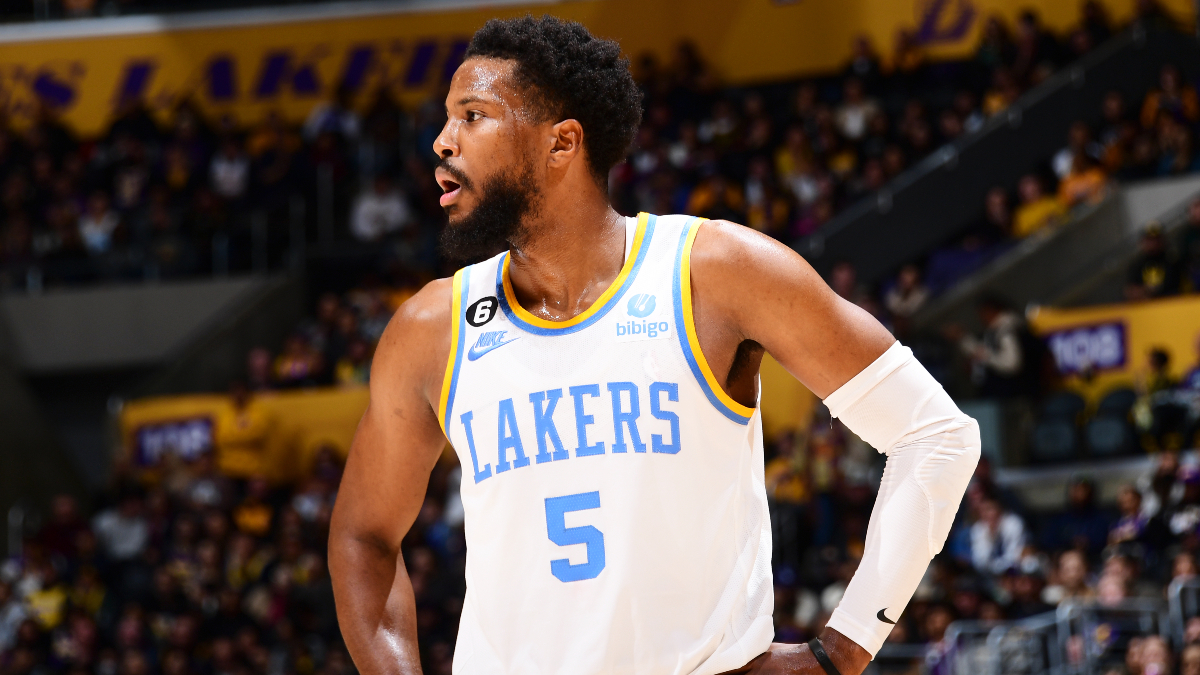 Beasley, who is an excellent catch-and-shoot threat, has struggled without James, but Sunday he took all of his field goal attempts from 3-point range and shot 6-of-14 from deep. His 3s prop was 1.5 and heavily juiced (-165); his points was 8.5 (-110). Given Beasley's shot profile, there's a clear trend with LeBron that the majority if not all of Beasley's shots will be from 3-point range.
I'd rather look for alternate lines of 2.5 and 3.5 3s than play the 1.5 with that juice or a standard juice 8.5. I'm hoping for 2.5 at roughly +150 to +175 on Wednesday in this rematch against the Bulls, but would not be surprised if this is at +200 if Russell plays.
Anthony Davis was on a tear prior to James' return and he's averaged 24.7 points and 11.2 rebounds alongside him compared to 27.5 and 14.2 without him. He ran into significant foul trouble on Sunday, but I expect Davis to shoulder a heavier load down the stretch as works himself back into form. If we see a points prop of 23.5 in the rematch against the Bulls, I'd be interested in that.
---
Check out our NBA props page for daily player props lines and projections.
---

The Sun Is Rising in the West
Schedule: Mon. at Jazz | Wed. vs. Timberwolves | Fri. vs. Nuggets | Sun. at Thunder
The Phoenix Suns are also expecting a few key players to return for them this week with Deandre Ayton listed as probable for Monday after missing the last 10 days with a hip injury.
Additionally, the Suns expect Kevin Durant (ankle) to return on Wednesday against the Timberwolves. Both of their returns will have a dramatic impact on this team that has managed to remain fourth in a crowded Western Conference with just eight games left to play.
Ayton's return will be significant for the team's interior defense and ability to switch while also guarding bigs beyond the paint. Ayton has averaged 18.3 points and 10.1 rebounds per game this season but we'll see what his minutes limit (if any) looks like.
This season, Monty Williams has used a roughly 25-minute limit when his stars have returned from injury, but I would not be shocked if Ayton is able to hit 30. Ayton's Usage should also remain low, but he likely cuts into this secondary scoring of both TJ Warren and Josh Okogie.
Devin Booker should see an uptick in his assist rate with Ayton, as he's averaged 5.6 per game alongside Ayton; however, that is a bit inflated due to games without Chris Paul. When Booker plays with CP3 and Ayton, he averaged just 4.7 assists per game.
Their game against the Jazz on Monday sets up well for Booker as a scoring threat and less as a passer. I'm betting under 5.5 assists (+110) — a line he's gone under in seven straight games and 70% on the season with Chris Paul.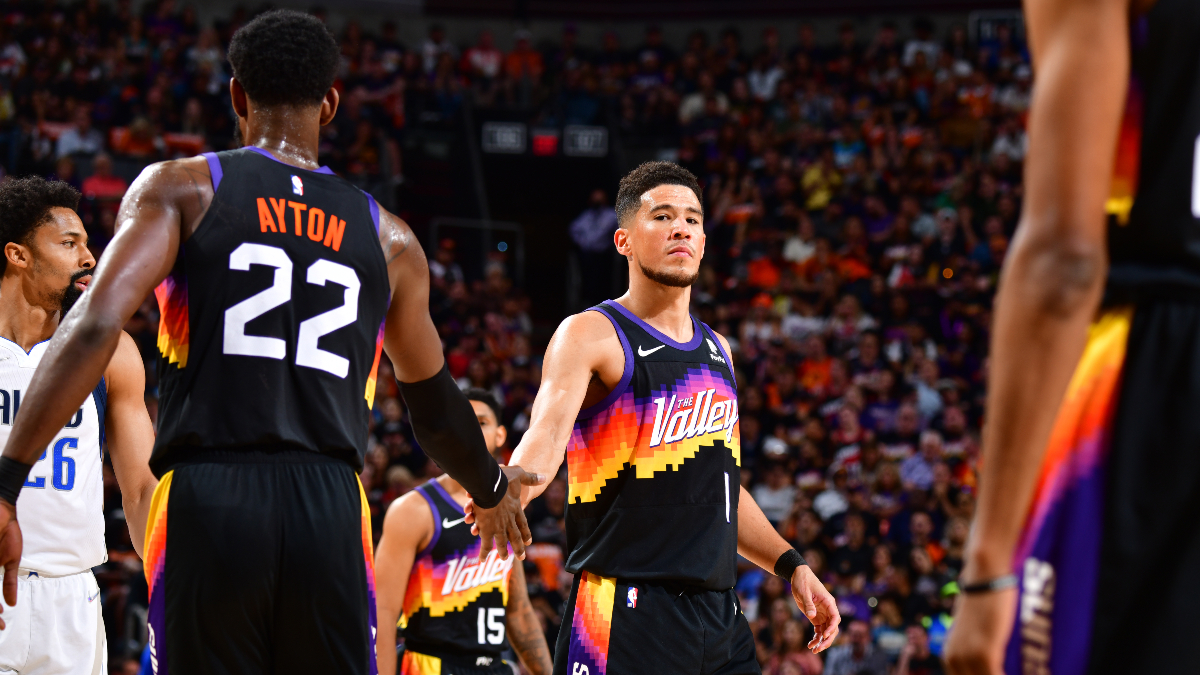 As for Durant's return, we saw Ayton become a clear afterthought offensively as he scored just 10.7 points per game with just 6.7 field goal attempts per game. His points and double-double props will be risky when Durant returns. Similarly, Paul only scored 8.0 points per game on just 8.3 attempts per game. The offense was a clear two-man show with Booker and Durant.
Booker's stats were outstanding, with 36 points, 5.3 rebounds, and 7.7 assists to go alongside Durant's 26.7 points, 7.3 rebounds, and 3.7 assists in those 3 games. Although we are betting Bookers' under on assists on Monday, it should then set us up nicely for a potential buy-low spot on Wednesday.
When Durant last returned to play, he logged 27 minutes against the Charlotte Hornets and scored 23 points. His points prop opened as high as 25.5 and was bet down to 22.5 or even 21.5. I would expect a similar minutes limit in his return.
In his last 25 career games with at least 10 minutes played but fewer than 27, he has scored 30 points once, 25 points once, 23 points twice, 22 points four times, 21 points three times, and 20 points twice.
His minutes limit seemed to be removed after just two games though, when he played the Mavericks and torched them for 37 points in 40 minutes on March 5. If this line opens above 22.5 I will likely be playing an under.
How would you rate this article?
This site contains commercial content. We may be compensated for the links provided on this page. The content on this page is for informational purposes only. Action Network makes no representation or warranty as to the accuracy of the information given or the outcome of any game or event.