NBA Playoffs Series Bets: The Dallas Mavericks Are Live, More Thoughts on Round 1
Credit:
Adam Pantozzi/NBAE via Getty Images. Pictured: Dorian Finney-Smith #10 of the Dallas Mavericks hugs Luka Doncic #77 of the Dallas Mavericks.
The NBA Playoffs kicked off Saturday with great games and some surprises. The Milwaukee Bucks won a thriller in overtime, the Dallas Mavericks shocked the Los Angeles Clippers, and the Boston Celtics and Denver Nuggets ran out of steam in losses.
Here's updates on those four matchups, with an eye towards how to bet each series going forward.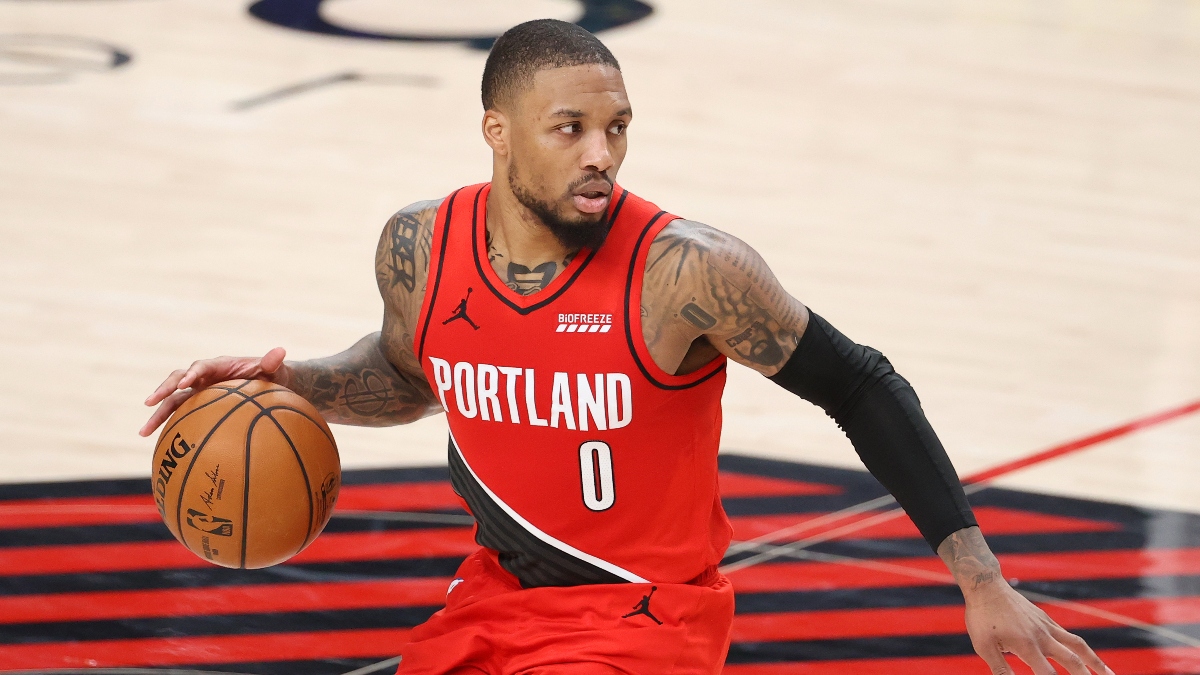 Playoff Promos: $200 if Dame scores, more!

Bet $20, Win $200 if Lillard scores a point!


And more …
BUCKS-HEAT
What you're looking for after an overtime win for the higher seed at home is whether or not the result was a fluke. Did the other team have the blueprint and the favorite just made a few more shots? Does the matchup foretell trouble going forward? I lean the other way in this one.
The model for a Heat win coming in was: "Budenholzer won't adjust, the same matchup problems will be there, Giannis Antetokounmpo will struggle and no one else will step up enough for Milwaukee while the Heat have Jimmy Butler."
The model for a Bucks win in this series was "They will show different coverages and adapt to the Heat's scheme, and the addition of Jrue Holiday, combined with the absence of Jae Crowder (who led all Round 2 players in made 3's last year, no really, I looked it up), would put the Bucks ahead."
The Bucks struggled through a horrendous shooting night — 5-of-31 from deep for a team that averages 14 made 3's per game — Antetokounmpo was off from the field (10-of-27), from the stripe (6-of-13) and in playmaking (5 turnovers to 5 assists), Duncan Robinson was dynamite, Goran Dragic had another great game … and the Milwaukee still came out on the other side with a win.
If the addition of Jrue Holiday was supposed to be help on the margins, it did in this one. Holiday provided another creator on-ball which allowed the Bucks to use Antetokounmpo more as a screener and in the dunker spot, and Giannis picked up six offensive rebounds.
His coast-to-coast layup with 39.3 seconds left might have been the biggest play of the day:
The absence of Crowder was noticeable. Trevor Ariza, his conceptual replacement, went 3-of-8 from the field and 2-of-6 from 3, finishing a minus-7.
Diagnosing shooting variance with the Bucks in the playoffs is tough. They're a great regular-season shooting team and the tense, close nature of playoff games always seems to just disturb them.
I'm not surprised that the Bucks shot 5-of-31 from 3, nor that they surrendered 50 attempts and 20 makes to the Heat. Those things are inherent elements of the matchup. What surprises me is that those things happened and the Bucks won. Being able to win when things don't go your way is crucial, and the Bucks did that.
Credit where credit's due. I still think having Brook Lopez in drop coverage vs. the Heat's shooters is dangerous; on this final Robinson 3-pointer that led to the above-mentioned Holiday layup, Lopez steps out but still can't contain him enough off the pick to prevent him from shooting.
Robinson hit all seven of his 3s Saturday while Lopez was on the floor. However, Lopez finished with 18 points and was a +6, with a defensive rating of 92. I thought early that the Bucks had to bring PJ Tucker in to switch everything, but they stuck with the game plan, and it worked.
I'm sure the Heat will find ways to assert themselves in the series, but this was a considerable shot they missed. For comparison's sake, since 2001, top-four seeds who win Game 1 but don't cover are 23-1. That's an even better record than winning and covering (42-8) and much better than the 5-10 mark for No. 3 or No. 4 seeds that lose Game 1.
Bucks -1.5 game spread is now -165 at BetMGM, and that's the best value on the board. The Bucks need three wins in six games. Butler and Bam Adebayo, both of whom played terribly in Game 1, will play better.
But Antetokounmpo, even with the wall the Heat built, will likely play better, and more importantly, the Bucks are unlikely to shoot 16% from behind the arc again. The circumstances lined up for the Heat to steal one in Game 1 and they missed.
I wouldn't get overly aggressive with Bucks -2.5 at +110, but this was a promising start for the Bucks, who did throw switches and different coverage, and had enough answers, even if it took overtime.
---
CLIPPERS-MAVERICKS
When I sat down to analyze at this series, I looked for things to convince me to take Clippers. That seemed like the right side. The Clippers are better than they were a year ago, the Mavericks are worse. That was the story of the regular season.
But as the week went on and I started digging in, I went from my reticence on Monday to a conviction as of Friday that the Mavs had value to hang in this series. Between how Dallas performed throughout the season vs. good teams, the defensive schemes the Clippers prefer, and the personnel on Dallas, this seemed like a series the Mavs could hang in.
The Clippers built their team with the idea that with Kawhi Leonard, Paul George and Patrick Beverley as their key defenders, no one would be able to score. They would tear opposing wings to pieces.
Here's the problem. Pick-and-roll defense in the NBA is a team function. You have to have the right defense by the screener's man, not just the guy checking whoever brings the ball up. The Clippers do not have those guys.
The Clippers tried the same drop coverage that gave Luka Doncic issues last year, but he just torched the obligatory weak side help with ball reversal passes:
The Clippers then got a little wacky. They decided that they were going to switch out of that drop, putting Zubac one-on-one with Doncic. It did not end well.
Zubac played less than 20 minutes and was a -13 before Tyronn Lue pulled the plug.
This needs to be stressed: Lue felt forced into an adjustment to go small in less than 20 minutes into a series. Coaches never want to be the first to make an adjustment, and usually wait until two games. It took 20 minutes for him to yank his starting center.
In the fourth quarter, the Clippers went all the way to blitzing Doncic with two defenders, after going small.
Problem: then you have Kristaps Porzingis slipping to the rim:
Then the Clippers tried the same tactic but brought more help inside. So Doncic just reversed the floor to Dorian Finney-Smith, perfectly on target for what would be the final go-ahead shot.
These are not problems with easy answers. The Clippers have all these great defenders, but you can't guard pick-and-roll with one guy.
And Leonard often avoids the toughest assignment in order to save energy for his offensive workload. When the Clippers were big, the Mavericks punished them from space. When the Clippers went small, the Mavericks attacked the rim to force them inside and then hit them from range.
I bet Mavericks +2.5 on the series spread and I'm good there. The Clippers are down to -148 on the series line.
The Clippers should be able to shoot better and win this series. But I would be remiss not to point out that this is a bad matchup and that once again when the Clippers needed a big closing performance, Leonard was nowhere to be found.
For all the criticism George gets, in the fourth quarter of a close playoff game, PG was 4-of-7 for 10 points. Leonard was 1-of-4 for 3 points and 1 assist.
The Clippers still don't have the kind of leadership from their best player that they need for these kinds of games. Maybe it'll be easier for Leonard and he'll play better going forward, but the Mavericks did well in their defense of Leonard with Maxi Kleber and bringing help.
The Mavericks are live in this series. This wasn't a fluke. I don't think betting Mavericks is the move yet and if they win Game 2 or Game 3 you're losing plus-money, but the better move might be to bet Mavericks in Game 3.
Expect the usual adjustment home teams make after losing Game 1 from the Clippers, and if you like Dallas, bet Mavericks in Game 3 and then roll it over to the series price.
This series is now about Game 3.
---
NETS-CELTICS
Boston had so much go right for them for a half and they still couldn't find a way to a win. That's an issue.
The Celtics played great defense, ground the game down, and hit big slugging shots in the first quarter while the Nets scored 16 points. The Nets scored 62 over the next two quarters, and Boston's offense ran out of gas in the second half, scoring just 40.
Celtics fans will say that's an outlier, that they won't score 40 points in a half again.
Maybe not, but their offensive ceiling without Jaylen Brown is capped. Jayson Tatum will shoot better than 6-of-20. But Marcus Smart giving them 17 points is the counter to that, that doesn't feel sustainable.
Kemba Walker struggled, with 15 points on 16 shots, but at this point, you just have to feel like this is who Walker is going to be in this series. He hasn't been healthy all year, and he just hasn't looked the same.
Kevin Durant had 13 in the third quarter, Kyrie Irving had 13 in the fourth. You're going to get double-digit scoring from one of the Big 3 in three of the four quarters. You have to be able to match that.
The Celtics just don't have enough firepower. Evan Fournier can have a game, but that game has to come at the same time that the Celtics defense also duplicates its Game 1 success.
Look, everyone knows to not overreact to Game 1. However, when Game 1 has a variance that goes against the pre-existing concepts (the Nets scoring just 16), and you still lose, that's doubly affirming for those priors.
Boston fans will of course feel that they got hit with a bad outlier in the second half. But a bad Celtics offensive performance maybe outside expected numbers but the overall idea of them struggling offensively isn't surprising. The Nets struggling offensively is. And ultimately, the Nets just had too much for Boston.
The value is all gone on this series. Nets -2.5 on the series spread is -275, and taking the Nets to sweep ignores how the Celtics can have a great game and the Nets can get lazy when they're comfortable.
It's not a wrap but Boston's going to have to come up with a lot of answers they don't seem to have the personnel to create, and in a hurry.
---
NUGGETS-BLAZERS
This is the series where overreacting feels most tempting.
Denver got a monster scoring performance from Nikola Jokic, and that was by design on the Trail Blazers' side.
Portland stayed home on shooters during Jokic post-ups and let him burn Jusuf Nurkic and Enes Kanter to a crisp.
Here, they're all within range of shooters, and the help man low on Aaron Gordon is guarding Facu Campazzo, who due to his height, needs more distance between him and the defender to get a shot clean:
Here's how dedicated the Blazers were to "whatever scoring Jokic does is fine." He gets a transition mismatch vs. Robert Covington, and Nurkic can come over and help. He doesn't. They just let it happen.
Jokick had 34 points on 14-of-27 shooting and 15 rebounds. A monster performance. An MVP performance.
But just one assist.
The Nuggets are 1-4 in playoff games where Jokic takes more than 25 shots and 4-5 in games where he has fewer than five assists.
Jokic did have eight potential assists per NBA.com, so there were chances for the Nuggets to actually make the shots he gave them, but he also averaged 13.8 per game in the regular season.
This all gets back to our prior coming into this series: the Nuggets' injuries have left them without enough firepower.
The best way to attack the Blazers is in pick-and-roll. To do that, you have to have guards. The Nuggets guard rotation Saturday was: Campazzo, Austin Rivers, Monte Morris, and Markus Howard.
None of those players are equipped to attack in pick-and-roll. Not a one.
Campazzo acquitted himself well with 8 points on 3-of-4 shooting. Asking for much more from him offensively is a lot, especially with his five assists.
Rivers was signed off the street, so blaming him for going 2-of-6 and 1-of-5 from behind the arc is unfair. This is the real crusher with the Nuggets, you can't really ask anyone to do anything much better.
You have to score points to beat the Blazers, and in particular, you have to hit 3's. The Blazers outscored Denver by 24 points from the arc and shot 40 attempts.
Denver's defense left a lot to be desired, Michael Malone after the game attributed breakdowns to a lot of those issues. Damian Lillard went supernova, went the Nuggets previously had success in containing him. Nurkic's passing and dunking on smaller defenders off the short roll helped.
Damian Lillard actually took to re-screening to make sure he got Campazzo off him and Michael Porter Jr. on him. MPJ holds his own here, but there's just no way for him to handle Lillard in space:
And once he was hot, he started firing over Campazzo and anyone else.
But Anfernee Simons had 14 points on 5-of-6 from deep. Carmelo Anthony had 18 points on 4-of-8 from deep.
The Blazers may not shoot 48% on 40 attempts every game, but they have the shooters to consistently do this, with how small the Nuggets' backcourt is. Michael Malone was so concerned with trying to "keep up" with the Blazers offensively that he played second-round rookie Markus Howard over Shaq Harrison.
After the game, Malone cited their previous matchup in the season where the Blazers ignored Harrison offensively. But it wasn't just the bench or Lillard, CJ McCollum also had 21. If the Nuggets can't cut off the hose on one of those three elements, there's no way for them to keep up.
And yet … the Nuggets had the lead until midway third quarter, and had the deficit under five late in the fourth before the Blazers pulled away. They were in this game.
I took Blazers series price as my best bet before the playoffs began and the value is there. Blazers -1.5 on the series spread is -162, and that probably has value.
The Nuggets always find themselves hanging in series until Game 7, but they may simply not have enough with Jamal Murray out and PJ Dozier, who would genuinely help defensively and creating offensively, will miss the series as well.
Will Barton may be back by Game 3 at the earliest, but more likely Game 4 or Game 5. Will the series be winnable at that point?
Don't expect a sweep, the Blazers' defense is still absolute trash, Denver put up a 117 Offensive Rating without any guards. The Nuggets are not out of this series, but Game 1 definitely reinforced the priors from this series: Denver is just missing too much firepower due to injury.
How would you rate this article?
This site contains commercial content. We may be compensated for the links provided on this page. The content on this page is for informational purposes only. Action Network makes no representation or warranty as to the accuracy of the information given or the outcome of any game or event.