Our Staff's Favorite NBA Rookie of the Year Bets: Is it Zion Williamson or Bust?
Credit:
USA TODAY Sports. Pictured (left to right): Grizzlies rookie guard Ja Morant, Pelicans rookie forward Zion Williamson, Knicks rookie guard RJ Barrett.
The 2019-20 NBA season tips off on Tuesday October 22.
Our crew weighs betting Zion Williamson or another rookie from this exciting class to win the Rookie of the Year award.
Note: Rookie of the Year odds have changed since news broke that Zion Williamson will miss six to eight weeks while recovering from a torn meniscus.
One of the most anticipated NBA rookie classes in years, headlined by No. 1 overall pick Zion Williamson, will be vying for the title of top rookie from Game 1 to 82 (technically not Game 1 in Zion's case).
Williamson is a heavy favorite to take home the award (-125) with the rest of the top three mirroring the 2019 draft order: Grizzlies guard Ja Morant (+350), RJ Barrett (+500).
---
Odds as of Monday afternoon and via PointsBet, where Action Network users can access an exclusive promotion to get a 200% deposit match (deposit $50, bet with $150).
---
Our NBA crew analyzes their favorite Rookie of the Year bets for the upcoming season below.
Staff favorite ROY bets
Matt Moore: Zion Williamson (-125)
This is boring. But the number is so short for the guy who is so clearly ahead of everyone else. He's been so explosive in the preseason.
I have long-term concerns about Williamson's knees with his combination of size and athleticism. But at a number this short, I have to take it. I would probably use this as a hedge against a longshot like Michael Porter Jr. (+2000) though.
Matt LaMarca: Williamson (-125)
I'm with Moore. Zion enters this season with more hype than any rookie in recent memory.
Voters want to give him the award, so all he has to do is throw down some highlight dunks and avoid getting injured. The -125 odds imply a 55.6% chance of Zion winning this award. As long as he stays healthy, I think that's too low.
Mears: Zion Williamson (-125)
The Zion injury news was unfortunate, although I do think it gives bettors a little time. It's unlikely the betting odds will move in his favor while he's out (they've already moved down a bit), and during that window we'll likely get valuable information on the extent of his injury, as well as what to expect from the other rookies.
My argument for Zion is that there's a real chance he's a generational player and thus is currently undervalued by the market. There's some thought that his outside shooting will be problematic and his shooting at the rim so far in the preseason is unsustainable against real NBA regular-season competition.
But are we sure about that? The hardest players to project are unicorns who define their own archetype, as eloquently argued by The Stepien's JZ Mazlish.
We're trying to judge Zion compared to past No. 1 overall picks and past players, but it's possible he's just completely unique. Maybe he'll regress from the preseason, but remember regression isn't to a theoretical mean — it's to his mean. And his mean may be generational.
I don't mind waiting on this number; maybe it'll keep going down as he sits and other prospects excite. But I definitely want some money on Zion by the end of the year assuming this injury isn't serious.
Wob: Rui Hachimura (+2000)
John Wall out. Isaiah Thomas out. Ian Mahinmi out (yes, the Wizards are so bad that Mahinmi being out actually matters).
With this said, I would like to ask the room: Who is running the offense when Bradley Beal isn't involved?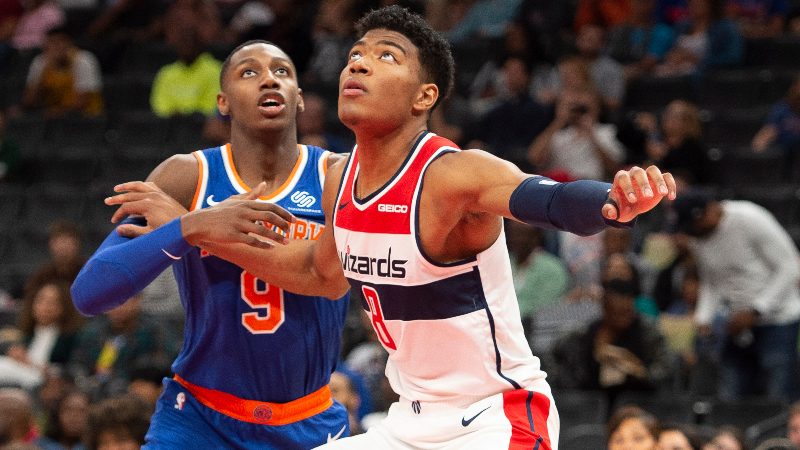 Hachimura showed out at the FIBA World Cup in China this Summer, and he is undoubtedly going to have the rock in his hands more than anyone else not named Ja Morant.
Because of his usage alone, there are going to be nights when you're watching SportsCenter and see a Hachimura: 22 PTS, 5 REB, 3 AST stat line crawl across the bottom line.
You're going to say: What the hell?
I'm going to say: Told you so.
How would you rate this article?