NBA Roundtable: The Series Bets Our Experts Love, What to Make of the Warriors, More
Credit:
Photo credit: Kyle Terada-USA TODAY Sports. Pictured: Stephen Curry and PJ Tucker
When is the right time to bet the Warriors? Which team is most likely to beat them? Are the Raptors undervalued against the 76ers?
Our NBA experts gathered together today to chat about these topics and more.
Earlier today, a bunch of our NBA experts were in our Slack channel discussing a bunch of NBA futures-related topics. Below is a transcript of our conversation, which has been lightly edited.
How to Bet the Warriors?
bryan.mears: Thoughts on the value of the Warriors to win the title? Around -150 currently
Wob: -300 to win the Rockets series still more valuable considerably
peter.jennings: I'm taking Rockets > Warriors assuming it happens
Wob: the payout on a championship ticket to be worth it over series -300 [vs. Rockets] needs to be +120
(-300) + (-900) + (-300) [is about even money] for their three remaining series on a parlay calculator, assuming NOTHING happens to the Warriors and everything goes as planned, which is a massive if
matt.moore: Me and Jennings against everyone in here
ken.barkley: I think the Warriors are the most likely team to win, but why would I bet that now?
they are like -20000000000000000000 to still beat the clippers, so it isn't going to change
Wob: unless they hang +120 or better, it makes no sense [to bet the Warriors' title odds] with a -300 series price [vs. the Rockets]
ken.barkley: to me, you're sort of freerolling it
if you love it, hope the Clippers win Game 6
get an even better price
if they smash the Clippers it won't change
matt.moore: gotta go fast, though; if they win Game 1 vs. Houston it'll crater
ken.barkley: yeah, I mean you have a reasonable time window to make that bet, though
to me the damage to their image is done, regardless of what happens tonight, and those types of numbers will still be there pre-Houston Game 1
but I could be wrong
peter.jennings: Currently the odds are Clippers +2952 | Warriors -7500
matt.moore: I don't find any joy, edge or confidence betting the Warriors game-by-game or series-by-series
ken.barkley: oh, I'm with you @matt.moore on game-to-game with them
I think it's just calculating if rock bottom is this exact moment or not
ken.barkley: it's also so weird, because if they do beat Houston, the next series is a borderline walk
matt.moore: I would just say I don't have the confidence in them to lay what you have to lay with them
Wob: I don't have anything on them yet, but I will if it's actually -300 [vs. the Rockets]
---
Most Likely Team to Beat Golden State?
scott.miller: question: are the Rockets the most likely team remaining to beat GSW?
peter.jennings: Milwaukee or Houston
Toronto next imo
Boston 4th
Philly 5th
ken.barkley: Bucks then Rockets
matt.moore: I'd rank it 1. Houston 2. Milwaukee 3. Boston
bryan.mears: I think Bucks 😃
matt.moore: I only say the Rockets because the Warriors play like idiots against them
and the Warriors losing because of them playing like idiots seems like their most likely demise
---
Group Thoughts on 76ers/Raptors, Bucks/Celtics
peter.jennings: Thoughts on 76ers/Raptors?
Price is 76ers +212 | Raptors -255
peter.jennings: I love Toronto here
ken.barkley: agree, I have bet them already
scott.miller: hammer spot on Toronto
matt.moore: I'll go one further: I think there's value in Raptors in 5
scott.miller: 😱
ken.barkley: just annoying Anunoby won't be back
Since I don't think it would change the price hardly at all but I'd prefer it
Toronto Game 1s are like this inexplicable thing that I just have to believe in, so I'll just say Raptors in 7
I can't believe I'm saying this, but the Mike Scott injury is kind of a big deal; they just have less than zero depth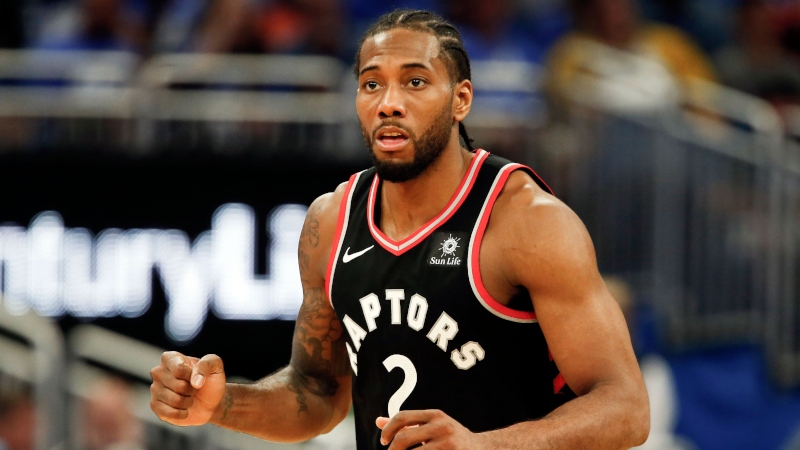 bryan.mears: tbf wasn't like Philly was a world-beater in Game 1
Wob: They don't need OG; their bench is the army of Isengard
matt.moore: See, I don't think their bench is very good, but Philly's is worse
their bench was the best in the league last year
and then they had to lose Poeltl for Kawhi and Wright for Gasol
so now the bench is Norman Powell, who was out of rotation most of the year
plus FVV, who is always injured
plus Ibaka, who's good but Ibaka
ken.barkley: is bruno caboclo still there
matt.moore: no, he is now Memphis' franchise cornerstone
ken.barkley: look for him to have a key role, inside tip
matt.moore: Raptors in 5 is +325, Raptors in 6 is +410
ken.barkley: I think for all four East teams you almost have to forget the first round
it's like the playoffs haven't even started
aside from health/injury stuff of course
matt.moore: that's one thing I wonder about: The Celtics have a lot of momentum from how they looked, and Indy WAS a tough opponent they destroyed
but Indy just had those lulls where the offense asphyxiated
ken.barkley: I mean I've said this 50 times, but I'll say it again… Indiana had a pyth expectation of like a 38-win team without Victor Oladipo
I find very little impressive about Boston's sweep
matt.moore: But there's a lot of narrative push towards the Celtics because of how they handled that series. Which is why I thought it was telling how hard the books are leaning Milwaukee
ken.barkley: Well, I believe Westgate opened like Bucks -250 | Celtics +200
bryan.mears: I was surprised at the odds, too
Bucks +500 to win title is surprising it got there as well
I mean, I don't think it's wrong, just thought the public would be more on Boston
Wob: proper payout on Bucks series parlay is +600 so would need +700 to make it worth it [betting title odds] vs. series