NBA Season Props & Picks: Durant vs. Jordan, Ball vs. Iverson, More NBA 75 Bets
Credit:
Getty Images. Pictured (L-R): Kevin Durant and Michael Jordan.
This year marks the 75th anniversary of the NBA and you can expect the Association to celebrate all throughout the season. NBA 75 will attempt to pay tribute to seven-and-a-half decades of players, coaches, fans, and basketball through the years.
A 75th anniversary team will be unveiled during opening week, and now WynnBet is getting in on the fun with some season-long historic props. If you've ever wanted to bet basketball players across decades and eras, now is your chance!
You can find the full list of 18 historic props there, but let's have a little fun and look at my favorite seven plays.
Kevin Durant 2021-22 PPG vs. Michael Jordan Career PPG (30.1)
First of all, can we just appreciate the absurdity of a career scoring average over 30 points per game?That includes 10 straight seasons leading the league in scoring (other than the comeback year), with the first eight of them all over 30 PPG. Michael Jordan was absolutely insane.
Kevin Durant is one of the most gifted scorers of all time, but 30.1 is a pretty high bar. KD led the league in scoring himself four of five years between 2010 and 2014 — pretty good for mere mortals — and hit his career high right at 30.1 PPG the first year of that range. So we know he can get there.
Of course, Durant was only 21 for that season, and he played almost 40 minutes a game. This is a different era and a different Durant. He's still an incredibly efficient scorer but the PPG has dropped to the 25-to-27 range in five of his last six seasons. The minutes are of course down a bit too.
Durant was at 26.9 PPG last season. And while "just" three more points a game might not seem like much, remember that's over 250 points for the season. I'm not sure Durant has that in his legs anymore, even without Kyrie Irving.
Really, it's pretty bad news for Brooklyn if the Nets need KD to play enough to get over 30 PPG. He's playing for the summer, not another scoring title. Back the GOAT.
VERDICT: Michael Jordan -300
Luka Doncic Season-High Points vs. Dirk Nowitzki Career-High (53)
WynnBet did a great job picking really fun pairings, and this one is obvious. Dirk is literally on the court in Dallas these days, and Luka is the heir apparent as the next all-time great Maverick. Dirk's 53 will be pretty tough to top, though.
For starters, it means Doncic would need to set a new career-high himself, and not by a little. Here are Luka's best scoring games so far: 46, 46, 44, 44, 43, and six 42s. That's still eight points from an over here, and that's no small margin.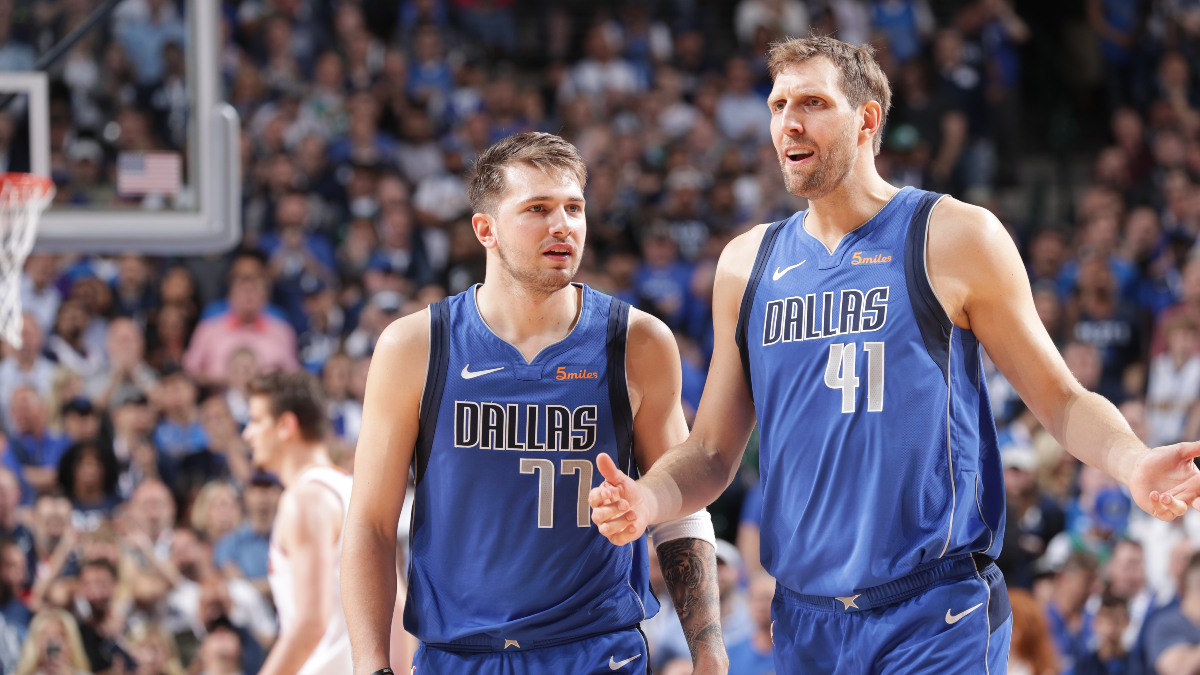 Even worse, three of those top six games came in the playoffs, including the career-high 46. Of course, Doncic is playing far more minutes in the playoffs, nearly all of them in some cases, and we won't get that in the regular season. Luka has only two regular season games ever over 42, and they actually came in back-to-back games this February.
You never know when Doncic might explode, but the German's franchise record looks safe for now unless Luka gets red-hot from deep or ends up deep in a multiple overtime game.
VERDICT: Under 53 (-145)
Rudy Gobert Season-High Blocks vs. Bill Russell Career BPG (8.6)
What a monster Bill Russell was — 8.6 blocks per game! And that number is probably low, and almost certainly approximated, since we didn't really track blocks back in those days.
Russell didn't just swat guys into the stands either. He was the master at blocking a shot directly to a teammate, often Bob Cousy, to start the fast break to the other end.
Russell routinely averaged 20 rebounds a game too, but this is a different era, and we'll never see another player hit 8.6 RPG for a month, let alone an entire career.
For this prop, we just need Rudy Gobert to top that in a single game.
So can he swat nine? Probably not.
Gobert did have one nine-block game in March against the Bulls, but it was his only such game, and he has a single 8 and five 7s. He typically tops out around five or six blocks, and nine is a full 50% increase from there.
Basketball Reference records only 388 games in NBA history with nine or more blocks. We've had only 69 such games this century and only three total the last three seasons, which makes sense as the game becomes more perimeter-oriented than ever. Side with the man with 11 rings.
VERDICT: Bill Russell -175

Bradley Beal PPG + APG vs. 2009 Dwyane Wade (37.7)
This comp is a swing and a miss for me, but we can side with Flash anyway.
Beal is not nearly the passer Wade, and that's the difference here. In this 2009 season, Wade led the league with 30.2 PPG but also added 7.5 assists.
Beal has topped 30 PPG each of the past two seasons, but the assists don't quite measure up. He had 30.5 points and 6.1 assists per game two seasons ago, then 31.3 and 4.4 last year.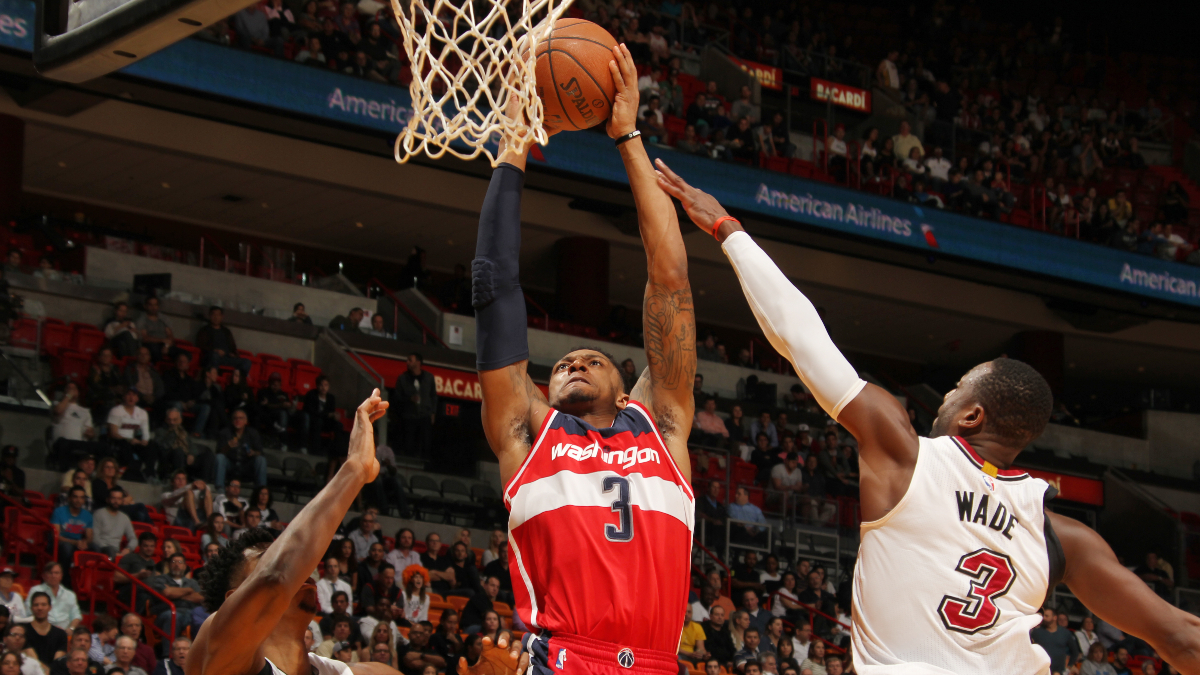 Both of those seasons are short of Wade, even playing around 36 minutes a game with precious little defensive effort and a usage rate over 34%, and remember, the Wizards led the league in pace last year too.
This year's team should be far more balanced with the addition of a number of reliable veterans, including point guard Spencer Dinwiddie, big man Montrezl Harrell, shooters Aaron Holiday and Kyle Kuzma, plus the return of Thomas Bryant.
Beal should actually be in a more reasonable role this year, so if anything, I'd expect his numbers to go down. If he didn't top Flash's number the last two seasons, he's not gonna do it this year either.
VERDICT: Dwyane Wade -185

Sophomore Year PPG + APG: Allen Iverson (28) vs. LaMelo Ball
We're 4-for-4 taking NBA legends so far, but we've got to take LaMelo seriously here.
At first glance, The Answer to this question appears pretty easy. Ball averaged 15.7 points and 6.1 assists per game last season. Add those up and that 21.8 comes up pretty far short of Iverson. We know sophomores often break out, but LaMelo would need a 28% increase in stats to hit the over here based on his numbers last season.
Be careful, though. The season numbers only tell part of the story, since Ball hit those averages in 28.8 minutes per game and came off the bench for 20 of his 51 appearances. If we narrow the numbers to just Ball's games in the starting lineup, he jumps to 18.1 PPG and 6.2 APG. Now we're at 24.3 and much more in range.
Take it one step further though. Ball had one huge month from February 3 through March 1 when he played 34.8 MPG, thanks in part to Devonte' Graham missing most of that stretch hurt. During that peak month, LaMelo's numbers jumped to 21.3 points and 6.8 assists per game. Hey, that's 28.1! We're over!
Guess what? Devonte' Graham is gone for good, and LaMelo will be in this starting lineup for a long time. He should approach those 34.8 MPG this season, and that puts him right in line for this Iverson number, even before an uptick in numbers as a sophomore breakout.
I think this one's pretty close to dead even, and in today's high-scoring era, I'd give a slight edge to Ball.
He's our first modern play with this plus juice. Let's have some fun.
VERDICT: LaMelo Ball +150

Jayson Tatum PPG + RPG vs. 2003 Kevin Garnett (38.1)
First of all, get ALL the way out of here with Jayson Tatum in the Kevin Garnett comp. Really, WynnBet? You really couldn't think of another great Timberwolves big man to compare Garnett's MVP season to?! What's the problem, KAT got your tongue? Ugh.
Tatum was at 26.4 points and 7.4 rebounds per game last year. His rebounds have slowly ticked up, but  there's no real reason to imagine him topping anything more than eight rebounds a game, if he even gets there. That means an over here is banking on a 30 PPG season from Tatum.
I don't see it. Tatum is much more Kobe than KG. Still too many jab-step jumpers and not enough trips to the free-throw line. Tatum could be ready for another step forward after last year's COVID-plagued season, but 30 PPG is too big an ask. My man Towns would've had a real shot here, but Tatum is drawing dead.
VERDICT: Kevin Garnett -300
Russell Westbrook PTS + AST + REB  Per Game vs. 1962 Oscar Robertson (41)
If you're thinking to yourself, "Wow, that 41 is a lot lower than I expected!" well then you are very astute.
They cheated a little on this line, and Russell Westbrook should feel slighted. The 41 is not Oscar's points, rebounds, and assists per game total from his triple-double season. That would be 54.7, an absolutely unreachable number for Westbrook this season. Instead, we got 41 here — the number of triple-doubles The Big O had during the 1961-62 season.
The numbers for that season are absolutely bonkers. Wilt Chamberlain averaged 50.4 points and 25.7 rebounds per game — and didn't win MVP. Oscar averaged a 30-point triple-double and finished third in the MVP race.
Bill Russell won MVP instead with 18.9 points and 23.6 RPG. Walt Bellamy won Rookie of the Year at 31.6 points and 19.0 boards. Elgin Baylor played just 48 games, but had the second-highest scoring season in NBA history at 38.3 PPG.
Even Russell Westbrook could only dream of these numbers — but 41 is much more attainable. In fact, this number is a little insulting.
Russ averaged 22.2 points, 11.5 rebounds, and 11.7 assists per game for the Wizards last season. Ho hum, 45.4 PRA and a fourth triple-double season in five years. His previous year in Houston, Russ was at 27.2/7.9/7.0 with James Harden dominating the ball — but he still went over this 41 line with 42.1. He did it the year before in Oklahoma City too.
In fact, Westbrook's PRA number has gone over 41 in seven straight seasons.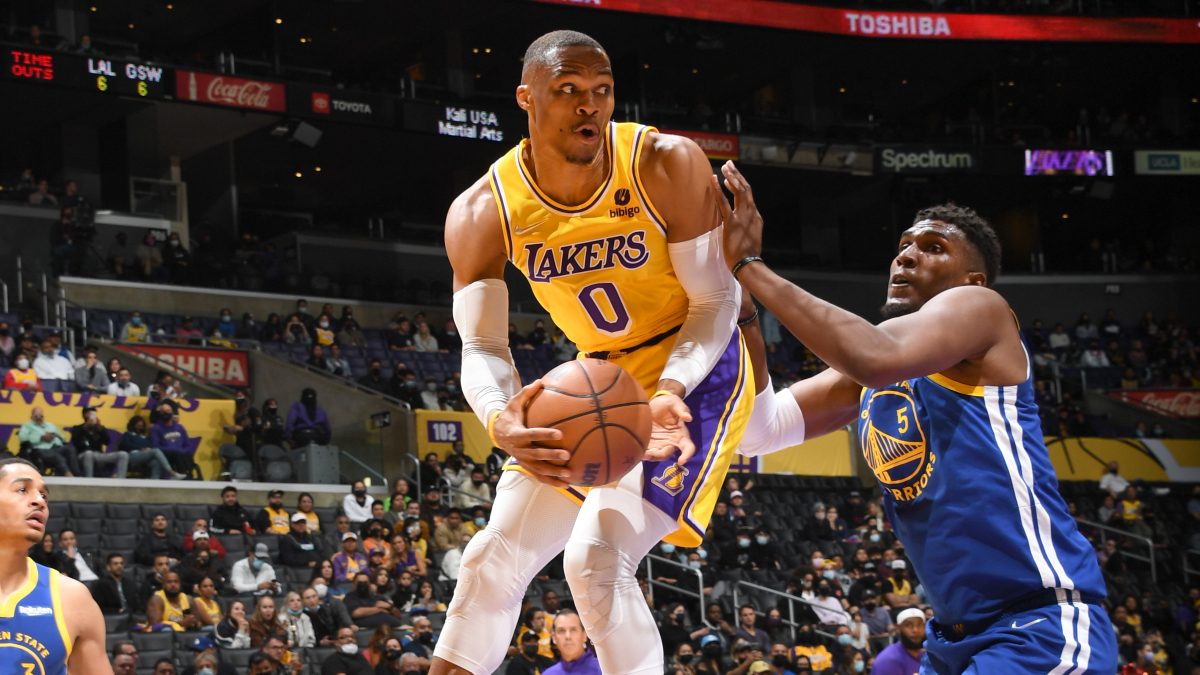 So why exactly are we getting him at +320 here?
Well, because there's a lot of uneasiness about what Westbrook's role will look like in a Lakers uniform. Russ has struggled mightily this preseason, especially as a scorer. His shooting numbers are abysmal, and we don't know yet how he'll fit with LeBron James and Anthony Davis.
Will the scoring still be there? Will Westbrook get enough touches to get his assist numbers? Will he still steal rebounds from his teammates and inflate his RPG? We don't know yet, but it's fair to wonder if we get something closer to the Houston line with LeBron around to dominate the ball.
Through three preseason games, Westbrook is still averaging 9.6 rebounds and 7.6 assists per 36, almost on track with his typical production. The scoring has been rough, but it's a learning curve with new teammates and a new role.
Maybe Russ doesn't shoot quite as many jumpers, but when that went away in the past, he drove the lane and got to the line more often. Westbrook should be a menace in transition, and that means grab-and-go rebounds, assists, and plenty of scoring. He's also proven to be a useful off-ball player at times, and you know LeBron will look to find a way to get his new star teammate involved.
Remember, Westbrook has gone over this line seven straight seasons. I'm honestly a little insulted they had to flub the line to set it low enough for Russ — if someone just told Westbrook what WynnBet has done here, he'd be a lock to go over it. I like him to get there anyway.
At +320 for Russ to go over, we only need a 23.8% chance of hitting to make good on this bet. I'd set the Westbrook floor around 21 points, 8 rebounds, and 7 assists. That's 36, so we need to find 5.0 more points, rebounds, and assists from somewhere. I'll take my chances.
Come on, you didn't really think I was getting out of here without at least one fun long shot, did you?
VERDICT: Russell Westbrook +320
How would you rate this article?
This site contains commercial content. We may be compensated for the links provided on this page. The content on this page is for informational purposes only. Action Network makes no representation or warranty as to the accuracy of the information given or the outcome of any game or event.