Moore's NBA Trade Deadline Primer: What I'm Hearing on Anthony Davis, Grizzlies, More
Credit:
Photo credit: Brace Hemmelgarn-USA TODAY Sports. Pictured: Anthony Davis
The 2019 NBA trade deadline is this coming Thursday, Feb. 7, at 3 p.m. ET.
Below I walk through everything I'm hearing around the league, including the latest with Anthony Davis, Mike Conley and Marc Gasol.
Trade deadline week is here, and, man, has it evolved quickly over the past four weeks.
The general consensus a month ago was that this trade deadline would be quiet. There were too many teams with cap space, too many unmovable contracts, too many teams playing well, to be honest, for any major moves to happen.
Then the Anthony Davis trade saga detonated last Monday, throwing chaos into the mix. Then a few days later the Knicks traded their franchise big man Kristaps Porzingis to Dallas, clearing cap space to presumably chase Kevin Durant and Kyrie Irving — two players enjoying a lot of regular-season success with their current teams.
And in between all that, we have some things we know, some things we think and some things we still have no idea about.
Let's run through them all.
---
WHAT WE KNOW
THE PRESSURE IS ON
The all-out blitz Klutch Sports has enacted this week on the New Orleans Pelicans and Boston Celtics is awe-inspiring, to be quite honest.
I'm not in the business of calling out sources; these things are often more complicated than they appear on the surface. But not only is Rich Paul — the agent of LeBron James who also represents Anthony Davis — not hiding his tracks at all with the number of media reports being leaked, he went so far as to go on record on Monday with ESPN, prompting a $50,000 fine for Davis. (That fine, by the way, is $28,000 less than what Davis makes playing one quarter of basketball.)
It's enough to make you wonder who's really in charge of the Lakers: Magic Johnson or Rich Paul.
After the trade demand from Davis went public, reports surfaced that Boston "was not a preferred destination" — not once, but twice in a span of four days.
That was followed by Davis' father openly commenting that his son would not want to play there after Celtics GM Danny Ainge traded Isaiah Thomas following an injury three months after the death of Thomas' sister, and subsequent indications that while Davis had not specifically demanded a trade to any destination, that list was "expected soon."
The list was leaked — imagine that — on Monday and includes the Lakers; the Knicks, who have no assets left to trade for him; the Bucks, who have expiring contracts and picks several years in the future (which makes it difficult) and the Clippers, who lose their pick to Boston if they make the playoffs.
It does not include the Celtics.
Truth be told, the "list" had already been floating around the league within hours of the initial trade demand, league sources indicated. Whether that was a preliminary indication of preferred destinations or not, it was not a secret.
Ostensibly, Klutch is keeping "Davis has informed teams around the league he will sign only with the Lakers as a free agent in 2020" as their final move, to make it seem like they pursued a trade in good faith, when in reality nothing about this has been conducted as such.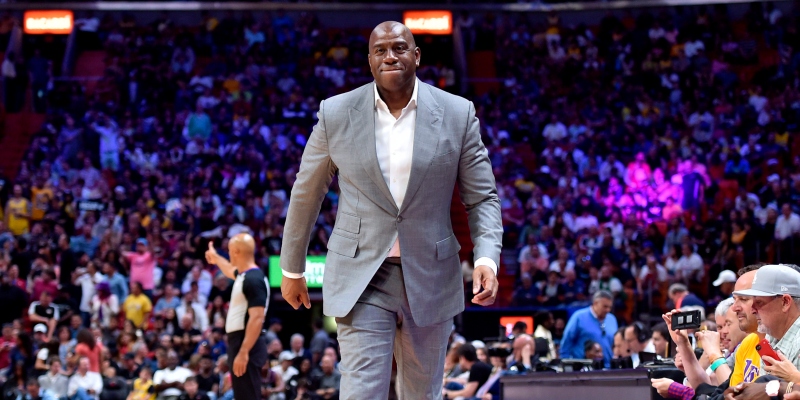 Multiple sources within orbit of the situation told The Action Network that after garnering the initial offers from the Lakers (which vary depending on which outlet you check) and canvassing the initial wave of calls, the Pelicans effectively "went into a bunker," as one source described it, cutting off communication to weigh their options over the weekend.
"This is only going to happen on their timeline," one source with knowledge of offers outside the Lakers said.
This was before the bizarre leak Saturday night of a post-game confrontation in the Lakers locker room after coach Luke Walton criticized the team's "selfish" play. Initial reports from The Athletic that described it as "tense, bordering on physical" were later disputed by ESPN's Ramona Shelburne and the LA Times' Tania Ganguli, who reported sources describing it as "routine."
The confrontation itself isn't noteworthy; these flare-ups happen routinely, and, honestly, who cares what JaVale McGee or Michael Beasley have to say about how the team is run.
What is worth considering is how quickly a report on a locker room kerfuffle with the coach came out, considering an already established report from ESPN's unimpeachable Jackie MacMullan that "people around LeBron" want Walton fired.
To read between this nonsense: It would appear James' camp, if not James himself, is trying to get Anthony Davis traded to the Lakers and Luke Walton replaced as head coach.
In unrelated news, former Warriors coach and ABC color analyst Mark Jackson discussed at length on Saturday night's broadcast why the Pelicans should go ahead and do the deal with the Lakers. Fun little tidbit: Mark Jackson is represented by Klutch Sports.
Again, none of this is subtle.
What has been much less consistent has been leaks from the Pelicans. Outside of an Athletic report that the Lakers' initial offer was a "lowball," they've been quiet.
Don't be surprised.
GM Dell Demps comes from the San Antonio management tree. Leaks don't favor New Orleans for the most part. So, as of now, there's very little intel on the one most pressing question that we may have to wait until Thursday to get the answer on: Can they withstand the pressure and make it to the summer, when they'll likely have better leverage?
There's been an assault on that effort. Along with the reports of Boston not being the preferred destination for Davis, reports surfaced about Kyrie Irving not being a sure thing to re-sign with the Celtics.
This comes in the wake of the Porzingis trade, which telegraphed to the league that be it KD, AD, Kyrie or two or three of them, the Knicks have intel that suggests they need the cap room for a big move.
The result is that if the Celtics can't be sure they'll have Irving, they then can't promise the Pelicans Jaylen Brown and/or Jayson Tatum in trade negotiations.
If Irving leaves, the Celtics have to reconfigure the whole thing. If the Pelicans can't rely on the Celtics being there with a better offer in July, the Lakers' package starts to look like the more sure thing, with the Lakers able to convey that their offer now before the deadline won't be there come July 1 if the Pelicans have to come crawling back.
Again, none of this is subtle.
The best move for the Pelicans remains to wait.
Wait to see the Celtics' offer. Wait to see where Zion Williamson goes with the No. 1 pick. Wait to see what they can get by trading off their other role players. Their upside in making a move in the next four days is minuscule, but forces are endeavoring to make the dangers of waiting more and more real.
We'll know more as the week goes on about the Pelicans' approach (which could include a trade if a team gets bold at any moment), and we'll likely see more efforts by L.A. and Klutch to apply pressure.
It's going to be another tense week on the NBA's soap opera.
THE GRIZZLIES ARE SELLING
Memphis continues to wait on dealing off Marc Gasol and Mike Conley, but like the Pelicans with their role players, the other guys are on the table.
A deal with Houston involving JaMychal Green or Garrett Temple makes a lot of sense; Memphis doesn't need big return on those guys and Houston needs wing bodies — pretty much anyone with a pulse.
The most consistently reported option is a proposed deal sending Conley to Utah.
Tony Jones of the Athletic has been reporting those talks for some time. It's a natural fit and would significantly boost Utah's ceiling; Conley is offensively capable in a way Ricky Rubio simply isn't.
Offers for Gasol are not yielding close to what Memphis wants; it's likely that deal waits until the very last minute as the Grizzlies hold out for the best possible offer. Bear in mind that salaries will be a big part of that.
Memphis has made it clear to both Conley and Gasol that while they're being included in trade talks, Memphis has not absolutely determined they'll trade either of them. Should the requisite offers fail to arrive — as they have yet to, according to sources close to the situation — Memphis is ready to keep the duo past the deadline. That would be a rough situation for all involved.
Sources close to the situation indicate that the Grizzlies' No. 1 priority is getting picks or young players as close to their draft date as possible.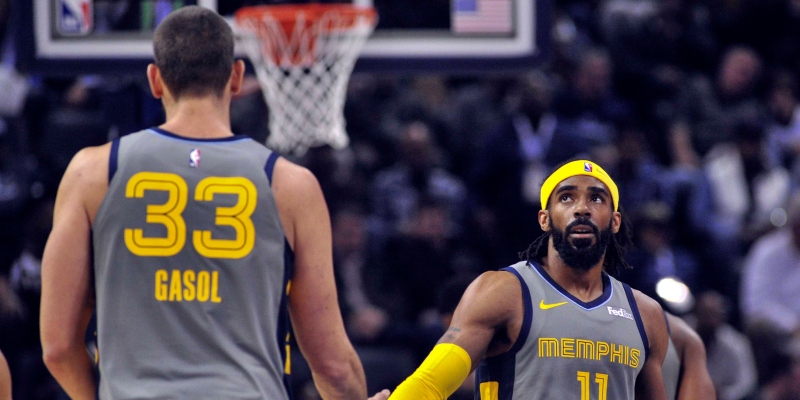 Talks with Detroit about both Conley and Gasol are ongoing, sources said, but the Pistons aren't bursting with young talent. Indiana might be a better fit under those guidelines for Conley, but the Pacers are short on the kind of contracts the Grizzlies would need to make the money work.
It's going to be a hectic few days in Memphis.
A few final notes:
We know buyers are Houston, Sacramento, Detroit, Portland (which added Rodney Hood in a minor deal Sunday) and the Lakers (obviously).
We know the sellers are Cleveland, Chicago, Memphis, New Orleans (though Jrue Holiday is sadly off the table, a decision the franchise will regret later), Atlanta and Miami — though Miami is probably both a buyer and seller at this point.
---
WHAT WE THINK
Everyone assumes Orlando will do something, whether it's simply selling off Terrence Ross (who's had a phenomenal year), moving Nikola Vucevic or getting wild and crazy with their young assets (like Aaron Gordon).
West executives are keeping an eye on the top of the East. Both Milwaukee and Toronto have 1) dynamite teams enjoying historic seasons, 2) franchise superstars they want to convince long-term to stay and 3) young assets and ready-made veteran role players to deal. Whether it's a big or small move, there's a sense that neither the Bucks nor Raptors need to make a trade, which is precisely why they're in a great position to do so. Leverage is everything.
There isn't a lot of outside confidence that Memphis is going to get the return it wants for Conley and Gasol. Ditto for Atlanta with Taurean Prince; same for the Pelicans with Nikola Mirotic and Julius Randle. Shocker: Other GMs want it out there that a team won't get great return. But even straight shooters are uncertain of what those teams can get given their respective leverage situations.
There's skepticism from parties that aren't involved in the Pelicans-Lakers talks that a trade gets done. I keep searching for someone who believes the Lakers' package of young players is enticing, and I keep coming up empty. It's not that anyone thinks Brandon Ingram, Lonzo Ball, Kyle Kuzma and Josh Hart are bad assets. It's that none of them project as exceptional. All that really matters, though, is if Dell Demps or the other members of the Pelicans front office think highly of them.
---
WHAT WE'RE STILL TRYING TO FIGURE OUT
Is Brooklyn buying or selling? They have a lot of really good players. They have an All Star in D'Angelo Russell, who's coming up for a new deal after they just gave Spencer Dinwiddie a sizable extension. Caris LeVert is reportedly nearing a return. Jarrett Allen has emerged as a top-flight prospect, but Ed Davis boasts the best on-off numbers on the team. Joe Harris is on a freakishly-cheap deal and is one of the best spot-up shooters in the league. They're not trading a pick — that much seems obvious — but if a team reaches out to them with a major upgrade, can they afford to say no, given that they'll likely be out of the lottery this year?
What the hell is Washington doing? The Wizards obviously can't trade John Wall. Are they really going to ride out the year with a salary total $5 million into the max? Otto Porter was mentioned in several trade talks a few weeks ago, according to league sources, but that's cooled. Will someone get bold and go all-in on a Bradley Beal trade package?
Minnesota's also in no-man's land. They're too good to tank, just three back in the loss column from sixth, and too bad to stand pat. Taj Gibson and Jeff Teague are veterans who expire either this summer or next (if Teague exercises his player option). It makes no sense to keep them around given what Robert Covington, Tyus Jones and Dario Saric can do.
Denver remains sphinx-like. The Nuggets have the best combination of trade assets to offer for any superstar (like the Pelicans for Davis), with Jamal Murray, Gary Harris, Malik Beasley and Juancho Hernangomez. All have positive trade value and are replaceable by other options on the roster. However, they're off to the best start through 50 games in franchise history and zooming towards a top-two seed, which keeps them out of the Warriors' way until the Western Conference Finals. Their whole team model is built on joy and shared chemistry; disrupting that is extremely risky for a front office that has rehabbed its culture by investing in the idea it takes care of its guys.
In related news, Nuggets President of Basketball Operations Tim Connelly and his staff remain without contracts for next season, and should the Nuggets screw around with his deal the way they have with executives in the past, league sources indicate there will be multiple teams with interest.
The following is not based on any indications from sources but instead just my experience covering trade deadlines from a league-wide perspective for a decade: Keep an eye on the heavy-hitters. Deals from teams with compromised leverage are harder to make because you'd rather make no deal than a bad one. Teams that seem like they have every reason to stand pat, however, like the Rockets (even with their recent struggles), Thunder, Raptors, etc. are often the teams that wind up making moves. Aggressive GMs set the market and vigorously pursue opportunities, and they often act swiftly and quietly. The market has been shaken up by events of the past two months. Don't assume teams that seem like they're staying out of it have actually shut down shop.
How would you rate this article?