NBA Trade Rumors: Latest Intel on 76ers-Hawks Talks for Ben Simmons, James Harden's Future With Brooklyn, More
Credit:
Jesse D. Garrabrant/NBAE via Getty Images. Pictured: Ben Simmons (center) of the Philadelphia 76ers.
With two weeks until the NBA trade deadline, league-wide talks continue. While there is a healthy market of interest towards deals, and a handful of early trades, there's some belief that the Ben Simmons hold up may cause teams to wait for a move that never comes to open things up.
In the meantime, here's the latest from around the league in how talks continue to evolve. As a reminder during this frenzied period of the NBA season, I'll remind you of No. 5 on my list of deadline maxims: Discussions are just that, discussions.
The Potential Domino Effect Surrounding Ben Simmons
The trade situation that never ends remains a fair ways away according to multiple sources. Jake Fischer of Bleacher Report reported this week that the Philadelphia 76ers have "remained primarily engaged" with the Atlanta Hawks and Sacramento Kings.
That report came in tandem with a discussion of the idea that James Harden may leave Brooklyn and join his former general manager Daryl Morey in Philadelphia.
A couple of follow-up things here …
It's not just Morey who provides a pull for Harden. Tad Brown worked as CEO for the Houston Rockets for many years, and Harden has a closer relationship with Brown than Morey, according to the Houston Chronicle. Sixers ownership hired Tad Brown as CEO of Harris Blitzer Sports & Entertainment last year.
ESPN reported the Nets will not entertain trade offers for Harden and that Harden has asserted his commitment to the team this season. Now, that commitment has not come with an extension. The message is pretty clear parsing not only the two recent reports out but also the messaging throughout the season and what league sources have felt for some time.
Harden is willing to give the Nets this season, but beyond his reported dislike of living in Brooklyn and whatever his feelings are about the Kyrie Irving Saga, he's definitely got his eyes elsewhere. It is rare that a player reportedly has interest in going somewhere else and doesn't wind up there. That's just not how this tends to go.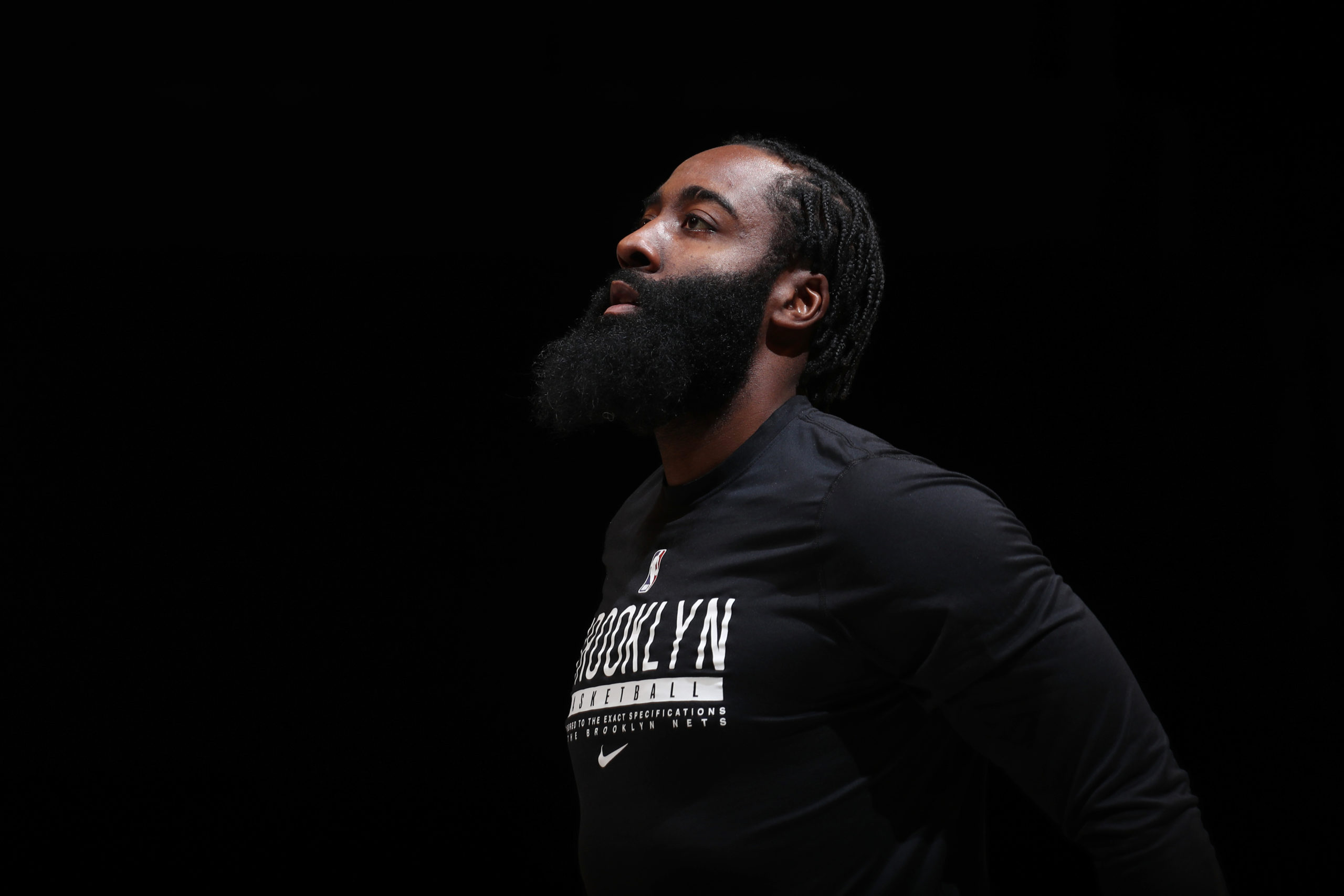 If the Sixers are going to make that happen, they're going to need to clear salary space, and the Simmons trade provides the best opportunity to do just that. That's why you're hearing about — as Fischer reported — talks centered around Tobias Harris being included in prospective deals.
If you're looking at Sixers futures, you need to factor in that their priority may be clearing future space for Harden (even if a few more moves are necessary this summer) rather than getting a superstar back in this deal. However, the Sixers will still want a major addition.
Let me put it this way: It's more likely that Morey's target is making a star addition while maneuvering to add Harden this summer rather than clearing cap space at all costs, or trading Simmons for an All-NBA player.
One final thing here on the Harden, do not get caught up with how far away the Sixers are from having space. If Harden wants to be a 76er this summer, he will be and everything else is just details. There won't be a point where Harden says he wants to join Philly and the Sixers go "sorry, we can't make it work financially." That is not how the NBA works.
So, through the prism of who can clear money and provide talent, the Hawks and Kings make a lot of sense. Both teams have salary to unload and star talent at the top. The Kings have reportedly decided not to move De'Aaron Fox or Tyrese Haliburton, which would immediately remove them from these discussions.
The Hawks have the talent but Fischer and Hoopshype reported that they're not willing to take on Harris from the 76ers. Additionally, the Sixers' asking price in an Atlanta deal remains too rich for the Hawks' blood. The Sixers have consistently asked for a king's ransom for the former All-Star, and the Hawks talks are no exception.
Two sources familiar with talks said at least one offer from the Sixers was Simmons and Harris for John Collins, Bogdan Bogdanovic, and three first-round picks. It will not surprise you to learn the Hawks were not interested in such a framework, though their interest in Simmons is very real.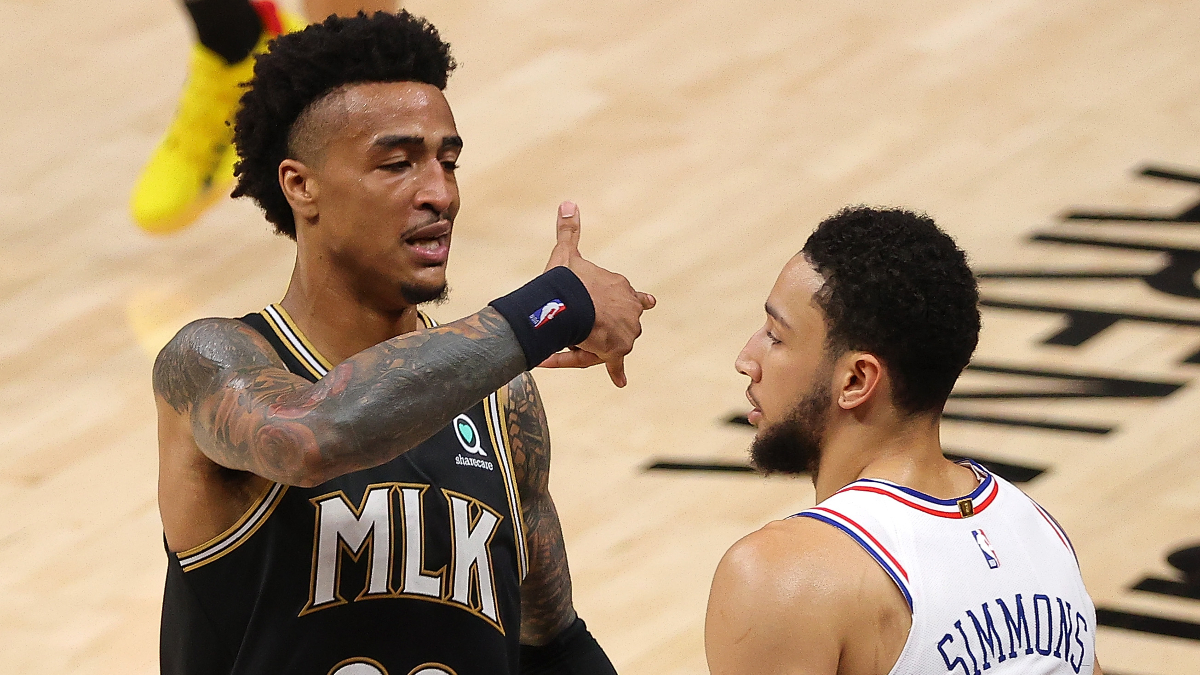 In typical NBA fashion, just as the Hawks hit rock bottom and Collins expressed public frustration with the team's direction for the second time in a calendar year, and there was a consensus the Hawks were most likely to make a trade, things started to turn. The Hawks have won five in a row, and are three back in the loss column from the seventh place in the East at the time of writing.
That's still a play-in spot, though, and rising higher for an outright playoff spot is unlikely for Atlanta. But if you shrug off the first three months of the season as a combination of COVID, injuries, and a postseason hangover, you can talk yourselves back into a team expected to compete for a top-three seed this season.
The Hawks' front office is aware of longer-term concerns. Collins had friction with Trae Young last year, then they started winning and everything was copacetic. As soon as they started losing again, Collins began making frustrated comments again. If Collins weren't such a talented and valuable player, this would be easier. But Collins is versatile and while his defensive numbers and fundamentals are flawed, his defensive upside as he gets older is exceptional.
Last year at the deadline, multiple teams, including the Dallas Mavericks (who have been active in trade discussions overall) and Boston Celtics, were interested in Collins. If the Hawks make a real effort to move him instead of just taking calls, they'll generate a robust market for the 24-year-old.
Finally, circling back to the Sixers, two sources said they felt Morey's claim to be willing to wait the entire season on a trade is not a bluff. The going mindset around the league is that to get Simmons, a team is still going to have to "overpay" for him. It's entirely possible Simmons is still on the Sixers after the deadline.
---
More NBA Trade Intel
The Utah Jazz continue to include Joe Ingles' expiring contract in trade talks after floating discussions around the league last summer. Utah is caught in a strange tension between being good enough to hold a top-four spot and yet racked with frustrating losses and sniping in the media between players. Boston is one team that held talks with the Jazz about Ingles, but sources were skeptical that they progressed toward anything meaningful.
The Phoenix Suns, flush with talent at center, continue to get offers for promising young center Jalen Smith, who has seen his role grow in his second season. The Suns have also brought in Bismack Biyombo alongside Deandre Ayton, JaVale McGee, and an injured Frank Kaminsky. Interestingly, multiple executive said recently they feel it's likely the Suns will be buyers at the deadline, despite holding the No. 1 seed in the West and best record in the league. "I don't think they're satisfied. They see the window and if they can add someone who can help, they have long-term assets to use because their window is open now," one source said.
Portland hasn't received a "significant" offer on C.J. McCollum yet, two sources said. There is a belief that Portland will be aggressive in generating a market for Jusuf Nurkic, Robert Covington, and Norm Powell, though one source said the Blazers still felt Powell was a good fit next to Damian Lillard.
Center has been a popular position of interest around the league. In addition to the interest in Smith above, the Toronto Raptors, Denver Nuggets, and Mavericks have made calls to teams looking for a center.
Talk continues in league circles of the Los Angeles Clippers being interested in making changes. There's long-term confidence and trust in Reggie Jackson, but a desire to move him to 2-guard alongside a point guard upgrade. There were reports last year that Kawhi Leonard wanted to see the team add a point guard.
As of right now, two executives said they felt there was a better than 50% chance the Pacers hold on to Domantas Sabonis through the deadline based on their steep asking price for the All-Star.
How would you rate this article?
This site contains commercial content. We may be compensated for the links provided on this page. The content on this page is for informational purposes only. Action Network makes no representation or warranty as to the accuracy of the information given or the outcome of any game or event.