Moore: 2 Bad NBA Teams I Like to Beat Their Win Totals
Credit:
Mark J. Rebilas-USA TODAY Sports. Pictured: Phoenix Suns guard Devin Booker.
The Phoenix Suns and Chicago Bulls have been going backwards for the past few seasons.
Matt Moore explains why he's bullish on both team's win totals next season.
The NBA win totals are out at the Westgate Las Vegas, and for the first time since the Supreme Court decision on sports gambling legalization, we have a healthy swath of books to analyze and try and find the best value at between providers like FanDuel and the Vegas bookmakers.
After the first wave was released, I did a first run through on win totals. I'm now on my third revision, and a trend continues to surprise me.
I like the over on two of the worst teams and organizations in the league. God help me, I believe in the Suns and Bulls.
All Hail the Goat Men
So there's a fundamental tension here.
The Suns are a badly run organization. They were badly run under the prior regime, to the point of comedy involving goats defecating in the GM's office. Now, some of that needs context because the Suns had a whole rebuilding plan that got disrupted when they were suddenly, inexplicably good one year, and the fallout from that falling apart set them back and created a loop of failure.
But things under Robert Sarver have been rough.
They fired head coach Igor Kokoskov just one season after hiring him and then drafting Deandre Ayton over Luka Doncic. They traded DeAnthony Melton, Josh Jackson, and two second-rounders to get cap space. And that's just the last few months.
Given that we accept the Suns have been nightmarishly bad, it's difficult to think they can overachieve their win total.
That doesn't mean the actual on-court product will yield fewer than 30 wins, as their win totals suggest, including as low as 27 with Caesar's Entertainment.
I'm putting my faith in 212 minutes over 10 games.
After the Suns made midseason moves for Tyler Johnson and Kelly Oubre Jr., the Suns had a brief, exciting moment of competence. In that 212 minute span, lineups featuring Tyler Johnson, Kelly Oubre, Devin Booker, and Ayton held a 112.8 offensive rating, which is great, and a 109.8 defensive rating, which, for the Suns, is great for a net +3.0. In Suns terms, that's worth a parade.
And the numbers were even good with Jackson on the floor, one of the worst plus-minus players league-wide last season.
Now, add in Ricky Rubio to the equation. He may be a flawed, limited player, but he's also a very good, flawed, limited player. He makes good passes, he can run an offense, and is a great defender.
Dario Saric is a high quality wing who can shoot, score, and defend. They also added Aron Baynes, a capable backup center and a real plus defensively.
So their rotation would be:
Rubio
Johnson
Booker
Ayton
Oubre
Saric
Mikal Bridges
Baynes
That's eight rotation players who are certifiably NBA players (as defined by "they will be in the league at least 18 months from now"). That's more than they've had, maybe in a decade. That base core competence goes a long way for grabbing wins vs. teams hampered by injury or exhaustion. That's how you steal those wins.
Remember, all we're trying to do here is get to 28 wins for Caesar's, and 29 for DraftKings, FanDuel, and PointsBet. The Suns won 19 last season. We're trying to find 10 full wins year over year, which is a scary prospect. But it's nothing crazy, in fact, it would only be the fifth-best improvement from last season.
We're not asking for a leap to .500, just a leap from "one of the three worst teams in the league" to "pretty bad with a dash of hope."
Booker is key to this. Booker is best known for his late-season scoring exploits after the team has already collapsed into a heap of garbage. He averages 43% shooting from the field and 35% shooting from 3 in the months of November and January, and then goes off in March every year.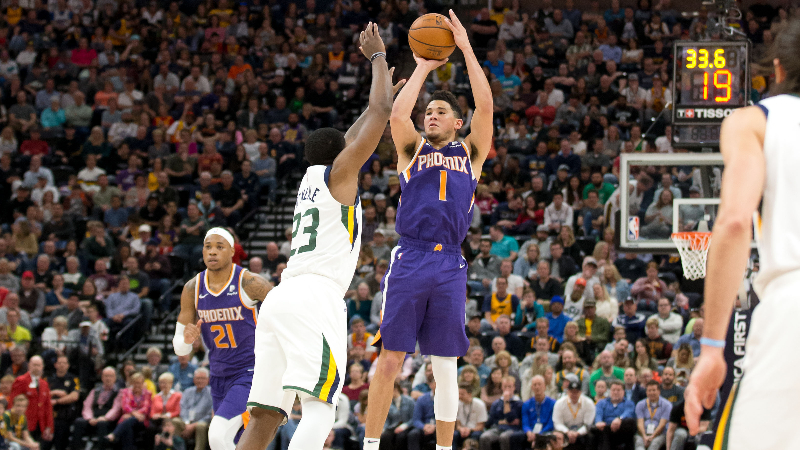 Only three of his career high games in points have come before February. If he actually can have a high scoring start to the year, that will help things considerably.
The defense will still be bad, but there's a chance it's closer to average than league-worst with Rubio, Oubre, and Baynes. It's too much to ask that Ayton be even good on that end yet, but maybe he can have some good nights?
Either way, I don't think the Suns will be great, and I don't think they'll be in the playoff picture. I do think, however, there will be enough there to win 30 games at least.
Bulls on Parade
Chicago garnered a big betting base on the over last season, according to the Westgate, which accounts for Westgate being four full wins over the lowest number, 29.5 at FanDuel. Last season was an easy under. But this seems different.
Like with Phoenix, I'm banking on a brief window after the team made trades. After dealing for Otto Porter, the Bulls went on a little, tiny run. They went 6-2 with Porter over the next three weeks before the wheels came off, Porter got hurt, eventually shut down for the year.
Now, again like with Phoenix, we can look at the additions of NBA caliber guys in Tomas Satoransky, Thaddeus Young, and the return of Wendell Carter Jr. along with the addition of rookie point guard Coby White.
This team is still brutally young, but:
Zach LaVine
Satoransky
Lauri Markkanen
Wendell Carter, Jr.
Young
Ryan Arcidiacono (I know, it sounds nuts, but he's 80th percentile or better in like seven offensive categories. He's good.)
Coby White
Luke Kornet
I'm not quite willing to put Christiano Felicio, Kris Dunn, or Denzel Valentine in there, at least not yet.
Still, that's seven guys who are certifiable NBA players, and what looks like a good rookie point guard. Satoransky and Young are guys who do the little things. This is the first season where LaVine and Markkanen are coming in healthy instead of off surgery.
If nothing else, I like the adjusted model they've created.
LaVine no longer has to set the table or be impactful, he just needs to be productive, which is his best fit. Satoransky and Young make things make sense and do the little things. Markkanen and WCJ showcase their athleticism and skill. White gives them a point guard who's at least not a negative.
What you have is all the makings of an uninspiring, but ultimately not eye-bleach bad group. They play in the toughest division in the East, but will still get a pretty steady diet of beatable teams night by night.
Chicago is also unlikely to sell midseason the way they did last year. The Jabari Parker deal was doomed from the start. They're much more committed to Porter, and have White-Markkanen-WCJ as a young core, with some capable veterans.
At anything above 35.5 I'd probably be talking myself into the under. But at 29.5, for an Eastern Conference team with some actual talent, I will once again be braving the waters for the over.
Flash forward five months and here's me:
How would you rate this article?