Moore: First Impressions on 2019-20 NBA Season Win Totals
Credit:
Photo credit: Bill Streicher-USA TODAY Sports. Pictured: Joel Embiid
We still have a ways to go before the 2019-20 NBA season, but several U.S. sportsbooks have already posted regular season win totals.
Now that the dust has settled on this summer's free agency moves, Matt Moore (@HPBasketball) takes a look at the win totals and gives his first impression on each.
I'm not ready to dive into win totals fully yet. I'm still trying to figure out where everyone plays now, to be honest. Wasn't Moe Harkless with the Heat? No? He's a Clipper now? Where's Darren Collison? He retired? Taj Gibson is a what now?
But the expansion of legalized gambling in the United States means that win totals are available at legal books much sooner.
Here are some early thoughts and first impressions as I try to wrap my head around what's going to be the prevailing outlook for the year. Last season, we saw a steep decrease in tanking teams, which brought the top levels down (only one 60-win team) and the bottom up, slightly. (We still had more 10-19-win teams [three] than we did the year before.)
Will load management make the range even closer? Will the star team-ups create juggernauts we can't see yet? Here's a look at my first impressions for the over/under win totals.
Atlanta Hawks (32.5 low, 33.5 high)
Seems: Just right
Love this Hawks team; wish I was getting them in the 20s. I'm probably going to talk myself into the under by the time my full analysis comes out. I have them at 32 on the dot on my first run.
Young-Hunter-Collins-Huerter-Reddish-Turner-Parker-Len-Bembry is exciting and fun. But they're not going to win many games. They lack rim protection and perimeter defense as Hunter adapts. Fun team in a weak division, but they will get smashed by any team that's regular-season competent. Lean towards the under, but I don't think it'll be by much.
Boston Celtics (48.5)
Seems: High
This feels an awful lot like they're getting by on reputation, like the number is saying, "Oh, it's Brad Stevens with Kemba Walker and the remnants of that really good team; they'll be fine."
Look up and down that roster. I mean, really look at it.
Kemba, Jaylen Brown, Jayson Tatum, Marcus Smart — these are all good players. Let's put Gordon Hayward on there, with another summer to recover from the injury.
That's five guys, who are all — I mean each and every one of them — a guard or wing.
The Celtics' winning formula the past two years has been defense, and then Irving and/or Tatum carrying the offense with Al Horford doing Al Horford things. Horford's gone. Brad Wanamaker is the backup point guard. Enes Kanter now likely starts at center, or maybe it's second-year mystery Robert Timelord Williams.
There are so many holes on this team, and they play in the toughest division in the East. They'll get a heavy dose of tough West teams for the ratings.
Think about what this team looks like if Kemba, Smart or Tatum miss a game. Things get dire.
This isn't crazy high. I think they're over .500, but I think it's too high by 3-4 wins.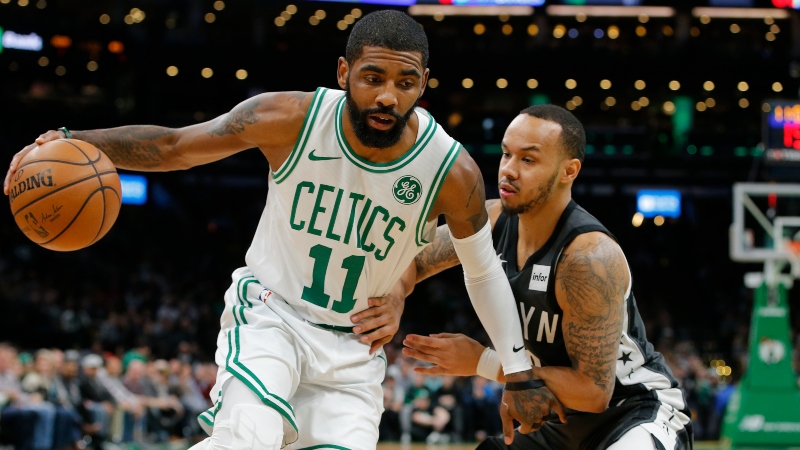 Brooklyn Nets (47.5 low, 48.5 high)
Seems: High
Players with over 500 minutes for the Nets last season with a positive on-court Net Rating:
Ed Davis
Treveon Graham
DeMarre Carroll
Shabazz Napier
Jared Dudley
Rondae Hollis-Jefferson
Allen Crabbe
D'Angelo Russell
That's the list.
Those players are all no longer on the Nets. Every single one of them.
Now, you might notice that really good Nets players like Caris LeVert, Spencer Dinwiddie and Jarrett Allen are not on this list. Kyrie Irving, obviously, is also not on this list, nor are DeAndre Jordan, Taurean Prince or Garrett Temple.
But the point is that Brooklyn was a .500 team last season, lost eight players from the rotation, added several players who are older and unfamiliar with one another and play in the toughest division. Oh, and their best player is out for the season with a torn Achilles.
I'm not crazy on the under; 47 feels like a high-end outcome, but I don't want to get caught in one of those "they had the Clippers, Spurs and Grizzlies to end the season and they all rested starters for some reason" situation. A broad spectrum of likely outcomes result in 40-46 wins.
If you want to simplify things? Kyrie Irving may be a phenomenal player, but he's needed either LeBron James or Al Horford to lift the team up around him, and he doesn't have that guy in Brooklyn.
Charlotte Hornets (23.5)
Seems: Stay away
There's a strong sentiment in NBA circles that the Hornets are going to be the worst team in basketball this season.
They were a mediocre, sub-.500 team that lost its franchise player. The math here isn't tough.
My hesitation, despite having them currently pegged at 22 wins, is that they have actual NBA players. Nic Batum, Michael Kidd-Gilchrist, Marvin Williams, Terry Rozier, Cody Zeller and probably Malik Monk and Miles Bridges are all NBA players; they certifiably will be in the NBA beyond next season.
This matters. Veteran knowledge makes up for way more talent than you would think in terms of regular-season wins. Just knowing what you're doing matters.
For the under, you're banking that a team of pro players in a weak division will win low-20s or high-teens. That's around a 19-game drop based on Walker leaving, even with the addition of Rozier. The only player I feel OK with giving that kind of influence is LeBron James.
I lean over, but "I'm taking the over with Rozier, Batum and Miles Bridges" feels fraught.
Chicago Bulls (29.5 low, 30.5 high)
Seems: Like a stay-away until I talk myself into it
I really was hoping this number would be lower. It was at 30 last season — an easy under. The Westgate's Jeff Sherman told us they were one of the teams getting the most action on the over, which still has me scratching my head. I can be wrong about things, but I usually know why. That one… I can't figure out what the thought process was.
And yet… I kind of want to take the over here. Lauri Markkanen in Year 3. Zach LaVine a full season removed from injury. The Bulls were 11 points better in Net Rating with Otto Porter on the floor. They re-signed Ryan Arcidiacono, one of my favorite little-known players. Coby White can play. Tomas Satoransky gives them an honest-to-God point guard in position to set the offense. Thad Young does all the little things, and Wendell Carter Jr.'s probably going to be healthy at some point.
You know what, I've done it. I've talked myself into it. Over on the Bulls!
Cleveland Cavaliers (low 23.5, high 24.5)
Seems: High if they trade Love
Wait on the Kevin Love trade. If they enter the season with Love, you have to let this one go. He can be the difference in five close games vs. bad teams, and that means they can win 20 with the rest and get there. That's just enough to be within reason.
But if they trade Love, this number also probably goes to 19.5 to 22.5. The high end of that feels very much like an easy under, but if it's sub-20, it's a stay-away just for variance.
The Cavs last season in Denver with most of their veterans out fielded one of the worst professional basketball starting lineups I have ever seen, and they added more kids in the offseason. They need to just play the young guys, but Darius Garland and Collin Sexton are both non-sure things as prospects.
Let me put it this way: If you jump on the under now, it's not a bad bet; I'm just not sure it's the best bet.
Dallas Mavericks (low 40.5, high 41.5)
Seems: Too good to be true for the under
Oh, baby.
An admission: I'm not a Kristaps Porzingis guy, even when healthy (which he sadly almost never is). I think he's overrated on the perimeter defensively and underrated on the interior, and he typically starts off hot and then falls off before getting injured. The sample size is small, but I find it notable that he has shot 47% from the field in October and November in his career and 42% in every other month.
Luka Doncic is incredible, but after the trades of the competent veteran pieces last year, his on-court Net Rating (understandably) fell off a cliff. This isn't a knock on him; it's only to say that it wasn't like, "well, the team got worse and lost their faces off when he wasn't on-court." He still needs good players around him, and he has very borderline guys around him.
I like Dorian Finney-Smith. I like Dwight Powell. I like Delon Wright and Jalen Brunson and Maxi Kleber and even Tim Hardaway Jr. for what he is despite his contract. Seth Curry is valuable as a shooter.
But all of these guys are probably playing one step up from where they should. The sixth man should be the seventh or eighth, the fourth starter should be fifth or a sixth man, etc.
Rick Carlisle's a very good coach, but this is a very young roster. The Mavericks being .500 in the Western Conference? Extremely ambitious. I loved their over last year (34) and their mid-season trades blew it up. (They missed the over by two wins.)
I love their under this year just as much.
Denver Nuggets (low 50.5, high 51.5)
Seems: High
The trick here is you have to really dig on last season. They lost three starters for over a month of play and won 54 games anyway. So with better health and the addition of Jerami Grant and Michael Porter Jr., shouldn't they be better?
Well, yes and no.
Denver won so many games in December and January shorthanded based on guys stepping way up beyond their normal capability. Torrey Craig, Juancho Hernangomez, Malik Beasley — all good players, but guys who played high-level basketball in starting roles vs. a hard schedule. That's tough to replicate.
They'll have to integrate Grant and Porter Jr. Paul Millsap has another year on him. Gary Harris has injury issues. And Nikola Jokic just played the longest season of his young career, is going to play in FIBA for Serbia and then immediately reports for camp.
It seems very likely that the Nuggets are going to wind up as a better team than they were last year and probably finish with fewer wins. Does that mean four fewer? Six fewer?
The range of outcomes probably leans towards 50 or fewer. The number is north of 50, meaning they can push for that last win for a '50-win season,' and then rest at the end of the year is big. It might be worth waiting until later in the summer to see if it grows.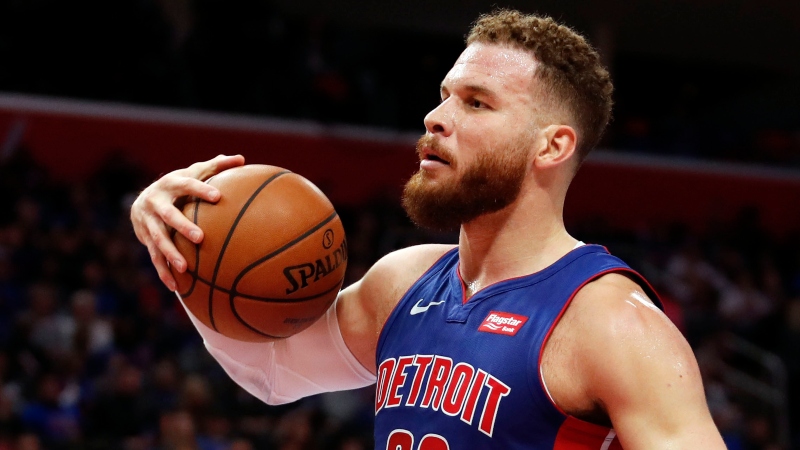 Detroit Pistons (low 36.5, high 37.5)
Seems: Low
Huh?
The over/under last year was at 38, they hit 41, they made the playoffs and they are now… 1.5 lower than last year's number?
How's that work?
I'm not big on the Derrick Rose addition, but I am high on their trade potential. The Pistons have over $71 million in expiring contracts this season. They can make a big move if one comes available.
Blake Griffin is a legit star with star-level production and impact, and the numbers for Reggie Jackson-Griffin-Andre Drummond are great: 111.9 Offensive Rating, +6.2 Net Rating.
The East remains terrible; the Pistons remain competent or in the solar system of competent. I like the over again.
Golden State Warriors (low 47.5, high 48.5)
Seems: Like a trap
No number has me questioning my own sanity more than this one. The Warriors lost Kevin Durant, Andre Iguodala, Quinn Cook, Shaun Livingston and at least a half season of Klay Thompson. They added D'Angelo Russell, Alec Burks and Glenn Robinson III. They are just not the same team they've been during the dynasty.
… But they still have Steph Curry and Draymond Green, playing for Steve Kerr. Bear in mind that in 2013 the Warriors won 47 games, and they won 51 in 2014 before they turned into the juggernaut.
If Curry is a top-five player as so many believe he is, shouldn't that, with a competent cast, be good enough for 50 wins? If Thompson is back by All-Star break, doesn't that give them a chance at a late push to get there?
I'm not saying it'll be easy. It'll be tough. But betting against whatever echo of the Warriors this team is remains a proposition I can't back.
Houston Rockets (low 52.5, high 53.5)
Seems: Doable
Before Chris Paul went down last season, the Rockets were struggling. Paul and Clint Capela just had terrible starts to the season, James Harden missed a few games — it was just a messy start to the year. Then Capela and Paul missed over a month of action. The Rockets still won 53.
Russell Westbrook's not as good of a fit for their scheme as Paul, but he's also Russell Westbrook and has won a lot of games in his career. Harden is pretty much a lock for 50 wins no matter what, and the supporting cast is still decent (if a little shaky towards the back end of the rotation, as we found in the playoffs).
There are nightmare scenarios, but those exist for any team. The range of outcomes doesn't lean much under 50, and at that point you're well within range.
At 55.5 I'd start getting nervous, but I'm comfortable with the over here.
Indiana Pacers (low 46.5, high 48.5)
Seems: Very doable
Not going to lie: I'm not a great person to ask on this one because I believe Malcolm Brogdon is the Second Coming. Of who, you ask? Jesus? Larry Bird? Magic Johnson? Who can say, really, but Brogdon is a 50-40-90 capable shooter whose halfcourt passing chops are excellent. Brogdon's an upgrade over Darren Collison, who retired.
The big question is how long it takes Victor Oladipo to get back. There are circles of skepticism that suggest Oladipo may not be the same given the nature of his injury. The Pacers, on the other hand, have said he's likely to return by January.
Having this number sub-50 is key, and I'm not wild on that 48.5 number. But 47-50 feels very much within range.
Bear in mind that while the East is improved, the Pacers have enough talent to coast their way to 45 and be within range. So even in bad-not-catastrophic contingencies, they can clear it.
The defense will be good, the offense has passers and shooters and Oladipo can go bonkers in March after two months from his return and scoot them past the number.
Los Angeles Clippers (low 55.5, high 56.5)
Seems: Optimistic
Sorry, I'm not on board for the Clippers to be a 60-win team out of the box. The Clippers went 11-3 in November to build a cushion, were sub.-500 from December through February and then traded half the team and went 13-2 in March. During that month, they had good wins vs. the Thunder, Kings, Celtics and Pacers, but they also played Cleveland and New York twice, Chicago once.
March is always a little wonky.
Now, very little of that matters because they got Paul George and Kawhi Leonard, but the idea that they're just plugging those two into a high-level team isn't accurate. There's talent, but there are questions, especially with how that talent fits around George and Leonard.
Further, they can be wildly successful and fall short of this number. The 2011 Heat with three megastars won only 58, and this Clippers team isn't better than that Heat team, nor do they play as easy of a league/schedule.
Throw in the likelihood of load management for Leonard plus Paul George's offseason shoulder surgeries, and the under is most definitely the play. Make them prove it.
Los Angeles Lakers (51.5)
Seems: Too sharp
Fading them certainly seems like a good play after last year and how that worked out. But for as much of a trainwreck as the Lakers have been, we need to keep in mind that they were the fourth seed on Christmas, up double digits on the Warriors and that their implosion may have gone nuclear with the Anthony Davis trade but began with LeBron James' groin injury, the first major injury of his career.
Do you believe that James — who has been damn near indestructible in his career but who also turns 35 this year — will continue to have durability issues?
Or do you believe that it was a blip?
The Lakers brought back some key members of last year's FailSquad (Rondo, KCP, JaVale), but their additions were all NBA playoff-caliber rotation guys. Danny Green, Avery Bradley and Troy Daniels give them wings who can shoot and play defense (in the case of the former two). Jared Dudley is a glue guy who does a little bit of everything. DeMarcus Cousins may get closer back to what he was before the Achilles this year.
The biggest key here is that when LeBron went down, the rest of that team could not stay afloat last season. If James or Davis misses time, you can put out a lineup of Rondo-Green-Dudley-Cousins with either one of the stars and survive.
I don't expect the Lakers to be a juggernaut; I think they'll struggle early like most new LeBron teams do. But I do think they'll have two really good months, and that will likely get them to just under 55. Their floor is likely 49. That's close enough to think the over has value.
Memphis Grizzlies (26.5)
Seems: Like bait
Admission: I'm all in on this team. Ja Morant and Jaren Jackson Jr.? Jonas Valanciunas was so good last year, and I've never been a JV guy! Brandon Clarke just won Summer League MVP! Tyus Jones' Net Rating numbers in Minnesota were wild good!
Yeah, I can't get sucked in here. The reality is the Grizzlies are a super young team that's rebuilding, and those teams don't win. Memphis has taken on multiple contracts for picks and is likely to send out more (Andre Iguodala to a team that wants him and Solomon Hill or Jae Crowder to a team wanting cap space next year).
The Grizzlies also have real incentive to tank. A bottom-six finish lets them keep their pick, turning the pick they owe Boston into an unprotected 2021 first-rounder when maybe they can field a competitive team to lessen the burn on that. They don't want to hand Boston the seventh or eighth pick.
The future for the Grizzlies is incredibly bright… but they have a lot of motivations as an organization to finish with closer to 20 wins.
Miami Heat (42.5)
Seems: Untouchable
What a weird roster. Just really bizarre. Justise Winslow is a good supporting player but needs to be the second- or third-best guy on the team? Kelly Olynyk is vital?
I can't make heads or tails of this roster, and they seem like they almost have to make a trade to get some sort of cohesion around it. I want to stay far away from this number.
Jimmy Butler's a star, and they play in the Southeast Division in the Eastern Conference; there's a vulnerability to exploit. I just don't know if they'll hit this number or not.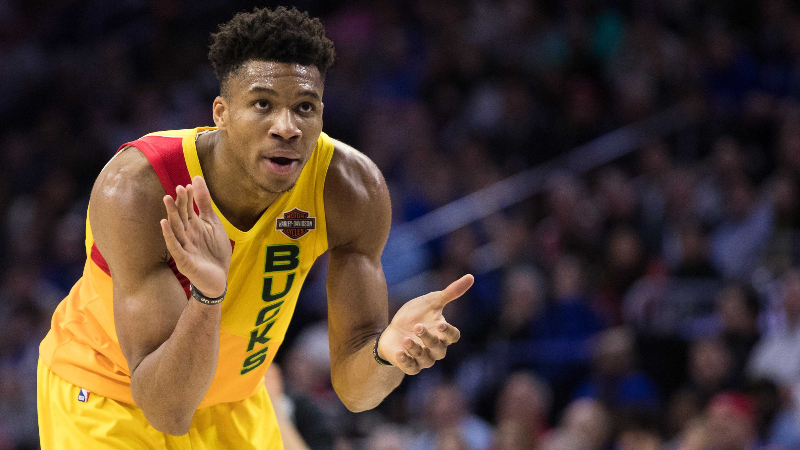 Milwaukee Bucks (low 55.5, high 56.5)
Seems: Overly confident
The Bucks are due for some regression. They were almost entirely healthy last season. No one missed significant time beyond Malcolm Brogdon, and by that point they were already essentially locked into a top-two seed.
Now they're thinner, having lost Brogdon to free agency and Tony Snell in a trade. Nikola Mirotic is gone, returning to play in Europe.
Now, the core elements are still in place. Giannis Antetokounmpo is the reigning MVP, and he's only going to get better. They kept Brook Lopez and Khris Middleton, which will keep them in the 50s. But it's likely their 22-14 record in games inside five points in the final five minutes takes a slip, and some natural shooting and health regression will put them back closer to 50.
I hate to beat this analogy to death, but the 2015 Hawks were world-beaters in the regular season, too, and won 48 games the following season.
There's reason to think the swell subsides, even if the Bucks are still very much contenders next season.
Minnesota Timberwolves (low 34.5, high 35.5)
Seems: Vulnerable on both sides
I don't feel this range is accurate, in that I don't think the Wolves will win between 31 and 37 games. I think they'll either be way over or way under.
I just don't know which.
On the surface, they lost every player in their top-five of Win Shares outside of Karl-Anthony Towns, and Josh Okogie is maybe their third-best (?) player. It's Towns and question marks.
On the other hand, they've got actual NBA talent at all five starter spots, and Towns is legitimately incredible. Eventually, that talent is going to raise the tide. It might be this year.
I guess the point is that there's contrarian value on the over. The team really believes in Ryan Saunders, who is now the actual head coach. They have a superstar, and they have good role players.
But there's also a real chance that Gersson Rosas employs a very dedicated teardown by trading Andrew Wiggins and possibly pulling off a Robert Covington-for-D'Angelo Russell swap. They might get worse in trades to get better flexibility; they might upgrade. As of now, I think this is a stay-away; it's just really tempting.
New Orleans Pelicans (39.5)
Seems: Irresistible
Over. Don't care. Over.
They're really young. Don't care. Over.
They play in the West, in a division that's on the rise again. Don't care. Over.
Zion's a rookie, and there's a learning curve. Don't care. Over.
Take out all the Lakers guys. Just Jrue Holiday, JJ Redick, E'Twaun Moore, Zion Williamson and Derrick Favors. Put just those five guys in the rotation with three replacement-level guys for an eight-man rotation, and I'm still in for .500.
Pelicans. Don't care. Over.
New York Knicks (low 28.5, high 29.5)
Seems: Too good to be true
Why do they keep giving us money like this? There's a lot of conversation about who the worst team in basketball will be, and, man, the Knicks belong there.
All of the Knicks are guys who either need someone else to make their roles work, or are incomplete and borderline guys. What does a rotation even look like? Dennis Smith Jr., RJ Barrett, Marcus Morris, Julius Randle and Mitchell Robinson?
There are a lot of guys I like on the Knicks long-term. Damyean Dotson and Kevin Knox, for example, along with Robinson. But in the short-term, they're a young team overladen with mid-stretch fours, no real idea of who their long-term point guard is or who will make the offense make sense. Asking Barrett to do that is a tall order. And this is nearly 30 wins!
When I do rankings of confidence closer to the season, the Knicks under will wind up being one of my top selections.
Oklahoma City Thunder (35.5)
Seems: Soft
FanDuel is the only book brave enough to post a number for OKC so far and with good reason.
The Thunder will deal Chris Paul at the first chance they get. They are rebuilding, and everyone on the roster has a first-round-pick price tag attached. It could be December, it could be February, it could be next summer.
But OKC will want a long-term return on every asset it has.
That said… I kind of think this number is vulnerable. Take the context of the Thunder being disassembled out of it, and you still have a team with Paul, Steven Adams, Andre Roberson and a decent bench. Paul isn't the player he was in 2011, and this team doesn't have a David West, but the Thunder aren't that far off from this 2011 team Paul somehow pulled 46 wins from.
This is one I want to fade public perception on, given that it only means getting to the high 30s. I can't get there, however, given that I don't know what the long-term plan from the front office is.
Orlando Magic (low 39.5, high 40.5)
Seems: Comfortable
The Magic are a .500 team. They doubled down on their success last season by re-signing Nikola Vucevic. Can Aaron Gordon get much better? He's only 24 at the start of the season, but it's hard to really see where he's going to make a jump. He shot 35% from 3 last year; can he hit a higher ceiling there? More of a playmaker? Better defender?
Mo Bamba was a non-entity last year. Will that change? Jonathan Isaac made a big stride last season but still shot 42-33-82. Is Markelle Fultz an NBA player?
They have to get everything in terms of production they had last year, along with improvement from multiple angles in order to move solidly above .500.
There's better value on the under than the over, but their defense means they can likely win 35 no matter what, and you're in danger-zone territory then. This feels like too sharp a number.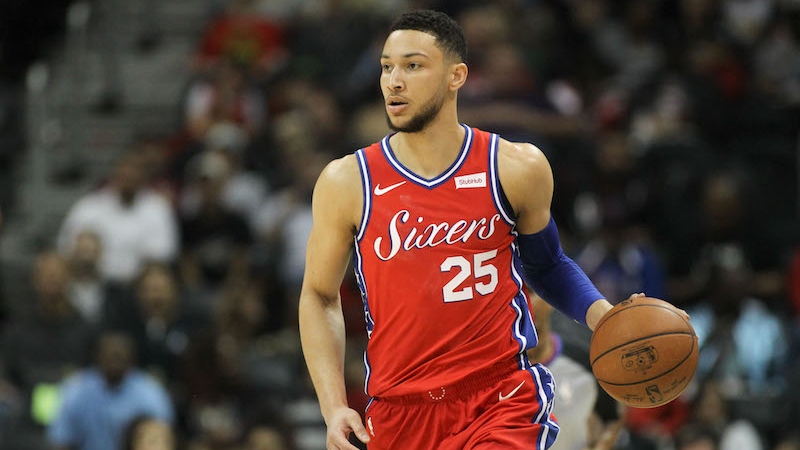 Philadelphia Sixers (53.5)
Seems: Like a lot but isn't
I'm all in on the Sixers. Their offseason approach was built largely around optimizing Joel Embiid. This is more of a gamble (on a gamble) than most because you're banking on Embiid's health.
If he plays 66-plus games at full strength, he can be an MVP candidate and dominate. Without him, they still have the talent to get it done if he's rested conservatively. I want to go all in on one year for him to stay on the court and then react from there.
I like the Sixers to win their division and to actually win the most games, league-wide, this season. They have defense, spacing, shooting, passing, transition and halfcourt options.
Embiid's been rising as the most dominant force in the East for a few years. With Kawhi gone and Kevin Durant out for the season, it's down to Giannis and Embiid. I'm banking on Embiid raising the tide with a team built around him.
Phoenix Suns (28.5)
Seems: Surprisingly low
I'm going to regret this, but I'm pretty much locked in on Phoenix to hit the over.
In 200 minutes for a brief sliver of time in 10 games after the All-Star break, Tyler Johnson, Kelly Oubre, Deandre Ayton and Devin Booker had a +3.9 Net Rating with a Defensive Rating below 110. They were legitimately pesky.
Now add Ricky Rubio, Aron Baynes and Dario Saric. You can get to eight NBA-caliber players with Mikal Bridges really easily, and that's if Cam Johnson gives them nothing.
Phoenix traded in a team of young, messy players for a roster with three young, messy stars (I like Bridges that much to call him such) and NBA competent guys around them. They're going to beat the worst teams consistently, lose to the best teams consistently and go .500 across a wide swath of the middle.
Monty Williams will get his guys to play hard, and Devin Booker will finally be in a position to be an impactful player.
The Suns won't be good but they will… deep breath… not be terrible this year.
Portland Trail Blazers (low 44.5, high 45.5)
Seems: Irritatingly low
I'm so mad this is so low. After the Western Conference Finals run, I thought, "Surely they will respond to the Blazers being top-four multiple years in a row and raise their total."
Nope.
Instead, they get the disrespect card again. Look, I don't like their summer. Al-Farouq Aminu was good in the regular season, as was Moe Harkless. They're without Jusuf Nurkic for several months, and Hassan Whiteside comes with a lot more cost than benefit. This team shouldn't win 46 games.
But they will.
They just will.
Terry Stotts is the sixth-most profitable coach in our Bet Labs database between the months of January and March. That middle part of the season when contenders are resting or have injuries and teams start to figure out they suck and tank? That's when the Blazers start rattling off win streaks.
Kent Bazemore helps their wing shooting, they have expiring contracts to use in trades and they have Damian Lillard. They'll win 45-plus. Like with the Spurs, it just is what it is.
Sacramento Kings (37.5)
Seems: Like bait
This is begging for the over. The Kings beat their win total by February last year and return all their key pieces. They signed a bunch of replacement-level veterans like Trevor Ariza, Cory Joseph and Dewayne Dedmon. They kept Harrison Barnes, which is fine, even if it was pricey. They have wings and bigs and shooters and creators and two young stars in De'Aaron Fox and Buddy Hield.
And yet I'm pump faking here.
Those veterans just don't look as good if Fox and Hield have any stagnation or regression at all. They lost Willie Cauley-Stein's rim-running, which was really helpful despite all his defensive warts.
Even then, I feel like 39 wins might be their floor. But some outlier range of outcomes puts them back in the low 30s.
I want to believe in the Kings. But I need to see it, for just one more season.
San Antonio Spurs (low 44.5, high 45.5)
Seems: Predictable
OK, books. If you want to keep giving us money, we'll keep taking it.
Here's the key with the Spurs. They have an 80%-plus win rate vs. teams under .500 over the last decade. They beat up on the Magics and Pistons and Cavs of the world and don't slip, then take a decent number of games off worn-out teams at the end of the Texas Triangle and finagle their way to 48 wins every year.
I can talk to you about Dejounte Murray's return or Derrick White's progression or whatever else. But it's Death, Taxes, Spurs. They are going to hit the over on 45 until they are completely bereft of talent or Gregg Popovich retires.
Toronto Raptors (low 45.5, high 48.5)
Seems: Workable
That low number is sweet as honey. The 48.5 at FanDuel is much more accurate. This team still won at a high clip when Kawhi Leonard managed his load last season.
It's true that the Raptors may instigate a teardown mid-season with all their expiring contracts, but even when Masai Ujiri makes such moves, sometimes they result in making the team better. The Raptors are talented and competent and too good to tank that hard.
That said, I don't mind the 48.5 under, either. I'm not suggesting a middle; that's a bridge too far. But I love playing the under on 48.5 for the championship hangover factor. Teams tend to regress after winning the title in terms of on-court focus in the regular season, and that's even if they don't lose their best player in free agency.
Both sides are playable, but I also see very few scenarios in which the Raptors win fewer than 45 games or more than 50.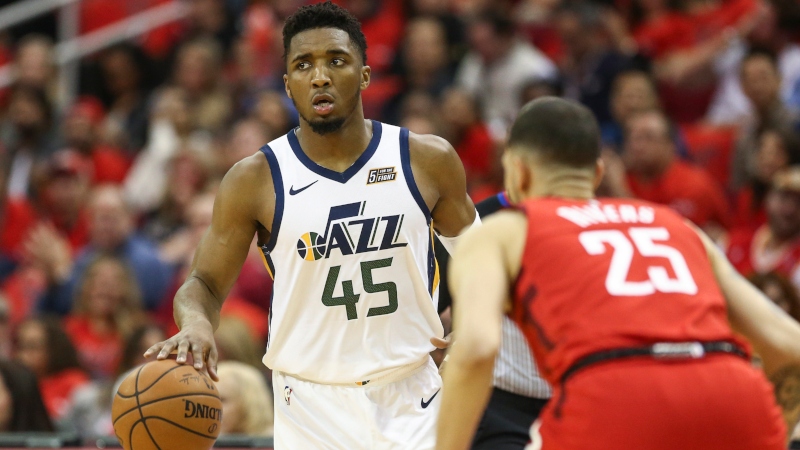 Utah Jazz (53.5)
Seems: On point
I'm taking the over.
Utah has historically been the kind of team that just beats up on the worse squads in the league. The Jazz struggled with that to start the season last year and were in a real funk until mid-season. Now they have a seriously upgraded roster with Mike Conley and Bojan Bogdanovic (and Ed Davis), and Donovan Mitchell likely rebounds from his sophomore slump.
I think their championship ceiling may be lower than what the analytics will say; their matchup issues in the playoffs will be real. But they'll cruise to 55-plus wins and may have the best chance of anyone except the Bucks to win 60 games.
Washington Wizards (27.5)
Seems: Funny
They may have to trade Bradley Beal to avoid paying him the max extension. If they don't, it's just him and Thomas Bryant and a whole lot of nothing. I legitimately think they'll miss Jeff Green. Think about that.
Take Beal off this roster, and it's the worst roster in the league.
Yes, worse than the Knicks.
Beal just isn't good enough to get this team to 28 wins. No one is. In NBA history.
Love the under.
How would you rate this article?