The Most Valuable Players to the Spread in NBA History
With help from CG Technology, we've compiled a list of the most valuable players to the spread in NBA history.
See the spread values for historical players like Wilt Chamberlain, Kareem Abdul-Jabbar, Michael Jordan and more.
Most of the offseason fireworks have come to an end (I think). The NBA has once again entertained us with a bevy of superstar transactions, and we're all looking forward to a new-look league in a few months.
To tide you over until the start of the season, I present to you a list like no other. "Top-50" and "top-100 players of all time" lists are a dime a dozen. "Historical most valuable players to the spread" lists? There surely aren't a dozen of them in existence. To my knowledge, this is the first of its kind.
What do these numbers mean? Well, for example, Giannis Antetokounmpo was worth 5 points to the spread this past season. If the Bucks were -7 and he was suddenly ruled out, the line would likely move to Bucks -2 — give or take a half point or so depending on the situation. The betting market could further move the line one way or another as well if it thought the line had moved too much or not enough.
Here are examples of player ATS values from last year:
Giannis Antetokounmpo: 5 points
James Harden: 4 points
Victor Oladipo: 3 points
Rudy Gobert: 2 points
Kyle Lowry: 1 point
Though I am giving you this list, the numbers don't come from me. What do I know about Pistol Pete Maravich's spread value back in the late 70s? I was born in '92.
Instead, William Bernanke, Risk Analyst, and Mike Young, formerly a Sports Wagering and Integrity Analyst, of Las Vegas' CG Technology have helped me out.
This list does not include every star player of all time on each of their teams. Every year, there are a few dozen players who are worth at least a couple of points to the spread, so for a complete list we'd be talking about hundreds and hundreds of players.
You can probably use these players as a guideline for other players you may be wondering about, too. I'm sure we'd all love to know a definitive answer for what World B. Free and Swen Nater were worth on the San Diego Clippers in the late 70s. Unfortunately, that will likely remain a mystery until the end of time.
Some factors to keep in mind when looking at these numbers:
A player's teammates at the time are highly important. For example, Steph Curry will be more valuable this season with Kevin Durant gone and Klay Thompson hurt. LeBron James will be worth less with the addition of another superstar in Anthony Davis.
A player's position, coach and era they played in also make a big difference. Big men were more important back in the day than they are now. Several guys listed played before the creation of the 3-point line. A team with two elite guards won't be hurt as much if one gets hurt, and so on.
All right, enough with the introduction. Here are historical ATS player values, starting with the most valuable…
---
Wilt Chamberlain (Pre-Lakers): 8 Points
Wilt. The. Stilt. A legend in every sense of the word.
At a whopping 8 points, Wilt is tied for the most valuable player in history during his early years. I mean… 50 points and 25 boards a game and over 48 minutes played per game in the 1961-62 season. Are you kidding me? You could probably argue that he was worth upwards of 10 points to the spread if we're being honest.
The league was much smaller back in those days, in terms of both height and number of teams, and Wilt was a man among boys for the most part. In fact, Bernanke said he was "basically the big kid holding the ball over all the kids on the block as they just can't reach it."
The points and rebounds are absurd enough on their own, but his ability to block shots, which weren't officially recorded until he retired, was known to be superb. I'm talking numerous games in the double digits. Maybe someone will eventually tie or top his 100 points in a game, but his season-long records can be etched in stone because they'll never be touched.
Given the more even playing field these days, there will likely never be another player as valuable to his team as Wilt was back in his prime.
---
George Mikan (Pre-1952): 8 Points
The Mikan Drill… ever heard of it? Well, if you've never played basketball, perhaps you haven't. And if you're not familiar with early 50s NBA, perhaps you're not familiar with the man for which it's named.
Though this bespectacled big man may not be at the top of most "top-100 NBA players ever" lists, he is for this one. At 6'10", George Mikan was the league's first dominant big man. In fact, he led the league with 27.4 PPG when it switched from the "BAA" to the NBA back in 1949-50.
His career was not a long one, as he logged just seven seasons, but it was a meaningful one.
As Young points out, Mikan was "so far above the rest of the league, ability-wise, that the NBA widened the length of the lane by six feet."
If you're curious about how the Lakers have racked up 16 championships, you mustn't forget the five that Mikan helped lead the Minneapolis Lakers to during his career. You know, because Minnesota actually has lakes as opposed to Los Angeles. They won in five of his seven seasons and then won just one in the next 25 years.
Wait a second… did betting on basketball even exist back in 1950? Yup…
---
Michael Jordan (Early Years): 7 Points
Straight out of UNC, Michael Jordan was a star. The Bulls, however, were not very good yet.
In his rookie season, Jordan averaged 28.2 PPG, but the Bulls had a sub-.500 record. Next year, Jordan missed the majority of the season with a broken foot and Chicago won just 30 games. However, over the next few seasons Jordan established himself as one of the league's elite.
Multiple seasons with 35-plus points per game, awards up the wazoo, blocks and steals… you name it. Since the Bulls didn't have much surrounding Jordan in the early years, they weren't quite a championship-caliber team just yet.
That's also why Jordan was worth more pre-1990 than he was when the Bulls were pulling off their three-peats, as Chicago would be screwed without him in the lineup. Once Scottie Pippen rose to prominence, some of the load was taken off MJ's shoulders.
---
LeBron James (2007-2010): 6-7 Points
Before the superteam era, LeBron James had to deal with what he was given — which was not much. We all remember that Cavs team he took to the Finals: Zydrunas Ilgauskas, Larry Hughes, Drew Gooden…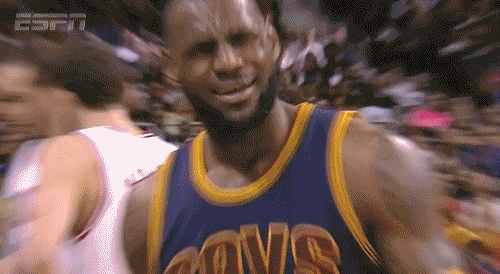 Shocking, I know.
He took home two MVPs at the end of his first Cavs stint and really put the team on his back during the playoffs, including the 2009 postseason in which he averaged 35/9/7.
Given the crappy caliber of teammates he had, they were really in trouble when he had to miss a game. I was able to find a few games in the archives that he missed in surprising fashion, which led to the following line moves:
1/26/07: -4.5 to +1
3/10/10: -4 to +3.5
4/8/10: +1 to +6.5
In 2007-08, he missed a little chunk of time and ended up playing 75 total games on the year; Cleveland lost all seven without him.
LeBron is a controversial character and will always be right in the center of GOAT debates, but there's no doubting he absolutely carried an otherwise terrible team before he made his infamous decision. Not one, not…
---
Michael Jordan (90s): 6 Points
After ridiculous-stats-MJ came championship-MJ, who still put up 30.3 PPG from 1990-91 through 1997-98. Add that together with six championships and you can see why many are reluctant to hand over the GOAT title to LeBron.
With Scottie Pippen, Dennis Rodman, Horace Grant, Toni Kukoc and other key role players alongside, Jordan was not quite as valuable to the Bulls as he was at the beginning of his career, but that's not really a knock on him. If Kawhi Leonard chose to sign with the Cavs, he'd be more valuable next year than he will be with Paul George on the Clippers. It's science.
---
Kobe Bryant (Post-Shaq): 5-6 Points
During L.A.'s championship years in the early 2000s, the Lakers were not Kobe's team. He had to share them with Shaq. Once The Diesel left, however, it was Kobe's time to shine.
In 2005-06, Kobe averaged 35.4 PPG — the most in a season since Jordan topped 37 in 1986-87. Of course, that season included this dandy of a performance…
The following season he also topped 30 PPG, but it wasn't until 2007-08 that he won his first and only NBA MVP. It was also the year that Pau Gasol arrived and made L.A. a championship-caliber team once again.
I was able to find two prime examples of Bryant's worth in the archives:
1/30/07: Line moved from -3 to +2 (lost by 5)
3/7/07: Line moved from +3.5 to +9 (lost by 20)
The line movement definitely correlates with his spread value in this era, but perhaps he could have been worth even more, as the Lakers struggled whenever Lamar Odom was handed the keys.
---
Shaquille O'Neal (Magic): 5-6 Points
Before Shaquille O'Neal joined the Lakers and became one of the most recognizable people on the planet, he played for the Orlando Magic. Actually, he became one of the most recognizable people on the planet in the summer before he first joined the Lakers when "Kazaam" came out…
In his rookie season, he averaged 23.4 PPG, nearly 14 rebounds and 3.5 blocks without much help around him in Orlando. Then, a fella named Penny arrived on the scene, whose dishing and diming helped Shaq average 29-plus PPG in back-to-back seasons, earning him fourth- and second-place finishes in MVP voting.
Shaq was worth more without Penny distributing but was still an incredibly valuable player with Penny running point. The duo led the Magic to the Finals against the Rockets in 1995 before Shaq signed with L.A. after the following year.
---
Bill Russell: 5-6 Points
Back when Wilt was in his prime, there was really only one guy who could stop him — at least to some degree — and that guy was Bill Russell.
Wilt had all the individual numbers, but all Russell and his Celtics teammates did was win. Russell's 11 championships — yes, ELEVEN championships — remain a record 50 years after his retirement. And while he was never the offensively dominant force that Chamberlain was (he never averaged 20 PPG), his rebounding and defensive prowess helped him bring home five MVP awards.
Of course, one reason why Russell was not deemed more valuable than 5-6 points is because he was surrounded by greatness. Red Auerbach was at the helm, and numerous Hall of Famers played alongside him: Bob Cousy, Tommy Heinsohn, John Havlicek, Sam & K.C. Jones, etc. The Celtics probably could have won some of those titles without him if we're being honest.
---
Kareem Abdul-Jabbar (Bucks): 5-6 Points
Kareem Abdul-Jabbar — the artist formerly known as Lew Alcindor — is best known for his days as a Laker alongside Magic Johnson, but he started off his legendary career as a dominant force with the Bucks.
In his six years there, he won an NBA title and three MVPs without too much help alongside him, as an older Oscar Robertson and All-Star guard Bob Dandridge were some of his only notable teammates.
Kareem and his skyhook averaged 30.4 PPG and 15.3 boards during his stint with Milwaukee. Blocked shots were still not recorded until his fifth season, but one can only assume he was upwards of three or four swats per game up until that point considering he blocked three-plus in the first seven seasons the stat was official.
Given his relative lack of teammates and exceptional stats, I imagine some may argue he was worth even more than 5-6 points to the Bucks.
---
Steve Nash (MVP Era with Phoenix): 5-6 Points
Steve Nash controversially won the MVP in 2005. Then he won the MVP in 2006, also in controversial fashion. Regardless of what you think of the major awards he won, Nash was certainly valuable to the "7 Seconds or Less" Suns squad of the mid-to-late 2000s.
Looking back in the archives, I can find a few games he missed, but the spread moved between just 2-4 points… more Nash controversy on our hands???
Well, maybe at the time he was just undervalued by bettors. Get a load of this stat: In the games that Nash played in between the 2004-05 and 2007-08 seasons, the Suns went 227-84 (72.99%), but in 17 games he missed they went just a measly 4-13 (23.53%).
While he never scored 20 PPG in any season of his career and wouldn't wow anyone in this era with his stat lines, there's no doubt he was of vital importance to one of the most dominant teams of the time.
---
Allen Iverson (76ers): 5-6 Points
When asked about Iverson, Bernanke said he was a "one-man band for the most part." The Answer took this team to the NBA Finals in his MVP season: Iverson, an old Dikembe Mutombo, Eric Snow, Aaron McKie and Tyrone Hill.
Yeah, they got destroyed by the Lakers in five games, but Iverson sat for three minutes the entire series and averaged more than 35 PPG. "One-man band" certainly checks out.
In the early 2000s, AI led the league in scoring and steals in three seasons, and throughout his career he led the league in minutes played seven times.
I always remember thinking Iverson was a real ball hog whenever I saw him play, but the thing about ball hogs in the NBA is that they're generally pretty good. AI was no exception.
---
Wilt Chamberlain (Lakers): 5 Points
At the end of his career, Chamberlain joined the likes of Jerry West, Elgin Baylor and Gail Goodrich in La-La Land. With the Lakers, he grew a goatee, packed on mass and helped the team capture their first NBA title in Los Angeles in 1972.
Chamberlain was nowhere near the offensive force that he was earlier in his career, but he didn't have to be with those fellow HOFers playing with him. He still played over 40 minutes a night, grabbed nearly 20 rebounds and was a monster on defense.
Like I said, he was noticeably bulkier with the Lakers than he was as a youngster. You did not want to drive to the hole against this bruiser.
---
Hakeem Olajuwon: 5 Points
During an era when big men were mightily important, Hakeem the Dream was among the best. Perhaps the best.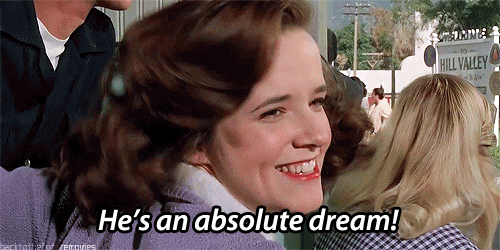 He certainly took advantage of MJ's absence from the league more than anyone else, as the Rockets won the title in both 1994 — when Olajuwon won the MVP — and 1995.
When people think basketball in the 90s, Jordan is obviously who comes to everyone's mind. But, perhaps in an alternate reality world where Jordan quit basketball when he was cut from the varsity team his sophomore year, Olajuwon and his Rockets would personify 90s hoops.
Olajuwon, like other dominant bigs of his time, could score at will thanks to his "Dream Shake" and a bevy of other low post moves, as well as defend the rim like a boss. From 1988-89 to 1994-95, he blocked at least 3.4 shots per game every season. When it comes to all-around centers, Olajuwon is undeniably one of the greatest ever.
---
John Stockton: 5 Points
The king of assists, John Stockton was the definition of consistency and reliability throughout his long career with the Jazz. He missed only 22 games during his 19-year career and just four in his first 13 seasons. Plenty of dimes were dealt in that span.
In 1989-90, when he averaged an NBA-record 14.5 assists per game, he had 10 games of 20-plus assists and 42 games with at least 15. Are you serious? He has the top-two marks for assists per game in a season and six of the top 10.
Stockton was also a good scorer in his own right, averaging around 15 PPG in his prime and shooting over 50% from the field during his career.
Stock may not be remembered for his defense, but he made five All-Defensive Second Teams and led the league in steals twice. Unfortunately for him and Karl Malone (who we will touch on later), the Jazz were never able to win a title.
---
David Robinson (Pre-Duncan): 5 Points
The kids my age think of Tim Duncan when they think of the San Antonio Spurs — who could blame them? Those who grew up during Morganna The Kissing Bandit's heyday, however, think of The Admiral.
Like Olajuwon, Robinson was an excellent two-way player, capable of nearly 30 points and over three blocks per game.
He had a particularly dominant stretch from 1993-94 to 1995-96, in which he finished second, first and second in the MVP races, respectively.
However, his value would go downhill from there, as he lost all but six games of the 1996-97 season to injury and was joined by Tim Duncan the next year. Though just a rookie, Duncan was essentially Robinson's equal at that point. In fact, they put up nearly identical stat lines in Duncan's rookie season:
Robinson: 21.6 PPG, 10.6 RPG, 2.7 APG, 2.6 BPG, 0.9 SPG
Duncan: 21.1 PPG, 11.9 RPG, 2.7 APG, 2.5 BPG, 0.7 SPG
More on Duncan later… much later…
---
Scottie Pippen (without Jordan): 4-5 Points
Scottie Pippen will always take the back seat to Michael Jordan, and rightfully so, but the man was an elite player in his own right and got to prove that when Michael Jordan retired out of the blue for some reason…
In 1993-94, Pippen came in third place in MVP voting behind a career-high 22 PPG, 8.7 boards and 2.9 steals. It was also the first of three consecutive seasons in which he was named All-NBA First Team and All-Defensive First Team.
"In 1993-94 when they lost to the Knicks in the Conference Semis, he was as valuable to them as most if not all players in the league, but Phil Jackson keeps his value at 4/5 without Jordan that season." – Bernanke
He would put up very similar numbers in 1994-95, the season in which Jordan returned in March.
Pippen playing second fiddle to Jordan allowed the Bulls to take home six titles, but he could've done pretty well if given a team of his own.
---
Charles Barkley (Suns): 4-5 Points
If it isn't everyone's favorite TV analyst, Charles Barkley.
Old Chuck began his career with eight great years in Philadelphia but was a point or two more valuable during his four years with Phoenix. Bernanke remarked, "Charles facilitated much more with Phoenix, hence his value was greater there than in Philly."
In his first year with the Suns, Barkley led the team to 62 wins and won the MVP — beating out a fella named Michael Jordan. Who cares about facilitation when you're beating out prime MJ in the MVP race?
Like the aforementioned Nash, the Suns were a much different team without the Round Mound of Rebound. During his four-year stint there, they were 196-84 (.700) with him and 22-26 (.458) without him, including just 1-5 during that MVP season.
---
Elgin Baylor: 4-5 Points
We're going old school again. He didn't have the numbers of Wilt Chamberlain or the championships of Bill Russell, but Elgin Baylor was dominant in his own right.
"Played with Jerry West, so it's tough to separate those two in terms of their value to the team. Plus, injuries derailed his career. But in the early part of his career, he was the second-most dominant scoring big man in a league dominated by big men." – Young
Let's take the 1961-62 season for example:
Baylor: 38.3 PPG (on 33.1 shots per game), 18.6 RPG, 4.6 APG
West: 30.8 PPG (23.9 shots), 7.9 RPG, 5.4 APG
Lest we forget about 6'3″ All-Star small forward Frank "Pops" Selvy, who put up 14.7 points a night, and Rudy "The Ivy Leaguer With Muscles" LaRusso, who went 17 and 10 that year. What a nickname.
Anywho, Baylor was definitely a statistical beast who could snatch upwards of 15 rebounds in a night despite his 6'5″ frame, but he was not the most efficient player in the world and had some help alongside him on the Lakers.
While it doesn't particularly matter for this list, he technically never managed to win a title, as he retired nine games into the 1971-72 championship season in L.A.
---
Dirk Nowitzki: 4-5 Points
In today's NBA, you will find that nearly everyone shoots 3-pointers — even guys who really have no business chucking them up, like Enes Kanter or Trey Lyles… or Russell Westbrook.
"Dirk foreshadowed a massive shift in a league with a rapidly-changing offensive landscape. He averaged five 3-point attempts per game from 2000-2003, unheard of for a 7-footer at the time. Worth more than a few other guys on this list because of his diverse and efficient offensive game." – Young
He has certainly fallen off over the past few years but was one of the game's best players from 2000-2010, a decade that he capped off with a title against LeBron's Heat.
He was named to one of the All-NBA teams every year that decade, including three first teams. His best year was 2006-07, when he won MVP and led the Mavs to 67 wins.
---
Oscar Robertson (Royals): 4-5 Points
Speaking of Russell Westbrook, Oscar Robertson was the Russell Westbrook of the early 60s. He posted the original triple-double season back in 1961-62, which was one of several seasons that he was right around 30/10/10.
Though you may not have heard of any of his teammates, he did share the Cincinnati Royals jersey with other Hall of Famers like Jerry Lucas, Jack Twyman and Wayne Embry. Actually, scratch that. If you haven't heard of Jack Twyman and Wayne Embry, please go educate yourself some more.
Despite his ludicrous stats year after year, he won just one MVP in 1963-64. With the addition of Lucas that season, the Royals went from 42 to 55 wins — their best record during Robertson's years on the team. They would never go on to make the Finals, though, and Robertson's only title would come as a member of the Bucks with Kareem Abdul-Jabbar.
---
Isiah Thomas: 3-5 Points
All you youngsters out there may think I'm referring to Isaiah Thomas of Celtics stardom… seriously, though, you're not supposed to be on this website if you're under 18, so scram if that's the case.
Of course, I am actually referring to the real OG Isiah Thomas of the Pistons, one of the best point guards ever. His 13.9 APG in 1984-85 is the third-highest mark ever behind Stockton's top-two seasons. That season marked the second of three consecutive All-NBA First Team nods, as well as his peak value to the spread.
"He was worth 4/5 points in the pre-championship years, especially before Dumars was drafted in '85; Dumars could run the point when Isiah was out. Chuck Daly was still growing as a coach and had not reached his prime yet either.  1988-91 Isiah was worth 3/4 points." – Bernanke
In addition to Joe D, Thomas played with Bill Laimbeer, Kelly Tripucka, Dennis Rodman and a few other All-Star-caliber players, but never any other true superstars.
The Pistons swept the dominant Lakers in the 1989 Finals and toppled a Clyde Drexler-led Blazers team in 1990, in which Thomas won Finals MVP. Perhaps more impressive is the fact that they beat Jordan and the Bulls in the Eastern Conference Finals both years. Yeah, OG Isiah is definitely better than new-school Isaiah…
---
Larry Bird: 4 Points
If you're from New England like I am, you know all about Larry Legend, a man whose basketball excellency is rivaled only by his trash-talking.
Bird, Kevin McHale and Robert Parish comprised "The Big Three," but nobody's arguing who was the best of the Hall of Fame trio. He also had help from players like Cedric Maxwell, Dennis Johnson, Tiny Archibald and a certain old, oft-injured Grateful Dead fan, which is why his value to the spread isn't a bit higher.
A fierce competitor, Bird was not someone opposing players enjoyed going up against. He was a clutch player who could score and rebound, but he was also one of the best passing bigs of all time — not to mention one of the best 3-point shooters of the 80s.
At the end of his career, he had three MVPs, four second-place MVP finishes, three titles and two Finals MVPs to his name.
---
Magic Johnson: 4 Points
You can't talk about Larry Bird without talking about Magic Johnson. These two superstars had one hell of a rivalry and are often argued about when making NBA lists of any type. Turns out that they're dead even on this list.
Like Bird, Magic was surrounded by some stud players during his career, most notably Kareem and James Worthy. He also had legendary coach Pat Riley on the bench, which is always nice.
While bigger fellas running the point is fairly commonplace these days, Magic was the man who started the trend. He was never one of the league's great scorers but was one of the best passers the game has ever seen and could truly fill out a box score.
With five titles, three MVPs and three finals MVPs to his name, there's no doubting Magic's place among the all-time greats is higher than his four points to the spread suggests.
---
Karl Malone: 4 Points
Power forwards: there are a couple of them on every team and have been for decades. Perhaps none of them, however, have been as powerful as this United State Postal Service employee.
Like his teammate Stockton, Malone was also very reliable and consistent, missing just ten games in his 18 years with Utah. What's perhaps most impressive about Malone is that his game aged like a fine wine. He finished first, second and first in MVP voting from 1996-97 to 1998-99, with the second MVP setting the record for oldest winner at 35 years and change.
If you're curious why Stockton is worth more than Malone, Bernanke says, "Malone is valued at one point less than Stockton due to needing to receive the ball from him in the right places… amazing finisher."
---
Kareem Abdul-Jabbar (Lakers): 4 Points
Kareem brought a title to Milwaukee, but the city just wasn't his cup of tea. He wanted out and demanded a trade to either L.A. or the Knicks (per Wikipedia, which is always right). As was the case this past summer and generally throughout history, 'twas not the Knicks who landed the big fish.
With the Lakers, Abdul-Jabbar won three more MVPs, all between 1975-76 and 1979-80, and five titles between 1980 and 1988. When he first joined them, he could not even carry the team to a playoff berth despite his MVP efforts, as 32-year-old Gail Goodrich was the next-best player. However, they would pick up some so-so players along the way.
Like Malone, Abdul-Jabbar was able to play at a very high level late into his career, posting more than 20 PPG every year up until the 1985-86 season when he was 38.
---
Shaquille O'Neal (Lakers): 4 Points
Take what I said about Kareem and the Lakers, fast forward 20 years and 100 pounds and you have Shaq's story.
While Abdul-Jabbar had Magic, Worthy, Wilkes, Nixon and others, Shaq's time in L.A., especially during the 3-peat, was mostly a two-man show with him and Kobe. In his final year there, the Lakers would add both Karl Malone and Gary Payton, but those two old fellas managed to do jack squat against the Pistons in the Finals.
I'd be remiss not to mention the "Shaq" episode of "Curb Your Enthusiasm," which is right up there among Shaq's best accomplishments of his career. "Kazaam" and "Curb Your Enthusiasm"? Wouldn't be shocked if he was on some best actors lists, too.
---
Jerry West: 3-4 Points
If your likeness becomes the logo of the league you played in, you were probably half decent. Jerry West was more than half decent, as he averaged 27 points per game during his days, including four 30-plus PPG seasons.
He's a legend, but there's a reason he's not higher up on the list. Bernanke noted how it was tough to gauge West's value, as he played for multiple coaches and alongside other legends, including the aforementioned Baylor and (towards the end of his career) Chamberlain.
He never won an MVP but came in second place four times. He also made 10 All-NBA First Teams in his 14-year career.
---
Pete Maravich: 3-4 Points
Pistol Pete Maravich might be at the top of this list if we were talking about college players, but we're not (sorry, Adam Morrison fans). Maravich was a fine and dandy NBA player, too, but never fulfilled his potential.
"Pistol Pete is another player whose prime was cut short due to injuries. Unfortunately, the Jazz couldn't support him with anyone but an aging Gail Goodrich. So, despite his prolific scoring and playmaking abilities, it did not translate to team success." – Young
When it comes to accolades, Maravich's list falls way short of most of the other players listed, as he made just two All-NBA First Teams and finished top-10 in MVP voting only once, which was a third-place finish in 1976-77 when he scored 31.1 PPG.
---
George Gervin: 3-4 Points
Before the fictional Tom Kazansky was known as "Iceman," George Gervin was. Once the Spurs moved from the ABA to the NBA, Gervin led the team in Win Shares for six straight seasons, and he also had multiple 50-plus win seasons without too much help. He never won an MVP but did get the nod for five consecutive All-NBA First Team selections.
"He was the NBA's most-gifted wing scorer in the late 1970s and led the league in scoring three straight seasons. But, he wasn't an impactful defensive player, unlike like a lot of these other Hall of Fame players." – Young
There have been 13 seasons of 32-plus PPG since the NBA/ABA merger. Michael Jordan has five of them, George Gervin has two and nobody else has more than one.
---
Moses Malone: 3-4 Points
Sweet, fancy Moses. I reckon this listing may cause some controversy, as Moses Malone won three MVPs in a four-year stretch from 1978-79 to 1982-83.
During his peak, which was primarily in Houston, he averaged around 25 points and 15 rebounds per game — not too shabby for that era, when absurd rebound numbers of yesteryear started to become more of a rarity.
"This guy was an odd player… no real post moves, but there was no better offensive rebounder I saw other than Dennis Rodman, who would rebound his own misses and get to the line at will." – Bernanke
While not quite as dominant on defense as some of the other legendary big men listed, he still made an All-Defensive First Team in 1982-83, which was his first year in Philadelphia, when he won his only career title.
Malone played all the way until 1995 but certainly fell down a peg, and then several pegs in the late 80s and early 90s.
---
Julius Erving: 2-4 Points
Dr. J was one of the coolest players of all time. I think we've all attempted this move out in the driveway with little-to-no success…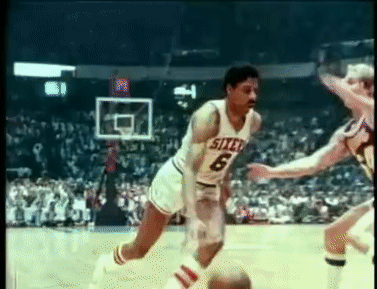 He also had an interesting career path, starting out in the ABA and winning three MVPs in five seasons before joining the 76ers in 1976-77 after the merger.
In the late 70s and early 80s, before Moses Malone arrived in 1982-83, Erving made multiple All-NBA First Team rosters and won the MVP in 1980-81.
Once Malone came to town, Erving's value fell from 3-4 points down to 2-3 points, though he was on the back nine of his career regardless.
---
Kevin Garnett (Timberwolves): 2-3 Points
Say what!? Only 2-3 points for KG in Minnesota?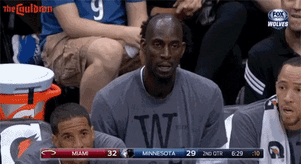 Though he won an MVP in 2003-04, he generally had some strong ball-handlers and teammates around him, with Bernanke noting that guys like Stephon Marbury and Wally Szczerbiak could "hold up against most teams." In KG's MVP season, the effervescent Sam Cassell averaged 20 points and 7 assists per game, while Latrell Sprewell accounted for 17 PPG, too.
I was really able to find only one game in which we could see KG's worth to the spread:
4/9/06: Line moved from -4.5 to -2 (won by 1)
I guess I was wrong and the oddsmaker was right. Shocking.
---
Scottie Pippen (with Jordan): 2-3 Points
As I mentioned before, Pippen proved he could be a very valuable player on his own, but anyone who plays next to Michael Jordan is going to be more replaceable than he would be otherwise.
"In pre-championship years, he was not as polished, so his value would be in the 1/2 range; after 1990-91, he was solidly worth 2/3 points with Jordan." – Bernanke
Pippen still provided lockdown D, rebounding and a strong secondary scoring source, but clear No. 2s are generally never worth more than a few points.
---
Tim Duncan (Early 2000s): 2-3 Points
This one may surprise some folks, including myself, but the newly-appointed Spurs assistant coach has always been part of a prettay, prettay good system down in San Antonio.
At the beginning of his career, he had The Admiral at his side. Once Robinson retired, Tony Parker and Manu Ginobili, two likely Hall of Famers, helped create the Spurs dynasty that millennials grew to love.
And, of course, all this time Coach Pop was righting the ship. Duncan's name is probably on numerous top-10 lists, but other factors limit his value to the spread.
---
Dominique Wilkins: 2-3 Points
Dominique was a scorer if there ever was one. From 1984-85 through 1993-94, he averaged between 25 and 31 PPG in every season. And let's not forget his highlight-reel jams.
However, 'Nique didn't do too much else, as he was not known for his defense and certainly wasn't much of a passer.
"Doc Rivers was point in most of his prime years, so his value was kept down a bit. Fratello was an excellent coach as well to offset any short-term loss."  – Bernanke
He's an all-time great, but not when it comes to spread values.
---
All right folks, there you have it. I don't know about you, but I have a hankering to play some NBA Jam on PS2.
How would you rate this article?