NCAA Tournament Player Breakdown: Cade Cunningham Is the NBA's Next Big Thing
Credit:
Jamie Squire/Getty Images. Pictured: Cade Cunningham #2 of the Oklahoma State Cowboys.
If you have ESPN or CBS or watch NBA or college hoops or live on planet Earth, you must have heard of Cade Cunningham by now.
In case you haven't, though, Cunningham is college basketball's newest freshman phenom, and the only reason he hasn't quite reached the fever that Zion Williamson did two years ago is because he plied his trade in Stillwater, Oklahoma, this season instead of Durham, North Carolina.
Cunningham is a 6-foot-8 point guard from Arlington, Texas. He was a high school legend at Montverde, where he played with other star college players like Arkansas's Moses Moody and Florida State's Scottie Barnes and led his team to a perfect 25-0 record as a senior, winning games by an average margin of 39 points.
Cunningham could have gone to any basketball program in the country, or jumped straight to the NBA as a clear No. 1 pick if it were allowed. Instead, he chose to stay close to home and play at Oklahoma State, where his brother is an assistant coach.
It was a slow start to conference play for the Cowboys. They lost three of their first four Big 12 games to TCU, Texas, and West Virginia, but turned the corner with a win over Kansas in early January and stormed into March Madness with a flurry of wins over ranked teams including Texas, Texas Tech, Oklahoma (twice), West Virginia (twice), and Baylor.
Suddenly, Oklahoma State has the second most Quadrant 1 wins in the nation and the Cowboys are everyone's sleeper as the No. 4-seed in the South, where they could have the goods to topple 1-seed Illinois to make a deep tournament run.
Everyone will be watching when Cade Cunningham takes the stage for his first and only Big Dance. Cunningham is a sizable favorite to go No. 1 in the 2021 NBA Draft and it would be a shock at this point if it were anyone else.
So, what do you need to know about Cade Cunningham as you watch this March and root for him to land on your favorite NBA team?
The Profile
Cunningham is a 19-year-old freshman, and his talent leaps off the screen in any Oklahoma State game. He averaged 20.2 points, 6.3 rebounds, and 3.6 assists a game and came up big game after game, moment after moment for the Cowboys.
There was the 40-point overtime explosion in Cunningham's first rivalry game against Oklahoma that showcased his individual scoring prowess. And his 25-point, eight-rebound, five-assist performance against Baylor in the Big 12 tournament semifinals, where Cunningham led his Pokes to an upset over the No. 1-seeded Bears.
Pick a game, tune in late, and Cunningham is probably in the process of taking it over. He saved his best for the biggest moments.
Let's look at some of the many strengths you'll see his game this March, then note a few weaknesses he'll need to improve on in the NBA.
The Strengths
A do-everything point guard and future No. 1 overall draft pick is bound to have more than a few strengths, so let's start with the obvious:
Size
The first thing you notice about Cunningham is how he towers over the competition at 6-foot-8 with a 7-foot-1 wingspan. He's poised to be the next giant ball-handler in the NBA — think Luka Doncic or Ben Simmons.
Cunningham has the size of a wing, or maybe even a power forward in the modern NBA. Heck, in certain situations, he could end up playing a little point center. (Again, think of Simmons' versatility.)
And unlike other tall freshmen, Cunningham isn't paper-thin. He uses his strength to back down opposing guards in the post like they're barely even there. He's also a terrific passer out of the post, and he's an obvious plus rebounder for his position.
Cunningham's size gives him an advantage on both ends. As a point guard, his size lets him see over defenders for unique passing angles few point guards can make, and his long stride helps create space on a deadly step-back jumper.
On defense, size remains king, and Cunningham's length should allow him to defend three or four positions at the next level.
Vision and Passing
Cunningham's elite vision leaps off the screen. His passing stands out most among his best attributes.
We've gotten so spoiled by some of the great passers in today's game that it's no longer shocking to see a point guard go from dribble to a live whip pass into either corner without hesitation, but that's an insanely difficult pass and it's one that Cunningham makes multiple times a game without blinking.
Some point guards get assists within the flow of the offense; others pass teammates open. Cunningham is making the latter kind of passes, and he makes quick, intuitive decisions with the ball and uses his height to see over defenders and create unique passing angles.
Cunningham makes five passes a game that would make some NBA point guards' all-time passing reels. He is a terrific live-ball passer and can make a whip pass with either hand. That live whip pass out of nowhere might be his signature move.
It's a bit odd, then, that he averaged just 3.6 assists per game, but that's because Oklahoma State had little spacing and shooting. Outside of Cunningham, the Cowboys made 124 3-pointers all season, shot below 32% from deep and hit just 4.4 per game as a team.
Per Pivot Analysis, Oklahoma State's points per shot on 3-pointers rose from 0.81 to 1.06 with Cunningham on the court. That's due in part to his shooting and his ability to create looks for his poor-shooting teammates.
Without question, Cunningham's passing will only be more valuable at the next level with better teammates and shooting around him. You can count on him averaging well over 3.6 dimes per game in the NBA.
Shooting
Cunningham came into the season with big shooting question marks, but he has answered those questions with an exclamation point. He has knocked down an impressive 41.2% (56-of-136) of his 3-pointers this season. It's important that he's knocking these shots down at a high rate but just as important that he's attempting 5.4 per game.
That shows appropriate confidence in the jumper, and a large portion of these 3s were above the break as a pull-up with a defender in his face or as a step-back off the dribble. The footwork to get that shot off is equally impressive, especially for a player his age.
Free-throw percentage is often a better indicator of shooting prowess than 3-point percentage, and Cunningham's free-throw stroke has been even more impressive. He shot 85.4% (117-of-137) from the charity stripe, calmly draining freebies in clutch situations often throughout the season.
Cunningham draws a lot of comparisons to Simmons, but his shooting is an obvious and significant difference. If Cunningham can knock down shots consistently, that gives him value off the ball too, and it will probably make him a more willing driver if he's confident he can make free throws.
If size is king in the NBA, shooting might be the queen, and Cunningham has plenty of both in spades.
Defensive Potential
It's probably not fair to call defense a strength for Cunningham just yet, but surely we've learned by now to think about defense a bit differently with top prospects after the lessons learned from players like Simmons, Lonzo Ball, and LaMelo Ball.
All three players were labeled as poor defenders coming into the draft, with questionable effort, but all three quickly became plus NBA defenders with their obvious combination of length and basketball IQ. That's why Cunningham has great defensive potential, too.
Oklahoma State played zone for much of the season, with Cunningham often in the corner of a 2-3 zone or defending the center in the paint. That doesn't tell us a ton about his NBA defense, but it does show his defensive versatility.
At times, Cunningham was terrific as a team defender but he's also a defensive playmaker who utilizes his instincts to gamble into passing lanes while using his size and verticality to block shots.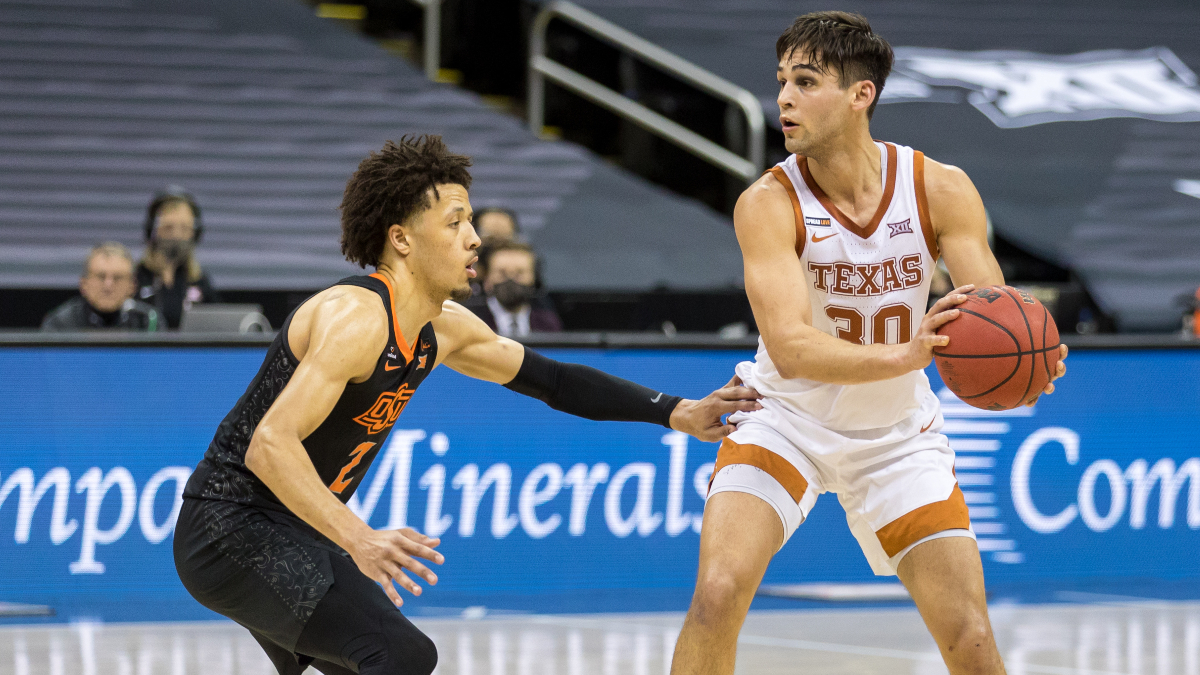 Sometimes, Cunningham was really engaged defensively. In other games, he had mental lapses or lost his man for easy buckets. Cunningham averaged 2.2 stocks (steals + blocks) per game, but per Pivot Analysis, Oklahoma State's defense was actually 4.67 points per 100 possessions worse with Cunningham on the court.
That data is noisy, but it's why we can't call Cunningham a good defender right now. But we can say he has big defensive potential with his instincts, size, and playmaking.
---
The Weaknesses
So, those are a few of Cade Cunningham's biggest strengths. Let's take a quick look at two key weaknesses that could limit him in the NBA:
Handle and Ball Control
Remember, these are relative weaknesses. Cunningham's handle and ball control are fine, even good at times, but it's not up to par with other elite prospects, especially point guards.
Cunningham has a comfortable handle and a nifty hang dribble he uses with hesitation to create space and get his step-back jumper off. But the dribble can also be loose at times, and Cunningham has a go-to spin move he uses far too often and sometimes gets the ball ripped away on that spin.
You never really feel great about Cunningham's handle, and the frequent turnovers are a real concern. Cunningham actually finished the season with more turnovers (104) than assists (90). He averaged 4.2 turnovers per game to go with those 3.6 assists. That's not an unfathomable number for a high-usage point guard, especially a 19-year-old, but it's a fair concern.
You certainly can't be a star or starting point guard in the NBA with a negative assist-turnover ratio.
Athleticism and Burst
Again, Cunningham is not a bad athlete, nor even an average one. He is an undeniably good athlete — he just might not be an elite one, as far as explosion and burst go.
Cunningham is not a guy who can just turn the corner and get downhill attacking the rim. He doesn't have the handle for that, and he definitely doesn't have the burst or explosion for it. That's another difference between him and Simmons who can get downhill in a hurry, especially in transition. That's not Cunningham's game.
Cunningham uses his size and feel for the game to create space, and he can always get that step-back jumper off, but the lack of burst does limit him. Because Cunningham isn't outstanding driving to the rim, he shot just 5.5 free throws per game.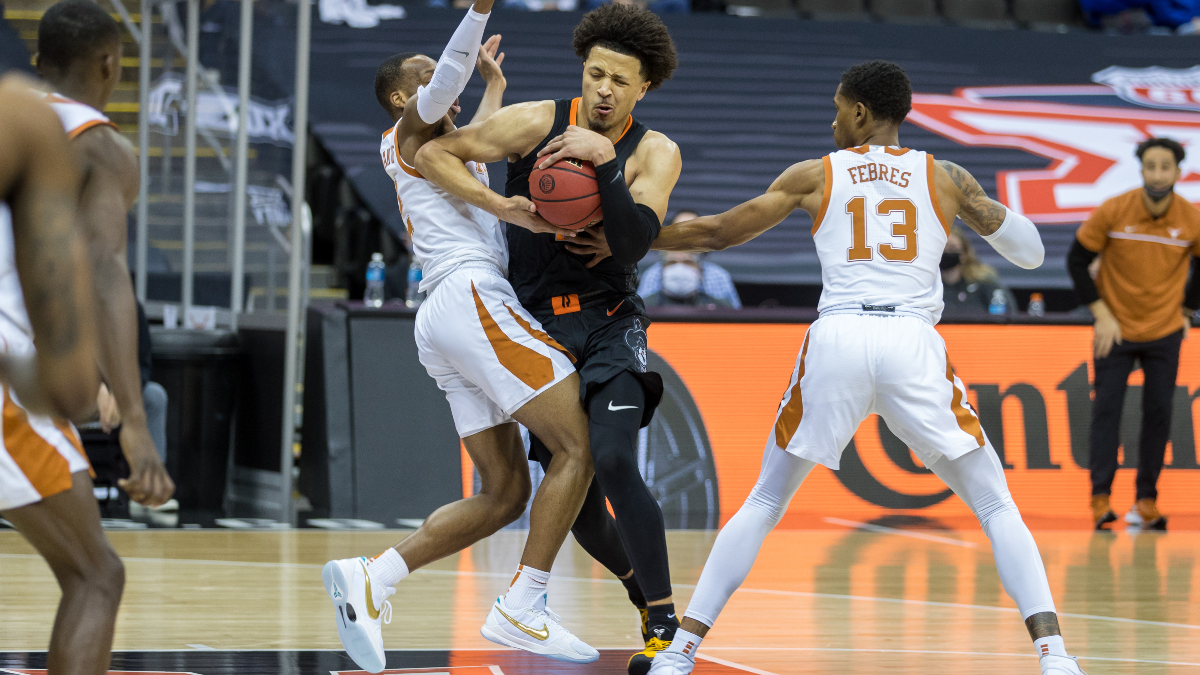 Compare that to 9.0 for Simmons as a freshman at LSU. You don't get fouled on jumpers too often, and Cunningham doesn't attack the rim enough yet to put his great free-throw stroke to good use.
A better driving ability would also make Cunningham an even deadlier passer. We already know he can make every pass on the move, and if the defense has to collapse more on his drives, that will only leave more teammates open for Cade to hit them with a dime. Again, NBA spacing will do wonders.
The step-back jumper is great, and the spin move is nice, but it does feel like Cunningham relies too much on those moves because of his inability to just burst past the opponent and get into the lane.
Instead, he often lowers his shoulder and uses his strength to overpower the defender. That won't work as well against stronger pros, and he'll get called for a charge sometimes too.
The lack of elite burst is the biggest hole in Cunningham's game, and it's not one that can be fixed. That doesn't mean he can't be a superstar, but it does limit what sort of strengths he can bring to the game.
NBA Outlook
By all accounts, Cade Cunningham should be an NBA star.
He's almost certain to go No. 1 on draft night, regardless of which team lands the pick. PointsBet has his odds listed at -400 to be the top selection.
Cade Cunningham is one of the easiest calls you'll ever see in the draft. Best player in the country, no-brainer No. 1 pick, future NBA star. pic.twitter.com/o4sTuQsciD

— Ricky O'Donnell (@SBN_Ricky) March 13, 2021
That's the kind of talent we're talking about here, and that's in a draft with prodigious talents like USC's Evan Mobley, Gonzaga's Jalen Suggs, and Jalen Green in the G-League.
Everyone loves a good comp, so let's look at a few.
We've already compared him to Simmons with a jumper, but Doncic is another obvious comp. Cunningham has similarly outstanding footwork on that signature step-back jumper and a similar feel for the game and passing ability.
Doncic is another player who can't use elite burst to get to the rim but obviously finds plenty of success despite that, using his change of pace and wile. Some have compared Cunningham to Grant Hill, and a taller version of Jason Kidd makes some sense too.
In most cases, it would be pretty silly to compare a 19-year-old to two Hall of Famers and a couple others who might get there someday.
In Cunningham's case, it's not hyperbole. These are the players he's chasing.
Cunningham is just getting started, and we're about to see him in his biggest games yet in March Madness.
Buckle up.
How would you rate this article?
This site contains commercial content. We may be compensated for the links provided on this page. The content on this page is for informational purposes only. Action Network makes no representation or warranty as to the accuracy of the information given or the outcome of any game or event.