NCAA Tournament Player Breakdowns: 12 NBA Draft Prospects to Catch in March Madness
Credit:
Getty Images. Pictured (L-R): Cade Cunningham #2 of Oklahoma State, Evan Mobley #4 of USC, Jalen Suggs #1 of Gonzaga.
March is all about the Madness, but for NBA fans, it's never too early to start thinking about the 2021 NBA Draft.
Below is a look at 12 NBA Draft prospects who will be playing tournament games in March Madness. There are two potential No. 1 picks, five who could make Final Four runs as 1-seeds, three lottery-pick role players, and two prospects who could lead their teams on a deep Cinderella run.
For each prospect, you'll find their age and physical profile, draft projection, bracket seeding, and an early player comparison at the next level.
Let's start at the top.
Potential No. 1 Picks
PG Cade Cunningham, Oklahoma State
Height: 6'8" | Wingspan: 7'1"
Age: 19 | Class: Freshman
Seed: South 4-seed
Projected Draft Pick: No. 1
No. 1 Pick Odds: -400 (PointsBet)
Cade Cunningham is the belle of the ball, enough so that he got his own deep dive article if you want to read more.
Cunningham is a 6-foot-8 point guard who appears to have the whole package. He has outstanding vision and makes passes most players can only dream of, thanks to his size and talent. Cunningham's size also makes him dangerous in the post, both as a scorer in mismatches and creating for teammates out of the post.
Cunningham came into the season with question marks surrounding his shot, but it's safe to say he has answered those questions with aplomb. Cunningham hit 56 of his 136 3-pointers, making over 41% of his treys and knocking down over 85% of his free throws. He uses his long stride well to create space for a devastating step-back jumper reminiscent of Luka Doncic.
Cunningham's size also gives him real potential on defense. He should be able to guard three or four NBA positions, and he has already shown good feel on that end and an ability to create big defensive plays out of Oklahoma State's zone.
If you're looking to nitpick, Cunningham needs to cut down the turnovers but should find more room for his passes with better spacing and talent around him at the next level. He's also not a guy who can just turn the corner and get downhill to the rim, so he has to use his size and feel for the game to create space instead.
Cunningham is a clear favorite to be the No. 1 pick in the 2021 NBA Draft, and his stock is only on the rise.
NBA Prospect Comp: Ben Simmons if you traded his elite defense in for a passable and possibly pretty good jumper.
C Evan Mobley, Southern California
Height: 7'0" | Wingspan: 7'5"
Age: 19 | Class: Freshman
Seed: West 6-seed
Projected Draft Pick: Top 3
No. 1 Pick Odds: +500 (PointsBet)
Evan Mobley is the quintessential modern-day big man.
His post footwork is exquisite, and he has a soft finishing touch around the rim. He's already comfortable shooting a confident jumper that extends beyond the arc, he can dribble and shows real passing ability.
It's rare for a big man at any level to have this combination of offensive skills. To be able to do all of this at this age is a remarkable package, and it makes Mobley a perfect fit for the modern game.
Mobley is a 7-footer with a long wingspan, but he'll need to add muscle and fill out his lean frame. He's not as strong on the glass as he needs to be, and his defensive impact can come and go. Mobley is an outstanding shot-blocker as a help defender, but his lack of strength allows opponents to push him around at times.
Still, he should grow into that with NBA strength training, and size is still king in the NBA. If anyone challenges Cunningham for that top pick in the draft, it may be Mobley.
NBA Prospect Comp: Anthony Davis Lite, the full package as a modern big man, complete with a thin wiry frame that needs more strength to fill out.
---
No. 1-Seeds Ready for a Deep Run

PG Jalen Suggs, Gonzaga

Height: 6'4" | Wingspan: 6'6"
Age: 19 | Class: Freshman
Seed: West 1-seed
Projected Draft Pick: Top 5
No. 1 Pick Odds: 12-1 (PointsBet)
Jalen Suggs leads this No. 1-seeds section because he might actually belong in the one above it. Suggs is a well-rounded guard who could challenge for the top pick in the draft if he continues to step up his game and leads Gonzaga to the first undefeated men's season in 45 years.
Suggs is Gonzaga's highest recruit ever, and he looked the part immediately with an incredible debut against Kansas, when he put up 24 points and eight assists. Three games later, Suggs dropped 27 with seven 3-pointers against Iowa and added a jaw-dropping chase-down block in one of the best prospect game of the season.
Suggs has impressive body control and change of direction, and he plays the game at his speed. He's a freshman, but he looked like a senior in his first game, in complete control of what would become the nation's top team. Suggs is a terrific guard defender. He fights hard and has quick hands and good strength, and he plays with high IQ on both ends of the court.
Despite that big shooting game against Iowa, his jumper has been inconsistent and remains a question. There's also the question of Suggs' burst and ability to get to his spots against NBA athletes. We didn't get to see much of that in Gonzaga's conference play, but he can answer those questions with a big tournament.
NBA Prospect Comp: Chauncey Billups, and that's a bigger compliment than you think. Billups was the starting point guard on seven Conference finals teams, with a steady hand, big leadership, and a knack for stepping up in big moments.
Others to Keep an Eye On: Corey Kispert is a sharpshooter who could be the first senior taken, possibly in the lottery. He's been compared to Joe Harris. Joel Ayayi is a 3-and-D wing who is a nice passer and cutter and could push into the first round with a strong tournament. Drew Timme is an All-American but his game is better suited for college. He's a fringe NBA prospect.
PG Ayo Dosunmu, Illinois

Height: 6'5" | Wingspan: 6'7"
Age: 21 | Class: Junior
Seed: Midwest 1-seed
Projected Draft Pick: Mid-to-late first
Ayo Dosunmu might be the Player of the Year in college hoops, and he's certainly one of the sport's finest closers. Dosunmu has gotten better each year at Illinois, and he made a brilliant choice coming back for one more season to lead his team to the top of the Big Ten and a No. 1-seed.
Dosunmu averaged 21.0 points, 6.2 rebounds, and 5.3 assists per game this season, got to the line 5.5 times a game, and knocked down 40% of his 3-pointers. He's super athletic and loves to turn the corner, get downhill, and attack the rim, and if the newfound jumper is real, he could be a three-level scorer.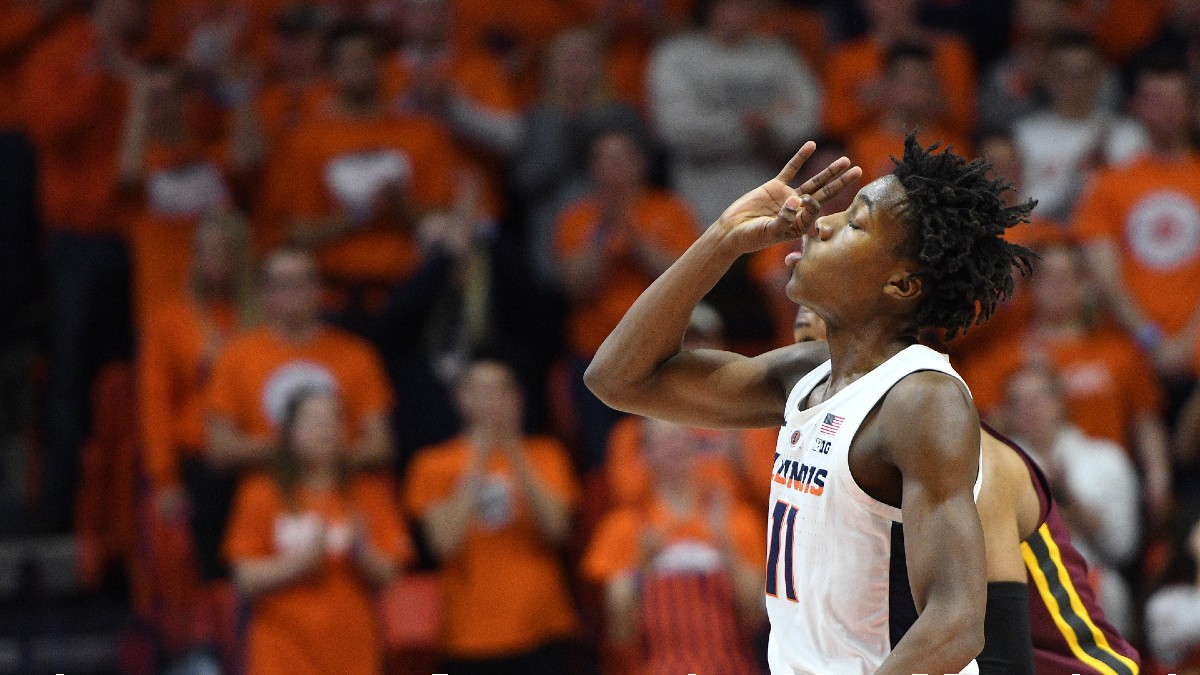 Dosunmu is tall but you don't feel his size. He's still pretty lean, so it remains to be seen if his driving ability will translate to the next level, and he's more of a scoring guard than a traditional point. Dosunmu didn't get a first-round grade a year ago, but a big tournament run could push him into the lottery.
NBA Prospect Comp: Jrue Holiday is the popular comp, but Holiday is a far better defender. Dosunmu may be more like De'Aaron Fox without the elite high-end speed.
Others to Keep an Eye On: Kofi Cockburn is the monster patrolling the Illinois paint. He certainly has an NBA body but needs to show more polish and consistency as a fringe draft pick right now.
SF Franz Wagner, Michigan

Height: 6'9" | Wingspan: Uncertain
Age: 19 | Class: Sophomore
Seed: East 1-seed
Projected Draft Pick: Fringe lottery
With most NBA prospects, it's all about the flashes. You watch for those moments that stand out, giving a glimpse of what the player might become. With Wagner, it's not about the flashes — it's about everything in between.
Wagner is a guy you need to watch closely to see his impact because there are so many little things. On defense, his eyes and feet are always moving. He's a terrific team defender, constantly pointing out coverages and organizing the team. Wagner has quick hands and is a real playmaker on defense.
Offensively, Wagner will never be a big time scorer, but he has a confident jump shot, loves to attack the rim off the bounce, and is a terrific passer. Wagner makes great decisions. He's always in the right spot, always making the right decisions. (Think Lonzo Ball or Tyrese Haliburton, but as a forward.)
Wagner will fill up the box score and make every player around him better. He's an advanced metrics darling and at the heart of what makes Michigan so good.
NBA Prospect Comp: Robert Horry, another combo forward who never put up big numbers but played tough team defense, hit big shots, and ended up on a whole bunch of winning teams as a ceiling raiser.
Others to Keep an Eye On: Hunter Dickinson is the star Michigan man in the middle, but is probably 50/50 to be drafted. A deep run against bigger and more athletic opponents could help his stock. Isaiah Livers is a beauty-in-the-eye-of-the-beholder forward on the fringe of the draft. He missed Michigan's final Big Ten Tournament game, so we'll see if we get to see him in the big dance.
PG Jared Butler, Baylor

Height: 6'3" | Wingspan: 6'5"
Age: 21 | Class: Junior
Seed: South 1-seed
Projected Draft Pick: Fringe first
Jared Butler has a knack for showing up in the biggest moments of the biggest games. He was terrific in two games against Kansas last season and parlayed that momentum into a Player of the Year campaign this season.
Butler is in control of the game at all times. He plays the game at his speed, and he's a paragon of consistency. Watch Butler shoot and you'll see his shoulders squared and feet set every single time, and his 3-pointer has improved from 35% to 38% to 43% over three seasons as a Bears starter.
Butler made the All-Defense team twice, and he makes smart, heady plays on both ends of the court. He's a winner who might be the best player in college basketball this season — even though he might not even be the best pro prospect point guard on his own team.
NBA Prospect Comp: Malcolm Brogdon, another steady yet unspectacular guard who shoots and defends well and can play on or off the ball.
PG Davion Mitchell, Baylor

Height: 6'2" | Wingspan: 6'5"
Age: 22 | Class: RS Junior
Seed: South 1-seed
Projected Draft Pick: Mid-to-late first
Davion Mitchell is a long, athletic guard who exploded onto the scene as a late bloomer this season. Mitchell began his college career in Auburn, sat out a season when he transferred to Baylor, and wasn't a hot name last season despite starting for one of the nation's best teams.
Then Mitchell added a jump shot, and everything changed. Suddenly, he was hitting 46% of his 3s this season while bringing characteristically high-energy defense every game en route to winning Defensive Player of the Year in the Big 12.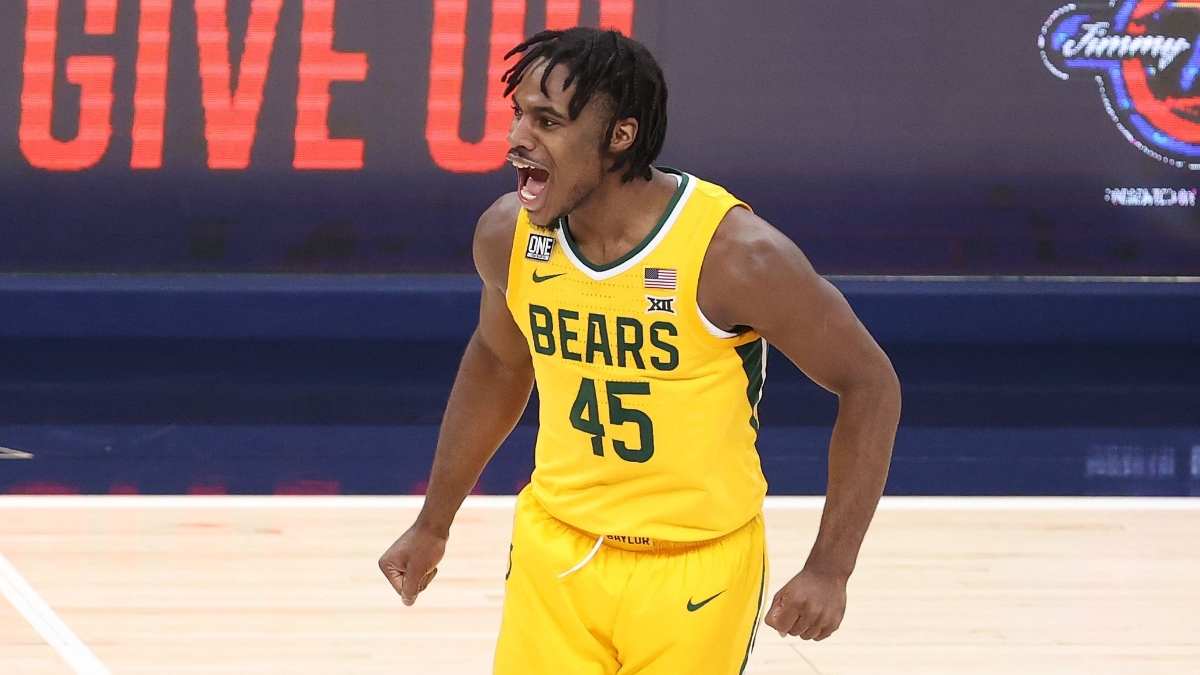 Mitchell is an outstanding athlete with an explosive first step and a long stride that gets him to the rim, where he can finish with either hand. He has a hang dribble and good hesitation he uses to create space on drives.
Mitchell's free-throw percentage is still below 70%, so he'll need to answer questions of whether his newfound jumper is reliable, especially since he's one of the older players in the class.
NBA Prospect Comp: Donovan Mitchell, complete with a No. 45 D. Mitchell jersey, high-end energy, athleticism, and long snaking drives to the rim.
Others to Keep an Eye On: Mark Vital is Baylor's senior glue guy and its pudgy version of Draymond Green. He does a little bit of everything but needs to show he's athletic enough to get on the draft radar.
---
Squint and You Might See a Lottery Pick

PF Scottie Barnes, Florida State

Height: 6'9" | Wingspan: 7'2"
Age: 19 | Class: Freshman
Seed: East 4-seed
Projected Draft Pick: Top 10
No. 1 Pick Odds: 40-1 (PointsBet)
Scottie Barnes has been one of the more fascinating prospects to scout this season. Barnes is a 6-foot-9 power forward who's been playing point guard off the bench for Florida State — and doing it pretty well. And don't be thrown off by the bench thing. Remember, Patrick Williams was a top-five draft pick off FSU's bench just a few months ago.
Barnes is an absolutely tenacious defender with a wide base and frame and terrific core strength. He really gets after it defensively and plays with high energy and effort at all times. Barnes loves to run in transition, and he makes some special passes for a guy his size — though he's certainly not a point guard at the next level.
The worry is figuring out exactly what he will be in the NBA. Barnes plays great defense, but he can't shoot (sub-60% on free throws) and doesn't really have a role in the half-court offense.
The tools are all there, with an All-Defense player in waiting, but like Williams and Jonathan Isaac before him, Barnes will be a project who needs to find an offensive role.
NBA Prospect Comp: Draymond Green but with just great defense and passing instead of Hall of Fame caliber.
SG Moses Moody, Arkansas

Height: 6'6" | Wingspan: 6'11"
Age: 18 | Class: Freshman
Seed: South 3-seed
Projected Draft Pick: Mid-to-late lottery
Moses Moody is a plug-and-play wing at the next level. He's one of the best shooters in the draft despite being among the youngest. Add in Moody's near 7-foot wingspan to give him plenty of defensive potential, and he has an intriguing package.
Moody is an easy scorer. He's always ready to shoot, and he tends to get his points easily within the flow of the game — a good sign for the next level. He is a nice rebounder for his position, and there's real passing ability that flashes at times.
Moody's handle can use some tightening up, but he projects as more of a secondary scorer than a lead guy who will take over games, so that's less of a problem with more talent around him.
Defensively, Moody uses his length to make big time plays. He's a physical defender who can wrestle the ball away or chase down the opponent for a block at the rim. Every team in the NBA can use a wing with size and shooting ability: Moody is that guy.
NBA Prospect Comp: Klay Thompson, another knockdown shooter who scores within the flow of the game, with enough size to guard multiple positions at the next level.
PF Kai Jones, Texas

Height: 6'11" | Wingspan: Uncertain
Age: 20 | Class: Sophomore
Seed: East 3-seed
Projected Draft Pick: Sometime in the first
What exactly is Shaka Smart doing to bring all these talented big men to Texas? First it was Jarrett Allen and Jaxson Hayes, and now it's Jericho Sims, Greg Brown, and Kai Jones. Jones is the last of the three Texas bigs you'll notice at first glance, mostly because he comes off the bench. Pay attention, though, and you may see a diamond in the rough.
Jones is a super fluid athlete for a man his size. He has terrific hips and mirroring ability, which gives him massive defensive upside. Jones has a quick leap and can protect the rim, but unlike many NBA rim protectors, he can also switch and defend along the perimeter. Jones needs to put on some muscle, but he can be an elite defender at the next level.
The offense is a work in progress, but there are real tools to work with. Jones will always be a dunk threat on dives to the rim, and he has flashed a quality handle and confidence in his jumper, even from beyond the arc. The offensive package will take some time, but what's exciting is how much more there is to him than just a typical rim running prospect.
NBA Prospect Comp: An extremely developmental version of Kevin Garnett? That may sound absurd, but not many players this size have Jones' combination of movement skills, athleticism, ball handling, and shooting.
Others to Keep an Eye On: Greg Brown is Jones' more heralded teammate and the reason he has come off the bench all season. Brown has a motor that doesn't stop and elite athleticism but his lack of feel for the game can be maddening. Both Texas big men could have lottery potential.
---
Does the Cinderella Slipper Fit?
SF Keon Johnson, Tennessee

Height: 6'6" | Wingspan: Uncertain
Age: 19 | Class: Freshman
Seed: Midwest 5-seed
Projected Draft Pick: Top 10
Keon Johnson was a top-25 recruit who really improved during his season at Tennessee. He started the season coming off the bench but soon earned the starting nod and really took off once the calendar hit February, scoring double digits in nine of 11 games since and showing improved shooting, playmaking, and game-changing defense.
Johnson remains raw, but the package looks a little more polished each month. The defensive abilities have been clear from the start. Johnson really gets after it on that end and he's a terrific athlete and defensive playmaker. The other end is starting to come together.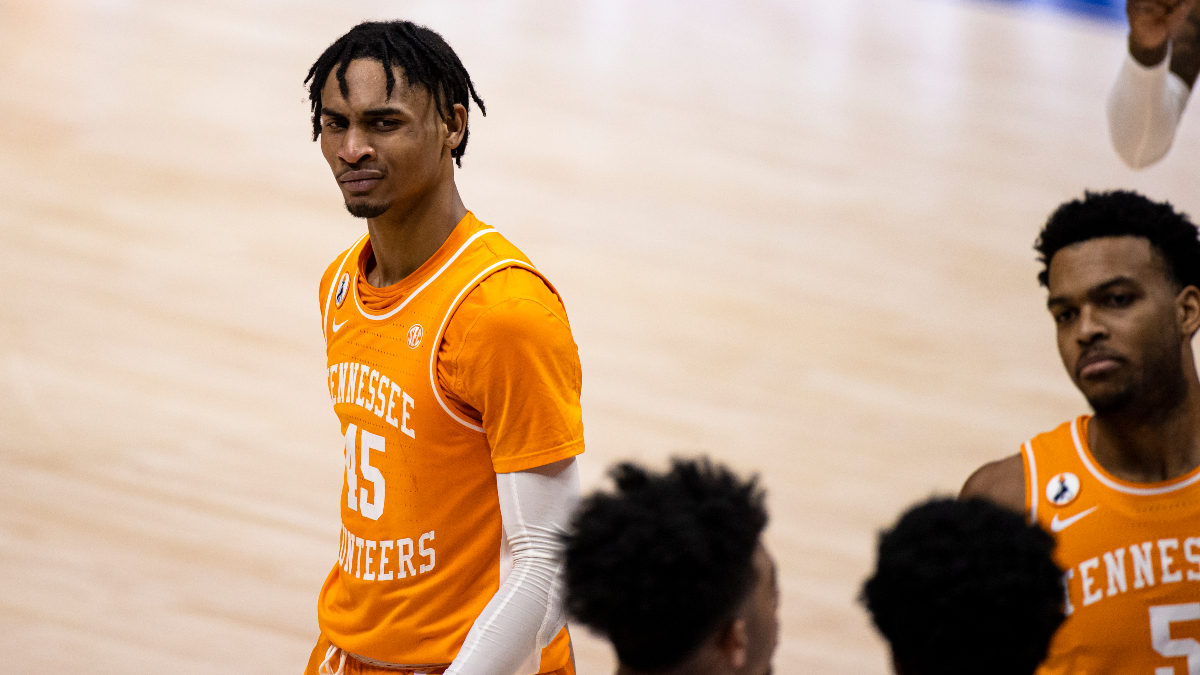 Johnson hit 11 3-pointers all season, but gets to the line frequently and made over 70% of his free throws, so the shot looks projectable. He can crash the boards with a huge put-back jam, bring the ball up and run point, or cut through the heart of the defense with an athletic drive and feathery finish.
Tennessee is a young team that plays outstanding defense but struggles to score at times. Johnson has the talent to take this team to another level, and if the Vols make a run at the Final Four, his stock could skyrocket. There's a pretty established top five in this year's draft class, but Johnson might have the best chance of cracking the hierarchy.
NBA Prospect Comp: Jaylen Brown, another talented but raw freshman two-way wing with explosive athleticism and plenty of upside to tap into.
Others to Keep an Eye On: Jaden Springer is one of the youngest players in the draft class, and he could join Johnson in the lottery with a strong March. He's a scoring guard with a high pedigree and upside but needs to answer some questions about explosiveness and consistency.
Yves Pons is an absurd athlete who will volleyball-spike block a couple shots a game. He's an elite on-ball defender but needs an offensive role to make it in the NBA.
SG James Bouknight, Connecticut

Height: 6'5" | Wingspan: Uncertain
Age: 20 | Class: Sophomore
Seed: East 7-seed
Projected Draft Pick: Fringe lottery
James Bouknight is a bucket. It just feels right seeing a UConn guard light up the nets in March, and Bouknight could be the next Huskie to make a tournament run.
Bouknight is one of the big draft risers this season. He's a microwave scorer with a sweet shot, and he can score at all three levels. Bouknight is a movement shooter and a dribble-pass-shoot guy who can create his own looks or hit the open man. He has great body control and finishing ability, and he navigates screens well and comes off them with a vengeance.
Connecticut is a different team with Bouknight. They went 11-3 with him and 4-4 without, and it felt at times like Bouknight could get to his spots and score any number he picked. He gives good effort on defense too. If there's one star on a lower seed who could lead his team on a deep Cinderella run this March, James Bouknight may be that guy.
NBA Prospect Comp: Lou Williams, professional bucket getter.
How would you rate this article?
This site contains commercial content. We may be compensated for the links provided on this page. The content on this page is for informational purposes only. Action Network makes no representation or warranty as to the accuracy of the information given or the outcome of any game or event.